Losing a Parent to Police Violence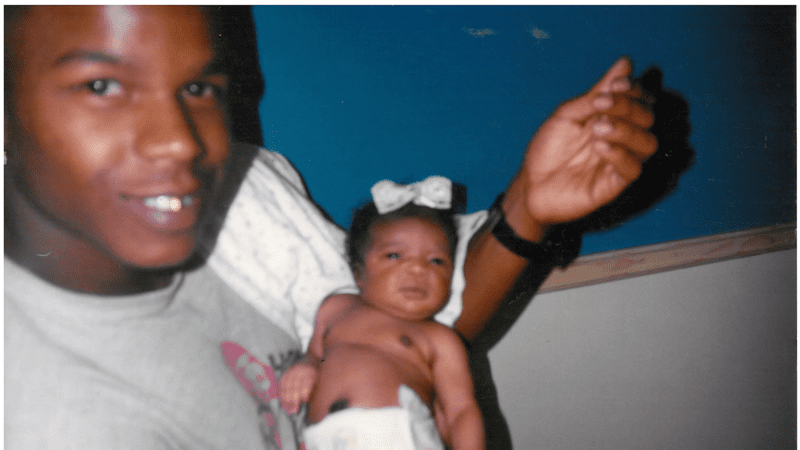 Transcript
Arun: I'm Arun Venugopal, in for Tanzina Vega, you're listening to The Takeaway. Last month, Jacob Blake was shot multiple times by police in Kenosha, Wisconsin as his three young children watched from inside his car just several feet away. In 2016, another Black man, Philando Castile was killed by police in Minnesota during a traffic stop. His girlfriend's four-year-old daughter was in the backseat. In 2019, Atatiana Jefferson was fatally shot by police in her home in Fort Worth, Texas, in front of her eight-year-old nephew. Children, especially Black children have long not just been victims of police violence in the US, as in the case of 12-year-old Tamir Rice, but witnesses, too. The impact of losing a parent or another family member to police violence can have serious consequences on a child, both in the immediate aftermath of the incident, but also in the longer term, from developing mental health conditions like PTSD, or depression, to poor performance at school. Today, we hear from just one of countless people who have lost parents or other loved ones to police violence in the US. Montinique Monroe is a freelance journalist based in Austin, Texas. Her father, Paul Monroe was killed by police on April 15th, 1993 when she was just four months old. Montinique, thank you for joining us.
Montinique Monroe: Hi, Arun. I'm so happy to speak with you today.
Arun: Tell us about your dad, Paul, and what happened to him?
Montinique: The only knowledge that I have of who my father was is based off of what my family members have told me. I know that he was a funny guy. He was goofy. You couldn't stay mad at him too long because he would always make you laugh. He was a provider for his family. One of the stories that sticks with me the most is one that my grandmother always tells me. It's about a little boy who had come over at our house after my father had passed away. The little boy was crying because he said that my father had been bringing him and his siblings groceries every week because his parents weren't in the home. That just goes to show the kind of person my father was. He had a bright smile. He was very goal-oriented, very driven. I was at Sonic with my uncle, and he told me, I had ordered a large ocean water. It's actually my favorite drink. He was like, "Wow, that's your dad's favorite. That was your dad's favorite drink." Little things and little stories come out about my father every now and then, but all I know about him is just a few little things that I hear from family members that come out at different moments, unfortunately. Everything else, I just make up in my head.
Arun: You fill the spaces. You wrote about him for Vox and also about what happened. This confrontation, this very mysterious and tragic confrontation between him and police officers. Can you describe what happened?
Montinique: Yes, my father was allegedly involved in an armed robbery on April 15th, 1993. As he exited the apartment complex at the scene, he was met by three officers. As he walked toward them, they gave him directions to drop a duffel bag. He dropped the bag. He was directed to get on the ground. Before he was able to get on the ground, he was shot by Police Officer Stephen Deaton. There were two other officers there at the scene who did not fire their weapons at my father. Growing up, I had always been interested in what happened to my dad. I learned about his death when I was six years old. I had so many questions, and I would visit these albums that my family would have. These albums would chronicle his life from his death. It was filled with photos, it was filled with news articles. One of the articles was titled, Man's Death Brings Confusion. I would read these articles and it would never add up to as to why my father was killed.
Arun: You're seeing these things, clearly raising these questions in a fairly young child. Did you ask your family members about this?
Montinique: Yes. I would ask questions, and no one really wanted to talk to me about it too much. I think everyone just tried to put it in the back of their minds. It was always, "Oh, well, the police killed him." I never knew too many details about my father's death. I had to find those out on my own. Honestly, I avoided the details because it was just too traumatizing and triggering for me to really know what my father went through, and to know that he was killed by police. I really honestly didn't find out the graphic details until adulthood.
Arun: There's a couple particularly painful details that you found out about. I guess, presumably when you were old enough to grasp what's happening. What are those details that you think of really stayed with you and affected you?
Montinique: There was a 50-something page incident report that my grandmother had kept for the past 27 years. She kept literally every document related to my dad's death. I was forced to go through it after news surfaced that the officer who killed my father had made racist, sexist Facebook posts. Once I found that out, I was like, "Okay, I need to figure out what. I need to read this report, and see what really happened to my father." Just reading that account was very gut-wrenching, and it makes me tear up just thinking about now. My father, he asked for water after they shot him, and they wouldn't give him water. He was telling the officer, "I can't feel my legs, I can't see." Inquiring like, "Why'd you shoot me?" He didn't exactly say those words, but you could tell reading the officer's testimony that my father was just really confused as to why he was shot. I read about how he was rushed to the hospital. At the hospital, on his deathbed, officers came in and tried to interview him about what just happened to him, and they took pictures of him. It was just nothing about what happened to my father on that day seems right. I literally think about this every single day of my life. It's been hard.
Arun: Yes, I can't even imagine. We've seen this incredible resurgence of activism against police brutality and systemic racism this summer, really revolving around Black men and women who are killed by police officers. Of course, George Floyd is the first person who might come to mind this year, but so many more. Some names we know, some that we don't. What has this moment meant for how you think about your father's death?
Montinique: Oh my gosh. That's such a good question. Anytime a person is killed by law enforcement and it is broadcasted on national television, and is broadcasted and replayed on social media, it brings back up all the emotions that I feel when I think about my father. It's like a retraumatization, reliving what my father went through type of situation. George Floyd specifically has allowed me to tell my father's story. I had been trying to tell my father's story for so long. I felt like both me and my father had been living in the shadows that Stephen Deaton, the police officer who killed him, had just moved on with his life and was able to continue his career in law enforcement for 26 plus years while my family, our lives were put on pause. I really wanted to bring awareness to my father's death by telling a story. As a journalist, I know that you have to have some type of angle in order to do that. My similarities or commonality with Gianna, George Floyd's daughter, is what really has allowed me to use my voice and speak from the angle of the child's perspective, and how as a child, when you lose a parent, it really affects you. My story isn't the same as Gianna. She actually knew her father, George. I did not know my father. I was only an infant when he died. Our experience will be a little different. I go back and forth about would my life had been better if I would have had six years on earth with my dad and then he was taken from me, or is it better that he was taken from me without me even knowing him.
Arun: Tell us about this Facebook post. Because you got to know about this officer, Stephen Deaton through something that happened pretty recently. I guess you could say it was creepy, the stuff that he was posting online. Can you describe what you found?
Montinique: When I googled him back in 2014, I saw that he had a lot of media coverage. It seemed like he was always in the media for something, whether it was leaving his gun at a local Target, or he had an affair with someone in his administrative office and was forced to step down. In all of those stories, it was sad to not see my father mentioned, that he killed a man. I think it was around August of 2019,. I was driving and I received a text from my mother and it was linked to an article. Basically, the headline was something along the lines of, a "Local sheriff makes racist Facebook posts," and my mom's text to me was, "Isn't this the officer who killed your father?" My heart just stopped in that moment. I was on the road, and thank God I was able to get to a red light, because that was not at a place where I could drive. Every emotion that I had experienced since childhood came over me in that moment. I was scrolling through the article back and forth, and I saw images of, it was a Black football player figurine with his legs amputated. He was lying in a pool of blood, and the American flag was hanging over him, and I automatically knew what that was about. That was about Colin Kaepernick's protests against police brutality. The caption to that post was, "This is what happens when you kneel during the national anthem." I just cannot believe that the man who killed my father had a problem with protests of police brutality. I just--
Arun: This was a figurine, meaning like this was some staged image of a football player, I think, in this staged pool of blood, right?
Montinique: Right, yes. I think it was like a pre-made meme type of image. It was like a little action figure. It was lying in a pool of blood with the American flag above him and an elf. A white elf was-- amputated on the football player's legs. That wasn't the only post. He also shared a post that alluded to sexual assault and rape. Basically, it was barbie dolls bent over and inappropriate positions, and then his caption, like they would have vomit on the mouth. His caption was something along the lines of a roofie was slipped in her drink, or something along those lines. Not only did you killed my father and you're making a racist posts, but you're also encouraging violence against women. I'm a woman, and so it was just very unsettling for me. It's just so sad that this is a person who was trusted to protect our community. It just made me think, who else has he hurt? Has he killed anyone else? Has he harmed anyone else? It definitely re-traumatized me.
Arun: Stephen Deaton, the man who shot your father and went on to keep on advancing in his career, what became of him. What's his status now?
Montinique: The officer who killed my father, Stephen Deaton, was able to serve almost or more than 26 years at Austin Police Department, was able to rise to the rank of assistant police chief. He eventually moved to Williamson County Sheriff's Office before he was forced to resign because of the racist Facebook posts he made. Today, he could very well be a police officer again. As we speak, he could have found another department. He could be out in the field right now. I don't know what he's doing now, but it is very concerning to me that he still is able to be a police officer.
Arun: Just to wrap up Montinique, it seems like all these conversations we're having are only because of so much loss, and pain, and tragedy. There is this conversation about how do we do this in a way that is not just voyeuristic, I suppose, in a way, as a country, that's not just about staring at the latest viral video. How can we have the most productive conversation around all these terrible stories, like your own father's, and your family's?
Montinique: Right. I think that's a very powerful point. I think that's exactly what I'm living through it. It took another Black man's death at the hands of law enforcement for me to even share my story and my father's death. I've been having some internal battles with that. I wished that this industry could, as many stories like mine as there are, because there's tons of them, I wish we could shine a light on as many of them as we can, without there being riots, or violence, or burning buildings. I wish that we could tell these stories, stories of Black men and their experiences with law enforcement, Black women, and their experiences with law enforcement, before they die. I wish we could tell the stories of children in Black communities who are scared of law enforcement, who haven't necessarily even lost a loved one, but just from conversations with family members in their homes about law enforcement, and are even scared when officers drive by, I wish we could tell those stories. I will say that I'm happy that I was able to tell my father's story, and I accomplished my goal, but what keeps me up at night is all the children out there who never will be able to tell their parent's story. I've made that my purpose in my lane in this field, is to share those stories of the family members of victims of police brutality, and how it has affected them their whole lives, and how it will continue to affect them for the rest of their lives.
Arun: Montinique Monroe is a freelance photojournalist based in Austin, Texas. Montinique, thank you so much for sharing your story.
Montinique: Thank you, Arun.
Copyright © 2020 New York Public Radio. All rights reserved. Visit our website terms of use at www.wnyc.org for further information.

New York Public Radio transcripts are created on a rush deadline, often by contractors. This text may not be in its final form and may be updated or revised in the future. Accuracy and availability may vary. The authoritative record of New York Public Radio's programming is the audio record.