A Look at the Worker Shortage in the Food Service Industry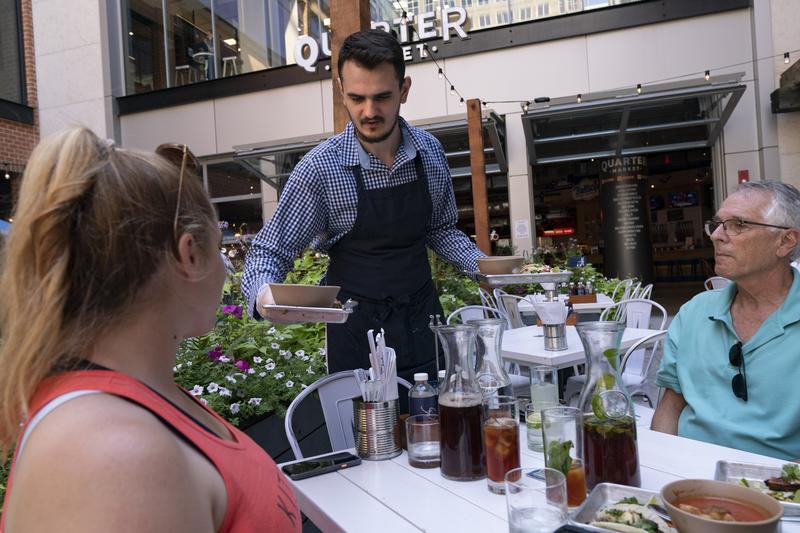 Transcript
[music]
Melissa Harris-Perry: This is The Takeaway. I'm Melissa Harris-Perry. In a report released October 12th, the labor department reported that 4.3 million Americans quit their jobs in August. That's the highest number since December of 2000. This is the great resignation.
[music]
Melissa Harris-Perry: Not all sectors of the economy are losing employees equally, restaurants, bars, and hotels are shedding workers at a particularly high rate. About one in five of those who resigned in August walked out of hospitality sector jobs. Some weighed their options and departed for higher paying gigs while others left the industry entirely after serving through the gauntlet of COVID. Many restaurant owners and operators are feeling the effects of the resulting worker shortage.
Gregory León: My name is Gregory León, and I'm the chef and owner of Amilinda, a small independently owned Spanish and Portuguese inspired restaurant in downtown Milwaukee.
Melissa Harris-Perry: Chef León told us that due to staffing challenges, he's been unable to restore pre-pandemic hours of operation.
Gregory León: The worker shortage is killing us. I am currently the only one in the kitchen, so I come in, do all the desserts and then prep all three stations and then I've been lucky enough that some of my colleagues or friends have been able to come in and step in on Fridays and Saturdays and help cook with me on the line. There's a smaller pool of people looking for jobs, so there's a smaller pool of employees for us to bring into the restaurant. Not only are we dealing with that, but we're also competing with restaurants who did receive the RRF. These restaurants that received RRF, they're able to pay their employees $17, $18, $20 an hour, while I can not afford that right now based on business.
Melissa Harris-Perry: The Restaurant Revitalization Fund, or RRRF, gave out grants to eligible food businesses during the pandemic, but the funding was not enough. 85% of restaurant and bar applicants were unable to secure a grant, meaning restaurant owners like Gregory are left with little outside help and plenty of stress.
Gregory León: My hair is a lot grayer now, and it's probably falling out at a faster rate than it was before pre COVID. We've had to modify our menu, so our menu is a lot smaller right now than it normally would be. We've had to simplify some of our dishes just because there's only so much one person can prep in a day, especially when they're prepping one station. It's affecting our guests' experience. They're having to wait a little bit longer for the food and you run the risk of upsetting the guests and then having the guests not come back. It's stressful on the other staff members, the other front of the house staff.
Melissa Harris-Perry: This is not just a problem in Wisconsin. Times are tough in neighboring Chicago as well.
Marcos Carbajal: I'm Marcos Carbajal, co-owner and president of Carnitas Uruapan restaurants in Chicago.
Melissa Harris-Perry: Carnitas Uruapan describes themselves as distinctly and unapologetically Mexican. Visit the website and right next to the expected buttons for menu, catering, and locations is a link to submit your application to work at the restaurant.
Marcos Carbajal: We've been fortunate that we're able to retain a lot of long-time staff, albeit working with reduced hours and really not 100% back to pre pandemic levels. I have noticed that they can see that we have taken an extremely long time to fill. Pre pandemic, I would put in a job ad and usually be able to find someone pretty well qualified for a position within five days. The last position that I filled took me well over a month to find someone and it's never really been that bad. It's really tough to compete as a small independent restaurant with some of the bigger employers out there that are offering higher and higher starting salaries for essentially the same labor pool.
Melissa Harris-Perry: Even for restaurants not struggling with staffing issues, many other challenges remain due to the pandemic.
Susannah Koteen: My name is Susannah Koteen, and I'm the owner of both Lido and Bixi that are on Frederick Douglass Boulevard in Harlem, in Manhattan.
Melissa Harris-Perry: Susannah told us that she's had to deal with a lot of COVID related red tape with city officials.
Susannah Koteen: We've been able to get by on our staff. Sometimes it's a little tight, but we've been lucky that a lot of our people came back when we were open full swing. New York City continues to be really, really difficult to have a small business in and the amount of inspectors that come in and just a surprise visit and I just had somebody come in the other day, I was literally in a meeting with a bank regarding a loan and somebody came in and handed me a paper that said I had to take my outside houses down from the department of transportation. It was just such a shock and devastating because we spent a ton of money on that and that's a huge source of revenue for us right now and we're still trying to dig out of a hole from the pandemic.
Melissa Harris-Perry: It's not just the restaurants and their owners who are struggling. Workers in the food service industry face long hours, late nights, and sometimes low pay, minimal benefits, and hostility from customers and even from managers. In a May, 2021 survey from One Fair Wage and the UC Berkeley Food Labor Research Center, a majority of restaurant workers said they're leaving due to low wages and tips. The next highest ranked reasons people left their restaurant jobs were COVID health risks and concerns of hostility or harassment. When we put out the question to you out there about whether restaurant workers shortages are affecting you, here's what some of you had to say.
Mark Cooper: Hey, it's Mark Cooper calling from Little Rock Arkansas. Yes, the worker shortage has affected me, but not in the way that you would expect it to. I contributed to the worker shortage, pandemic hit and I got out of the restaurant bar business. I used to be a bar manager and a bartender, and I walked away from it. I knew that my state wasn't going to do anything to help support bartenders or restaurants during the pandemic. I was right. Now I work for the United States post office.
Doran O'Donnell: Hi, my name is Doran O'Donnell and I live in Grants Pass, Oregon. I own a small restaurant bar called The Speakeasy and we have had a hard time keeping employees. There have been many times where we've had to shut down because we didn't have the people to work.
Rachel Wilson: Hi, my name is Rachel Wilson and I own Gigglewaters in Safety Harbor, Florida. We've really bounced back, from a volume perspective, since the shutdown. The lines are out the door, people are ready to go out, they want to have a fun night out. They're there to support us, but staffing is a bear right now. I've never seen anything like it. We've certainly increased our wages. We're doing all we can to attract the right people. I'm posting everywhere for job fairs. We maybe get one or two people who show up for interviews and then hopefully one of them will actually come in and start. We used to go into a Saturday night with 10 servers on, now we're going with maybe four sometimes.
Melissa Harris-Perry: Even as we hear those voices of the restaurant industry, it's critical to understand the ways COVID exacerbated issues already plaguing restaurant workers for decades. The policy of a subminimum wage for tipped workers means many servers earn as little as $2.13 per hour before tips, and because servers rely on tips in an industry that's not required to provide for a living wage, many workers find themselves enduring astonishing levels of harassment. Saru Jayaraman is president of One Fair Wage and director of the Food Labor Research Center at the University of California, Berkeley and is author of One Fair Wage: Ending Subminimum Pay In America. Saru, welcome to The takeaway.
Saru Jayaraman: Thanks for having me.
Melissa Harris-Perry: Talk to me here, as you listen to restaurant workers and restaurant owners, what are your initial responses?
Saru Jayaraman: I would say the majority of the voices we heard were owners. We heard from one worker and mostly owners, and that has been the-- I think during the pandemic, mostly we are hearing from owners talking about their struggles and I think it's really important to lift up workers and exactly what you said, Melissa, that they have been struggling with a crisis in this industry long before the pandemic.
I think owners definitely struggled during the pandemic. I would say the struggles of workers were crisis level before the pandemic and with the pandemic, people lost their homes, lost their ability to feed their children. The struggle and crisis got so much worse, but listen, before the pandemic, as you said, we had this direct legacy of slavery in our industry. At emancipation, the restaurant lobby won the ability to hire newly freed slaves, not pay them anything and have them live entirely on tips and so they created this very unique system in America, we're the only country that does it, allowing restaurants to pay little or nothing and having workers live on tips.
We went from $0 at emancipation as an attempt to hire Black people for free, all the way up to the ridiculous $2.13 an hour today and even before the pandemic, you're talking about an overwhelmingly population of women struggling with the highest rates of sexual harassment and poverty of almost any industry in the US. With the pandemic, these workers, first, many of them were not able to access unemployment insurance, two thirds of the workers we surveyed, and we surveyed 250,000 workers after the pandemic shutdown, two thirds told us they couldn't get unemployment insurance because in most states they were told their wages were too low to qualify for benefits.
When they did go back, they found that tips had gone way down because sales were down and harassment and hostility had gone way up. I could say a lot more about that, but that combination really became, frankly, life-threatening and you saw mass exodus last year itself.
Melissa Harris-Perry: Saru, before we get to the question of the harassment, can you explain just one tick more on the unemployment insurance issue?
Saru Jayaraman: Sure. That was really a moment of epiphany for so many workers, because when you get a wage of $2 or $3 an hour, as it is in 43 states. 43 states, including blue states like New York and Illinois, and Massachusetts have a subminimum wage, that's a direct legacy of slavery. You're talking about anywhere from $2 to $5 in most states, New York, the wage is 66% of the wage, all a direct legacy of slavery.
These workers, most of their income, the vast majority of their income was from tips, that small wage, that subminimum wage was so low, it often went entirely to taxes and they were living off their tips. When they went to go apply for unemployment insurance, most states told them, it looks like you earn too little to qualify for benefits. It looks like you didn't work enough hours. At the start of the pandemic, when the pandemic shutdown occurred, about six million restaurant workers lost their jobs. That's one in four Americans who lost their jobs was in the restaurant industry when the pandemic shut down the economy last March.
We heard from so many workers, one was a woman named Sarah Mae from Michigan, worked in a small dive bar in a small town in Michigan and told us that she had religiously reported her tips to the IRS. The wage in Michigan is $3.52 an hour, but when she went to apply for unemployment insurance, she was told that her employer never reported her tips. It looked like she had just earned that $3 wage. In total, it looked to the state of Michigan that she had not actually worked full-time. She had not worked enough hours to qualify for benefits. She couldn't get state unemployment insurance.
Then when federal unemployment insurance came out, it was supposedly not based on your income, it was supposed to be just on loss of a job. She was told she'd be eligible for that, but because it came through the state of Michigan system and she was marked as a denial by the state of Michigan, she was never able to access those funds. This is the incredible, outrageous irony of the moment. Here you have some people claiming, "Oh, these workers are lazy, staying home, collecting unemployment insurance," when the truth is a huge majority of these workers never received it or received very little because their wages were so low. It was at that moment-- That was the beginning of the Exodus. We heard from so many workers at that moment last spring.
Wait a second, if the government is telling me I earn too little to qualify for benefits like everybody else who's been working full-time or more than full-time, then probably I earn too little. If the state is telling me that, and I should never have put up with this subminimum wage to begin with. When we did the survey you mentioned this May, serving 3000 workers and 54% of those who remain in the industry and mind you, so many left last year. This year, 54%, more than half of those who remain in the industry say they're leaving. 78%, nearly 8 in 10, say the primary thing that's going to make them stay in the industry or come back to work in restaurants is a full minimum wage with tips on top.
There has been this just moment of epiphany. Wait a second, if everybody's saying I earn too little, the government is saying I earn too little to get benefits, then on top of that, you want me now to enforce social distancing and mask rules and COVID vaccination card rules on the same customers from whom I'm supposed to get tips to make up my income. Even with those tips, I'll never be considered earning enough to actually qualify for benefits for everybody else. Honestly, I'm done and you can take this job and shove it.
Melissa Harris-Perry: All right, expand on that aspect that is the requirement of front of the house workers to enforce the masking rules. What is maskual harassment?
Saru Jayaraman: First of all, it's important to note that our industry had the highest rates of sexual harassment of any industry in the United States prior to the pandemic. We work closely with Professor Catharine MacKinnon who's, many people know, legendary law professor who really coined the term sexual harassment and spent her life trying to make it illegal in the United States. She did research with us. In her words, the rate of sexual harassment in our industry among tipped workers, dwarfs all other sectors, including the military, because you have this workforce that is overwhelmingly women that must tolerate inappropriate customer behavior to feed their families in tips.
The connection to the tip minimum wage is very clear when you look at the seven states that got rid of the subminimum wage many decades ago, California, Oregon, Washington, Nevada, Minnesota, Montana, and Alaska require full-minimum wage with tips on top, have for decades, not only have higher small business growth rates, lost fewer restaurants during the pandemic, but also have one half the rate of sexual harassment in the industry because their women can count on a wage from their boss like every other worker in every other industry. They don't have to put up with as much from male customers. They're not as dependent on the tip.
It was that power dynamic between women servers and male customers that got so much worse with the pandemic, because with tips way down, because sales are down and now this added responsibility to tell customers, "Put on a mask, sit six feet apart, now I need to see your COVID vaccination card," the power dynamic of, "I need to get tips from these very same people," resulted in really a very ugly situation in which we heard from thousands of women. I am repeatedly asked on every shift by male customers, "Take off your mask so I can see how cute you are before I decide how much to tip you. Take off your mask so I can see the pretty face of my server before I decide how much to tip."
What was truly intolerable in the past, outrageous, humiliating, now became a matter of life and death. Naturally, many people said, "That's it. I'm done. You are asking me to expose myself and my children and my family to the virus for the opportunity, for the chance at earning an income when I can go work in another industry and at least get the minimum wage or more from my employer without having to expose myself in this way, for the chance to get a tip."
Melissa Harris-Perry: In our last moments here, what is the Raise the Wage Act?
Saru Jayaraman: I think what's incredible about this moment, the silver lining about this moment is that we are seeing this-- we're calling it a wage shortage, not a worker shortage. There are workers, they just won't work for these wages. This resulting in thousands of restaurants now raising their wages across the country. This needs to be driving policy. The Federal Raise the Wage Act needs to follow employers who are paying this and saying we can't do it alone. In New York state, Governor Hochul can move in this direction, end the subminimum wage for tipped workers. Multiple states are looking at this. This is the time to support workers who are saying, "We can't come back without this," and small business restaurants who are saying, "We're paying these wages, but we need-- We're raising wages, but we need the government to make this a level playing field and signal to workers it is worth coming back to work in restaurants."
Melissa Harris-Perry: Saru Jayaraman is the President of One Fair Wage and Director of the Food Labor Research Center at the University of California, Berkeley. Thank you so much for speaking with us today.
Saru Jayaraman: Thank you.
Copyright © 2021 New York Public Radio. All rights reserved. Visit our website terms of use at www.wnyc.org for further information.
New York Public Radio transcripts are created on a rush deadline, often by contractors. This text may not be in its final form and may be updated or revised in the future. Accuracy and availability may vary. The authoritative record of New York Public Radio's programming is the audio record.