A Look at the Texas Primaries and the Main Takeaways for Democrats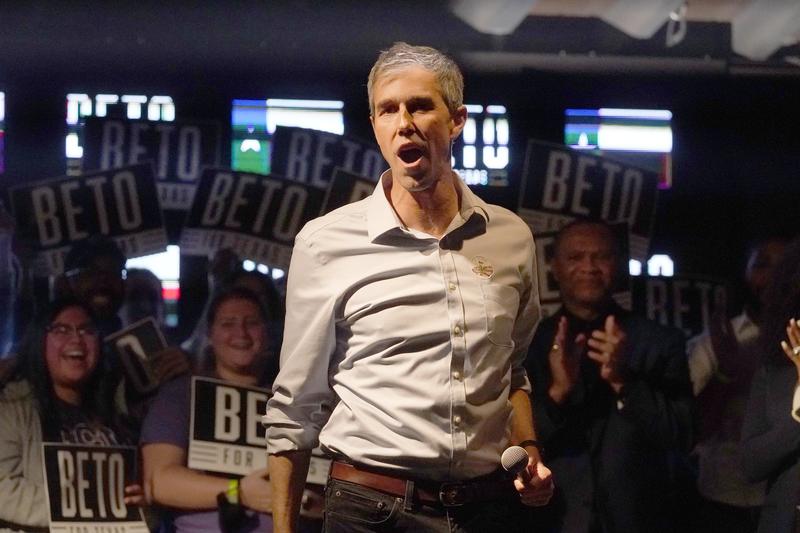 Transcript
[music]
Melissa Harris-Perry: How do y'all, it's The Takeaway and I'm Melissa Harris-Perry. We're ramping up this midterm election year with the first primary election of the season. That's right. [background noise] Now this is also the first statewide election in Texas since Republican lawmakers passed new voting restrictions last year. Those are the same voting restrictions that prompted Texas house, Democrats, to flee the state last summer, in order to block voting on legislation in a special session.
?Speaker 2: I didn't know where we were going, how we were going to get there, where we were staying. It could have been any part of the country. I knew we had to lead the [unintelligible 00:00:51] of Texas.
Melissa Harris-Perry: The law was eventually passed in a later special session. At the top of the ballot in the race for governor, there's some names you probably recognized.
Greg Abbot: I'm running for reelection to keep Texas on the right course.
Melissa Harris-Perry: Incumbent Governor Greg Abbot, easily beat out his primary challengers, winning the Republican nomination for governor in order to move forward in his bid for a third term in office. On the other side, Beto O'Rourke the El Paso native who ran for Senate against Ted Cruz four years ago. Well, he won over 90% of the vote for the Democratic party's nomination for governor.
Beto O'Rourke: This group of people and then some are going to make me the first Democrat to be governor of the state of Texas since 1994.
[applause]
Melissa Harris-Perry: There are also some key races that are going to now head into runoffs. Incumbent Attorney General, Ken Paxton faces a runoff for the Republican nomination against land commissioner, George P. Bush. Down in South Texas, progressive candidate Jessica Cisneros will face a runoff with incumbent US representative Henry Cuellar, who is a conservative Democrat for Texas' 28 congressional district. As we look at the Texas primaries and what these returns may mean for the midterms in November, one key question remains, will this be the year that Texas goes blue? Here to help me answer that question is Odus Evbagharu, who is chair of the Harris County Democratic Party.
Tell me Odus, why was the Texas primary so early?
Odus Evbagharu: Hello, Melissa. Thank you so much for having us. None of us know why the Texas primary was this early. We're the only state in the country that has a primary before May. It's just another form of voter suppression that we have to face down here in Texas.
Melissa Harris-Perry: In fact, talk to me a bit about that. What do we know about voter turnout? Again, just so that folks understand right. Such an early primary means that there are real challenges in getting enough information to voters so that they know that the primary is happening. That is the way that it is suppressive. What do we know about turnout?
Odus Evbagharu: Turnout usually in Texas is really low and we have one of the lowest turnouts in the country. We're always consistently in the bottom five and that's happening here again in our primary. We're in the bottom five again, and we will probably be in the bottom five when it's all said and done when it comes to primary turnout and you'll see that again in November. It's been a consistent trend here in Texas. We have some of the most restrictive voting laws in the country from voter ID to not being able to have same-day voter registration, not being allowed online registration. It's a mess down here in Texas when it comes to protecting the freedom to vote.
Melissa Harris-Perry: Based on these restrictive voting measures, some of which we know are new, do you all receive any report or hear of voters who did manage to turn out having any difficulties actually casting a ballot or again, given how low voter turnout was, were voting operations fairly smooth for those who were able to turn out?
Odus Evbagharu: Yes. We had issues down here with folks verifying their information. One example is a sitting state rep here in Texas when he went to go vote, particularly in Houston when he went to go vote his driver's license number was attached to an old address from 15 years ago. These are some of the stories that you hear around Texas, as you all know, and you've heard through numerous news reports our vote-by-mail rejection rate has been disproportionately higher than what it's been in the past. That's because the requirements for verification of the vote by mail application and ballot is different.
The seal on the envelope is different matching driver's license numbers and social security numbers now. We've encouraged our folks who vote by mail to put both their driver's license and social security number and also legibly put their emails and phone numbers on their ballots and applications. That way the election authorities can follow up and make sure that their vote is counted. What was startling is we saw a lot of older folks who are in our communities and workers being undeterred. It was encouraging, but it was discouraging as well because their normal mode of voting was disrupted because of these new laws and SB1.
You saw some of the operations not run as smoothly right here in Harris County and it was a big mess.
Melissa Harris-Perry: Tell us given the point that you're making about this critical nature of what's been happening with these suppressive voter efforts and how difficult it is when you have such an early primary. I'm wondering if the various county parties, the state party received support from the nationals, from DNC, or if basically locals were left to resource and manage this GOTV effort independently.
Odus Evbagharu: When it comes to having the resource for this, this really is a state legislature thing, not so much a party thing. We have the support of our Texas Democratic Party and Democratic National Committee in terms of making sure that we get the word out and understanding what type of education the voter needs. The biggest issue though is that when you create a new law, you must also fund it. You can't cause problems and then not give money to address the same issues that you're about to cause. Now obviously the Republican-led state legislature doesn't feel like they've caused a problem.
They feel like they've made voting more secure. What we've seen in the primary already was high vote-by-mail rejection rate. We saw not enough staffing because one of the things with the SB1 as we call it here in Texas is, the penalties have increased putting more of the burden on election workers, poll workers, presiding judges at different polling locations. You saw that staffing at polling locations was hard across Texas period in your major counties, in your rural counties, democratic, republican. It didn't matter because the burden got put more on them. The Republican state legislature did nothing to alleviate that.
Then the other thing too is when you create a big bill like that and you pass it and you comprehensively change statute of the election code, you have to educate the voters and there's literally no money spent on voter education, which is on the state. I don't believe that it should be on the different parties. It's on the state. You created this monster now feed it.
Melissa Harris-Perry: All right. Let's talk about the actual results of the primaries, any big surprises, or maybe if they weren't surprising to you, given that you're chairing the Harris County Democrats, maybe surprising to those of us outside of that local context.
Odus Evbagharu: No big surprises here in Texas. I think everything followed tread line, particularly in both primaries, there are some down-ballot races. I don't believe any of the incumbent loss on either side when it comes to the state legislature or the state Senate. I know everyone was paying attention to some of the congressional races, three in particular. We saw one in Austin, Texas. One of the new congressional districts. Here still that congressional District 35. We saw Greg Casar one who was a big progressive, congressional District 30 where we see Eddie Bernice Johnson is retiring. That's going to go in a runoff with state rep, Jasmine Crockett and former chief of staff from Mark VC, Jane Hamilton.
Then obviously I know everyone's paying attention on what's going to go down in what we call the valley region with Jessica Cisneros and Henry Cuellar, that's going to go into a runoff. Those races were big races that we were all looking at and then Beto O'Rourke work being able to get 90% of the vote in the Democratic primary is a big deal. Then on the Republican side Greg Abbot getting 68%. I know they're going to spin that as a big win but that-- Hes underwater. Greg Abbot usually is getting 70, 80% of the base. He's not able to get that. A lot of the Trump movement is against him. We'll see how that plays out. Then the big race on that side is the attorney general race.
It's going to be Ken Paxton versus the Bush. As we like to call it down here is going to be Trump versus Bush. We're going to see how that shapes out, but we're fairly confident on the Democratic side. We're seeing movement pick up, we're seeing momentum pick up. One thing we're trying to do is we're trying to give our voters a little reprieve. A lot of them are retired. Folks are tired. Coming out of COVID, a pandemic and quite frankly, a state government that is not helping Texans down here. We're trying to do our best to make sure that we're building momentum. We're going to ride the coattails of Beto O'Rourke and see where it takes us November 2022.
Melissa Harris-Perry: As you mentioned, the Trump versus Bush and particularly George P. Bush, the Bushes certainly represent a time in the American GOP, where the National Party was working really hard to get Latino voters and was making some inroads and we see at least some of that happening in Texas. I'm wondering what the Democratic Party's strategy in Texas is for holding on to and increasing vote share among Latinos?
Odus Evbagharu: I think that that's one of the trends that, I think it's a little misleading. I don't believe that Latinos are going over to go vote for the Republican Party. One of the things that we see down here in Texas is one of the things that you saw, as particularly the 2020 election was they were able to mobilize and get Republican Latinos out more than we were able to get Democratic Latinos out to go vote. I hope that makes sense. That's the trendline that we saw down here in Texas.
Melissa Harris-Perry: In other words, turnout rather than choice.
Odus Evbagharu: Exactly. One of the things that we have to do a better job is messaging and getting better messengers. We've got to make sure that we're keeping issues local, and we're keeping it to the kitchen table issues. Right here in Texas, things that we haven't done that are easily tangible. Number one thing, we haven't expanded Medicaid, we leave $10 billion of taxpayer money still on the table because we refuse to expand Medicaid. The consequence of that, we have the highest uninsured rate in the country. We've refused to increase the minimum wage, we're still at $7.25. The average rent in Houston is $1,400. No one can pay rent in Houston right now on minimum wage is $7.25.
We have not adequately funded public schools, we still spend 39 cents on our dollar in public school and we're 43rd in the country per-pupil spending. One thing that's big here is we still haven't fixed our grid. There is PTSD still from when we froze and many of our neighbors froze to death in February of last year, we still haven't done that. There's tangible things that we've got to keep talking about to our Latino communities and making sure they understand where we're coming from when it comes to these kitchen table issues.
Now we're the party that's going to get them to expand Medicaid coverage, higher wages, their public schools being funded, and a grid being fixed that way they don't freeze to death like what we saw in February.
Melissa Harris-Perry: As you're talking about kitchen table issues, I wanted to also go to a critical issue depending on who's at your kitchen table. That is what's going on for the families of transgender young people who are seeking gender-affirming care. I'm wondering what the message of Texas Democrats is to these families.
Odus Evbagharu: Oh, the message is that number one, we're with them 1,000%. We saw an attack on trans kids this past legislative session and it was disturbing. The Republicans, again, are always obsessed with reproductive rights. They're always obsessed with what's below the belt. They're not obsessed with how they can increase wages, fix our grid, and make our lives better here in Texas. It's always one thing or another worried about folk's privacy and letting them live and let them being who they want to be. Our message is we're going to keep fighting.
I think you all saw Harris county Attorney Christian Menefee pretty much rejected what Governor Abbott is doing with this order of shutting down these gender-affirming treatments and having the parents choose for themselves. Also, what we like to tell people too it's really rich on the Republican side. They talk about freedom of choice, freedom to do this, freedom to do that, personal responsibility but at every turn this past legislative session, and even before and really throughout history, if we're really paying attention, they're always taking away people's personal freedoms.
It's something that we harp about, we talk about, and it's unfortunate what Governor Abbott and Dan Patrick and Ken Paxton, have done to trans kids and just trans people in our state. We're going to keep fighting and we're going to make sure that we're protecting their rights.
Melissa Harris-Perry: Just a last question, and I feel like this has been a conversation now for at least 15 years. I can remember right after Hurricane Katrina and of course, the displacement of so many of my beloved friends, family, neighbors into Texas, we said well, maybe the one good thing that would come out of this or maybe one thing that might come out of this would be turning Texas blue. Let me ask, how close are you to turning Texas blue and what shade of blue?
Odus Evbagharu: We're close. In 2020 I know that the analysis that was done in Texas was doomsday, but I do want to remind folks that Joe Biden lost by six points in the state of Texas, Hillary Clinton lost by nine points in 2016. We're making gains. We are also 23,000 votes away from having the majority in the state legislature, the statehouse for the first time since 2000/2001. We're close and we got to keep organizing, the demographics have changed. Since the last census, 95% of the growth here in Texas is due to people of color. The demographics are changing. Our message is resonating with voters here in Texas, folks are tired of the Republican state leadership here. It's been inadequate.
Like I've mentioned before, I'm going to sound like a broken record. We haven't increased wages, we haven't increased Medicaid. We haven't expanded it. Public education still isn't funded. We haven't fixed the grid. Oh, by the way, during this legislative session, we took away reproductive rights, pretty much an all-out ban on abortion. We've also allowed anybody over the age of 18 and older to carry a gun with no permit, which you've seen an increase in gun violence, which is a part of the national way. We've got tangible things to fix and rectify so we can make our neighborhoods safer.
We can get people adequate education, get people insurance, increase wages, fix the grid, there's plenty to do here in Texas. There's plenty of what the Republican leadership hasn't done. There's plenty for Democrats to get in and fix so that way people can live better lives.
Melissa Harris-Perry: Odus Evbagharu is the chair of the Harris County Democratic Party and he's taken it to the kitchen table. Thanks so much for joining us.
Odus Evbagharu: Thank you, Melissa.
[00:16:46] [END OF AUDIO]
Copyright © 2022 New York Public Radio. All rights reserved. Visit our website terms of use at www.wnyc.org for further information.
New York Public Radio transcripts are created on a rush deadline, often by contractors. This text may not be in its final form and may be updated or revised in the future. Accuracy and availability may vary. The authoritative record of New York Public Radio's programming is the audio record.