Popular Police Reality Shows Canceled Amid Protests Against Police Brutality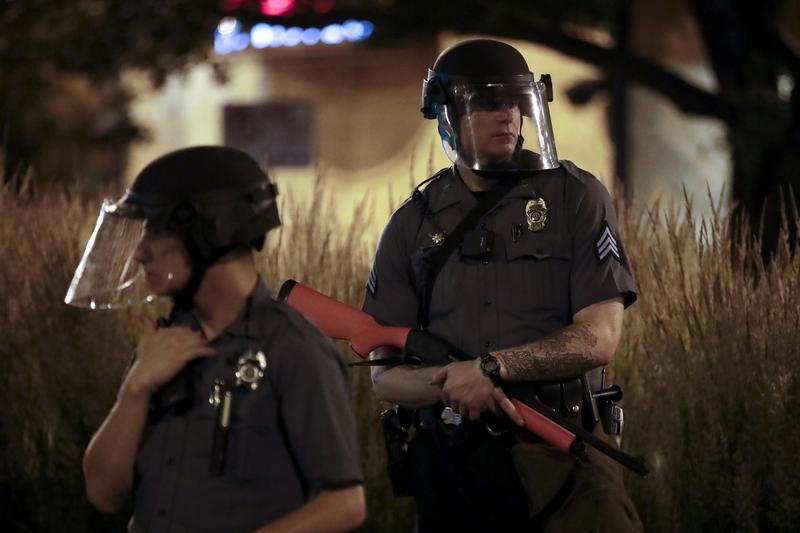 Transcript
Tanzina Vega: It's The Takeaway. I'm Tanzina Vega. Last night, A&E canceled their extremely popular police-based reality show Live PD. In a statement, the network references the "critical time in our nation's history," as a reason for the move, a presumptive nod to the protest against police brutality that have gripped the nation for the past two weeks. A&E's decision to cancel Live PD comes days after the Paramount Network canceled its popular reality police show Cops after a 30 year run.
While it's still unclear whether the nationwide protest influenced Paramount to cancel Cops, for years, both shows have been criticized for disproportionately featuring poor people and people of color as criminals and glorifying aggressive police conduct. Joining me now to talk about all this is Dan Tyburski, the host of the Running from COPS podcast, an investigative series into the show, and its impact on the country. Dan, thanks for joining us.
Dan: Hey, good to be here.
Tanzina: Big news, right before we were going to do this segment, A&E canceled Live PD. Were you surprised?
Dan: Honestly, I was shocked. I mean, Cops has been on for years and years and years, but in the past few years, Live PD has exponentially eclipsed it in terms of popularity. If you remember that it's not just that they cancelled this one show, Live PD, A&E is built around this show. The last time I counted, and you have to count a lot because it changes all the time, they were six spin-offs of Live PD on A&E alone. It is just a huge moneymaker for them and so I knew the bar was going to be higher for them to give it a rethink, but it happened and I'm really happy.
Tanzina: I want to talk about that because we'll just get right into it. I mean, you mentioned A&E has about six spin-offs of this and I want to go even further and say a lot of basic cable, really focuses on this industry of incarceration and criminality. I mean, I'm thinking the reality shows Life after Lockup, I'm thinking before people get locked up, Live PD, The First 48, 60 Days In, like all of these are shows that really focus on policing, criminality and incarceration. How has this become such an important and big genre for basic cable?
Dan: Well, it's cheap, that counts. For basic cable, you can make a lot of them with a little bit of money. It's visceral. I mean, the Cops was designed from the very beginning to scare the crap out of people.
Tanzina: To scare the crap out of who?
Dan: Out of viewers. Viewers like to be scared. It's funny, I interviewed one of the creators of Cops and they were talking about how, when they were making it was almost like making a horror movie. You just want to make it as scary as possible and that's part of the thrill of watching it. It created the idea over the past few decades that the only thing standing between you, the viewer and all that chaos that they're portraying on the show, is the thin blue line.
It serves the police because it bolsters their image, it serves the networks because it gives them easy ratings and it doesn't serve the people who are on the show.
Tanzina: Well, let's talk about that because I wonder how much input the police had on the show in terms of the, was this meant to glorify policing?
Dan: One of the things we found out, and I had an inkling before we started, but I didn't realize how pervasive it was, with the show Cops, ever since the first season, the police departments that participate, and it's been over 150 police departments across the country, the police departments that participate have contractual final cut. In the contracts they signed with the production company, it says that they can remove anything they want to from the show if they deem it something that they don't want it in there.
Already the police are contractually legally controlling the message. I think it's shocking to most viewers that catch it once they find that out and once you find that out, it explains a lot. In the very beginning Cops, it started in 1989, right when the "war on drugs" was picking up and it really truly helps sell the "war on drugs" to the American people. The "war on drugs" was really violent and it said that we need police to use these really violent tactics to tamp down on drug use and it was flashy and it helped sell that method of policing to people as something that was necessary.
Tanzina: The "war on drugs" from the '90s was something that also disproportionately affected, Black and brown Americans, poor Americans, inner city folk, to use that term. Your analysis of Cops over the years, was there a disparity in the frequency that showed people of color being arrested as opposed to white people? I mean, because to me, what I always took away from Cops, it always focused on poor people for the majority.
Dan: Yes. In the very beginning, the NAACP called up Cops in the first season and they said, you guys are showing all your criminals as Black and brown people. The show Cops actually changed because of that, but they changed in a really creepy way and that they just decided to focus on poor white communities, right? It never, it always focuses on poor and working class people. That's the texture you get after seeing Cops for the past 30 years, is that you do see a lot of poor white people being arrested.
Overall, the numbers of Black and brown people being arrested and white people being arrested are about the same as FBI data shows and that's not acknowledging at all the potential and probable discrepancies with the way police actually decide to arrest these people, but it matches the FBI data. What we did find in our data and we watched 847 episodes of the show and did a really detailed data analysis, is that Cops front loads crime by people of color.
Basically, if 48% of people of color committing violent crime on the show Cops, it's shown in the first seven of the show. It's very similar with drug crime, it's just about 50%. Whereas for white people committing those same crimes, they only front load about 24% and so what that says as somebody who's been a television producer and I've made a reality show, is not quite like Cops, but similar things, that if you're making a television show you need to put the most catchy stuff up front. You need to hook your viewers in, and so it begs the question, why did the producers of that show for the past 30 years, consciously or unconsciously, think that crime by people of color was what people wanted to see.
Tanzina: I'm going to ask you to take that further and interpret perhaps the effect that that's had on the American public. I mean, this is a show that we all know, we all know the theme song for it, this is something that's been around for 30 some odd seasons. What effect does that have on the way that Americans view policing, criminality and the people who are caught up in this?
Dan: I mean, it's a combination of things. It changes the way that Americans look at who is committing crime. It also changes the way that Americans look at the efficacy of policing. On the show Cops, 99% of chase scenes on the show Cops end in arrest. That is nowhere near the reality in real life. It creates this illusion that, oh, if something happens, the police should chase them because they're going to get them, but that's just not what happens.
It also creates an image of a world that's much more violent than is in reality, three times the amount of violent crime on Cops, four times the amount of drug crime, 10 times the amount of prostitution. It just creates this world that really bolsters the need for not just policing, but a certain type of policing that as we know, disproportionately impacts communities of color.
Tanzina: Dan, I want to ask you about something that happened recently with Live PD, They were under a scrutiny and receiving a lot of criticism for a violent arrest that the producers on that show witness. What can you tell us about that?
Dan: I mean, you know as much as I do. Live PD hasn't been super transparent about that. I mean, there was a case in Williamson County where a person drove by, they didn't-- Williamson County, Texas, a person drove by with headlights that weren't dimmed and there was a camera in the car from Live PD and so the police decided to chase the person, tase the person and ultimately killed the person, and then Live PD, deleted the footage.
Which just seems so egregious and it has to be part of the reason why the show was canceled. It just shows how skewed the priorities are of a show like that, when you try to turn policing into entertainment. Basically makes you ask the question, when you put a camera in the car with a police office, what is he focusing on? Is he focusing on good policing? Or is he focusing on good entertainment? Those are two very different things.
Tanzina: We did reach out to paramount to see if the protests that are happening around the country may have spurred their decision to cancel Cops in its 33rd season right now. Do you have any insight into that, Dan? We haven't heard back from them yet.
Dan: No, no, I don't have any insight into what went into that decision, but that's what happened.
Tanzina: Most likely. I just want to-
Dan: Yes.
Tanzina: Sorry, go ahead.
Dan: No, it was just, it's been on the air for so long and it's one of those things, especially a show like Cops, like people aren't paying attention to it. It's like wallpaper, right? It's on 15, sometimes 20 times a day because [unintelligible 00:09:40] and on cable, but it's not prestige television, so people aren't ready, critics aren't writing about it. It's not something that bubbles up as something that needs to be talked about culturally, it's just the message that lies in the background.
It gets ratings, it makes them money and the people who are into the show watch it and it continues to confirm that message. I think when a moment like this happens, which is exciting and thrilling, I think it's just the thing like, the very least you can do is decide that, you know what? Let's stop it with the entertainment cameras and police department cars. That is just the most obvious first step.
Tanzina: Police around the country right now have cameras of their own. Many of them are wearing body cameras when they're handling their arrests and interactions with the public. I'm noticing an uptick in news, in nightly news, for example, local news using a lot of police body cam footage. Are you seeing that? Is that a way to continue this bird's eye view and to have police engage if you will or arrest people through their own body cameras versus a production?
Dan: Interestingly enough one of the things that irked me the most about Live PD is that one of their spinoffs was called Live PD: PD Cam. Basically all it was was repurposed body cam footage from police. They would go and they would canvas a country and they would get body cam footage. They could get from police departments, that body cam footage that was ostensibly meant for transparency to begin with. That was the whole point, but they would use it for entertainment.
They would take the flashiest ones and they would make entertainment shows and make millions of dollars off this material that was meant for transparency in the first place. It certainly seems like you're just seeing such a different perspective on what people are experiencing when they're policed, as opposed to what entertainment shows want you to see when they're working with police departments showing the police and the fact that people have cameras on their phones just makes it possible.
Tanzina: Dan Tyburski is the host of the Running from COPS podcast, an investigative series into the show Cops. Dan, thanks so much for joining us.
Copyright © 2020 New York Public Radio. All rights reserved. Visit our website terms of use at www.wnyc.org for further information.
New York Public Radio transcripts are created on a rush deadline, often by contractors. This text may not be in its final form and may be updated or revised in the future. Accuracy and availability may vary. The authoritative record of New York Public Radio's programming is the audio record.