The Life and Legacy of Johnny Pacheco and Fania Records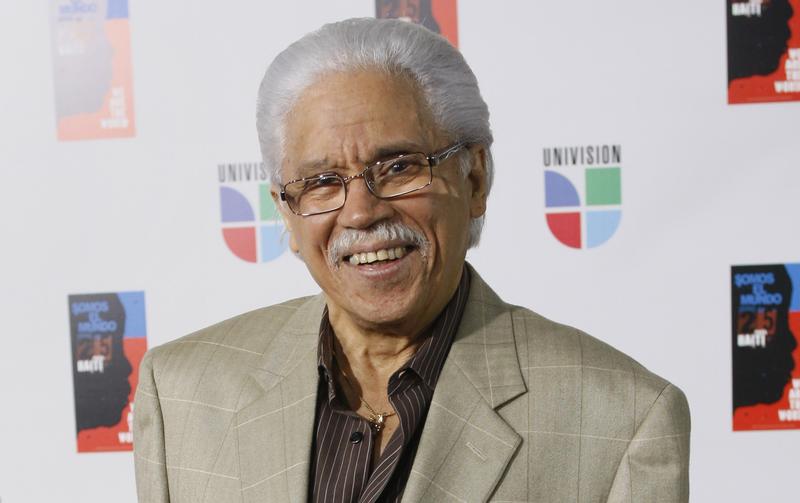 Transcript
[music]
Tanzina: That is the sound of New York City in the 1970s. This week, the world lost a salsa music legend. On Monday, Johnny Pacheco, the renowned bandleader, musician, and co-founder of the salsa label, Fania Records died at the age of 85. Widely considered the Godfather of Salsa, the Dominican-born Pacheco helped popularize salsa music internationally with his label Fania, eventually, becoming known as "The Motown of Salsa."
A Juilliard-trained instrumentalist, Pacheco joined forces with lawyer Jerry Masucci in 1964 to form Fania Records. The label had humble beginnings, selling albums out of car trunks in Spanish Harlem. Before long, Fania Records grew into the major label, recording and promoting the sounds of salsa, complete with its own orchestra, the Fania All-Stars. Over his decades-long career, Pacheco himself wrote and recorded more than 150 songs, earned countless Grammy nominations, and was inducted into the International Latin Music Hall of Fame in 1998.
[music]
Tanzina: In August 1973, the Fania All-Stars sold out New York's Yankee Stadium for a legendary concert.
[music]
Tanzina: They even took the show on to Zaire in Africa.
[music]
Tanzina: Fania landed some of the biggest names in salsa music, including the Queen of Salsa, herself, Celia Cruz, whose career embodied the evolution of Latin music in the United States. Fania Records also spread the salsa and jazz stylings of famed pianist, Eddie Palmieri, who fused American jazz with Afro-Cuban rhythms. The beloved Puerto Rican singer Héctor Lavoe, as well as musicians, Rubin Blades, and Willie Colon, became hallmarks of salsa around the world, all thanks to Johnny Pacheco and Fania.
As a New Yorker who grew up on this music, Johnny Pacheco and Fania Records was a constant part of the rhythms of the streets of New York in the 1970s. My family had stacks of Fania Records and many of the songs would become staples of household gatherings. For many, Fania, also represented the sound of a new chapter in the Puerto Rican, Dominican, and Cuban diaspora here in the United States. Now, I'm joined by Bobby Sanabria, a multi Grammy-nominated drummer-percussionist band leader, who works in the worlds of salsa, jazz, and Latin jazz. He's also the host of the radio show, Latin Jazz Cruise on WBGO. Bobby, welcome to the show.
Bobby: Thank you for having me. Good to be here.
Tanzina: Felix Contreras is the host of NPR Music's Alt.Latino. Felix, thank you for being with us.
Felix: Thanks for having me too. Thanks.
Tanzina: Bobby, tell us about Fania Records and what it meant. I'm listening to this music and I'm just taken right back to being a kid in New York in the '70s. Tell me, when you hear this, what does it feel, what does it mean to you to hear this?
Bobby: Well, it's the soundtrack of my life. I grew up in the South Bronx in New York City and I'm a Puerto Rican parentage. That means I'm in Nuyorican. For us, Fania represented, for me, my generation coming up in the music where my parents' generation was the big band's Mambo Cha Cha Cha, et cetera. For us, Fania represented more of a song that was a little bit more contemporary in terms of now, the singers became the most important thing.
Also, it was homegrown and the identity markers of Fania in terms of the way we play Cuban music in New York City, it became very trombone-oriented, solos with the musicians, which was the influence of jazz, et cetera. It just brings back great memories. You heard Fania recordings in every bodega in New York City when I was growing up. It was the soundtrack of our lives. You couldn't escape it.
Tanzina: You couldn't escape it. It was really just everywhere and every house party. Even today, Christmas, Thanksgiving, when we used to gather, it's full of these sounds. Felix, when we talk about Johnny Pacheco and we talk about salsa, Johnny Pacheco elevated this music to a level that it was international. Tell us how he did that.
Felix: He was a schooled musician. He had studied at Juilliard. He was a very, very proficient musician, percussionist, multi-instrumentalist, a fantastic arranger. When you talk about the Fania sound and you talk about his contribution, it's really, he was the architect, one of the principal architects of the sound itself in the way he arranged the horns, the way he arranged all the rhythm sections, the way he put the songs together, the way he put the spotlight, this really nice spotlight around whatever vocalist he was working with or instrumentalist he was working with. He worked in the service of others. That's the one thing we need to remember about Johnny Pacheco, that his contribution was making others shine. That is probably one of the most important things that came out of his relationship with Fania Records.
Tanzina: Bobby, at the very top of the previous segment, we heard a lot of Pacheco songs. I went digging through the crates to get some of his old songs. One of them was La Esencia del guaguanco. Tell us what the guaguanco is.
Bobby: The guaguanco is a form of Rhumba. It was the soundtrack also in my life when I was growing up in the South Bronx. It's originally a form that's just, voices, drumming, and dancing from La Havana Cuba e Matanzas. The basic melody of guaguanco from the Havana style is this [claps] and Matanzas style is this [claps]. Now, you slow that down a little bit and you get, [sings], which is what you heard here when you played that song. It was adapted to band styles and it's one of the forms that we use in salsa along with the guaracha, the mumble, of course, the Cha Cha Cha, and the ubiquitous son montuno.
Tanzina: When you're talking about guaguanco we also talk about the clave, which is the beat that goes with a lot of salsa music. Felix, a lot of this is also deepening the connection that Latinos particularly had with their Afro-Caribbean roots. Wasn't that a big part of the creation of salsa, so much that the Fania All-Stars even took the band over to Africa and to Zaire and other countries to perform there? Tell us about that.
Felix: It is the essence. It's the bedrock. It's everything about salsa music and what became known as salsa music is that connection to Africa, through the clave and through things like the spiritual side of it, the Santeria side, and what they call six-eight music forms and stuff like that. I've always been so enamored. I'm Mexican-American. I'm originally from California. I grew up out there and I was always enamored by this music. It was a part of my soundtrack as a youth.
Whenever I saw things like this film that was made in 1974 in Zaire, what always struck me is that it was so powerful that they took the African part of salsa back to Africa and the Africans embraced it. I did an interview with an African vocalist who said that she was at that concert and that made her, number one, embrace salsa even more, but also, the fact when she saw Celia Cruz performing with the Fania All-Stars, it empowered her as a woman to be able to be a vocalist and be a strong presence in the music business.
Tanzina: Bobby, let's talk a little bit about a specific instrument, the cuatro. How has that made its way into what we know as salsa?
Bobby: Oh, well, my good friend Yomo Toro from Guánica, Puerto Rico, my father's home city, was a master of that instrument, may he rest in peace. I got to perform with him many times. The cuatro is our mandolin-like instrument from Puerto Rico. It originally had four sets of double strings, but in 1952, an artist had put a fifth set of strings. Most people ask me, "Well, why don't they call it the Cinco, which means five?" I say, "Well, I guess we're conservative as Puerto Ricans. We kept the name cuatro, which means four." That instrument, originally in the song tradition, which is the folk song tradition of Eastern Cuba, which is the foundation of what we call salsa, the tres was the main instrument, which is a mandolin-like soundly guitar from Cuba.
It has three sets of double strings. Yomo Toro played that instrument as well even though he was Puerto Rican, but he decided to bring the cuatro to a session one day and he always jokes with me. Well, I started going, "Why didn't you just keep playing the tres?" He goes, "Well, I did in the beginning, but the cuatro is smaller so it's easier to carry." He started laughing. We're so glad that he did that because it put an identity marker of Puerto Ricanness into the music
Tanzina: Fania itself is often compared to Motown. Tell us about that comparison.
Felix: It's a very accurate comparison.
Motown in Detroit Stax in Memphis. Those labels were associated with a particular style of music, a particular community, most importantly, and Fania it was the same thing. You're in one of the biggest cities in the world, New York and it's a New York music but it's a New York music from the Latino buyers, from the Latino community. It is very specific to New York. Like I said I'm out in California, and it was so intriguing to me.
I must have an Afro-Caribbean soul or lived in the afro-Caribbean in the past, because it just drew me in, and that music, we're talking about the '70s. There's no internet, there's no streaming, there's no downloading. I had to wait for these records to come out and absorb them and drive to San Francisco to check them out and buy them. It reflected the whole idea of the Latin community in New York on this cloud, this pedestal, what it must be like to live in that in the day-to-day, which you guys experienced.
Tanzina: We do. I was a young, young, young, young, young person there. I was a child, but I remember it. Bobby, Fania isn't just about the music. There were the clubs, they were the studios. Tell us about that experience. Going to the clubs, I remember watching my aunts getting ready to go out and to dance this music and it was a thing.
Bobby: Right. It was ubiquitous as I said before. You had about 20 to 30 nightclubs in Manhattan, along where any night of the week, I'm talking about seven nights a week, you could hear any style in what we call salsa. You could hear a Cuban style, conjunto, like in Johnny Pacheko's band which is two trumpets and a rhythm section. Puente or Machito's band with Tito Rodriguez Orchestra, which is a big band. You could hear in the charanga style which is flute, and violins. Then you had the clubs in the Bronx. The Bronx at one time had as many or more nightclubs in both jazz and Latin than Manhattan. Then, in Brooklyn as well.
It was just incredible and then 1000s of musicians being able to work and live off this, make a living at this, the recording studio the recording industry, then you have people, when you go out dancing you got to get dressed up et cetera. That's part of the industry as well clothing, shoes, et cetera and people buying the recordings. It was an incredible industry that was happening that no longer really exists anymore on the level that it did when I was coming up. I miss those days fondly. I must say, the music at the time period gave us sustenance, gave us life, because New York City, as you all know, during that time period in the '70s, was going through a period of malfeasance. The city went bankrupt, it finally imploded in 1977 with a blackout. What made us or gave us sustenance, let us survive and thrive, it was this music. It was the pulse of New York City.
Tanzina: You're so right about that Bobby. Felix, you said you didn't grow up in New York but you still knew about the music. Do you recall how it came out there to California? Were there also people going out to the clubs at that time?
Felix: Probably I was still a teenager. I was in high school and I was a music geek like I am now. I was just reading. I read about it in the national press. I read about it in Rolling Stone. I had a subscription to Rolling Stone and it was a different type of magazine back then. I was intrigued. Honestly, I don't know what attracted me to it. I just remember I went to-- Salsa was so big that a friend of mine started a salsa band like '73, '74, or something like that. I was a kid, and I went to go hear him. I remember walking into the little hall where he was playing and, Bobby I heard that piano, that [vocalization].
I'm like, "Boom." The sky opened up and everything-- For the longest time, I didn't know what it was called. I just kept calling it, "that music." I want to hear "that music." Then I would go to record stores, I would try to find stuff. I found a Puente album. I started to learn how to play congas and timbales because of Santana, but this music drew me in. The first song I learned to play on timbales was El Raton, Live from the Yankee Stadium album from the Fania Allstars because it was so simple. I had a [unintelligible 00:14:25] beat so I could do that.
It just drew me in and that's how I found that music. Then I just soaked everything up. When I got to college I drove to San Francisco. There was a place in San Francisco, Musica Latina. It was like the Tower Records of salsa. I could go in there and pick up as many Fania records as I could take back home.
Tanzina: Bobby, as we wind down the segment, Fania, obviously, has struck a chord with so many of us of a certain age and a certain era, but how do we keep that spirit of that music alive? Particularly as the Puerto Rican and Dominican diaspora shifts and changes, you don't hear this music on the radio as much anymore. How do we keep this stuff alive?
Bobby: I have a philosophy just like Dizzy Gillespie always said, "As long as there's one black person on planet earth singing the blues, jazz will never die." As long as there's one Latino person, doesn't have to be Cuban or Puerto Rican it could be any person, it could be of any race. As long as one person is playing clave and singing an old Cuban song, this music will never die. The main thing is these segments like you're doing with us right now, people drawing attention to the music, et cetera, and also, making the connections.
I remember when I was in college at the Berklee College of Music, and nobody knew who Tito Puente was or anything like that. One guy goes to me, a fellow student goes, "Yes man, I'm into Santana." I go, "If you want to find out where those rhythms that Santana's doing, check this out." I would play him something by [unintelligible 00:16:02], or Maestro Tito Puente et cetera. Same thing with that Felix experienced, their eyes would open up, and it was like they were seeing God because they would be going, "Oh, my god. Man, this is like wow. Just like the other." I go, "You see? You see?"
We just have to scream-- Not screaming and shot, but those of us-- I've passed down the music to my son, he'll pass it on to his children, et cetera. We just have to keep-- Unfortunate with COVID now, this is dance music. We get together to dance. With COVID now, unfortunately, we can't really do that. We could still listen to the music so listen to Alt.Latino, listen to my radio show, listen to WNYC et cetera, and keep playing the recordings. Keep playing the recordings for anybody [crosstalk]--
Tanzina: When this is all over Bobby, grab a partner and get down, right?
Bobby: Yes. There you go.
Tanzina: Felix Contreras, is the host of NPR's Alt.Latino and Bobby Sanabria is a multi Grammy-nominated drummer-percussionist and bandleader who works in salsa jazz and Latin jazz. Thanks to you both so much for a very fun time.
Bobby: Thank you.
Felix: Thanks Tanzina.
Copyright © 2020 New York Public Radio. All rights reserved. Visit our website terms of use at www.wnyc.org for further information.
New York Public Radio transcripts are created on a rush deadline, often by contractors. This text may not be in its final form and may be updated or revised in the future. Accuracy and availability may vary. The authoritative record of New York Public Radio's programming is the audio record.