Ukrainian LGBTQ Refugees Face Heightened Challenges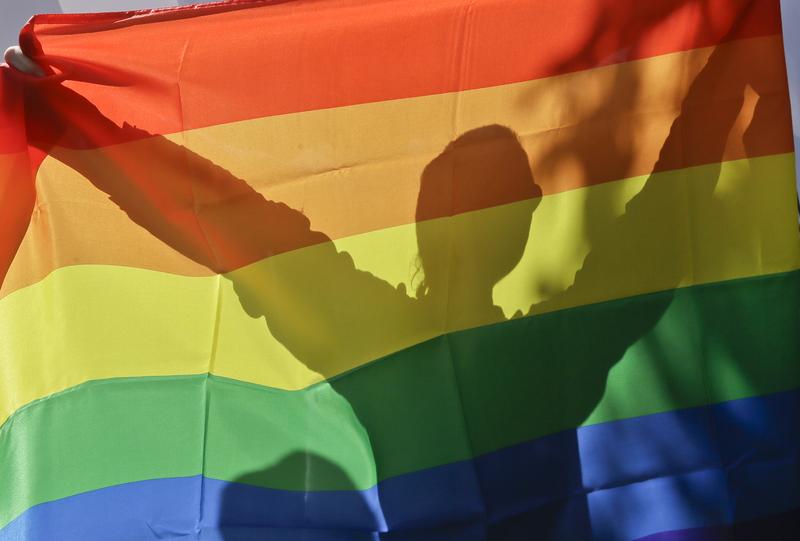 Transcript
Melissa Harris-Perry: I'm Melissa Harris-Perry. This is The Takeaway. Thanks for being with us. On Tuesday, Ukrainian president, Zelenskyy, addressed the UN Security Council and detailed the horrific scenes that Ukrainian officials say they discovered after regaining control of the city of Bucha.
Speaker 2: I am addressing you on behalf of the people who honor the memory of the disease every single day, in the memory of the civilians who died, who were shot and killed in the back of their head after being tortured. Some of them were shot on the streets, others were thrown into their wells. They died there in suffering. They were killed in their apartments, houses, blowing up grenades. Civilians were crushed by tanks while sitting in their cars in the middle of the road.
Melissa Harris-Perry: Now, Russian officials have denied responsibility for the death of these civilians saying that bodies were placed on the roads after Russian troops withdrew from Bucha, but satellite images analyzed by the New York Times and the BBC confirmed that at least 11 of the bodies discovered by Ukrainian officials were first visible there during Russia's occupation of the city. During his remarks to the UN, Zelenskyy also alleged that Russian soldiers had killed entire families in Bucha and raped women in front of their children.
Speaker 2: Where is the security that the Security Council needs to guarantee? It's not there. Although there is a Security Council, where is the peace?
Melissa Harris-Perry: According to the United Nations High Commissioner for Refugees, more than 4 million people have fled Ukraine for neighboring countries since the start of Russia's violent invasion of Ukraine. War and war-related displacement is traumatic. Among refugees, the situation for LGBTQ Ukrainians is especially precarious. The Takeaway spoke with one refugee.
Edward Reese: My name is Edward Reese. I work as a project assistant for Kyiv Pride. I identify as queer or non-binary. I was living in Kyiv.
Melissa Harris-Perry: Edward who uses the pronouns he/him remembers the morning in February when he woke and learned that Russia had invaded his country.
Edward Reese: I was at home in a quiet and peaceful region, outskirts of Kyiv. I actually missed the first sirens and the first bumpings because I was sleeping. I woke up to check my messages and I saw a great amount of messages asking if I am okay, if I am alive, and messages telling that the war started.
Melissa Harris-Perry: Initially, Edward planned to stay in Kyiv as long as possible so that he could continue his work as a project assistant for Kyiv Pride and the LGBTQ NGO, but ultimately, he felt he just had to leave.
Edward Reese: I decided to leave because I had to do my top surgery in Ukraine in March. Definitely, now it's impossible. I decided to try to do it in any other country to save resources of Ukrainian hospitals after the war. The second thing why I left is actually that I was working online, I wasn't able to go out of my home anywhere, and I was just eating food which can be useful for the army or for territorial defense.
Melissa Harris-Perry: Like millions of other Ukrainians fleeing for safety, Edward headed for the Polish border.
Edward Reese: I got help from Kyiv Pride and other organizations, which got several seats on the bus which was coming from Kyiv to Lviv. Then we spent several hours in a refugee center in Poland, which was really crowded and loud and hard to be there.
Melissa Harris-Perry: Now, Poland has a history of discrimination against LGBTQ communities. According to the BBC, towns that constitute "nearly one-third of the country have passed resolutions declaring themselves to be free of LGBTQ ideology." In a ranking compiled by the International Lesbian, Gay, Bisexual, Trans and Intersex Association of Europe, looking at the status of LGBTQ rights in the EU, Poland ranked last, with the designation of gross violations of human rights and discrimination. Thankfully, that was not what Edward's experience in the Polish capital of Warsaw was like.
Edward Reese: Polish people are doing amazing job right now. They are really great at helping us. We are refugees. I don't think that someone would be cruel to refugees because of their sexual identity or gender identity. I don't know any stories like this, and people are really welcomed in Poland.
Melissa Harris-Perry: Edward eventually drove of up to Copenhagen, Denmark where he's currently staying. Denmark has a much better record on LGBTQ rights than Poland, but still, things are not easy.
Edward Reese: We have our chosen families, our friends, our community, and sometimes we have to leave them. I am disconnected with all of my friends. They are all in different countries. Some of them are staying in Ukraine. We just talk online sometimes. Cliff Wright actually decided to start daily psychology support groups to help people reconnect, to help people remember that we are still together, we are still one big family of Ukrainian queers.
Melissa Harris-Perry: As for what's next for Edward, he hopes to someday soon return to Ukraine, hopefully, after recovering from his gender affirming surgery.
Edward Reese: I want to help rebuilding the cities, I want to continue working for Kyiv Pride, but I'm going to do my top surgery here because I understand that Ukraine won't be providing this kind of operations after the war. I need this operation deeply for my health, for my mental health. I will be getting it here. When I recover, I hope the war will end till that time. I will definitely go back.
Melissa Harris-Perry: Our thanks to Edward Reese for sharing his story with us. I'm joined now by Olena Shevchenko, head of Insight Ukraine, an LGBTQ+ advocacy group based in Ukraine. Welcome to The Takeaway, Olena.
Olena Shevchenko: Thank you.
Melissa Harris-Perry: Also with us is Mirka Makuchowska who is deputy CEO for Campaign Against Homophobia, a Polish gay rights organization. Mirka, it's also great to have you here.
Mirka Makuchowska: Thank you for having me.
Melissa Harris-Perry: Olena, I want to begin with you. You fled Kyiv last month. Can you tell me where you are now and a little bit about your experience?
Olena Shevchenko: Basically, our organization, Insight public organization, which is LGBTQI advocacy and community-based organization, we are established in Kyiv. We also covered 11 other regions in Ukraine before the war. Basically, when the war started, I thought that it will be pretty possible for me to stay in Kyiv and to keep working as we were before, but that was not the real situation. That's why after 14 days spending in Kyiv, partially in the basement, I took a decision to relocate ourselves, not only me, but also the part of our organization based in Kyiv, to Western region of Ukraine. Now I'm based in Lviv, where we have one of our shelters for LGBTQI people.
We have one in Lviv and another one in Chernivtsi. Since 11th of March, we are working here trying to do everything possible to support LGBTQI people with relocation, safe house, food, medicines, other things which is connected to their psychological support. We also have hotline, which is 24/7, working for LGBTQI people. Also, we provide legal support, especially when LGBTQI people are trying to cross the borders. We are bringing them to the border and give them to our partners. For instance, like in Poland, in Romanian, in Czech Republic, Slovakia, and other countries as well.
Melissa Harris-Perry: Mirka, I want to bring you in here because, as Olena is talking about this partnership, talk to me about the work that you and your organization have been doing to help LGBTQ refugees who are fleeing into Poland.
Mirka Makuchowska: From the very beginning, when the war started, my organization and a number of other LGBT organizations in Poland are doing their best to help the refugees. Since we are working with LGBT community, we are focusing on this specific group. There are number of issues and problems that refugees have when they come to Poland, about two, three million people from Ukraine entered in Poland. We are talking about 38 million country population. It's just a huge number of people.
It was extreme effort from the organizations, humanitarian and others, to help those people, in most cases, coming with nothing more than a suitcase or a bag. It comes to LGBT folks. There are specific issues that they face. First thing that's very important and something that needs to be taken care of is for transgender Community, intersex persons so that if they have medical prescriptions for drugs, they need to continue that. Hopefully, there is a possibility of having these drugs or from national healthcare system.
Again, Poland is not the most friendly country for our community. It's the same for the LGBT refugees here. There's a number of problems that they face when they go to doctor. There is a language barrier, of course, for a lot of folks. There is a lot of problems with doctors who do not know enough about specific needs of our community. We try to help assist that.
Another very basic needs is housing. Something we did and a lot of other Polish organizations did as well is to set up a matchmaking process where LGBT refugees can come to us and say they need housing. Then we match-make them with individuals who say they can share their apartment or room with someone. We help with that as well.
Melissa Harris-Perry: Prior to the Russian invasion, just give me a sense of what the state of LGBTQ rights in Ukraine was prior to the invasion?
Olena Sevchenko: Let's be straightforward. Of course, the situation for LGBTQI people in Ukraine before the war was not the same as Russia, surely. Basically, after Euromaidan, which we had eight years ago, we achieved a lot, especially in terms of the transgender people, for instance, because what we did our organization with the Ministry of Health, we completely changed the procedure of gender reassignments. Now for trans people, it is possible, only based on the diagnosis, to change their documents without sterilization. Basically, it was a huge achievement for Ukraine.
Another issue is also that it's possible in Ukraine to go to the streets and protest. This is a basic right. For LGBTQI people, in terms of the visibility of fighting for their equal rights, that was a huge achievement. Of course, we don't have equal marriages. We don't have any partnerships, and this is a problem, but honestly, we had a lot of those communications and established partnership with different governmental structure. We work on that together with the hate crimes law, which is also not in place. I thought that it will be our achievement in the nearest few years.
Now, of course, it is a huge issue with the war. I expect that it will be much harder now to come back to those issues after the war. Of course, all of us, I mean Ukrainians, we expect that it will be soon after the war. Honestly, taking into account that so many people from LGBTQI communities already left Ukraine, it doesn't mean that they all want to stay in other countries, especially in Poland, because it's not so bad in Ukraine, honestly. In terms of the situation, still much better, we are not Russia.
Melissa Harris-Perry: Mirka, I want to talk about Poland a bit now. Can you give me similarly a sense of what the overall landscape looks like? You've said that particularly transgender individuals might face a hard time getting the gender-affirming medical care that they need?
Mirka Makuchowska: Yes, exactly, and especially for LGBTQ refugees, but when you look at a broader landscape for the community, the legal situation is as if the community didn't exist because we don't have marriage equality, we don't have any other form like civil partnership for same-sex couples, we don't have hate crime legislation. The anti-discrimination protection law is nonexistent for our community, and there is no bill that would regulate gender reassignment. When it comes to legal aspects, it's not a very good place to live. I totally understand LGBT refugees from Ukraine, they don't want to stay here, a lot of them, if they have the possibility go further west.
The social climate I would say is not that good as well. We've had very rough four years. There was a huge backlash on our community coming from the government and the Catholic church, our president saying that LGBT are not people, they are ideology. We've had a lot of this rhetorics going around in public media. As you can imagine, the levels of violence and discrimination has gone up.
I think when it comes to safety for the refugees from Ukraine, it's also very important not to go into a housing that you might expect any further violence. If you go to a statistically normal, so to speak, Polish family, you cannot be very sure whether they're going to be okay with you being a member of our community.
Melissa Harris-Perry: Is Warsaw any different than other parts of the country in terms of being welcoming? It's often true here in the US that major cities will have somewhat different climate around LGBTQ issues.
Mirka Makuchowska: Yes, definitely. It's a universal thing that in bigger cities, it's easier to form a community, to have safe spaces, clubs, organizations and so on. Most of young people, young I mean turning 17, 18, when they become adults legally, they leave smaller towns and cities and villages and go somewhere when they feel they could start their new life, the real life, because they can be out of the closet, more or less, or to a bigger extent, they've been in the places where they were born. It's definitely the same.
I come from [unintelligible 00:16:03] It's also a city. It's definitely smaller than, probably, Warsaw. Now I live in Warsaw and I feel the difference. When it comes to feeling safe, me and my wife, we got married in Denmark because there are no laws here. We don't feel safe enough to hold hands in public spaces. You don't see that very often in Poland, even Warsaw.
Melissa Harris-Perry: Olena, I want to come back to you for a moment. You were telling us that there had been some public policy breakthroughs in Ukraine prior to this invasion that allowed transgender individuals to transition in their documentation without having to have reassignment surgery. Yet we've also been hearing some reports of the difficulties transgender women, in particular, have had in trying to flee to neighboring countries because their passports have not been changed to reflect their gender identity. I'm wondering if this is something that you've heard about firsthand.
Olena Shevchenko: We not just heard about an issue, we also deal with this issue of trying to support and help case by case for those who have this issue of leaving Ukraine. In general, this is a basic law for general society. It says, like during the wartime, all those people who have male gender marker in documents, they are not allowed to leave Ukraine because they are those who will be mobilized in different waves during the wartime. It applies to all citizens who have male gender marker, age 18th till 60.
Of course, there are many exclusions from that law. The problem with crossing the border for trans people applies only to those who didn't change their legal documents. For instance, yes, trans women who never completed the procedures. Basically, they still have this ID document with male gender marker. Those people on the border see them as men, so they are not allowed to cross the border.
We are trying to work case by case, trying to provide all necessary documents, like this diagnosis F64, which is partially allowing them not to go to military service. This is a complicated question now. I think it also applies to other different countries with the same mobilization law, which oblige all men to go to the military services during the war,
Melissa Harris-Perry: You said earlier in the conversation, just almost offhandedly, that the people of Ukraine believe that you will be in the time of after this war fairly soon. Can you say more about that?
Olena Shevchenko: Honestly, I don't know. The first hope, of course, for me personally, and I know many people also share this hope that the war will end soon. All these months even more, it sounds like one endless day for us. We're reacting on all those which happens around us, trying to support people, almost 24/7 working on the requests. It's still a lack of time to think what will be afterwards because now I already understand that, of course, even if those military war will finish somehow soon, it will be a huge long period of time of everything. Many houses destroyed, many people are killed, many people who want to come back, they just don't have a place to come back.
Melissa Harris-Perry: Olena Shevchenko is the head of Insight Ukraine. Mirka Makuchowska is the deputy CEO of the Campaign Against Homophobia, a Polish gay rights organization. Thank you both so much. Please, stay as safe as you can.
Mirka Makuchowska: Thanks a lot.
Olena Shevchenko: Thank you. Bye-bye.
Copyright © 2022 New York Public Radio. All rights reserved. Visit our website terms of use at www.wnyc.org for further information.
New York Public Radio transcripts are created on a rush deadline, often by contractors. This text may not be in its final form and may be updated or revised in the future. Accuracy and availability may vary. The authoritative record of New York Public Radio's programming is the audio record.