"What They Were Fighting For, We're Still Fighting For Today": Letitia Wright and Steve McQueen on Bringing 'Small Axe' to the Screen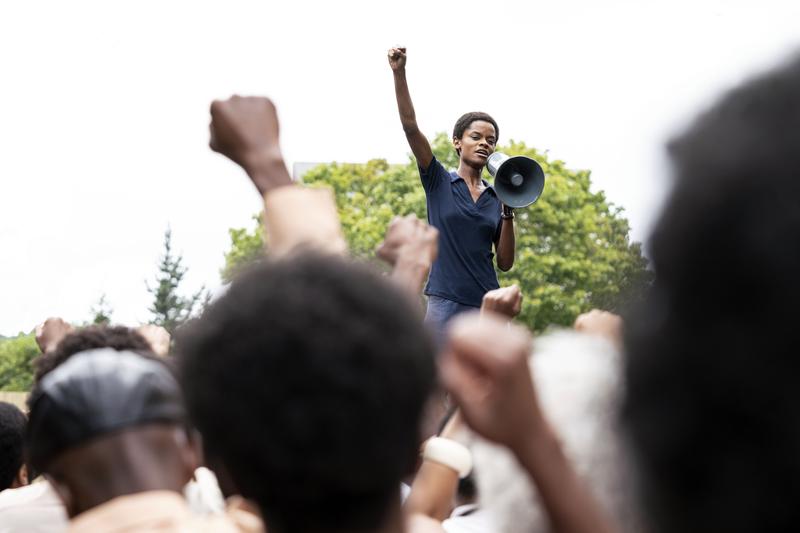 Transcript
Tanzina Vega: Director Steve McQueen is best known for his Best Picture-winning film, 12 Years A Slave, and his 2018 crime drama, Widows. For his latest project, the British filmmaker decided to return home to direct not just one, but five movies that make up the anthology series, Small Axe. Together, the films tell mostly true stories of Black British life from the 1960s to the 1980s. The first part in the series, "Mangrove," premieres this week on Amazon Prime, and focuses on an under-told part of British history from the late 1960s. Here's how Steve McQueen describes the events that inspired his film.
Steve McQueen: There was a man called Frank Crichlow who opened a restaurant on All Saints Road in Ladbroke Grove, Notting Hill called Mangrove. This restaurant was for the western community, it was like a home away from home. It became a threat to the authorities for some reason. I imagined they became a threat because this is where intellectuals, Black thinkers were congregating. They wanted to disrupt and break up this legitimate business because it attracted so many people and ideas.
Tanzina: Eventually Crichlow and other Black leaders organized a demonstration to protest how law enforcement officials were targeting the Mangrove.
Steven: This demonstration almost took place turned, unfortunately into a situation where the police infiltrated the crowd and it was deemed as a riot by the police, and many people were arrested and charged with riot and affray. All because they were demonstrating their right to exist.
Tanzina: McQueen's film centers around the trial of the group which became known as the Mangrove Nine. All nine of them were ultimately acquitted of the most serious charges. The trial included one of the first judicial acknowledgement of racism within the British police force. To learn more about the story and why McQueen chose to bring it to the screen, I spoke with the director alongside the actress Letitia Wright, one of the stars of Mangrove. McQueen told me why the story of the Mangrove Nine has been so overlooked.
Steve: I used to lie on my living room floor, hands propping up my head watching the TV. Often my father's friends would come in, they would chat and talk. One of those friends that used to come in a lot, infact, my father grew up in a place called Paradise in Granada with Rhodan Gordon. 6 was one of the Mangrove Nine. I had no idea until about 15 years ago, no one spoke about it. I don't know what it was. If it was a sense of trauma and not wanting to revisit had a lot to do with it. In some ways, it's about people not actually communicating it as well, because to go back, you had to deal with all the trauma. It's understandable that often these stories aren't spoken about.
I remember very clearly, when I was doing the press for 12 Years A Slave, we were in Atlanta, I think it was Atlanta. This lady stood up and said to me that her father was poisoned for teaching children how to read and she had never said that before. She only said that because we were promoting 12 Years A Slave. When people have an opportunity to speak when they feel they're going to be heard because so often they weren't and they were not wanting to be heard. When there's a vessel, when there's an opportunity to be heard then people will speak. I think that's what it's about. There's so much trauma, and so much people dealing with that. Therefore, I understand why things weren't actually passed on often.
Tanzina: This film or the films that you've created here, Steve, touch on racism, police brutality, and so many of the issues that are relevant to this moment right now. We witnessed the uprising here in the United States against racial injustice in the name of George Floyd. Steve, before I get to Letitia, where were you when you witnessed this?
Steve: Well, I was in Amsterdam. I remember very vividly that one of the first demonstrations in Europe was in Amsterdam, where the mayor said that they're going to organize-- Mayor of Amsterdam organized a demonstration in Dam Square and the police thought there will be maybe three hundred people there, so they only had a hundred police there. I don't know maybe they had 50 police, in fact, there.
More than 10,000 people turned up in Dam Square in Amsterdam. It was incredible. The reverberations around the world you saw happen in Bristol, with this statue of the slave-owner being torn down. Everywhere around the world it was echoed. Again, it's a world movement. This the US, this is obviously, George Floyd and whatever. I think people are understanding it more and more and more.
Tanzina: Letitia, when you saw this movement start here in the United States, and to Steve's point make its way around the world. Where were you?
Letitia Wright: I was here in the UK. Again, social media has a way of connecting us all for the good and for the bad too. Seeing this image and this video on your timeline, and on your time feed, Instagram, Twitter, makes you really sad. I was here in the UK and we were really remorseful with our brothers and sisters across the pond. It was a sad time, definitely a sad time.
Tanzina: Letitia, how does it feel to release this film at a time when so many people around the world are continuing to take to the streets? Maybe not at the levels that we saw back in May, in June, over the summer, but the film itself is essentially about the right to protest.
Letitia: Yes, we filmed this last year. We didn't know what was around the corner in 2020, of course. I remember when we got into Cannes, Steve called to be courteous enough to share the news with me and just let me know what was going on in terms of the reception of the film. He said, "It's crazy how life is imitating the art that we just created and art is imitating life."
I remember just really taking that and coming off the phone and again, just hitting me that we set out to show and represent these stories that have been untold, and rightly so about what Steve said due to traumatic experiences not coming to the surface at that time, and now the bravery for us to step out and share it and the necessity for us to step out and share it. Just looking at something that happened, the right to protest, and the right to demonstrate. When you're not treated fairly and with justice and just taking a peek into what happened 50 years ago in Notting Hill. Now you have 2020, 50 years on, you're still having to conduct the same type of riot in order to be heard.
For me, as a young person, seeing our world and just finishing this project and seeing the reception of it. Again, it's a hard one. It's hard because you feel sad. You feel sad that 50 years on, after the Mangrove demonstration, what they were fighting for, we're still fighting for it today. That says a lot about us as a society that so much needs to change. In the words of our fear, in our project, "Enough is enough." It needs to stop.
We shouldn't have to take to the streets anymore because of prejudice, because of the color of my skin. I shouldn't have to do that anymore, but unfortunately, we are so it resonates. It wasn't our intention to-- We didn't predict that this was going to happen. It was just our intention to showcase the stories that have been untold. As you can see, the same stories that have been told and we're presenting to you, we now have them being replicated within our society today in some form and fashion and it's sad. It makes me sad as a young person to see that.
Tanzina: When we're talking about life imitating art and art imitating life, when creatives of color enter very white spaces. Both of you are Black artists working in a very white industry and that's similar to here in the United States. Steve, in fact, you wrote a piece for the observer this summer, calling out the whiteness of the British film industry. You said, "The UK is so far behind in terms of representation. It's shameful." Here in the United States, we've often said, "Oscar is so white," for example, and we've seen some change, but what's your experience Steve been in terms of being a Black artist today trying to change that industry from the inside?
Steve: Well, I'm very robust. I just get on with it. I just feel that sticking my elbows out and bringing some people with me. I don't really see them as whitespace. Yes, they are, but if I think adopt that, I don't think I'd be able to-- These are art spaces. The fact that these art spaces and that these spaces are unfair to people of color shows me it's not a healthy environment. We have to change the environment. How I do that is by work. You spoke to me earlier on about the whole idea of bringing stories in. I said that I am an artist, not a journalist.
What I mean by that is when Leticia playing [unintelligible 00:10:36] is a situation where she transcends and transforms into this performance that she did that could never be written in a novel, that can never be documented within history, because you've got to feel it in the way of seeing it. You have to experience it through seeing it. That's film for me, that's television for me with the best film and television. When you can actually get a situation where you're there sitting and witnessing a performance which can transcend and transform, and that you believe in.
That was something that Leticia did, which journalism can't do and literature can't do. That's the magic of film, and whatever guys have been streaming on the cinema. I think that's what we can offer culture. That's what we can offer with this medium, something other than those two ideas example I gave before.
Tanzina: Leticia, there is so much conversation, including this conversation about Black struggle, Black resistance, and anti-Blackness in this world. One of the things that's resonating a lot with me, in particular, is how resistance can also be translated into Black joy. That joy in and of itself is a form of resistance. I'm wondering when it's so hard in this moment to feel optimistic about anything, is anything that you are doing, giving you joy? Are you finding joy in this moment?
Leticia: Of course, I don't want it to come across as every Black experience is filled with tragedy and trauma, and unhappiness because that's not the truth. We are a worldwide global connection of the diaspora. That in a sense, there's joy in so many aspects of who we are. Particularly, I would say, Yes, I experience joy just as anybody else would. It's sad that we are placed in this box of this thing where it's like you just being seen as the race that's always seen as not happy, you're not being treated well and that there's such a problem with that because there is so much Black joy, and especially within small acts.
We do touch on the seriousness of prejudice and the seriousness of the issues that come to the forefront that we need to discuss and talk about, but embedded and interwoven into all of those scenes and moments is predominantly joy because as human beings that's who we are at the core of who we are is joy, joyful people. We see that throughout small acts, not just in our film, but throughout all the films. We see beautiful moments of joy.
We see people celebrating music, food. We see people just celebrating times of their family. What causes that joy to be stifled is someone's choice to take that away from someone, is someone's mindset to rob someone else, another human being of that. For me in terms of joy in my life, yes, of course, in this moment, in this time, yes, of course, you can find joy in every aspect of life.
Tanzina: Steve, what about you? How are you finding joy in this moment?
Steve: I'm feeling joy so much because people are speaking their truth, often for the first time in public. It's incredible. It's a cascade, it's an avalanche, it's beautiful, it's that let rivers flow. It's hearing these beautiful voices talking about, yes, pain but also joy of actually being able to express themselves. So many people like an impression had been muffled and now there's a release, it's beautiful. It's like, "I want to dance." It's incredible. We always take tragedy and take it and make it into triumph. We've always done that. In everything that we've done in life, we've always taken things and made it into something special. That's who we are as Black people. We've always-- That's who we are.
Tanzina: Steve McQueen is the writer and director of the anthology series Small Acts and Leticia Wright is one of the stars of the series. Steve and Leticia, thanks so much.
Leticia: Thank you.
Steve: Thank you.
Copyright © 2020 New York Public Radio. All rights reserved. Visit our website terms of use at www.wnyc.org for further information.
New York Public Radio transcripts are created on a rush deadline, often by contractors. This text may not be in its final form and may be updated or revised in the future. Accuracy and availability may vary. The authoritative record of New York Public Radio's programming is the audio record.