Left to Die in Texas Jail Custody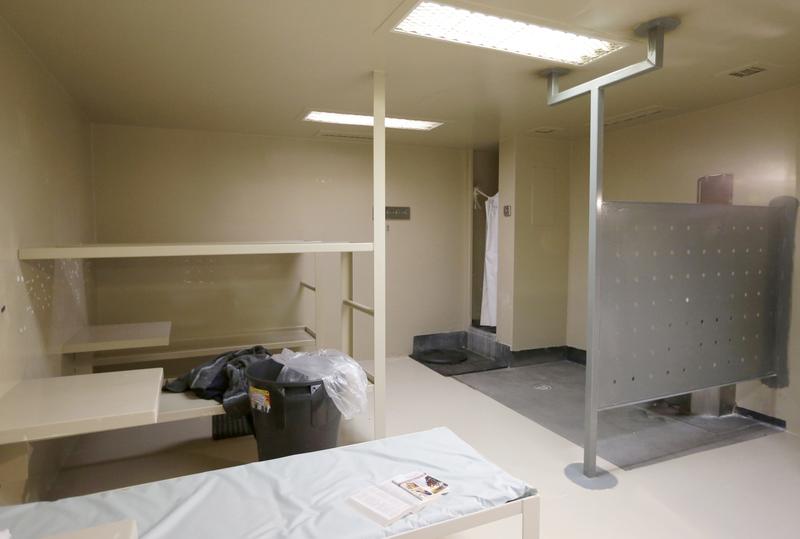 Transcript
Melissa Harris-Perry: In 2015, Sandra Bland was pulled over for a traffic stop on the outskirts of Houston, Texas. She was on her way to the grocery store. She just relocated to Texas from Chicago to take a job at her Alma Mater, Prairie View A & M University, a historically Black college. Bland was violently arrested and taken to the Waller County Jail.
Officer: Stand out of the car.
Bland: No, you do not have the right.
Officer: Stand out of the car.
Bland: You do not have the right to do that.
Officer: I do have the right, now step out, or I will remove you. I'm going to drag you out of here.
Bland: You going to drag me out of my own car?
Officer: Get out of the car. I will light you up. Get out.
Bland: Wow.
Melissa: She needed $515 to make bail, but she told jailers she was broke. Jail staff didn't put her on suicide watch even after she told them she was depressed and had tried taking her own life the previous year. Three days later, she was found dead in her cell and authorities ruled her death a suicide. Now, the Bland family received a $1.9 million settlement in their wrongful death lawsuit, along with an agreement from the Waller County Jail to increase guard training. The next year, the Texas Legislature passed a reform bill called the Sandra Bland Act, but despite awareness of these issues and reforms, conditions in jail for incarcerated people in Texas are still troubling, to say the least.
In 2020, the Texas Commission on Jail Standards, which regulates county jails reported 124 deaths. The highest count since the agency began tracking them in 2009. Now, if someone dies in their county jails, Texas sheriffs are subject to investigation by the Texas Rangers. That's the detective arm of the state police. The Texas Observer, a nonprofit investigative newsroom, reviewed more than 400 Texas ranger investigations of jail deaths over the past decade. We talked to one of the reporters of that investigation. It's titled "Locked Up and Left to Die."
Mike: My name is Mike Barajas. I'm a staff writer at the Texas Observer.
Melissa: In their investigation, the Texas Observer found that of the more than 1,100 people who have died in jail in Texas since 2010, the majority were pretrial detainees. People like Sandra Bland who were never convicted of their alleged crime.
Mike: They have been accused, may be charged with some criminal offense, but they haven't been convicted of it. In the eyes of the law, they are legally innocent. Part of the reason pretrial detention has risen across the country is because of the increased reliance by judges and prosecutors to keep people in jail if they can't pay bail. Being poor is the mechanism that keeps them in jail ultimately.
Melissa: During the COVID-19 pandemic, many localities sought backups in the court system for a range of reasons, like lockdowns or unavailable judges or defense lawyers, so I asked Mike if he saw the jail system in Texas getting worse during the pandemic.
Mike: If jails are already dealing with overcrowding issues and maybe understaffing issues or they're dealing with the challenges of people in psychiatric, mental health crisis, and substance use issues. COVID just added another huge challenge that led to a just general backup in the system. Courts weren't operating the way that they had been before. Cases weren't moving at the pace they were before, and so one interesting thing that you started to see and in Texas and in other parts of the country during COVID was advocates, civil rights lawyers, people with incarcerated family members and friends really pushing for jails to depopulate, to let more people out on non-monetary conditions of release such as some sort of court-ordered monitoring or something and citing COVID as a reason.
Some local sheriffs and judges really responding to that and actually trying to do what they could to try to prioritize people with low-level charges because they recognize the threat of COVID inside of an incarcerated setting and how quickly that would spread and could impact a larger community. What we also saw in Texas, there was a conservative backlash to that. The governor here, Governor Greg Abbott among a number of different executive orders that he's issued that really tests bounds of executive power here in the state.
One of those orders was essentially making it harder for certain people to get out of jail pretrial, making it so that certain people may be in the past that have been accused of violent offenses, they have to pay cash bail to get out. A judge wouldn't be allowed to set some non-monetary condition of release for them, and so the Republican-dominated legislature here effectively made that law. Several months later, a new bail law here in the state makes it so that in all likelihood, more people are going to be held in jail pretrial because they can't pay whatever dollar amount was set for their freedom.
Melissa: Now, The Observer reviewed 415 reports of death by the Texas Rangers and just looking at the numbers. The claim here is there are about 30% of these 415 deaths in custody were by suicide. Another 42% were by natural causes, and then another 14 accidental. That is the overwhelming majority. The claim of the Texas Rangers is that there were either suicide, natural causes, or accidental, but these are all individuals in the custody of the Texas jails. Can you help us to understand how suicide or accident leads to death at these rates and what it means to say someone died of natural causes while in custody?
Mike: With the suicide portion of that, what you see pretty frequently in these reports that you decided that we went through these state police investigations into jail deaths. When it's a suicide, what's often demonstrated when you go back and look at how [unintelligible 00:06:10] somebody, how often they were checked, what precautions they did or didn't take, there's a remarkable tolerance for suicide inside these facilities often. The red flags could be as obvious as somebody having attempted to take their own life in that facility during that stint of incarceration, and for whatever reason, jailers don't put them on increased monitoring, they don't have any added precautions, leave them alone for long periods of time, and then ultimately, that person takes their own life.
Those are situations that we saw reflected in those reports. On the suicide front, we also saw how the regulations that are in place in Texas weren't followed. If somebody is flagged as suicidal, by state law, their jailers are supposed to check on them at least every 30 minutes. These investigations show that that's often not done and sometimes jailers will even lie about checking on people more frequently than they really did and videotape shows that they lied. On the accidental front, we saw this sometimes where people might be arrested for a drug-related offense.
This is a situation I saw somebody might be arrested for obstructing evidence in a case by swallowing the drugs that police thought they caught them with because they're trying to avoid getting into any more trouble and that person, despite their deteriorating health which would reasonably be linked to a drug overdose that they're taking to a jail setting anyway, and just left to deteriorate until they die instead of taken to a hospital. Those are some of the accidents that we saw. On the natural causes front, I think we saw a lot of things that were labeled natural causes, where it looked like the treatment and conditions of incarceration, either exacerbated like an underlying medical condition or pretty directly attributed to them dying.
We dig into some instances. In our story, we write about people who had heart conditions and said they thought they were having heart attacks and were trying to alert jail staff and writing letters and pleading for help and ultimately died and the medical examiner says it was natural causes. Death due to a heart attack they likely suffered while they were in jail. A lot of the deaths that fall under that natural causes umbrella, there are a lot of red flags that we saw pointing to them being preventable deaths, and a lot of the instances that we looked at, nobody's really held responsible.
I think that was one of the really troubling things that you could have a lot of documentation about what went wrong, officials were aware of it. You can see sort of the callous disregard for somebody's humanity or dignity and consequences didn't follow. I talked before about instances where jailers, there's evidence that they lied about how frequently they were checking on somebody. That's chargeable. That's a chargeable felony offense in Texas for tampering with government documents. When jailers are charged, which is very infrequently across law enforcement, but when they are charged, it's usually that because it seems to be the most standard way they can get caught. Even where we saw that happening, there were a number of instances where people weren't charged, or the case wasn't even presented to a grand jury to determine whether they should be charges.
It's a lot of red flags on paper, but the system as a whole, we didn't see major reforms or changes in light of any of the horrific circumstances that we document in the story. For the most part, there might've been a lawsuit or there might be a charge against an officer that if it goes anywhere, which a lot of them don't, might just result in a deferred adjudication probation agreement essentially and no jail time. On paper, there's a lot of checks and safeguards. In reality, a lot falls through the cracks.
Melissa: Obviously, one of the few names of someone who died in police custody in Texas that many Americans may know is the name of Sandra Bland. After her death, were there any reforms to this system?
Mike: Yes, there were. For this story, we talked to the attorney who represented her family and their lawsuit after her death, but also helped negotiate reforms that the state ultimately ended up passing in a bill that was named after Sandra Bland. The lawyer talked about how important it was for the family, that it wasn't just a lawsuit settlement, that it wasn't just a number, a monetary settlement that changes had to be made. One of those changes was really better documentation of the condition that we're talking about. For our investigation, we looked at more than 400 state police investigations into jail tests in the state.
A lot of those wouldn't have happened before the Sandra Bland Act took effect in 2018. That law, one of the reforms was that there had to be an independent investigation into jail deaths that Sheriffs effectively were not allowed to investigate themselves anymore. Thus, you have better documentation in some ways of the conditions inside these facilities when things go wrong and what the challenges are, and what the problems are, and how staff are treating people. Again, that doesn't necessarily change the conditions inside these facilities if there's not somebody in power who then does anything about it.
Yes, Sandra Bland's death led to some really important reforms in this state as I think her family's attorney and the family would probably acknowledge it's that those reforms don't go far enough to change the problems that her tragic death highlighted. There has to be more active than just the reforms that were passed by the state to really get at some of the deeper issues inside these facilities.
Melissa: Is there a clear sense of what those actions are that are necessary to create lasting and meaningful reform?
Mike: Yes. I think there's a lot of different options. I think a lot of reform on the criminal justice front. It's a lot of different organizing happening at the same time. We just talked about how the Sandra Bland Act was pretty crucial. One thing that state lawmakers here have been warned about by Advocates, Civil Rights Attorneys, and even an independent state watchdog agency that has looked at state jail regulators. Here and how they perform and how they operate. It's just that the regulation are good on paper but they don't ensure safe conditions behind bars because the regulations that exist here are pretty vague. They're not enforced all that often.
The state commission that is there to inspect and enforce these minimum state standards is pretty toothless. They're on a shoestring budget. I think that they have three or four investigators at any given time for inspectors to go out and look at conditions in jails and report back and flag violations. That's three or four people tasked with monitoring more than 230 jails across this huge state. Responsible for inspecting conditions that affect more than 100, 000 people probably at any given time in lockup in local jails in Texas, not to mention the million or so people that churn through these facilities on any given year.
There's a regulation side of this that needs to be addressed. The legislature's been told about it. Like I said, instead they made it so that more people would be inside of these facilities in all likelihood but did little to look at the conditions inside of them. These facilities are mostly operated by local sheriffs, local elected law enforcement officials, so that plays a pretty key role. There's been a lot of discussion in the progressive and abolitionist circles in recent years about the role that reform prosecutors can play, like progressive prosecutors in the mold of Larry Krasner in Philly and some others that have been elected around the country.
There's been less attention on reform sheriffs and what they can do, but you've seen certain races across the country where jail conditions have become a big issue for the public. Those races have started to focus a little bit more on jail conditions and thus reform candidates that are willing to come in and clean up shop. I think there's a lot of different levels where reforms are needed and a lot of opportunity on all those fronts.
Milissa: Mike Barajas has his staff writer for the Texas Observer. Thank you so much for joining us on The Takeaway.
Mike: Thanks for having me. I appreciate it.
Melissa: Thank you.
[00:14:25] [END OF AUDIO]
Copyright © 2021 New York Public Radio. All rights reserved. Visit our website terms of use at www.wnyc.org for further information.
New York Public Radio transcripts are created on a rush deadline, often by contractors. This text may not be in its final form and may be updated or revised in the future. Accuracy and availability may vary. The authoritative record of New York Public Radio's programming is the audio record.