The Latest from the January 6 Commission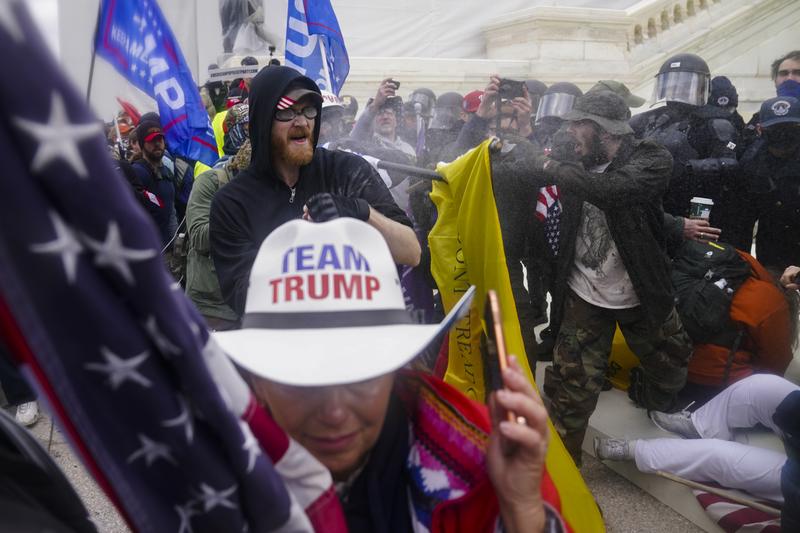 Transcript
[music]
Brigid Bergin: Hello, everyone. This is The Takeaway. I'm Brigid Bergin, politics reporter at WNYC in today for Melissa Harris-Perry. Thanks for joining us for our weekly politics show. We've got stories from all over the country to bring you today and we begin in Washington DC.
[music]
Zoe Lofgren: We have a significant portion of one political party, apparently telling pollsters that using violence to take power is acceptable. That's not the way our constitution provides, so it's important that we tell the truth but it's important that everyone who's a part of our wonderful country rededicate themselves to our Constitution and to the rule of law, and to the premise that we are a constitutional republic.
Brigid: That was Representative Zoe Lofgren of California speaking about the House Select Committee investigation into the January 6th insurrection with NPR's Michel Martin on November 13th. To date, the committee has interviewed over 150 people to better understand who is responsible for the riots at the Capitol. Reporting late last month from CNN revealed that at least five former Trump administration staff members have already spoken with the committee. There are, however, a number of other notable names who have been less than willing to cooperate with the January 6th Commission.
Steve Bannon: I'm telling you right now, this is going to be the misdemeanor from hell for Merrick Garland, Nancy Pelosi, and Joe Biden.
Brigid: On November 12, Congress charged Steve Bannon with criminal contempt after Bannon was a no-show for deposition. He also refused to hand over documentation for the committee.
Steve: If the administrative state wants to take me on, bring it, because we're here to fight this and we're going to go on offense.
Brigid: Former White House Chief of Staff Mark Meadows also faces two counts of criminal contempt after failing to provide documents and appear before the House Select Committee. Of course, there's former President Donald Trump, who is attempting to assert executive privilege to justify withholding roughly 800 pages of documentation currently held in the National Archives. Let's talk with Kyle Cheney, Legal Affairs reporter for Politico. Thank you for joining us today, Kyle.
Kyle: Good to be with you, Brigid.
Brigid: Let's start with Steve Bannon. Does he have a case even though he wasn't on staff at the time of the insurrection?
Kyle: It's an extremely thin case when you're talking about matters of executive privilege or immunity from testifying. The whole concept of immunity, first of all, has never been upheld by a court but it's one that was always meant to apply to the closest circle of a president's advisors. Again, even that has never really been supported in a court of law. The fact that Bannon, a non-executive branch employee who had been out of the White House for years and by all accounts didn't regularly talk to Donald Trump, we've seen a real stretch to apply to him but that's what he's leaning on to say I didn't have to show up for that deposition and that's why I think the Justice Department decided he was a safe case to prosecute because it was so clear cut.
Brigid: His case is in front of Judge Carl Nichols who was appointed by Trump. Does that give any indication of how he might rule?
Kyle: I wouldn't say so in this case and we got our first glimpse of that this week when Bannon appeared before him for the first time. Nichols was not really buying the Bannon team's argument to try to slow down the case. He really was saying, we want to take a really long time and go through these constitutional issues and Nichols said, well, actually, I don't see it as that complicated, and let's maybe move a little faster than that. Nichols has not been easy to typecast here. He's been pretty tough on January 6th defendants. He's been pretty tough on Sidney Powell and people who are defending a dominion voting system defamation suit. He's not really been in line with Trump and Trump allies just because of who appointed him.
Brigid: I think some of the questions stems from his historical position on congressional subpoenas. Can you speak to that a little bit?
Kyle: This is a more interesting aspect of Carl Nichols's history. He was actually a Justice Department attorney in 2008 when George W. Bush tried to argue that his close aides were immune from testifying. Nichols was the one who carried that argument in court. Now, he ultimately lost that case, but we heard at least one call for his recusal from someone who argued against him to say, ''Look, he took the position that if you're close to the President you can ignore a congressional subpoena, so how can he preside over this case?'' That recusal matter didn't come up, that question didn't come up when Bannon was in court this week, but it's something that we should keep an eye out for because he had at least argued for that position in the past.
Brigid: Shifting gears, let's talk about Mark Meadows, the former White House Chief of Staff. He faces jail time and a fine of up to $100,000 for each count of criminal contempt. Will he also be forced to turn over documents?
Kyle: He has been subpoenaed to provide documents and testimony and the committee haven't decided whether to hold him in contempt. That's the biggest question facing the panel right now is how are they going to deal with someone like him who like Bannon did not appear but at least has been more willing to engage with the committee, and you're trying to make some legal arguments and negotiate. The question is he negotiating to delay and to stall, which is what the committee has begun to suspect, or is he negotiating to reach a point where he can actually come in and provide testimony and documents?
Brigid: In their pursuit of those documents, what do they think they might learn from Meadows's cellphone records?
Kyle: They want to be able to piece together the events of January 5th and 6th. They want to know more broadly than that about Trump's efforts to overturn the election for months after his defeat on November 3rd. They want to know who he was talking to, who he was pressuring in which agencies to try to help him do that, but specifically, on January 5th and 6th leading up to the attack, they want to know who was the president on the phone with or who was Mark Meadows on the phone with to try to coordinate strategy for delaying the electoral college vote. Were they aware of the violence? I think they want to get a sense of when did Trump or Meadows in particular learn certain aspects of what was happening that day and who was he calling as that was going on?
Brigid: Why won't President Biden assert executive privilege over them?
Kyle: The thing here is, this is one of the most interesting fights here is that you've never seen a case in history where when a former president wants to keep some of his White House Records private, you usually have the current administration agreeing because, in general, presidents stick together on these things. They protect the executive branch, but for the first time in history, we have a current president saying no. The public interest in understanding the insurrection is too great for me to try to shield your White House Records from the committee, from the investigators.
That's where this conflict all boils down to and why we're seeing these fights play out in court because Biden has said, ''No, I'm not going to do what all my predecessors have done and try to defend your right to keep your documents secret.''
Brigid: Representative Zoe Lofgren said that after the investigation is over, the committee may look at actions like revising the Electoral Count Act or the Insurrection Act. How would revising those acts prevent future attacks on the Capitol?
Kyle: Sure. The Insurrection Act is the one that a lot of Trump supporters who joined in the attack on the Capitol, they believed that Donald Trump was going to invoke the Insurrection Act and use it to seize voting equipment, use it to deputize militias to try to stop the electoral college vote from happening. A lot of that was rooted in fantasy, and it never did happen but I think the fact that there was even a thought that it could happen is something that lawmakers want to look at to make sure it couldn't be used to target our own election process.
The Electoral Count Act, even more significantly, is the process that governs the way states certify their votes, the way they finalize the election, and the way Congress ultimately certifies the electoral college vote. There have been so many loopholes in that that have never been addressed because most likely it's been a formality, but we've seen now that because of those loopholes exist, when you have someone motivated to try to overturn an election, they can exploit those loopholes to try to have, for example, the Vice President try to stop the counting of electoral votes. That's something they may want to tighten up and prevent so there's no mystery once the election day voting happens, who the winners is going to be.
Brigid: I'm speaking with Kyle Cheney from Politico and we're talking about the January 6th Commission. Kyle, who else do you anticipate will be subpoenaed?
Kyle: We've seen about three dozen subpoenas that we know of publicly and a lot of senior White House officials under Donald Trump, people like press secretary, Kayleigh McEnaney, Stephen Miller, a top advisor. They've hit a lot of the high level people, they've also hit some mid-level White House aides and I think that's the most interesting place to watch because those officials they're hopeful are not quite as bought into defending Donald Trump at all costs, and may have been in the room for some of the key decisions.
The people like Steve Bannon, who will essentially fight every possible battle for Trump, they're hoping these people may not be quite as committed and not willing to risk their own livelihoods to fight it and make me talk to them, so it's those mid-level officials that I think maybe the most interesting to watch.
Brigid: Looking ahead, what can we expect during the hearings on November 30th, regarding Trump's assertion of executive privilege to block the release of his files?
Kyle: I consider that hearing to be maybe the most important moment for the January 6 Committee because this is the Federal Appeals Court deciding whether Trump's attempt to block the committee as the former president is valid, and now he lost pretty resoundingly at the district court level.
There's still obviously the Supreme Court and potentially he could take it to, but the appeals court level is going to be pretty decisive here and it will set a precedent that's never been set before about can a former president try to shield his own records if the current president says no? I think it'll be the last stand for Trump here. Again, Supreme Court is always there and could nullify what happens here, but the appeals court is the first time it's a case like this has ever reached that level.
Brigid: Wow. Are there other recommendations that the committee might make to prevent future riots like we saw on January 6th?
Kyle: Yes. I think they're looking at a number of different areas and one is the way presidents interact with their own agencies to prevent them from being misused again and targeting things like the election process. They might want to look at how presidents, especially after an election can use the tools at their disposal to try to do what Donald Trump did. I think they also want to look at security matters.
That's a less-discussed part of this is how the Capitol Police, how the intelligence community missed the threat here, because if they were prepared, we may not be talking about the attack the way we were talking about it today because they would have been able to stop it before they breached the Capitol. I think they want to talk about how the intelligence was processed, how social media gets monitored, and how the threats are determined to be serious or not because they really missed the ball on this one.
Brigid: Kyle, according to a whistleblower who spoke anonymously this week with your colleagues at Politico, the investigation is not looking closely enough at the role of the Capitol Police Department. Tell us more about what the whistleblower is claiming.
Kyle: Sure. We know that the whistleblower was a senior official with the Capitol Police and seems to think that the failures of the department itself, their unreadiness for what ultimately hit them on January 6th is a bigger part of the story than the committee is appreciating right now, and has been really beating the drum. This is a whistleblower who has been talking to us, for example, but others as well, trying to get people to pay attention to where things went wrong at the department. It's just been a really bad culture, their lack of preparedness, disorganization, they just were not ready for anything that came out that day, and so this person really wants investigators like the January 6th Committee to put more of their resources toward understanding why that went so wrong on that side of things.
Brigid: We're going to have to leave it there. Kyle Cheney is a legal affairs reporter for Politico. Thank you for joining us today, Kyle.
Kyle: Thanks for having me, Brigid.
[00:13:21] [END OF AUDIO]
Copyright © 2021 New York Public Radio. All rights reserved. Visit our website terms of use at www.wnyc.org for further information.
New York Public Radio transcripts are created on a rush deadline, often by contractors. This text may not be in its final form and may be updated or revised in the future. Accuracy and availability may vary. The authoritative record of New York Public Radio's programming is the audio record.