The "Last Responders": Two Funeral Directors Share Their Experiences During the COVID-19 Pandemic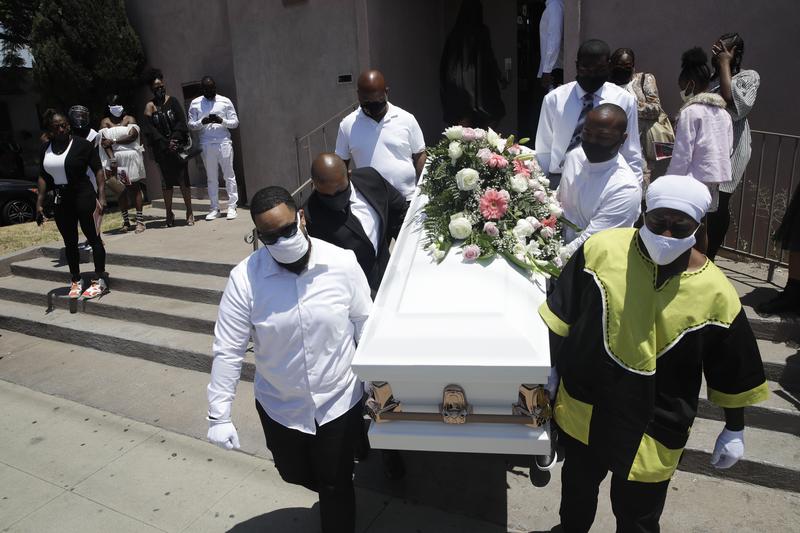 Transcript
Tanzina Vega: I'm Tanzina Vega and this is The Takeaway. As the number of COVID-19 cases has surged across the US this winter, doctors, nurses and other first responders have been stretched thin, but so has another less recognized group of people, the so called last responders. Those are the people working in our nation's funeral homes, morgues, crematories, and more.
They played a vital role in the pandemic since the first wave of COVID-19 last spring, rethinking how we honor and care for the dead in this age of physical distancing and Zoom memorials. Almost a year after the worst of that first wave descended on the United States, we're checking in with two of these last responders, one in Southfield, Michigan and one in Los Angeles, California.
Stephen Kemp is the director of Kemp Funeral Home & Cremation Services and a spokesperson for the National Funeral Directors Association. Stephen, welcome back to the show.
Stephen Kemp: Thank you.
Tanzina: Caitlin Doughty is the co-owner of Clarity Funerals in Los Angeles and host of the YouTube series Ask a Mortician. Caitlin, great to have you with us.
Caitlin Doughty: Thank you.
Tanzina: Caitlin, you're based in LA where COVID-19 deaths are surging. Tell us what that's meant for you and the work that you do.
Caitlin: It's meant everything. It's been a complete, almost violent upheaval in how we work. We watched in horror with what happened with this amount of bodies and deaths in April, in places like Detroit, in places like New York City. We really thought that in the ensuing months, if it did come to Los Angeles, if cases did surge in that way, that there was going to be a plan in place with the government, with first responders.
Come mid-December and continuing until now, there just hasn't been a plan. It's been almost a mass fatality situation and it's been all up to these small private funeral homes to step up and take care of the dead. It's completely upheaved everything that we do and how we handle death and how we arrange funerals and really how we're able to lovingly and helpfully serve the families.
Tanzina: Stephen, when you hear Caitlin describing this, and I'm thinking back to a personal experience where someone I know had passed away from COVID-19 and their family went to at least 10 different funeral homes before finding one that would accept her body. When you hear stories like that, when you hear stories like Caitlin, how is your experience similar or different in Detroit?
Stephen: My experience in Detroit, I'm just north of Detroit. I'm actually connected to Detroit and I'm just a couple miles north of Detroit. In March and April, it seemed to hit our community. Mainly, what we're talking about is minority community. My community in Southfield is made up of Korean, Caribbean, African American, white, so it is a melting pot of all the ethnicities.
I was one of the hottest zip codes in the state of Michigan. There were basically three zip codes that the COVID deaths were rampant. I was in Southern Oakland County where it was the highest in our entire county. It was almost surreal. It was seven days a week, 18 hours a day, and the phone never stopped ringing. I thought it was a call center. There really was no consistent plan to address the number of deaths that were happening.
We had hospital morgues overflowing. We had medical examiner offices overflowing. Removal services couldn't do what they could do, and because of the executive orders, the clerk's offices were closed, so we couldn't file any paperwork to get a disposition of the human remains. Consequently remains were piling up here at the funeral home. I had to rent a 30-foot refrigerated trailer.
Just like our other callers said, we almost had to triage everyone. Luckily through MFDA, our local association, we were able to get some things done and get some help in here through other directors who pitched in to help us because we were just getting inundated. There was really no solution that really came from government. It was almost like we're on our own in this kind of thing.
Tanzina: Caitlin, that's sort of what you're describing that the lack of a government, a strong government partnership, a strong government response, because most of this industry is privatized.
Caitlin: It is and that's been the history of the American funeral industry in the 20th century. I echo everything that he is saying. It's exactly what is happening here, but it happened where he was 10 months ago at this point and I think it was naive of me to expect that we would have learned something. By we, I mean mass fatality groups, I mean the California governor's office.
We knew that Los Angeles is a densely situated area with a large minority population. Most of the deaths we are seeing at my funeral home are Latino and Black. They know that they live in multi-generational homes. A lot of them are lower income and don't have the option to not work and to not go to work and not to go outside the home and potentially bring COVID back to the home.
They knew these things well in advance and that we were potentially vulnerable. For the last month and a half, as this has just been getting worse and worse, as he said, as the phone just does not stop ringing, I'm looking around and going, "Where is the help here?" The expectation, and I've talked to people in the California governor's office who basically echo this, the expectation is that because hospitals "don't have a choice" whether or not people die there, they are getting all of the refrigerated storage and all of the help, and because funeral homes are private businesses and we do have the choice whether or not to help people, we have to step up as private businesses and provide this refrigeration ourselves.
That's nice in theory but, one, it's almost impossible to permit that, especially if you're a smaller funeral home, a place to keep all of these people. Second, the places that do have the money to bring in huge refrigerated storage in someplace like Los Angeles, are going to be these larger funeral homes, corporate funeral homes, who charge anywhere from $4,000 up to $15,000 for a simple cremation or burial.
Tanzina: Stephen, one of the things that we're talking about is first responders and essential workers during this pandemic. You all are considered essential workers and often on the frontlines. Do you think that funeral staff and funeral homes have been treated as such? Have you all been given vaccine priority for example, or the PPE resources that you need to do the jobs that you're doing?
Stephen: Initially in March and April, when the surge happened with us, the PPE was a huge problem. My suppliers were out of everything. I couldn't get disinfectant, I couldn't get anything from suppliers at all, because the general public was buying up what we use every day. The hospitals were having the same issue. In terms of vaccines, that's one of my pet peeves, because they seem to have forgotten about us.
If you didn't know, my wife, my son, and I all had COVID in March. My wife and I were isolated for two weeks because we were exposed and were positive for COVID. Now with vaccines, it's almost like we're forgotten. In some areas, it is spotty. Some areas, COVID vaccines were given 1A with the first responders.
In my state, we're considered 1B Group C, which really puts us under people under 65. With the limited amount of vaccines that we have, we haven't even been contacted or called or anything and we're exposed to it every single day. If not from the human remains, it's actually from the families who have been exposed to it, who actually come into our office and expose us inadvertently.
Often [unintelligible 00:09:06] been quarantine or we're in the household with the remains and the people who have been exposed to them. I think that we have been forgotten. I feel a little bit of resentment towards it. I've really tried to make my voice heard in terms of government and us being considered first responders, even though we're last. We're the end healthcare professionals who take care of these people. If nobody's there to pick up human remains, then where would we be? Consequently, I think that's important.
Tanzina: I'm sorry that your family had to deal with the COVID-19 infections, Stephen. Caitlin, in addition to what Stephen's describing as the health and safety elements here, there's also a mental health effect that this has to have. With the understanding that you're both funeral professionals here, the enormity and the amount of bodies of the deceased that you're both describing, I wonder if that has had an effect on the mental health of funeral directors and providers, Caitlin?
Caitlin: Absolutely. It's a complete shift. You know, we are funeral directors, but we are not mass fatality experts. We are not used to coming in and cremating or burying this sheer amount of bodies. I think where the real sadness comes in is like Stephen said, the phone never stops ringing, and we just don't have the resources. We've had to turn people away, and having to turn away these families that are sobbing, begging you saying, "Please, my dad has been here, this is the 15th funeral home we've called, please come pick him up. Can someone help us?"
To say not only can we not help you, but there's just no one to help you. I don't know any other funeral homes that can pick up right now, or I don't know, there's no government line that you can call for someone to help you. That really takes its toll and you notice it. We call around to do our jobs, to file this paperwork to get them cremated or buried, and everyone from the doctors to the coroner's office, to the nurses in the hospitals.
Everyone is doing their absolute best, but you can just hear the quiver in their voices as they attempt to hold it together every day. I mean, the biggest thing is the families. The families of these people who have died and don't have support from their community because they're isolated, and their government because they're not stepping up. I think we don't know yet what the long term consequences are going to be.
Tanzina: Stephen, how has the pandemic changed the way you do your job? We know that doctors, for example, and ICU professionals are now having to use phones to Zoom or FaceTime with family members, in many ways. How has it affected how you do your job?
Stephen: Pretty significantly in that, praise the Lord, we've prepared here because we're pretty new, built a facility about three years ago, so we were already equipped with Zoom and webcasting technology. We really had to put that into effect in our website, so we had to update our websites and make virtual showrooms. I use Zoom almost every day in meeting with families, or Skype or any other electronic.
The phone [unintelligible 00:12:47] changed our business tremendously because now we can't even have funerals, we only have 25 people, and that varies. We go from 10 to zero to 25 to 20% of volume. It all depends on what the death rate is and the COVID infection rate is that particular week. We were getting differing regulations from our state government so we have to adapt almost daily to whatever. Our governor is trying to keep us safe. I support her 100% but it's been challenging.
Everything now is virtual, and families, you know we don't touch the families. Most of the families we serve, we know personally, they're friends. Being unable to see them and they were unable to see them in the hospital. If they're having a cremation and there's no prep work, they can't see them before cremation, all we have to do is show them a picture. It's really been very tough on the families and my staff. We need a mental break from all this, and thank goodness, our rate has decreased somewhat this first quarter of 2021.
Tanzina: Caitlin, we've got a minute left. Is there something that the federal government should do? We know that they've added some money for funerals related to COVID-19 in the December stimulus package, but what else, in about a minute?
Caitlin: It's starting to move. There is the new stimulus which I hope people are going to be able to easily and clearly access for funeral funds. They have activated the DMORT which is the Disaster Mortuary Operations Relief Team. Although I think that's going to be more focused on the coroner's office. We need help for the families and smaller funeral homes when it comes to refrigeration and when it comes to costs, because these lower-income families cannot bear the costs of a large elaborate funeral home. This is something that the government needs to step in on. There's no better example of people who need relief than people who are still dying en masse from COVID in these lower-income Black and Brown areas.
Tanzina: Caitlin Doughty is the co-owner of Clarity Funerals in Los Angeles, and Stephen Kemp is the director of Kemp Funeral Home and Cremation Services in Southfield, Michigan, and a spokesperson for the National Funeral Directors Association, Stephen and Caitlin, thanks so much for joining me.
Caitlin: Thank you.
Stephen: Thank you.
Copyright © 2020 New York Public Radio. All rights reserved. Visit our website terms of use at www.wnyc.org for further information.
New York Public Radio transcripts are created on a rush deadline, often by contractors. This text may not be in its final form and may be updated or revised in the future. Accuracy and availability may vary. The authoritative record of New York Public Radio's programming is the audio record.