Exploring Consumer Protection: The Kroger-Albertsons Merger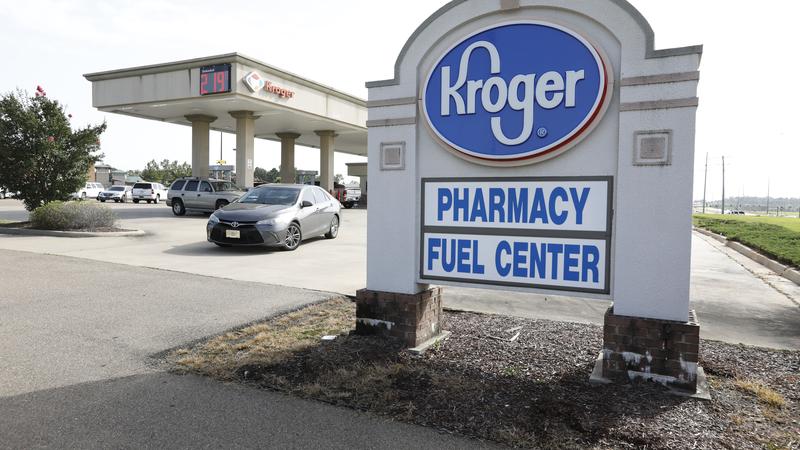 Transcript
[music]
Senator Amy Klobuchar: One-third of all grocery stores have closed in the last 25 years, leaving over 10% of Americans in areas that lack easy access to fresh food.
Melissa Harris-Perry: On November 29th of last year, a US Senate subcommittee held a hearing with the CEOs of Kroger and Albertsons grocery store chains to examine implications of a proposed $24.6 billion merger between the supermarket giants. Here's Senator Amy Klobuchar, Democrat from Minnesota and chair of the subcommittee.
Senator Amy Klobuchar: Going into a drug store or a gas station or even a fast food place, it's not the same as going into a regular grocery store. This has serious implications for health and safety, particularly for the over 6 million American children who don't have enough to eat.
Melissa Harris-Perry: Back in 2015, the Albertsons chain acquired Safeway Supermarkets. Klobuchar cited that earlier acquisition as emblematic of failed policy, and she pointed to evidence that this earlier merger left communities with fewer grocery alternatives and fewer jobs.
Senator Amy Klobuchar: Here is a pretty sad tale. In less than a year, the grocery chain that bought a majority of these stores filed for bankruptcy. As a result, over 100 of the divested stores were closed for good, and over 8,000 employees were laid off.
Carol McMillian: My name is Carol McMillian. I am currently a grocery worker at King Soopers Kroger. I was also a grocery worker at Safeway, and I am a proud UFCW Local 7 member and have been for almost 20 years.
Melissa Harris-Perry: Carol remembers when Albertsons bought Safeway because the effect on her as a grocery worker was very personal. Today, as a member of the United Food and Commercial Workers Union, she's part of a coalition of labor organizations opposing the proposed Kroger-Albertsons merger. Farmers' unions are also part of the coalition.
Dan Waldvogle: My name is Dan Waldvogle. I'm the Director of Rocky Mountain Farmers Union. I also spent a majority of my career as a ranch worker.
Melissa Harris-Perry: Dan and Carol talked with me about the reasons that they're working together to fight this merger.
Dan Waldvogle: When you look at where we're at in the value chain, there's a lot of different points to access the market when it comes to farms, ranches. For some folks, they're selling more directly to these grocers, think fresh fruits and veggies. For other people, they might be selling more in the commodity markets, like the wheat farmer or the rancher. Regardless where that happens, a lot of times, these businesses really don't have much control over the price that they get, especially when they're only selling to maybe one or two buyers.
As time goes on, we see less and less of the food dollar. Currently, farmers and ranchers only receive about 14.3 cents of the food dollar, and that continues to decrease. The other challenge is, farmers, ranchers, ag workers, they all shop at these grocery stores, too, so as the price for consumers goes up, a lot of these folks are really getting hit on both sides.
Melissa Harris-Perry: Carol, maybe you could also help make this concrete for us because I understand that you experienced the 2015 Albertsons acquisition of Safeway. Can you tell us a little bit about your experience?
Carol McMillian: Yes, I was a grocery worker there. They had people come in. They were temporary store managers, we called them terminators. They came in to determine what stores would open and what stores would stay open and which stores would close. It was quite a traumatic experience for the workers, I have to tell you. A lot of people were terminated for nonsense reasons. It was just really a horrendous experience. That merger between Albertsons and Safeway closed a lot of stores. I just feel like this merger would create a lot of food deserts in communities that really need stores that are accessible.
This merger, it's overreaching because the stores and the communities-- I live in Aurora, Colorado. I live a few blocks from the store that I work at. It's a very accessible, convenient location for me. I also shop there. I'm a consumer as well. Kroger CEO promises store closures won't happen, but the necessity for two stores across the street from each other, it's going to be outdated. This is going to affect the communities, it's going to affect the workers, it's going to affect the small businesses surrounding those stores. A lot of those stores are anchors.
Melissa Harris-Perry: It's so interesting that language you used, Carol, of the terminators, not that there was a sense that folks were coming in to really help you to manage and create and serve the community but rather simply to eliminate. Talk to me about why farmers are connected to grocery workers in this context. What is this constellation of groups that are organized against this merger?
Dan Waldvogle: Maybe it's a number of strange bedfellows, but I think, as long as we can all share the sheets and work together to fight this, there's a lot that we can accomplish. So far, there's been a number of ag groups, farm worker groups, these labor unions as well as some of the other washed-up groups that really fight for more competitive markets coming together on this. There's also been a great number of states' attorneys general looking into this as well just because it's a big concern.
In Colorado, not even counting Albertsons, Kroger is the third largest employer. In many of our communities, they may control 70% or maybe even up to 100% of the grocery market. The changes that might come forward could be very, very dramatic in a lot of ways. I know, for Rocky Mountain Farmers Union as well, we were founded more than a century ago so family farmers could work together cooperatively to build a fair market, and even back then, one of our major priorities was price parity. A farmer should be able to cover the cost of production and earn a modest income.
I think that we've learned a lot, especially through the pandemic, when you're thinking of essential workers. The idea that if we can increase more income back to the farm gate and then through worker-driven social responsibility models, really work to ensure that all stakeholders within those ag businesses are being compensated fairly, we have the opportunity to really build that solidarity, and really create some important changes across the value chain.
Melissa Harris-Perry: Stay right there. When we get back, we'll have more on resistance to the proposed merger between Kroger and Albertsons. It's The Takeaway.
[music]
Melissa Harris-Perry: In October of last year, Kroger and Albertsons supermarket chains announced a proposed $24.6 billion megamerger. The United Food and Commercial Workers and Rocky Mountain Farm Workers Union are among a large coalition of unions opposing the action. The Takeaway reached out to Kroger for comment, and their response reads, in part, "As we have in past mergers, we will hold ourselves accountable to our customer commitments. This includes investing $500 million to lower prices starting on day one post-close. With Albertsons, we will also offer customers a broader selection of fresh products and expand our brands' portfolio to deliver more value without compromise."
Now, you can read the full statement on our website at thetakeaway.org. Still with me are Carol McMillian, a current worker at King Soopers Kroger, and David Waldvogle, who is Director of Rocky Mountain Farmers Union.
Carol McMillian: Basically, Melissa, I believe the merger between Kroger and Safeway would cause prices to go up. I know they're saying that they want to compete with other food chains, but if they're dominating that market, the sky is the limit as far as prices. Again, I believe that it will create closures in a lot of areas that are transportationally challenged, disabled. These are community stores, and again, as I said earlier, a lot of these stores are anchors for the communities. If these stores close, where do these people go for their groceries? We're talking about people that walk to the grocery store, or they take an Uber, or they take a cab to the grocery store.
More of their hard-earned money is going to go towards getting to that next further-away grocery store. That's less money to spend on nutritional, healthy food, and at that point, that food is no longer accessible. It's not easily accessible. We're talking about food here, we're not talking about Taylor Swift tickets. I'm saying people need to be able to shop at their community grocery store, get nutritious, healthy, affordable, accessible food without a lot of drama. I believe this merger's going to cause a lot of drama.
Melissa Harris-Perry: Carol, I so appreciate it. When you put it that way, it just makes it so clear. We're not talking about the extras in life. We're talking about the things we must have. Dan, can y'all win?
Dan Waldvogle: I sure hope so. I think when we come together, there's a great opportunity to build a more fair system. I couldn't agree with Carol more when it comes to the idea that individuals in these communities really are at higher risk of losing stores and access to food. A number of our mountain communities-- if that grocery store closes or even if it's the only option for those folks, the other option might be 60 miles away over a mountain pass in Colorado. These really are pretty drastic issues. I think that more and more folks are listening.
Melissa Harris-Perry: I want to end by asking both of you if there is one takeaway that you want to be certain folks who are listening and who might be affected by this merger. Who maybe haven't even been paying close attention to it, but could find that it's harder for them to just simply put groceries in the refrigerator. Carol, do you have a final takeaway that you want folks to carry with them?
Carol McMillian: Yes, Melissa. Thank you. My final takeaway regarding the merger of Kroger and Albertsons is that it's not that we don't want these two food chains to be successful. We do, I think the issue of competition, competitiveness, that's a big issue. I think once that competitiveness or that competition is gone, then that's when the problems begin with the prices being exorbitant just because they can be because they'll be pretty much the only game in town. I think people really should have a choice as far as where they buy their groceries.
I prefer King Soopers. I work there, I shop there, the product is good. That's great. I've bought some things from Safeway as well. Certain things I like, certain things I don't like. It's about convenience, choice, accessibility, affordability. All of those issues are at risk if this merger between Albertsons and Kroger goes through.
Melissa Harris-Perry: Same question for you here, Dan. Is there a final takeaway you want folks to have?
Dan Waldvogle: I think Carol just said it so well. So much of this is around choice and competition. I think it's so important to ensure that independent grocery stores also have a fair place in the market. I think so many of the issues here-- small and mid-size farms already struggle so much to access these markets. So much of this is based on scale. There's exclusive kickbacks for slotting fees, and other challenges just to get your products on the shelf. I think that really does hurt the ability to have unique Colorado brands. We have amazing Pueblo chiles and Rocky Ford Melons and Palisade peaches, San Luis Valley potatoes.
The more that we see the consolidation of the way that farmers and ranchers are able to sell to these stores, the less opportunity there are to showcase those and to bring back that premium value that these products really deserve. I think in so many ways we have the opportunity here to start to reverse course a little bit. We've seen this consolidation happening over the decades. This is, I think, our first really big opportunity to reverse course and start to create a more fair food system for everyone.
Melissa Harris-Perry: Dan, you also just made me hungry as you were talking about that local food. Yes. Dan, Carol, thank you both for taking the time, and thank you for your work to bring more focus and light to this issue. Thank you.
Dan Waldvogle: Thank you, Melissa, and it's honor to be here.
Carol McMillian: Thank you, Melissa. It's an honor for me as well.
Copyright © 2023 New York Public Radio. All rights reserved. Visit our website terms of use at www.wnyc.org for further information.
New York Public Radio transcripts are created on a rush deadline, often by contractors. This text may not be in its final form and may be updated or revised in the future. Accuracy and availability may vary. The authoritative record of New York Public Radio's programming is the audio record.