Kim Ng Makes History as First Woman Hired as an MLB General Manager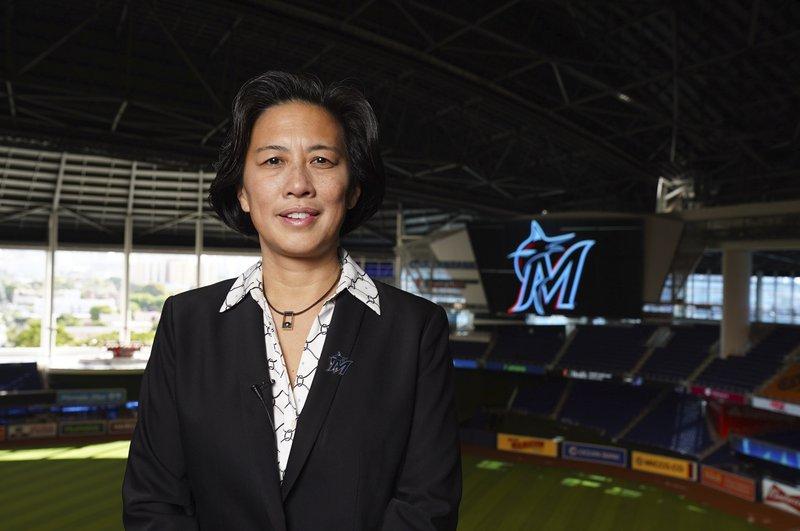 Transcript
Tanzina Vega: Major League Baseball made history last week when they announced Kim Ng as the Miami Marlins general manager. This is the first time any woman, let alone a woman of color, will be in the top job for a Major League Baseball team. Here's what Ng had to say to all those young people who might want to follow in her footsteps.
Kim Ng: Anything is possible. Just work your butt off, keep your nose to the grindstone. It's great to have people block for you every once in a while. Soak up all the information you can, but anything is possible.
Tanzina: With that remarkable accomplishment, there will almost certainly come a tough road ahead. Joining me now is Jane McManus, director for the Marist Center for Sports Communication and a sports columnist for Deadspin. Jane, nice to have you back on the show.
Jane McManus: Always happy to be here.
Tanzina: Kim Ng was not a surprising choice at least internally for the role, she had tried for this job a number of times before, right?
Jane: She said that she has tried out for a general manager position or been interviewed for one, at least five times and probably many, many more than that. The last nine years she's been working in Major League Baseball's front office, basically just waiting for her opportunity to come along.
Tanzina: Is that typical for general managers? Is it often a job that requires multiple tries before you're anointed, if you will?
Jane: Well, let's be absolutely clear. Kim Ng has been qualified for this job for the last decade. She has been at the place where typically men in baseball are getting their first general manager opportunities. The problem is, it's not like applying for a job in a conventional setting. You have to be chosen by somebody who's an owner and who wants to put you in a role where you are doing all of the negotiating when it comes to the team, when it comes to players, you're the front-facing person who's talking to the media, who's talking to other owners, who's interacting with baseball on behalf of this team.
You really do have to have someone who backs you and says you're the person, and unfortunately, for the last decade, Kim Ng has been qualified and been ready, but hasn't been able to find someone who is willing to invest her with that power.
Tanzina: Let's talk a little bit about her career because you know a lot more about her trajectory than a lot of people. What's her career in Major League Baseball look like up to this point?
Jane: She's been in the front office of various teams since 2000, 2001, when she was with the Yankees as an assistant GM and she went on to be in the Dodgers front office, she also was with Chicago and then for the last nine years, she's been in baseball's front office where she served on a lot of committees involving diversity and different things like that with baseball, trying to figure out how can baseball be more proactive about having opportunities available for women and people of color.
There is some irony there, right? That she has been in this position where, with a lot of other people in baseball, they are just a handful of women who have roles like the one that Kim Ng had, these assistant GM roles, number two, three, four in an organization and Kim Ng was at the head of some of these diversity committees trying to figure out, how can we get more women in baseball and really she's been ready for this opportunity for that long as she was serving on these committees.
Tanzina: What do you think tipped the scales this time around for her, given the fact that she's interviewed and tried for this job a bunch of times, besides the fact that obviously as we've stated multiple times, she is eminently qualified for this role. What do you think tipped the scales in terms of the Marlins giving her this opportunity?
Jane: I think part of it is staying power. When you stick around and you say I'm not going to go anywhere, you can pass me over for a job and I know I'm here for this and I'm going to stick with it, which is something that Kim Ng has said that she's done. I think that's part of it. I think Major League Baseball probably got involved and was encouraging teams to give her a more serious look rather than just an interview.
I also think the fact that she had probably had a longstanding relationship with Derek Jeter, who is part of the Marlins organization. Here's a relatively young person, he was a biracial player, so he knows what it's like to break a barrier or to be an icon who represents something more than just himself, who also understands that idea of celebrity and who understands how somebody can have an impact well beyond the job that they hold. I think all of those things came around and led to an opportunity where it was time and where she was the person for the job.
Tanzina: Jane, not only is Kim Ng a woman, she is also an Asian-American woman, why does that matter for the MLB at large?
Jane: Major League Baseball has really struggled with diversity in its ranks. In particular, you see this with the way that there were a certain number of Black players, famously Jackie Robinson broke the color barrier and now you've just seen that they haven't been able to keep that momentum. There is diversity when it comes to Latino players, players of Hispanic origin, but other than that, there have been fewer Black players who've been drawn to the game.
They haven't done as well, and certainly, in terms of leadership roles, I mean really, professional sports, in general, don't do a good job with putting people of color in leadership roles and obviously women, since Kim Ng is the first one who served as a general manager now across the big four sports leagues in the United States. Also in particular are people of color and being able to serve in those roles, Kim Ng has told stories of hearing racial slurs from people in baseball because of her race, which is completely unacceptable.
To be able to cross that line and to be able to have a role where she has real power and authority, it means something. It means something not only for people outside of baseball, but it also sends a message to people within the game.
Tanzina: Now, we've talked on this show about what it feels like to be the first or the only, and in this case, Kim Ng will be the first and the only woman of color, Asian-American woman and woman at the top of a Major League Baseball team. When you are the first and the only there will be challenges. What do we expect Kim Ng to have to confront as she moves forward in this role?
Jane: That's a great point. As we know, when you're representative not just of yourself and your own talent, but you're representative of a group of people or demographics--
Tanzina: Which is unfortunate and it happens to many people who are the first and the only, they can't just be who they are and be done, it almost is like we are representing an entire group of people.
Jane: A hundred percent. I think a lot of people can probably relate to that, having been that person or having seen that person in action in their own worlds. Unfortunately, her failures will not just be hers, but they will be considered by some to be representative of what women or people of color are capable of as a general manager. She has and many people in a role like that also have a cultural issue.
Now she's been in baseball for 30 years and she understands that culture. As do any women who work in professional sports, who work in a male-dominated field, you have to be aware of what those dynamics are and how you sit on the outside of a lot of those dynamics all the time, and how to negotiate that tension. Obviously, she is familiar with that and how to do that, but she will be looked at as somebody, she'll be scrutinized. I think probably more closely her decisions could be questioned more closely because of where they're coming from.
There are a lot of white men who have had jobs as general managers, they flame out, they don't do very well, they're just there for a couple of years and then they leave and then they go back to an assistant role. If that were to happen to her, it will obviously feel different I think for a lot of people watching this and you never know how much of a shot somebody is actually getting. Yes, it's one thing to have the role. Will she be empowered fully in the way that many men who have this role are? How much autonomy is she going to have? How much respect will she be given as her do by the people that she's interacting with? These are all questions I think that have yet to be answered.
Tanzina: You mentioned how much power she will have, as general manager typically that role is extraordinarily powerful. What are some of the things that could limit or curb her power there? Are they things that are less tangible, like a team that might not want to take its orders from a woman or are there blocks, other political blocks that could happen?
Jane: Just as with any field where you have a working environment, there are political tensions within an organization all of the time. An owner perhaps, who wants to put his or her stamp generally in professional sports it's his stamp, on a team who wants to be the final authority in smaller decisions, micromanaging, you may have interactions with somebody who doesn't feel comfortable working with her for whatever reason and she has to make sure that that is not holding her back. All of these little political situations that she will have to negotiate as a general manager.
There's a reason, there's a glass ceiling in baseball and that's because it's been put there by the structural forces that have existed in baseball for the last 100 years. Those haven't gone away just because she got this job, she's still going to have to negotiate the vestiges of those ideas that have kept women out of positions like general manager and coaching positions and reffing positions. There are lots of positions in professional sports that have nothing to do with gender and yet women are often kept out of them for reasons that have nothing to do with that.
Tanzina: Then I'm curious, Jane, more broadly when we think about women in professional sports or I should say male-dominated professional sports. Kim Ng is one example. I believe in the NFL, for example, there's a woman assistant coach on one of the teams-
Jane: Katie Sowers.
Tanzina: -but there's still so few and far between, does this indicate a broader shift?
Jane: Yes, it is a broader shift because there are women in the pipeline of all these major leagues you do have Katie Sowers in the NFL as an assistant coach. You do have Becky Hammon, who's ready for a head coaching job in the NBA, and should ultimately get it. There are women who are able to take advantage of some opportunities that are becoming available. In the NBA, you have women who've played this game since they were able to walk. There's no reason that opportunities in the NBA should be limited only to men. I think you're seeing some of these attitudes change whether it comes to coaching, whether it comes to refereeing, all of these different things.
Scouting is another example of a role that can be filled by women that doesn't have anything to do with gender, which women can do just as well as men. The idea it's not really about the skill set that women bring, the love of the game that women bring, the familiarity with the rules in the game that women can bring also, it really is about these structural issues that hold them back. The idea that sports are a boys club and that girls aren't allowed, that's really what women are dealing with. They have to deal with it at all levels. Each woman who comes into a sport in this role has to figure out how to negotiate those political dynamics on our own. There's a great informal network of women across sports who are working to excel in a sport and they rely on each other.
Tanzin: Jane McManus is director of the Marist Center for Sports Communication and a sports columnist for Deadspin. Jane thanks so much for being with us as always.
Jane: Appreciate the conversation, Tanzina.
Copyright © 2020 New York Public Radio. All rights reserved. Visit our website terms of use at www.wnyc.org for further information.
New York Public Radio transcripts are created on a rush deadline, often by contractors. This text may not be in its final form and may be updated or revised in the future. Accuracy and availability may vary. The authoritative record of New York Public Radio's programming is the audio record.