Judge Amy Coney Barrett Confirmed for U.S. Supreme Court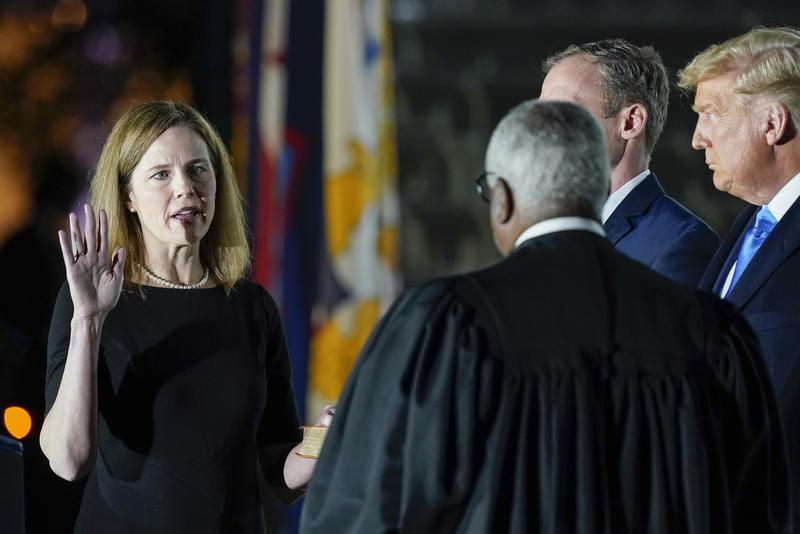 Transcript
Amy Coney Barrett: The oath that I have solemnly taken tonight means at its core that I will do my job without any fear or favor and that I will do so independently of both the political branches and of my own preferences.
Tanzina Vega: Last night, Amy Coney Barrett became the ninth United States Supreme Court Justice. In one of the most partisan displays of power we've witnessed in the past few decades, Republicans use their political majority to force Barrett's confirmation before Election Day. So far, 60 million votes have already been cast in the 2020 election and Barrett's nomination process was one of the fastest ever for a Supreme Court nominee lasting a little more than a month after the death of Ruth Bader Ginsburg.
Barrett answered less than 20% of the questions posed to her during her hearing leaving many Americans unclear about how the new Justice might lean and frustrating Democrats who remember how President Obama's SCOTUS nominee, Merrick Garland, wasn't even granted a hearing. For the current GOP, it was the culmination of nearly four decades of work on reshaping the court, Mitch McConnell starkly said this on Sunday.
Mitch McConnell: A lot of what we've done over the last four years will be undone sooner or later by the next election. We won't be able to do much about this for a long time to come.
Tanzina: While Republicans bask in the glory of their third Supreme Court Justice in less than four years, millions of Americans continue to face eviction, hunger, unemployment, and a third wave of coronavirus infections, and Congress remains deadlocked on a stimulus package. I'm Tanzina Vega. This is The Takeaway, and that's where we start today with the new Supreme Court and how it has changed for the foreseeable future. Joining me now is Cristian Farias, a legal affairs journalist and regular contributor to GQ Magazine, and Amy Howe, co-founder of SCOTUSblog. Thanks for being with me, both of you.
Amy Howe: Hello, thanks for having me.
Tanzina: Amy, let's start with you. The process of how now Justice Barrett made her way to the Supreme Court has been remarkable in how quick it has gone. How did this happen so quickly?
Amy: It was remarkably fast, but the Republicans were determined to have her on the court as quickly as possible. Mitch McConnell and you really saw once Judge Barrett, now Justice Barrett, submitted her questionnaire, they had been really considering her for a vacancy for a couple of years, and you saw when she submitted her questionnaire to the Senate Judiciary Committee, that within a day or two after Justice Ginsburg death on September 18th, they had contacted her about the possibility of filling the vacancy and had offered her the job on September 21st I believe. They didn't announce it until September 26th, and then just moved forward at lightning speed.
Tanzina: There is the editorial board of the New York Times wrote today about this process. I have to say Amy it's one thing to have a remarkably fast confirmation process and it's another thing in the words that they use in this editorial to use "brute force" here. I think that's what's frustrating to watch is how a lot of this feels less about the American public and its citizenry and more about brute force and power on the part of the Republicans.
Amy: Yes, there was not a lot that the Democrats could do once the nomination had been made to stop her and the Democrats recognize that and the strategy at the confirmation hearing was really less about any procedural maneuverings to try to stop her. They really focused on their differences and what her confirmation would mean for the court rather than trying to change the minds of any senators as such.
Tanzina: Cristian, I want to bring you in here because to Amy's point there wasn't a lot that Democrats could do, but did they do enough? I feel like there was a lot of grand standing, there were a lot of photographs left there, they protested by not showing up, but I don't know. Could they have asked more questions? Judge Barrett, now Justice Barrett, only answered about less than 20% of the questions she was posed. What could the Democrats have done differently here?
Cristian: They actually did everything they could do given the circumstances as Amy pointed out, they're in the minority, their options were limited, and really they hammered home the point that they've been trying to hammer even since the last election that the Affordable Care Act is on the line and indeed the law is on the Supreme Court's docket at the moment.
Their point, I don't know if they were successful. They try to paint her as a sure-fire vote against the law, given her past statements. The question is, will she go with that? Yes or no. Was that a pre-election strategy to drive out people to the polls more so than defeating her? I think that's a question that the election is going to answer because depending on how well this strategy worked and how big a turnout Amy Coney Barrett's confirmation results in, I think, they'll then decide, do we have a mandate to do something else?
I think it's less about stopping her confirmation, but more about whether voters have it in them to truly exact like almost fear [unintelligible 00:05:52] for what happened because millions, as the opening said, were ready voting, 60 million as of yesterday. In a sense, there's something quite anti-democratic about pushing through a nomination as votes are being cast and as people may be already voting because Ruth Bader Ginsburg died because they want a Justice that is in her mold. The fact that Amy Coney Barrett is the exact opposite of that, that may itself result in political retribution.
Tanzina: I want to pick up on that point, Amy, because the idea that this is anti-democratic, that Cristian just pointed out, I think, again, pointing back to this New York Times editorial where essentially it feels in many ways that the United States is somehow being held hostage by a very minority view quite frankly. Pointing out here that Republican Presidents have appointed 14 of the previous 18 Justices on the court, the Americans have voted for democratic nominees in six of the last seven Presidential elections, and yet this is what our Supreme Court looks like Amy, how do we explain that?
Amy: I think that is what angers so many people. I think for the Republicans that it really is, as Cristian said, you're talking about, there's the ongoing election and it seems like Republican senators, at least, may well have made a calculation that they are going to take the-- To be sure I'm not a congressional reporter, but to take the short-term pain that they may well lose their majority in the Senate for the long-term gain of controlling the Supreme Court for possibly decades to come.
You had Senator McConnell the other day talking about how even if Democrats take the White House and both houses of Congress, they'll have this Supreme Court that's able to push back against the acts of Congress. I think that is what's frustrating Democrats so much and is part of the what's underlying the calls for possibly expanding the court. Vice President Biden has said that he wants to appoint a commission to study the courts, but the idea to [crosstalk].
Tanzina: Just when I hear that, we're thinking about appointing a commission, it just feels like that's another piece of Washington rigmarole and just getting caught in the muck of Washington when Americans are saying, "You may want to appoint a commission, but this administration has just appointed three judges in less than four years."
Amy: Sure. I think you have to look back that the idea that people are talking about court expansion in the mainstream now, I think has come a long way. Two years ago, even whispering the word court-packing was completely taboo.
Tanzina: I want to get into court-packing in a minute because I want to talk about that strategically, but before we get to that, standby Amy. Cristian, one of the things we hear over and over and over again is how judges should not legislate from the bench, and yet SCOTUS has in many ways because Congress is so broken, has had to become in many ways a legislative body, and pointing back to this New York Times editorial today it says, "Today's conservative majority," and I'm quoting here, "Is among the most activists in the court's history." How do we explain the hypocrisy there, Cristian?
Cristian: It's interesting because the Republican agenda legislatively is so unpopular. The American public just doesn't want what Mitch McConnell and his party have to offer in terms of solutions for the American people, that the party turns to the courts to enshrine their vision of society, their vision of how the world should work. It's this interesting interplay, we don't have any bills to offer. We've already adjourned the Senate. McConnell last night adjourned the Senate until after the election without a COVID relief bill. Again, because his view of how that relief bill should look is not what people want. Rather than actually come to the table and offer solutions, you rather he takes all his toys and go home.
The fact that he's now insistent instead on this new Justice that will deliver outcomes for decades to come a conservative majority, not just at the Supreme Court, but also in the federal appeals courts, which also decide many very important cases related to legislation and social policy. It just shows how they're planning to cement their vision for how Americans should live their lives. Go ahead.
Tanzina: Cristian, in the meantime, the problem is, as you mentioned, there are 8 million Americans have been pushed into poverty and while the GOP has gotten its victory, it has kept its promise. President Trump in particular has kept his promise to make sure that they see it as many judges as they possibly can. They have done that, but they have abdicated their moral responsibility to the American public that is suffering right now. How do they expect to stand, maybe this is to Amy's earlier point, that they're betting on the short-term versus the long-term?
Cristian: Precisely. That's why it's interesting because right now, based on this evident power grab, the question is will voters respond, will voters punish them? We need to see what happens after the election, if Biden wins, how big he wins, and also if he takes back the Senate, how big that take-back is because based on that mandate, they will now have to make a decision. What do we do to reverse this trend?
Yes, of course, they have this whole agenda. Biden, I'm sure has all these things he wants to do, but the question is, will the courts too push back on those policy agendas? If the courts begin striking down democratic legislation, which is what many Progressives and many Democrats fear that Amy Coney Barrett and the conservative majority, now let's say there's a new voting rights act that will protect the right to vote moving forward, will an activist Supreme Court go and do away with that? Then what's even the point of passing democratic legislation if you're going to have courts to strike it all down.
Tanzina: What is the concern about this word court packing?
Amy: I'm not sure that there's that much of a concern right now. I think the Democrats are so upset about the way that things have played out. The idea that the Gorsuch seat was a stolen seat, that Mitch McConnell said we're not going to confirm a Justice during the Presidential election year, and then now that the Republicans are in the White House, and they have the opportunity to confirm a Justice during the Presidential election year and they went ahead and did it, but it was taboo for a long time. I think that there was a sense that talking about court-packing might somehow hurt the Democrats in the upcoming elections. I'm not sure that that there's a sense that there is much of a harm right now from talking about it.
Tanzina: What about term limits, Amy? What about that, in implementing or limiting the power of the court? Is that something that Democrats could do?
Amy: It's interesting because term limits to many people, I was actually talking about this with my 17-year-old daughter this morning, it sounds like a much more reasonable idea to many people. The idea that 18 years or so sounds very, very civilized, and then you would know when a Justice was going to roll off in advance of an upcoming Presidential election, you'd say, "Okay, this President would get to pick the next nominee," but that actually, in my understanding, is that it would be hard, and Cristian can correct me if I'm wrong, would be harder to do because the constitution gives Supreme Court Justices life tenure whereas the constitution does not set the number of Justices on the Supreme Court. It seems somewhat counterintuitive that adding Justices to the court might actually be easier as a constitutional and legal matter than limiting their terms.
Tanzina: Cristian, in terms of what we know about Judge Barrett, and I'm not going to get into how she will rule on A or B topic, because we don't know how she's going to rule and we can't predict that, the question I have is how little we took away from her after these confirmation hearing. She answered less than 20% of the questions that were posed to her. I would love if you could help us understand that in the context of, for example, Sonia Sotomayor, his confirmation hearing, how different were the two?
Cristian: She was not forthcoming at all. There were basic questions that she got asked like, is voter intimidation illegal? She wouldn't answer that one. The reality is, it is illegal. What does she have to say about the peaceful transfer of power or other authoritarian tendencies of the current President? She wouldn't answer those things. Of course, the reality is that she was just protecting her own nomination, because we know that the President tends to not take kindly to people who cross him. She was shrewd in that sense, but the reality is that she took part in this process. She accepted it for all it is, for all its rush. She appeared on the balcony of the White House, South Lawn last night for what looked like a campaign event because Donald Trump tweeted a video of it in the middle of the night.
Tanzina: That's also not a typical behavior for a Supreme Court Justice, is it?
Cristian: Yes, there are a lot of things that were atypical about this process and the fact that she took it all in and she played along. She was in the middle of that superspreader event when she was announced for COVID. It just tells you something that she was pretty much in the tank with this whole thing. I think people should draw their own conclusions from that. The reality is that she is on the court right now. There are cases before the court dealing with this very election, whether mail-in ballots will be counted, whether everyone has voted.
Tanzina: Would she'd be forced to recuse herself from those cases?
Cristian: She won't be forced to do anything. Supreme Court Justices call their own shots when it comes to recusal. The question is, will Amy Coney Barrett do the right thing? The reality is that there's already a majority in the court that is hostile to voting rights. The question here is, will she join them or will she step aside?
Just last night, there was a huge number of opinions from the Supreme Court dealing with voting in Wisconsin. There's another case from Pennsylvania pending, another one from North Carolina. This is where the rubber will meet the road. What she does in those cases will be just a demonstration of whether she is independent or not. I think if she recuses, at least, she will be shown to the public that the stakes are high and that her own integrity is on the line.
Tanzina: Amy, as we close out the segment, what does this do? The whole process, the path that you mentioned, Merrick Garland, and Neil Gorsuch, and Brett Kavanaugh, now we've got Amy Coney Barrett, very contentious nomination processes, and yet like as I mentioned, President Trump kept his promise to the American public by seating as many judges as he could, how has this changed the court for the foreseeable future? We've got about a minute and a half to go.
Amy: Interestingly, until before the death of Justice Ginsburg, the Supreme Court was doing actually fairly well in these polls involving public confidence. My impression has been that when you have something like this, the perceptions of the Supreme Court do tend to take a hit, and then the Supreme Court usually will recover, but then it will take a hit again, but it will be the combination of this and the possibility that the Supreme Court could be drawn into election-related litigation. I think it could certainly affect the public's perception. We saw this after Bush versus Gore. It may well take a while for the Supreme Court to recover.
Tanzina: Cristian Farias is a legal affairs journalist and a contributor to GQ Magazine, and Amy Howe is the co-founder of SCOTUSblog, thanks to you both for joining me.
Amy: Thanks for having me.
Cristian: Great to be here.
Copyright © 2020 New York Public Radio. All rights reserved. Visit our website terms of use at www.wnyc.org for further information.
New York Public Radio transcripts are created on a rush deadline, often by contractors. This text may not be in its final form and may be updated or revised in the future. Accuracy and availability may vary. The authoritative record of New York Public Radio's programming is the audio record.