Jean-Michel Basquiat: King Pleasure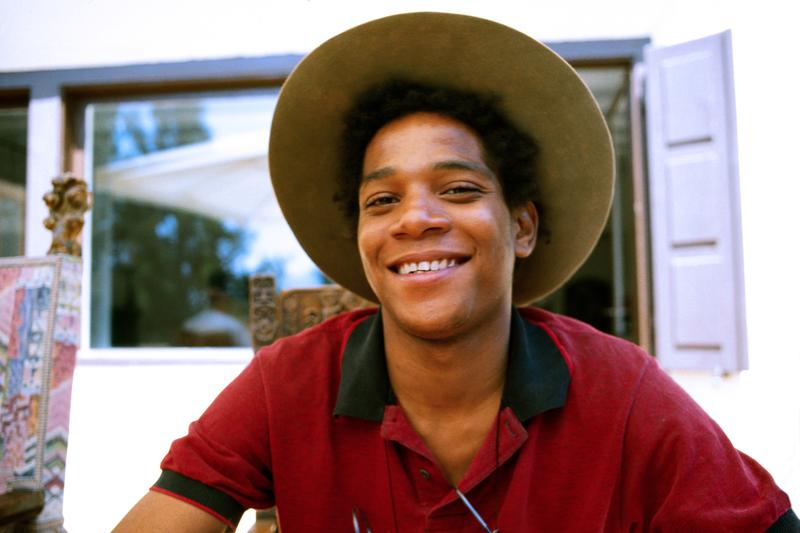 Transcript
Speaker 1: This is The Takeaway with Melissa Harris-Perry.
Melissa Harris-Perry: Anna, do you remember when we saw the art done by Basquiat?
Anna: Yes.
Melissa Harris-Perry: What do you remember about it?
Anna: A lot of his drawings had crowns on it.
Melissa Harris-Perry: Why do you think he has crowns in his drawings?
Anna: Because he thought Black was royalty.
Melissa Harris-Perry: When you made your own art, what did you do that was like what Basquiat does?
Anna: Add a crown.
Melissa Harris-Perry: What did you add a crown to?
Anna: A dinosaur and I found out that the dinosaur was actually a dragon.
Melissa Harris-Perry: Wow, that's pretty cool. That was my eight-year-old daughter, Anna, reminiscing with me about her visit to New York City when she had a chance to see the exhibit Jean-Michel Basquiat: King Pleasure. As you can hear from Anna's reaction, Jean-Michel Basquiat remains an impactful artist more than three decades after his tragically untimely death. Basquiat's boundary-defining artwork has influenced music, fashion, film, TV, and third Grade field trips and in the contemporary art world, his work is transformative.
In 2017, a piece Untitled which he created in 1982 soul for more than $110 million. This is the public Basquiat and now his family has decided to share a more personal side of their beloved son and brother. This spring, the family opened a 12,000-square-foot exhibit that features hundreds of Jean-Michel's art pieces, photos, and personal artifacts, so that visitors can know him in an entirely new way.
Jeanine Heriveaux: My name is Jeanine Heriveaux and I am the sister of Jean-Michel Basquiat and the executive producer and co-creator.
Lisane Basquiat: My name is Lisane Basquiat I'm the sister of Jean-Michel Basquiat and the executive producer and co-curator of the Jean-Michel Basquiat: King Pleasure exhibition.
Melissa Harris-Perry: Lisane, Jeanine welcome to The Takeaway.
Jeanine Heriveaux: Thank you for having us.
Lisane Basquiat: Thank you so much for having us.
Melissa Harris-Perry: How would you describe him as a brother, as a son, as a friend, as a human?
Lisane Basquiat: First of all, I'm really happy that your eight-year-old is obsessed with Jean-Michel because I think that's really what it's about. It's about the fact that he, 30 years after passing away, still resonates with people so much and people from all walks of life and all ages. As a brother, Jean-Michel was generous and very playful and loving, and really mischievous. He was always up to something, always up to some creative shenanigan of sorts. He was a really incredible brother.
Jeanine Heriveaux: I agree Jean-Michel was protective generous as Lisane says and intuitive, one who, when he was in the room with you he was talking directly to you and gave his time and attention to you. He was very spontaneous and he would just call out of nowhere and say, "Hey, let's go have dinner at such and such and such," and it could have been Thanksgiving, but he still was going to call very spontaneously and take you out. He was an unbelievable person.
Melissa Harris-Perry: When you say he was mischievous because I've got I'm the youngest of five and so I have siblings who I might also describe in a similar way. Do you have a story of his mischievousness?
Lisane Basquiat: I think I have a lot of stories about this mischievousness. I think the thing about Jean-Michel is like, there were pranks that people pulled like maybe making phone pranks, and then there were the more elaborate pranks that Jean-Michel would pull. For example, he once had us all call maybe 20 different restaurants in the area pizza places and Chinese food restaurants, and other restaurants, and had them all deliver food to one address on our street. We looked out of the window and giggled while 20 different delivery people were standing outside trying to figure out what was going on because they all pulled up together. Jean-Michel would take very simple cranks and amplify them by 10 or 20.
Melissa Harris-Perry: I feel like I can see that in the art. The amplification of something simple, the trickster figures and the empathetic presence and thoughtfulness that makes you feel even though you're looking at his work you're also being seen by it. That capacity to translate his identity into his work. That is the genius or at least part of the genius.
Lisane Basquiat: I think it really is. When you look at Jean-Michel would take a very simple thing that people were thinking and put a megaphone on it and hold up a mirror to things. I think that a lot of the work that he did and the way that he lived was to amplify things that really needed to be heard and said, now, maybe he didn't need to do it with the delivery people, but in other parts of his life. I think he really did and through his artwork really did use his voice and at that platform of the canvas to amplify what he had to say.
Melissa Harris-Perry: There have clearly been many showings of his work, but why now did the family make a decision to curate this one? Lisane, maybe we'll start with you.
Lisane Basquiat: We made the decision to create this exhibition for a couple of reasons. One was because there has been such an overwhelming response, positive response, and inspired response to Jean-Michel and to his work. We felt that it was time for us to respond to that response by giving people more, giving them more information about Jean-Michel. The other reason was because Jeanine and I are the generation that can really package this part of our family's history into something for the generations that follow us. Then also their beautiful works and they've been sitting away for quite some time and we just wanted them to be seen.
Jeanine Heriveaux: We wanted to make sure that there was some facets and some texture and some layers that were added to that narrative in terms of where he came from and how he got to thinking as he did and how he got to painting as he did. The influences that he had in his youth that got him there. I think it humanizes Jean-Michel in a way that has never been done before. This was someone who was someone's son and brother and nephew and chose a different layer in a different perspective of the man.
Melissa Harris-Perry: When you talk about him being larger than life and the ways that his art has continued to speak and speak to social and political movements for which he did not even live to see. How was the movement for Black lives drawn on and pulled from and crafted in part from the themes of Jean-Michel's work?
Lisane Basquiat: That's a great question, Melissa, and we had started back in 2017 and shelved it for personal reasons. It was because of everything that was going on that we decided that it really was the right time because Jean-Michel spoke to all of it and it was really prophetic. When you look at, well, I would say it was prophetic and I think it's a bit pathetic that all these years later we are still speaking about and working through issues of police brutality and issues of all of the isms, racism, the negative aspects of capitalism and so on and so forth, the ways that we are all impacted by colonialism.
It's just unfortunate that we're still talking about those things and that it isn't history, but it's a narrative about what's happening today. I think it helps. I think one of the things that makes Jean-Michel as powerful a voice as he is and that as he has is the fact that he does it in a way that is very, just factual and plain and clear. it's almost you can feel the passion in what he's saying and he's not allowing the passion to override the facts. You have to actually look at them because he's in your face with what's going on.
Melissa Harris-Perry: I have been fascinated to watch British reactions and sometimes, global reactions to the Duchess Meghan Markle and the notion that somehow a crown does not belong on the head of a Black body particularly a Black American as a Royal is inherently offensive. Just have thought so often of your brother's work around that and how it was a disruption even to think of Blackness in the context of royalty.
Jeanine Heriveaux: There's an interview where he says that Black people are not portrayed well, if at all, in film and TV and in most artistic mediums. As a result of that, knowing that he came from a strong family with a strong background, he knew that the only way that he would feel that is if he crowned himself and he used that as an example for others to follow the pattern of crowning yourself.
That means that you don't have to wait for someone else to do it for you if you are able to do it for yourself. Once crowns on the bodies of faces and people of color, once that becomes just commonplace, then I think that Jean-Michel, what he was trying to accomplish will be accomplished.
Melissa Harris-Perry: For folks who have not yet had an opportunity to visit the exhibit, can you just tell us just who is your family?
Jeanine Heriveaux: My dad came to this country at under 20 years old from Haiti, knowing that Haiti was a little bit too small for him. He met my mother who was born in New York but is of Puerto Rican descent. They fell in love and had jam show and then also had the three of us.
Lisane Basquiat: I also want to say that, Jean-Michel was born in 1960. When he was a teenager and starting to recognize or starting to communicate that he wanted to and intended to become an artist, it was at a time when, first of all, a Black man walking around with dreadlocks was not the thing. A Black man walking around with dreadlocks who intended to become a painter was not a thing. There was some tension around the fact that Jean-Michel had chosen this path that seemed very farfetched and very different from anything, our parents and in particular, our father could imagine for him.
I just wanted to bring that up because I think it's really important to understand the context within which Jean-Michel was raised and the time that was going on and just how profound, the fact that this young man could ensure that he did what he intended to do with his life no matter what people thought, whether people understood or grasped or not, that he still went ahead and did the thing that was so important to him for his life.
Melissa Harris-Perry: It is rather extraordinary that your father, despite the complicated relationship, turns out to be one of the fiercest protectors, that all of you are fierce protectors and advances of your brother's legacy, but still there must be and I wanted to give you the opportunity to speak on it. There still must be so much grief to have lost him so young and to imagine what would've come in the days and the weeks, months, years, decades had he had that full opportunity to grow into an old man, maybe even.
Lisane Basquiat: There is a lot of grief and we were three siblings and now we're two. We had to watch our parents struggle through having lost a child. There is a tremendous amount of grief and loss. I think that this exhibition and the work that Jeanine and I are doing, and our stepmother is healing in a lot of ways.
Jeanine Heriveaux: We are extremely proud and elated by what we've done and that we were able to bring that emotion to others to experience and to see Jean-Michel a bit differently than how he has been showed previously. We're very grateful.
[music]
Melissa Harris-Perry: Jeanine Heriveaux and Lisane Basquiat, thank you for giving us your big brother in this extraordinary way.
Lisane Basquiat: You're welcome. Thank you so much for having us.
Jeanine Heriveaux: Thank you. It was great. Thank you.
[music]
Melissa Harris-Perry: Jean-Michel Basquiat: King Pleasure exhibition runs through October 31st, 2022 in New York City.
[music]
Copyright © 2022 New York Public Radio. All rights reserved. Visit our website terms of use at www.wnyc.org for further information.
New York Public Radio transcripts are created on a rush deadline, often by contractors. This text may not be in its final form and may be updated or revised in the future. Accuracy and availability may vary. The authoritative record of New York Public Radio's programming is the audio record.