Jason Rezaian Discuss his new podcast 544 Days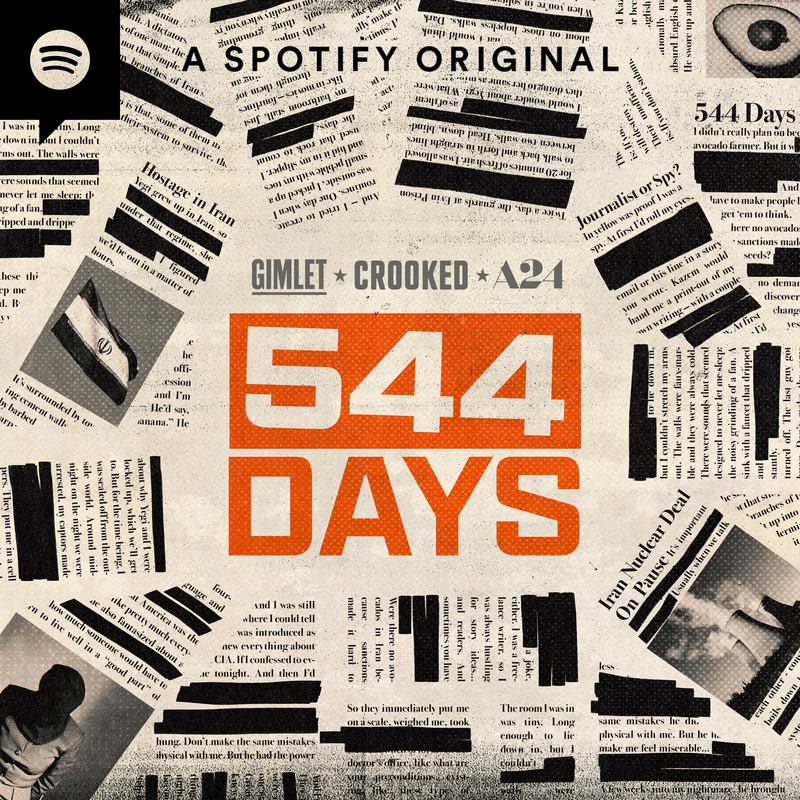 Transcript
Melissa Harris-Perry: Thanks for staying with us here, on The Takeaway. I'm Melissa Harris-Perry. Like so many others working in American media, I will never forget this moment in 2016. "The Washington Post reporter freed from Iran is on his way home to the US this morning. Jason Rezaian and his family have left that US military hospital in Landstuhl, Germany. Rezaian was released after 18 months in captivity in a prisoner swap between the US and Iran." Washington Post journalist Jason Rezaian was finally free after more than a year and a half in an Iranian jail.
Every day of Rezaian's 544 days of imprisonment had heighten the sense of vulnerability so many journalists felt about the risks of the work. With his release came a sense of relief, but it was the beginning of yet another journey for Rezaian himself. Now he's telling his story as the host of the Spotify original podcast, 544 Days, produced by Gimlet, Crooked Media and A24. I spoke with Jason about the fact that it's been more than five years since his release, and asked why tell the story now?
Jason Rezaian: There's a lot of reasons. First and foremost, when I came out of prison in Iran, it was really important for me personally to understand what happened. What happened to me inside Iran, what my family and friends were trying to do on my behalf to free me, what my employers at The Washington Post were doing, what the US government was doing. I knew I wanted to tell this story right away, but I also understood that I wasn't in a hurry to do it. I just wanted to get it right. As the time went on in the months after my release, the facts around my release became so politicized.
I was at the center of that politicized narrative for so long that I knew that this was something that was going to stick around my whole life. I didn't realize that five years later, we'd still be talking about so many of those issues. When I wrote my book, and it came out in 2019, it was a memoir told from my point of view, sitting in prison, but it was really informed by so many conversations that I had in those first couple years of freedom. What we did here on this podcast we [unintelligible 00:02:26] all those voices in and, hopefully, tell a really compelling story.
Melissa: You're talking about writing the memoir, but then, when we think about the work of journalism, typically journalism is discovery. We presume that we're starting with a question. We don't know the answer, we may not know the end point. I think for many folks, it may be hard to imagine how one does journalistic discovery on your own experience. That's precisely what you've done here. Can you talk a little bit about, what it meant to actually have to go back and piece together a thing that you lived through?
Jason: Yes. It was really that, kind of working backwards from the end to the beginning. A lot of that had to do with a sense of wanting to make sure that people close to me, people who are responsible for me, but also people in the US government, who have these big jobs, wanted to make sure that they were turning over every rock that they could in the quest to free me. There was that personal sort of selfish element to make sure that I hadn't been forgotten. But I learned very quickly that my plight and what had happened to me was something that a lot of folks in government, and at my paper at The Washington Post, and around the media in the US, around the world, were taking really seriously.
People who had this feeling as though they knew me, even though we've never met before. Doors, especially in those initial months of freedom, were really open to me. I used that opportunity to ask questions, and people gave me really frank answers, and here we are years later still talking about Iran, and the US, and that deal. I think that we might have sort of the definitive account of what happened.
Melissa: It is not only an account of what happened to you, but also a story of your wife's imprisonment as well. Is that right?
Jason: Yes. I mean, she endured really atrocious situations. Born and raised in Tehran, married a foreigner and knew what that entailed. Had her own career as a journalist, and that career, her life for community were completely up-ended very suddenly, when we were taken to prison. It was important for me to give her a voice in this story as well, because a lot of people don't realize not only what she went through, what we went through together, but the role that she played in fighting for me and never giving up that fight. I think for anybody who decides to listen to 544 Days, I think she's the star.
Melissa: There's an episode called Meet the Rezaians, and the audience gets this opportunity to meet your family. I'm wondering, as you make this point about your wife and both her own suffering and survival but also her absolute unwillingness to give up, her complete dedication to your freedom as well and becoming the star of the podcast-- what everyone is going for as a journalist, to be the star of the podcast-- I'm wondering about the rest of the family, how willing they were to participate and to kind of relive in this moment, all these years later?
Jason: I dedicated my memoir to Yeganeh, my wife, to my brother Ali, and to my mom, because not only were they invested from the moment that I was taken, invested in winning my release as safely as possible. They continue to be invested in me. Those three people are the closest to me in the world. They're incredibly different from one another and incredibly different for me, and have different perspectives and insights into what happened. I really wanted to give them the opportunity to have their say. It wasn't at all clear to me that my mom, and my brother and Yeganeh would want to take part, but they dove in and walked with me, as we kind of re-interrogated some of these moments of our lives.
Moments that we lived on opposite sides of the world in some cases, so it was really revelatory for me. I think, again, the distinct nature of these three people, their points of view, their relationships with me, is another layer of what makes our show special, I think.
Melissa: Were there any people who were essential to this story, who you weren't able to interview?
Jason: Would have been great to have President Obama. That didn't work out. We had so many of his envoys and people that were communicating with him about this. Then we had wonderful archival sound of him as well. The two other people that would have been wonderful to have were my interrogator Kazem and Iran's Foreign Minister, Javad Zarif. Again, in Zarif, we had the opportunity to call on archival sound of him really digging deeper holes for me [laughs] throughout my imprisonment. In terms of my interrogator Kazem, I think I paint a pretty good picture of him. I don't want to ruin it for anybody, but Yeganeh and I do a pretty good impression of him as well.
Melissa: You have a certain humor, maybe it's a little dark humor, but you have a certain strength in your voice as you're talking about this. Can you talk to me about what it was like to retell and relive these event, whether in the writing, in the journalistic inquiry, or in the actually in the sound, in the podcast?
Jason: The writing was mostly done in 2016 and 2017, in the months after my release, and there was absolutely nothing cathartic about that. People would ask me all the time, "Is writing this giving you healing?" No, absolutely not. I mean, it was like peeling back a still fresh wound, and so it was hard. I had a lot of nightmares. The most action-oriented scenes, I mean, the first chapter and the penultimate chapter of the book, really hard to sit down and do, because it just brought me back into that moment so much. But now, five years on, I feel as though this is a story that I can tell, rather than a horrible experience that I'm still suffering from.
I think crossing over that bridge, from trauma to a personal narrative has been really good for me, psychologically, emotionally, and just allowed me to kind of move forward in my life. This is something that happened to me, in all likelihood, it's the thing that will be most associated with my name for the rest of my life and beyond. In retelling it and being able to retell it in the ways that I want to, and having such a complete accounting of it in an interesting way, it's allowed me to kind of move past it.
Melissa: Really lovely how you have articulated that, to move from a trauma that is happening to you, that you are living in in that moment, to a story that you can tell. That's a survivor's journey for so many kinds of traumas. I'm wondering if that survivor's journey is also part of what people can expect to take from the podcast.
Jason: I would hope so. I was thrust into a set of circumstances that no one can anticipate and that few are ready for. I certainly wasn't ready for it myself. When the COVID pandemic started early in 2020, a lot of people started coming to me and saying, "Jason, you survive solitary confinement. I'm really nervous about the idea of being in isolation." I never thought that my experience would be applicable to the thing that we've all been living through for the last almost two years now. I told people then, and I still tell people now, we're built to get through these things, we are built to survive.
Doesn't mean you necessarily will, but you have a choice to make. You have a choice to make, whether you're going to be an enemy to yourself or be your friend. I actively chose to be a friend of myself, which meant that I found things to laugh at. When I found my mind going into the darkest places, I tried to take myself out of it, and I planned for the future. I think that those lessons that I learned by myself are pretty universal. They're the things that people who survive do, when they're put into these unreasonable situations. If there's something in that for listeners or other people who hear my story, that would make me feel really good. It would mean that what happened to me wasn't just wasted time.
Melissa: You are still a storyteller, or are you still a journalist? Why?
Jason: That's a great question. As you know, it's not because of the money. I love telling stories, and I've focused a lot on the last couple of years, the stories of other journalists who have faced threats in different parts of the world. I believe in the importance of press freedom and, really, the need to protect it as a guiding principle of democracy, and one that is constantly under threat. My wife actually now works at the committee to protect journalists. This is something that we care deeply about. I've also told a lot of stories of other people who've been taken hostage, taken hostage by governments especially.
Because the abuse of massive power, like a state, against a defenseless, innocent individual is a really sadistic and dark crime, and one that we haven't fully come to understand. It's a phenomenon that's getting worse and worse. Telling these kinds of stories is really important to me, but I'd love to switch gears at some point and tell some other stories, fiction, and illuminate the experiences of communities that I understand, whether it's journalists, hostages, Iranians living in America. I wasn't ever any good at anything else, not that good at math, bad at science, but I could spin a yarn, I guess, so I might as well keep doing it.
Melissa: Jason Rezaian, I'm looking forward to all of the yarn that you will spin and all the stories that you will tell. Jason is the host of the new Spotify Original podcast, 544 Days. Thank you for joining us.
Jason: Thanks for having me, Melissa. It's been a real pleasure.
Copyright © 2021 New York Public Radio. All rights reserved. Visit our website terms of use at www.wnyc.org for further information.
New York Public Radio transcripts are created on a rush deadline, often by contractors. This text may not be in its final form and may be updated or revised in the future. Accuracy and availability may vary. The authoritative record of New York Public Radio's programming is the audio record.