January 6th Hearings Go Prime Time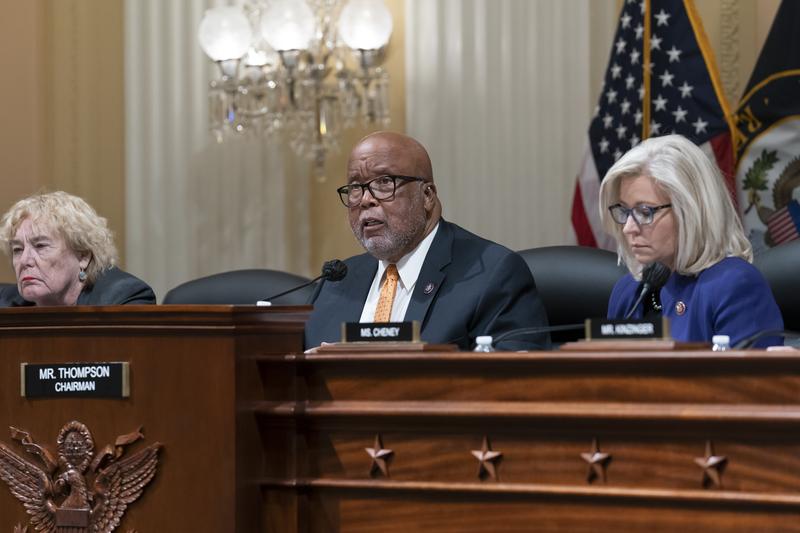 Transcript
[music]
Melissa Harris-Perry: I'm Melissa Harris-Perry and this is The Takeaway. On Thursday evening, the United States Congress went prime time, gathering their colleagues, the press, and the American people in a rare televised evening session.
Representative Bennie Thompson: Tonight and over the next few weeks, we're going to remind you of the reality of what happened that day but our work must do much more than just look backwards. The cause of our democracy remains in danger. The conspiracy to defraud the will of the people is not over.
Melissa Harris-Perry: That was Representative Bennie Thompson, Chairman of the House Select Committee to investigate the January 6th attack on the Capitol. The committee's Vice-Chair, Republican Liz Cheney of Wyoming spoke directly to her Republican colleagues.
Liz Cheney: In our country, we don't swear an oath to an individual or a political party. We take our oath to defend the United States Constitution and that oath must mean something. Tonight, I say this to my Republican colleagues who are defending the indefensible. There will come a day when Donald Trump is gone, but your dishonor will remain.
Melissa Harris-Perry: Here's some of what we heard on Thursday night.
Speaker: In that context, I made it clear I did not agree with the idea of saying the election was stolen and putting out this stuff, which I told the President was [beep]. I didn't want to be a part of it.
Melissa Harris-Perry: This is the president's daughter.
Ashley Biden: I respect Attorney General Barr, so I accepted what he was saying.
Attorney General Barr: Trump asked us to come. He personally asked for us to come to DC that day.
Speaker: Jared, are you aware of instances where Pat Cipollone threatened to resign?
Jared: My interest at that time was on trying to get as many pardons done, I took it up to just be whining, to be honest with you.
Speaker: I can just remember my breath catching in my throat. Never in my wildest dreams did I think that as a police officer, as a law enforcement officer, I would find myself in the middle of a battle.
Melissa Harris-Perry: Here to help me think through all of this is Adam Serwer, staff writer for The Atlantic Ideas. Adam, welcome back to The Takeaway.
Adam Serwer: Thank you so much for having me.
Melissa Harris-Perry: Thursday night, first, what was your overall impression of the evening? Was it effective from your perspective?
Adam Serwer: I think it's very hard to know how people are going to react to it. I personally thought the presentation of the evidence was very compelling. I think there's no question at this point that the former president of the United States attempted to essentially overthrow the government to install himself in power. He had a lot of allies in doing so including members of Congress.
The mob that stalked the Capitol was essentially believed that they were acting on his will, which they were. He never said, "Go stalk the Capitol." He made it clear what he wanted, and that mob understood their actions as acting on his behest. I think the video that was shown last night makes that extremely clear. I think it's also extremely clear that the entire stolen election thing which motivated Republicans all over the country, in some cases, to seize election offices in the hopes of preventing another Democratic victory in these states. These are people who believe this lie that he knows to be a lie that his advisers told him was a lie.
American democracy is in a pretty scary place when one person who is the most powerful person in the country can attend to install themselves with power and have this much help doing so and inspire so many people to act on that goal, even though it did not ultimately succeed in this instance.
Melissa Harris-Perry: Walk me through this a bit because I was trying to watch Thursday night's testimonies and the presentation of evidence, not with my own eyes. As someone who has been following it as a member of the media pretty closely, has a pretty clear perspective and worldview on it but according to a CBS poll last month, you've got more than half of Republicans, about 52% saying that what happened on January 6th wasn't very important.
More than half about 56% of Republicans in this poll saying that what happened on January 6th was about defending freedom. I tried to put on my glasses of this wasn't very important this was defending freedom, to watch it through that lens. To see if I felt like what was being presented, in fact, did penetrate or alter that. For me watching through that lens, I was having a hard time seeing the effective claims laid out that you've just argued for us.
Part of what I'm asking you here is whether or not it's possible given this perceptual gulf that we have in the country, whether the compelling evidence that you saw also could even begin to constitute compelling evidence on the other side of that gulf?
Adam Serwer: I'm not even sure that they saw the compelling evidence. Part of the issue you hear is this would never have gotten to this point if not for a right-wing media bubble that was cultivating this perception. That last night was mostly focused on distracting its viewers from watching the hearing. I think that in itself speaks to the compelling case that was being made. It wasn't like Fox was going out of its way to show its viewers what was happening in this hearing last night, they were actually just trying to talk about other things.
That said, look, the issue that you're talking about is that there is a right-wing media bubble in which people are being told what they want to hear, or what they're supposed to think. It is unlikely that media coverage that is seen as coming from the enemy is going to pierce that bubble. That said, you don't need to convince every single Republican in America in order to convince most Americans that something very bad happened here.
Is this going to pierce the bubble of someone who watches Fox News in the morning, listens to right-wing talk radio on their commute to work, listens to right-wing radio again on their commute back home, and then turns on Fox when they get home? No, probably not. Is it going to convince some large number of people in the middle? I don't know, we'll have to see. I think that pulling the evidence together, in this way, in a way that only a government entity can do and making it public is important for the historical record if absolutely nothing else.
Melissa Harris-Perry: Your point about the historical record is part of why I really wanted to talk to you after these Thursday conversations. Clearly, the chairman of the committee, Bennie Thompson, he presented multiple layers of American history. Both giving us a narrative of the US as a shining city on the hill, a beacon for democracy, and telling us his story as a black man in Mississippi, raised in the Jim Crow era and being able to describe lynchings, the Klan, and the apologias that were made for that kind of violence.
I'm wondering, even short of all the testimony the way in which hearing the chairman, how important was a descriptive personal history of the complexity of the US for what happened?
Adam Serwer: I think that's a pretty compelling linkage. One of the reasons I think it's compelling is that we had hearings like these, the United States Congress held hearings like these about the Klu Klux Klan during reconstruction. With the Democratic papers, Democratic Party was the party of white supremacy at the time, what they said was, "The Ku Klux Klan is fake. It's made up by Northerners, Republicans, and Black people. It's not a thing that really exists."
Even as they were having testimony from surviving victims of political violence by the Klu Klux Klan so this is not entirely a modern invention. I think you can see the linkage there between people listening to the testimony of people who had been attacked by the Ku Klux Klan and the right-wing media at the time responding, right-wing in that historical context, not in our modern historical context, saying, the Klan is not a real thing. It's just a made-up thing and looking at the footage that we have, the incredible evidence that we have of what this incident was.
You have people screaming, "Hang Mike Pence." You have people waving Confederate flags, you have a guy on a bullhorn reading out Trump tweets. You can see a historical parallel between that reaction and the reaction that we're hearing today, which is that this wasn't that bad, that it was about freedom. That there wasn't any violence that it was just a bunch of tourists who went to the wrong place or something like that.
No, this was after several bureaucratic attempts to overturn the results of the election, Donald Trump's last resort was to send a mob to stalk the Capitol. If those people had gotten their hands on any lawmakers, something horrible might have happened.
Melissa Harris-Perry: As I was watching this on Thursday night, I also was thinking about a context that the US Congress could not have known when they begin to schedule this evening and it was that we are also talking about this in part as a law enforcement experience and we're talking about it in the context of even all the questions being raised around law enforcement in Uvalde. As you're watching that video and you're seeing the barriers being broken down, the Capitol police being overrun, I'm wondering if that resonates differently in this moment, as we're thinking about what else is at stake? Not only the government, not only our democracy but children in schools, our grocery stores, the daily public safety of Americans.
Adam Serwer: As far as, viewing us through the prism of law enforcement, I think this is somewhat of a strategic decision, political decision. People trust police in the United States, notwithstanding all the criticisms that have come from the Black Lives Matter movement and the mass shooting in Texas and the police response to it. People do trust police. A majority of Americans do trust the police and so their testimony is compelling to a large number of people.
The other thing is that they were if you look at how much of the footage came from body cameras, they were on the front lines of the incident and witnessed the violence in a way that makes it incontrovertible. A lot of people in the right-wing media were downplaying and the former president himself were downplaying the idea that this was a violent incident, but we can clearly see it was violent from the footage that was collected by police body cameras. They're being beaten.
They're fighting back a mob. Another interesting thing is to see these police officers being un-coped. Their authority as police ceases to be relevant to the mob that is supposedly pro-police at the moment that they are not acquiescing to this attempt to install Donald Trump in power. As long as they're no longer politically aligned with this Conservative movement that they no longer have the authority that they're supposed to have as police and all that Blue Lives Matter stuff goes out the window because they're not being politically useful.
I think that is one of the most interesting things about the footage to me because it tells you where that uncritical reverence for police comes from, from this particular political element in the country. Which is that they perceive police as their political allies and as long as they are harming the people that they perceive as their political enemies, then the police can have all the authority in the world. If they're defending American democracy from their attempt to subvert it, then those police cease to have the authority that they have as police in their eyes.
Melissa Harris-Perry: You have written about extensively our history and that this moment on January 6th was not unprecedented in the American democratic story. That in fact, the actual reversal of election results has occurred before, that violent mobs have, in fact, deposed, duly elected leaders, and set up governments here in the United States that advanced white supremacist goals. That was not the outcome of what happened on January 6th, at least not the immediate outcome, but what does that history tell you about the moment we're in right now?
Adam Serwer: I think we're in a moment of backlash, particularly to the racial justice protests of 2020. I think obviously the rise of inflation has made people frustrated in the post-pandemic. I think that these things have combined to make the post-Trump era more politically volatile than I think people thought it would be, or maybe that some people thought it would be.
I think the assault on the Capitol was historically unprecedented because we'd never seen it at the Capitol before, but obviously, in the aftermath of reconstruction, there were a lot of armed mobs who took over state governments and installed their people in power. If you look at something like Wilmington, the assault on the Capitol is a farcical echo of that. These people are not nearly as dangerous as the people, as the white supremacists who took over the South in the aftermath of reconstruction.
It is evidence that it is not something that is entirely alien to American history to have this kind of political violence in pursuit of destroying American democracy, nor is it all that surprising that these people would envision themselves not as trying to destroy American democracy, but trying to rescue it in some way from the people who are supposedly unworthy to participate, that is, the other side
Melissa Harris-Perry: I actually think the Chairman on Thursday night was rather an extraordinary in his ability to thread that needle of critique of the US project in democracy by bringing forward the relevance of his own experiences as a Black man in Mississippi of racial terrorism, and nonetheless holding on to an aspirational notion of the American democratic project. I keep wondering, this is genuinely a question, I'm not sure how to think about this when we look at these, I, gosh, I love the language you just used, the almost farcical facsimile of some of the most dangerous white supremacist uprisings that we saw at the turn of the 20th century in the US South in places like Wilmington, North Carolina.
Is the goal here to inculcate a more aspirational belief in the American project, even if it does not account for some of the historical realities of oppression? Basically, so people will have enough respect for the American Congress, for the peaceful transfer of power that Liz Cheney was gesturing towards to say, we don't do this not because we want to be and live in a fair and just multiracial society, but just because as Americans, full stop flag-waving, that actually there may be something valuable about an uncomplicated patriotism that at least keeps mobs off the steps of the Capitol?
Adam Serwer: As far as Benny Thompson is concerned, I think we always have to remember that multiracial democracy is younger than Benny Thompson. He was born in the '40s. He was an adult basically when multiracial democracy in America was a real thing. The Voting Rights Act passed in 1965, which finally enfranchised Black people in the South for the first time since reconstruction.
I think it is important to contrast America's ideals with its reality in terms of trying to hold a country accountable to what it is supposed to be, but I don't think it's meaningless to look at those ideals and say that they mean something. They obviously meant something to the Black men who were emancipated and fought on behalf of the union. They obviously meant something to the Black people who participated in American democracy during reconstruction and rebuilt it from the ground up. It obviously meant something to the folks who filled the streets during the civil rights movement.
I don't think it is contradictory to say, on the one hand, all these terrible things that have happened in American history, an American practice has been very distinct from what American ideals are supposed to be, but I also don't think that there's something hypocritical or wrong about saying, "If America means this, and this is what we should genuinely aspire to be." Not lie to ourselves about what we're doing.
Melissa Harris-Perry: Adam Serwer, staff writer for The Atlantic Ideas. Thank you for joining us.
Adam Serwer: Thank you.
[music]
Copyright © 2022 New York Public Radio. All rights reserved. Visit our website terms of use at www.wnyc.org for further information.
New York Public Radio transcripts are created on a rush deadline, often by contractors. This text may not be in its final form and may be updated or revised in the future. Accuracy and availability may vary. The authoritative record of New York Public Radio's programming is the audio record.