Janai Nelson on the Future of the NAACP LDF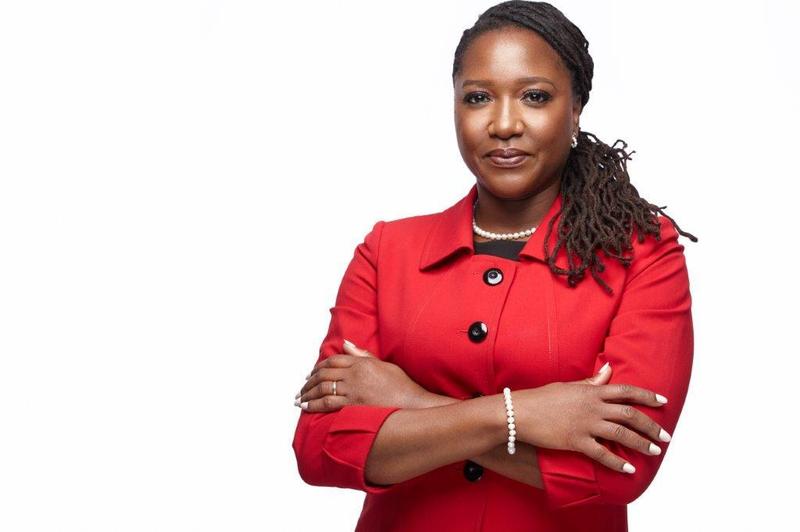 Transcript
[music]
Melissa Harris-Perry: Hey, y'all, it's Melissa Harris-Perry with you here on The Takeaway. It's good to have you along with us. Take a listen to something with me.
Thurgood Marshall: It's admitted in The New York Times reports or Time magazine that a recent survey shows that racism is broader and stronger than before. We're not gaining ground, my friends. We might be losing, but one thing I'm sure of, this is no time to stop.
Melissa Harris-Perry: These are the words of the Supreme Court's first Black justice, Thurgood Marshall, as he accepted the jurist of the 20th century award from the National Bar Association. The year was 1988. Nearly a half century earlier, in 1940m Marshall had founded the NAACP Legal Defense and Educational Fund. The storied civil rights organization has only had seven presidents, and like its founder, its current leader, Sherrilyn Ifill, is a civil rights superhero. It was a bit of a surprise when Ifill recently announced that she would be stepping down from the helm of LDF. After all, this is a moment that could be described as Marshall characterized 1988.
Thurgood Marshall: We're not gaining ground, my friends. We might be losing.
Melissa Harris-Perry: Again, to quote Marshall, this is no time to stop. Enter the LDF's soon-to-be eighth president.
Janai: My name is Janai Nelson. I'm the Associate Director-Counsel of the NAACP Legal Defense and Educational Fund.
Melissa Harris-Perry: As she gets ready to assume the role of leading the NAACP LDF, I asked Janai about the lesson she'll take from her predecessor, Sherrilyn Ifill, and the direction she hopes to build. Let me say congratulations. I know that you're going to be assuming the leadership of NAACP LDF as the eighth president coming up in the spring. It's just wonderful news for all of us who have followed your career.
Janai: Thank you. I'm extremely excited and deeply honored.
Melissa Harris-Perry: Now, Sherrilyn Ifill, those are some big shoes to fill and an extraordinary person to follow, who, of course, you know intimately from having worked with her. I'm wondering how you are imagining your own tenure. Acknowledging that you can't know everything that will come in front of you. What are some of the lessons you will take from the Ifill era and what are some things you're imagining building on?
Janai: Sherrilyn has been such an amazing leader. It's been just an incredible journey to be with her for the past eight years helping to build LDF's profile and make it even stronger than when we encountered it and certainly than when she encountered it a year before I got there. I'm excited because I don't need to transform this institution, this institution with such a storied legacy, but I have an amazing foundation on which to build. There's so much work ahead of us. There are so many challenges. We have a formidable and growing team of advocates and staff ranging from researchers, to organizers, to policymakers to help us lift this heavy load.
It's going to be a very critical period for the Legal Defense Fund because it is a critical period for our democracy. There are a lot of challenges ahead for us, and that's what we're holding our skills and tools to face.
Melissa Harris-Perry: As you talk about the challenges facing our democracy in this moment, the question of education and of understanding of our history is a core challenge we're currently facing.
Janai: Absolutely. We are in the midst of a serious battle that is a fight for the soul of this country. It centers around our ability to hear, access, and absorb the truth. We are seeing so many laws proliferate across the country that aim to keep the truth of our history, the truth of our current conditions away from the next generation of residents of this country. It is something that is core to civil rights work even if it's not obvious on the face of it.
If we can't tell our truth, if we can't make a claim for justice, then we really have no ability to advocate for the advancement of our society for equitable policies, for the change that we need to really live up to our constitutional ideals. This battle for truth is at the center of the fight for our future.
Melissa Harris-Perry: You talk about it as a battle for truth. This has been framed in so many state legislatures as being about critical race theory, which I got to say, even in the most progressive districts, I can't imagine critical race theory, which was of course developed in law school education, being taught at K-12 level. What is it that is-- let's take out that language of critical race theory, which actually designate something very specific, and talk about what is embattled here. When you say truth, what do you mean?
Janai: What I mean is an honest conversation about the origins of this country, which we know were founded on the subjugation of not just Black people, but also Indigenous persons. Our country has gone through many iterations in which it has discriminated against various groups of people who have immigrated to this country in different ways. A recognition of how we came to be the incredibly diverse nation that we are is something that we should embrace.
We should celebrate the evolution of our country from one that was founded on enslavement to one that now has the potential to be the most ambitious democratic experiment, I think, this planet has ever witnessed if we would let it be. That is really what the concern is. Is to try to stifle the reality of our history and how it manifests in inequities today. That's because it really brings attention to the power structure that is in place right now. It causes people to question why certain systems exist in a way that continue to perpetuate discrimination.
I think it's a direct backlash to the thirst for knowledge and the appetite that was unleashed last year when we saw protests across the country around police violence, where citizens from different backgrounds, ethnicities, and generations came together and began to have a collective understanding about discrimination and inequality in our society. That caused some people to become very nervous and very scared, and therefore to try to suppress the truth about our history and the past forward.
Melissa Harris-Perry: I'm wondering about the ways that the history of LDF included really indicating the rights of students, of young people, of individuals to access equal opportunities for education, whether at the earliest levels all the way up through college and graduate school. It seems that, typically, law at least, that jurisprudence has focused on the rights of people to access these ideas. I'm wondering, flipping that right, the rights to ensure that these ideas are in the public sphere in order to be accessed.
Janai: That's right. We've done work around access to education throughout our history. Obviously, the most well-known case in that area is Brown v. Board of Education, which ended state-sponsored segregation in public schools. The right to access information, the right to information is something that the Supreme Court has recognized as something that really is foundational to our constitution and our core principles of freedom of expression and freedom of thought.
This is something that we've also celebrated in our affirmative action work when we talk about the need for diversity in higher education, for there to be an exchange of ideas, for there to be a diverse class of persons learning together, who can inform one another's perspectives. We know that that produces the best and highest-performing society, the best most productive workplaces. We know that our diversity is our strength.
What we're seeing in this current iteration of whitewashing and of an effort to suppress the truth, is a stifling of that diversity. We're seeing an effort to ignore what I think is one of the most profound stories of transformation and evolution that can propel us forward.
Melissa Harris-Perry: Typically, when we think also about the foundational rights of democracy, voting is there at the core. This is how we know the health of our democracy. Are these two things connected in any way?
Janai: Absolutely. I think that what we're seeing is a effort on at least three fronts to silence the majority of persons in this country from exercising their voice and being heard, and effecting change that reflects their conditions. We're seeing an assault on the right to vote. We're seeing an assault on the right to protest. We are also experiencing what we've been talking about, and that is an assault on truth. All three of those work to silence the emerging majority of people of color in this country.
That is a very, very dangerous circumstance. It is laying a foundation and paving a way for minoritarian rule, for very anti-democratic and authoritarian regimes to take root, and it is a significant barrier to our ability to realize the promise of this country, to realize the promise of this multiracial, multi-ethnic democracy.
Melissa Harris-Perry: Let's talk a little bit more about voting rights. Clearly, despite many calls for and legislative possibilities and options, the US Congress was unable, at least at this point, to pass meaningful voting rights legislation. We now have new maps drawn in many states across-- well, actually, I guess there's new maps in nearly every state across the country, and some are undoubtedly going to come up for challenge, maybe particularly Texas and Georgia. I'm wondering how you're feeling about our current realities around voting, particularly going into the midterm elections?
Janai: Well, I'm deeply concerned. We are in dire need of federal legislation to restore the Voting Rights Act of 1965, which, in my mind, marks the first year that we became a real democracy. It was the first year in our history where all Americans were enabled to vote. What we're seeing now is a Congress that has failed the American people. That has used the filibuster as a barrier to progress, to inclusion, to the expansion of the electorate, that is absolutely necessary to make sure that we are reflecting the interests and the viewpoints of the majority of Americans who live in this country.
What the Supreme Court said back in 1886, in a case called Yick Wo v. Hopkins, is as true today as it was then, and that is that the right to vote is preservative of all rights. If we don't have the right to vote, there's no way to protect and secure the other rights that we enjoy. This fight for the right to vote, this fight for federal legislation that will protect against partisan gerrymandering, that will protect against the manipulation of who gets to vote at the polls, that will ensure that basic principles like early voting are uniform, that fight is really critical to our ability to maintain this young democracy that we have.
We need two pieces of legislation to get us there, and that's the Voting Rights Advancement Act and the Freedom to Vote Act. Those are now currently being stalled in Congress.
Melissa Harris-Perry: Given the stall at the federal level around legislation, given the challenges of the Supreme Court, is there hope in the states, which seems almost an odd thing to ask the NAACP LDF, but I'm wondering if there are strategies that are state-based, given the realities of the filibuster, and again, of the conservative majority on the Supreme Court?
Janai: It is a bit ironic that we're looking to states for some relief in this area. It is an area of great possibility. There are states that have enacted their own voting rights acts, and it is something that we are advocating for in every state. We think it's critically important that there not only be federal legislation, but that there are also laws and protections at the state and local levels that expand voting access. The Constitution gives states very broad authority to determine the qualifications of the electorate. There are ways that states can make their laws even more expansive than what we currently see at the federal level.
That is another avenue of advocacy. While we're waiting for Congress to do its job and reflect the will of a majority of Americans, we can also be pushing states that are amenable to also enact legislation that will expand our democracy.
Melissa Harris-Perry: Janai Nelson is Associate Director-Counsel of the NAACP Legal Defense and Education Fund and soon President. Thank you so much for joining us today.
Janai: Thank you, Melissa. It was my pleasure.
Copyright © 2021 New York Public Radio. All rights reserved. Visit our website terms of use at www.wnyc.org for further information.
New York Public Radio transcripts are created on a rush deadline, often by contractors. This text may not be in its final form and may be updated or revised in the future. Accuracy and availability may vary. The authoritative record of New York Public Radio's programming is the audio record.