It's Been One Year Since George Floyd was Murdered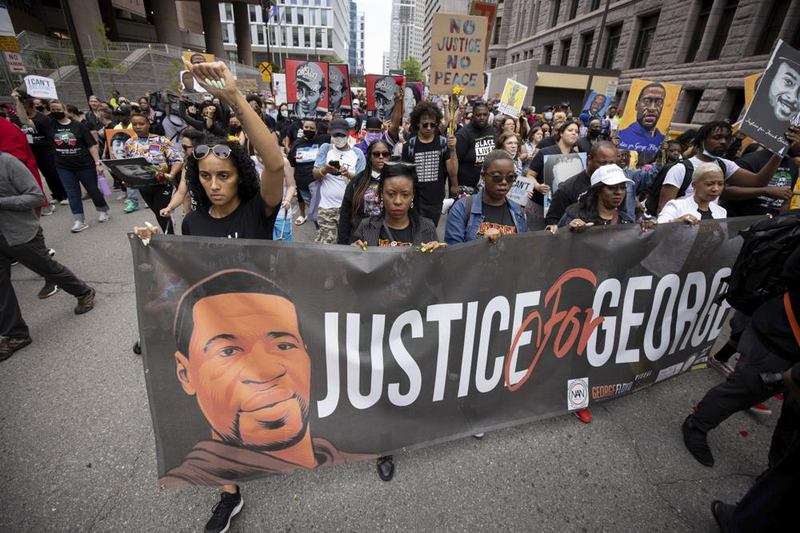 Transcript
[music]
Melissa Harris-Perry: I'm Melissa Harris-Perry in for Tanzina Vega, and this is The Takeaway. In 2020, American police killed more than 1,000 people. 80 of those people were unarmed, and officers were charged with a crime in only 16 of those incidents. There was a video in eight of those 16, and one of those incidents ignited a social movement that led to the largest demonstrations in US history. At 8:20 PM on May 25, 2020, Derek Chauvin murdered George Floyd on the streets of Minneapolis, and 17-year-old Darnella Frazier used her cell phone to capture the white Minneapolis police officer kneeling on Floyd's neck for a devastating nine minutes and 29 seconds.
Darnella Frazier: It was difficult because I felt like there wasn't really anything I could do as a bystander. The highest power was there, and I felt like I was failing him.
Melissa: Millions across the globe watched in disbelief as Officer Chauvin ignored George Floyd's pleas for breath.
George Floyd: I can't breathe. Please, the knee in my neck.
Melissa: In disbelief, millions saw the life leave Floyd's body even as the knee remained on his neck. Despite the dangers of a global pandemic, millions of people took to the streets, reigniting the movement for Black lives.
Protesters: Say his name. George Floyd. Black Lives Matter. Black Lives Matter.
Melissa: In this wave of movement, activist demands shifted from reform to abolition, from investing in police training and technology to defunding the police. As protesters took to these streets, they demanded racial justice, and they were met with harsh reaction by police officers.
Police Officer 1: If you [unintelligible 00:02:12] and you'll be charged.
Police Officer 2: This is a [unintelligible 00:02:15]
[chanting]
Protester: We're trapped. They're shooting pepper balls at us, they're throwing out teargas, flashbangs.
Melissa: Earlier this year, a jury found Derek Chauvin, that former Minneapolis police officer guilty of murder, and the city of Minneapolis promised to begin dismantling their police department. Now, Chauvin's conviction is definitely a rare event heralded by some as a milestone in the fight for racial justice, but according to The Washington Post, one year since Floyd was murdered, over 900 people have been killed by police in this country.
All this hour, we're going to examine what has changed in the last year. We're going to talk about the future of the movement for racial justice. We're going to discuss how TV shows have portrayed the moment, but we're going to begin in Minneapolis. I'm joined now by Andrea Jenkins, vice president of the Minneapolis City Council. Andrea, it's great to have you back.
Andrea Jenkins: Hello, Melissa. How are you?
Melissa: Hi. We're having that moment, and I'm thrilled that you are here to talk with us about it. We're also joined by Aaron Morrison, who is a national race and ethnicity writer for the Associated Press. Aaron, also thank you for being with us.
Aaron Morrison: It's great to be with you, Melissa.
Melissa: Andrea, I actually do want to start with you. What does it look like in Minneapolis today, one year since George Floyd was murdered?
Andrea: It's a beautiful sunny day, but there's lots of tension, there's lots of residual trauma. As we continue to be traumatized, as has been widely reported, Daunte Wright was killed in the midst of the trial. There's just still a lot of anxiety, a lot of angst. Crime has really gone up in the city of Minneapolis. While people are out and planning events to commemorate and have been all weekend, there's still a lot of tension as we get ready to see the other three officers go on trial. That's how I would describe it.
Melissa: Andrea, can you walk with me for just a moment through that statement you made that crime has gone up in Minneapolis. How do we reconcile that with the calls to dismantle policing as we know it?
Andrea: It is a really challenging juxtaposition. We have to change the police department here in Minneapolis, and I believe the way policing operates throughout this nation, as you noted, over 900 people have been killed by the police since George Floyd, an unfortunate tragic demise. We have to change, but we still need professional, accountable law enforcement. It's a tough juxtaposition, but we have to work together to bring some positivity, safety, and accountability to this system that we are calling policing. Like everything in our society, things have changed and policing hasn't, and that's the problem. We got to change policing.
Melissa: Andrea, I want to pull Aaron in here on exactly that point, because Aaron, local communities ought not have to figure out something this complicated entirely on their own. What is the current state of federal reform around policing?
Aaron: Well, as far as we know, it's being investigated as we speak. The George Floyd Justice and Policing Act, which was actually proposed pretty soon after George Floyd's murder last year was passed by the House, and then it just sat and languished because there was no appetite to pass it in the Senate. Now that the Senate is very narrowly controlled by Democrats, that work as began again. It began again earlier this year, but there's still some sticking points on federal reform. This is federal reform that would, in a way, incentivize local police departments to enact some of the sweeping reforms that activists advocates have been calling for years.
Melissa: Sure. Federal incentives matter a lot. We saw this after 9/11 when federal incentives around amping up police and police technology made huge differences in what was occurring for local communities engaging with what had previously felt like police forces and then began to feel like military.
Aaron: Right. What the George Floyd Justice and Policing Act does, one of the provisions is to limit now and ratchet back this transfer of police, or excuse me, rather military equipment that we saw go to local police departments, which they then used against the protesters who were out on the streets, standing up against what they saw happened to George Floyd, the literal lynching that they watched on online television.
Melissa: Andrea, one important change was implemented around policing in Minneapolis fairly swiftly, but we didn't get to see its impact because of the nature of the pandemic. It's my understanding that school resource officers will not be returning to the Minneapolis public schools. What does that look like? How might that also be a model for the kinds of reforms that you all can implement going forward?
Andrea: Certainly, that's a very true statement. We really haven't seen because the return to school is still quite spotty. Lots of distance learning continuing to happen, but I think we'll see more changes this coming fall. What's going on, schools are hiring security officers, and I think we'll start to see more of that in our communities. Hopefully, they're unarmed. I'm not quite sure because we have a different school system that's separate from the City Council, but I believe those security folks will be unarmed. We'll see that kind of privatization of security if you will, in other parts of our society too.
Certainly, the City Council is developing a non-armed mental health response. I believe those kinds of responses are what we're going to see more of in the future, hopefully.
Melissa: Aaron, I want to play with that idea a little bit. What if, in fact, we were to see more private security in neighborhoods, in communities, rather than those that have at least some level of accountability by working for the public? Is that the kind of reform that racial justice advocates are going for in this moment? Or does that actually potentially move us into even less accountability?
Aaron: I would say the latter. Absolutely not. I don't think anybody certainly in the racial justice movement is calling for privatizing police or security. Let's just remember, Trayvon Martin was killed by someone who was acting as a volunteer or neighborhood watchman. We know. We've seen this episode before. We know what would happen, particularly to people of color, to Black folks if we moved in that direction. There needs to be more accountability, is what advocates have been saying, more accountability and not less. Privatizing just creates a whole new set of problems for the movement.
Melissa: Aaron, you mentioned this idea that in the Senate right now, the George Floyd Policing Act is stuck. Might it be possible that it can become somewhat less stuck as a result of President Biden hosting George Floyd's family today? Is their presence potentially meaningful for moving the legislation?
Aaron: I think so. This is not the first time that the family has been in Washington to meet with lawmakers, specifically on the George Floyd Justice and Policing Act. However, I think on day a significant as this, meeting with the Biden administration, meeting at the White House, meeting with the President, in addition to having some meetings with lawmakers who are actually negotiating this, it seems like it could have an impact in moving it forward that it would be their 11th hour, last plea to do something, it's been a year, to do something that at least puts America on a path towards ending such an epidemic of violence against folks.
Melissa: Aaron, let's talk about how this wave of movement for Black lives really pushed out new ideas around how we can address policing and racial justice. Instead of hearing about body cams, or implicit bias training, the language was "defund" and "abolish". Can you talk about what defund means, and what abolish might look like?
Aaron: I think pretty early on as that language emerged in the protests last year, it was seized upon as this very scary notion of when you defund the police that somehow that means you're saying, "Absolutely no police whatsoever, absolutely no public safety." That is actually far from what activists were calling for last year, and what they continue to call for today.
What they're asking for, is to take some of the money, some of the really massive amounts of money that it goes to police budgets and put some of that towards services that provide care to people so that they don't end up in these interactions with police officers that are often just the consequences of poverty, the consequences of homelessness, the consequences of not having enough income, not being employed.
Melissa: Andrea, as an elected member of the City Council, that's exactly the kind of work that you all might have to do. Take that city budget, look at it and move resources from the police pot to another bucket. What does that look like for you in practice? What would that mean? What would accountability look like for elected officials who do that?
Andrea: We have absolutely done that. To be real clear, Melissa, we started reallocating funds before the death of George Floyd. We have a very engaged activist community. My first year in office, we shifted $1 million from the police department to create the Office of Violence Prevention. Subsequently, in just this past budget cycle, we shifted over $8 million to boost up that Office of Violence Prevention, to work with community-based groups, to do what we call interruption and interrupters to really engage with young people to prevent crime before it happens, particularly violent crime.
We started that process. I have to admit, it is a very challenging place to be as an elected official because a big part of our responsibility is public safety. However, that public safety cannot be at the expense of Black lives that seemingly are expendable to many police departments all around the country. I think that reallocation of funding is going to continue.
Our police budget last year was about $187 million, and that's a significant chunk of change in our overall budget.
We have to really, as Aaron noted, look at affordable housing, look at job training opportunities, look at universal basic income, as ways to help families overcome some of these systemic and historic challenges that have been a part of Black life in America.
Melissa: Aaron, both you and Andrea have pointed to some critical issues around economics, poverty, income inequality, but also to this core question about the valuing of Black life. The idea that when we say "public safety" Black folk ought to be not only part of that public but maybe even central to it. Have we made progress on that part?
Aaron: It's hard to say, to be quite honest with you. I think a lot of times when we've gone through these inflection periods or this moment's flash points in our history, in the history of racial justice in America, there's often this push for fast solutions and fast results. Sometimes people are like, "It's a year later, what has happened? Have we solved it yet?"
Quite honestly, this type of change, ending systemic racism, addressing systemic racism, is not something that you're going to solve overnight, obviously, it's not something that you're going to solve even in a year. You can barely even begin to measure whether or not some of these changes are actually having the intended impact. I think it's still to be seen if we are going to get to a place where these programs, the shift in funding, is actually making a difference.
Melissa: Aaron, I so appreciate that point. I often remind young activists who I meet with or teach in my classes that we're probably not smarter, better, cooler, more strategic than Ida Wells, or Frederick Douglass, or [unintelligible 00:18:31] Lee Cooper. If it was easily solved, they would have already solved it. We are in a long set of struggles here. I love the one thing, in particular, I want to zoom in on, and that is the question of measuring it. Where are we on data collection around these questions?
Aaron: The George Floyd Justice and Policing Act also calls for the creation of not only better measures for tracking discriminatory policing, it's also calling for a database of misconduct of officers so that we can actually measure how often officers are being brought up on these types of investigations, and what happens to them. Do they get to just jump around to different police departments when they get fired from one? Those are things that need to happen in order for us to really understand and measure the problem.
Melissa: Aaron Morrison is a national race and ethnicity writer for the Associated Press. Andrea Jenkins is the vice president of the Minneapolis City Council. Andrea and Aaron, thank you both for joining us today.
Aaron: Thank you.
Andrea: Thank you.
[music]
Melissa: Now, so much of last year of the trauma, of the experiences, of the questions, of racial justice uprisings, all of those things that occurred in the wake of Officer Chauvin murdering George Floyd, we process them together on this show with you. Today, as we mark this tragic but critically important first anniversary, we ask whether you have noticed a change in your community, or in the way that you think about systemic racism. Here's a little bit of what you told us.
Claire: Claire Anderson, St. Louis, Missouri. Has there been a change in the community since George Floyd's death a year ago? Yes, siree it's palpable. It's very in to support diversity. It's very in to connect with the other emoji, smiley face, clapping hands, thumbs up emoji. Let's keep all that going. Doing the dismantling, that's different. That's difficult, complex. I don't know.
Lawrence: This is Lawrence McKenna. I'm from Brooklyn Center. I live in Champlain. Shout out to Minneapolis. I'm 43, and when Ryan King got beat by the LAPD and the riots happen, I thought that kind of thing will never happen again. I thought by 2020, racism won't even exist. It's gotten worse than ever. Are we going to keep repeating is [unintelligible 00:21:18] Enough is enough.
John: This is John. I'm calling from Vashon Island, Washington. I want to say that there is a great deal more awareness of the endemic racism in our culture. To me personally, I saw a bumper sticker the other day that said, "Abolish the slave patrols." A year ago, I wouldn't have had any clue as to what that was referring to.
Deborah: Deborah from Salem, Oregon. No. Racists are still around flying their flags, being idiots and it sickens me how ignorant people can be. I have always been aware, raised our child to be inclusive to everyone, and tried to be conscious of my white privilege.
Julie: Hi, this is Julie in Dallas. As a white middle-aged woman, my eyes have been open. Even as a progressive voter I was not aware of the prevalence of day-to-day racism.
Nikki: I have been reading more books about anti-racism and going out of my way to hire Black-owned businesses like our new plumber. I'm learning to be a better ally to my African-American brothers and sisters, by calling out leaders, police, teachers and others within my community for racist behaviors and microaggressions to perpetuate systemic racism. This is Nikki Mohammed [unintelligible 00:22:34] from Arlington.
Caller 7: This is [unintelligible 00:22:36] from Oakland. I've just been surprised that mainstream has been actually admitting what horrors have been going on for so long with our tax dollars after centuries and centuries of this oppression. I've been in the streets myself, organizing for racial justice for a long time since I was a teenager. I'm almost 40 now and it's hard for me to imagine that the changes we need will actually happen. I'm hopeful that I'm going to be pleasantly surprised and that this is not just some apparition. Anyway, all power to the people.
Melissa: Thank you for calling, for thinking, for reading, for your heart emojis, but most importantly, thank you to all of you for getting in here and trying to do the really hard work of democracy. As always, we love hearing from you. Give us a call anytime the number is 8778 MY-TAKE. That's 877-869-8253 or send a voice memo to takeawaycallers@gmail.com.
[music]
Copyright © 2021 New York Public Radio. All rights reserved. Visit our website terms of use at www.wnyc.org for further information.
New York Public Radio transcripts are created on a rush deadline, often by contractors. This text may not be in its final form and may be updated or revised in the future. Accuracy and availability may vary. The authoritative record of New York Public Radio's programming is the audio record.