Indoor Dining Returns to Cities Across the Country, Despite Potential Health Risks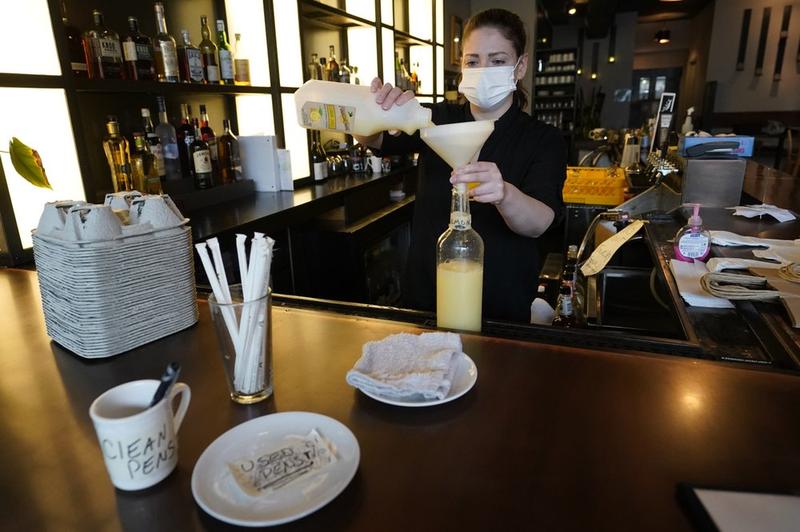 Transcript
[music]
Matt Katz: You're listening to The Takeaway, I'm Matt Katz in for Tanzina Vega. Over the course of the pandemic, the restaurant industry is estimated to have lost roughly $148 billion in revenue. That's according to the National Restaurant Association. Many states and cities have been slowed to allow restaurants to open back up for indoor dining because of the potential health risks. The past two weeks have seen some notable developments on that front in different parts of the country, that includes New York City.
Man 1: This is the first day when you'll start to have indoor dining again. Now, let's be clear, this is something that was worked on very carefully by the state and the city. We'll start at a low level 25% capacity.
Matt: Chicago.
Woman 1: Indoor capacity will expand from current 25% to 40%.
Matt: Most dramatically, in Florida.
Man 2: We are today moving into what we initially called phase three. What that will mean for the restaurants is that there will not be limitations from the State of Florida.
Matt: The return to indoor dining may feel like a financial necessity for many restaurant workers and owners, but the public safety concerns remain. A CDC study from mid-September found that adults who tested positive for COVID-19 were about twice as likely to have dined at a restaurant than those who tested negative. The study did not, I should note, say whether those respondents were more likely to have dined indoors. Here with me to discuss all of this is Khushbu Shah, Food & Wine Magazine's restaurant editor. Thanks for being here, Khushbu.
Khushbu Shah: Thanks for having me.
Matt: We also have Carlos Frías, food editor for the Miami Herald. Hi there, Carlos.
Carlos Frías: Hey, Matt.
Matt: We were just talking about Florida, Carlos. As we noted, Florida Governor, DeSantis, is now allowing restaurants and bars to operate at full capacity. How is this announcement received, Carlos?
Carlos: Pretty much with a lot of shock from restaurant owners. The announcement came down and was signed after 4 PM on a Friday, a couple of hours before the Miami Heat were to play in a playoff game. Three hours later, the owner of Miami-based restaurant chain walked into one of his 24 restaurants and saw people standing shoulder-to-shoulder, and in his words, said it was scary.
Matt: Wow. Was this related to the Heat playing the Lakers that the governor wanted to make sure that bars were will take advantage of people coming in to the watch the games?
Carlos: I don't know. This is when they were playing the Celtics and actually restaurants a couple of guys, including their manager who spoke to me off the record, said, "We're getting this news three hours before this huge game where people are potentially going to want to go out and all of a sudden, we have these new rules." [crosstalk] I was going to say there was a stretch of about 30 hours from when Miami-Dade said that it had some ideas about adjusting those rules, they had to ask the State of Florida to have less than 100% capacity. When those 30 hours restaurants weren't sure what to do, and there was confusion throughout South Florida.
Matt: Are there any safety protocols that the governor is implementing as he moves the restaurants to full capacity?
Carlos: He says that safety measures remain in place, whatever those were before, but he also said that he was stopping municipalities from fining for not wearing masks. In all sense, he's saying that any mask rules have no teeth anymore. Although Miami-Dade County and Broward County too say that they do intend on still writing tickets and whenever the emergency order is sending those finds out. It seems it's taking the teeth out of that what was once a law.
Matt: Khushbu, this is very different from New York. How is indoor dining being rolled out in New York City?
Khushbu: There's a few more rules, thankfully. I think it's still a pretty dangerous prospect but 25% capacities, at least six feet between tables, no seats at the bar, restaurants need to close at midnight, [unintelligible 00:04:33] track systems and the air purifiers need to be upgraded. They're doing temperature checks and recording contact info actually for diners so that the city's contact tracers can get in touch with people if they need to.
Matt: What are you hearing from restaurant workers in New York about starting back up? Are they happy to be back at work and working more hours? Are they freaked out about the safety situation?
Khushbu: I think most of them are more freaked out than anything else. Ultimately, a lot of the diners are having the incredible sense of entitlement, is actually the reports I'm hearing the most, that they get really angry when you ask them to wear masks, when they get up to go to the bathroom, use anything like that. They're not tipping very well. Obviously, tipping is a very questionable and terrible system, in my opinion, but it is the current system and people are tipping less than ever when they should be tipping 30%, at least, for people taking risks with their lives to serve you this like Margarita.
People at wait times, they're writing like terrible Yelp reviews. I've heard complaints from servers, where customers have threatened to call the cops before on the restaurant. They're laughing in their face when they're asked to do anything, hearing things like, "Oh, we can't wait for you guys to shut down in six months because of these rules." It's not great [unintelligible 00:05:58]
Matt: I've been out to eat a couple of times, but I've only sat outside. Khushbu, are you personally comfortable returning to indoor dining? Are you going to go eat inside?
Khushbu: Not at all, 100% no. It's crazy. My job very much depends on restaurants. It's centered on restaurants. I'm not comfortable whatsoever. I just don't think I can consciously risk someone else's life. Even if I'm willing to risk my own, which I'm also not. I don't know why people are pretending this pandemic is over. It's far from. You're still seeing the number of cases rise even in New York City, which has taken a lot of precautions. The cases are continuing, again, to surge right now.
Matt: What about you, Carlos? Are you comfortable going to eat inside in Miami right now?
Carlos: I haven't dined inside a restaurant in six months and I don't have plans to do it at anytime soon.
Matt: You've been eating outside, how's that going, the outdoor dining?
Carlos: I've been eating outside and doing mostly takeout. Mostly, I've been ordering from a lot of different places, trying to stay on top of what different restaurants are doing, what they're pivoting to try to stay relevant, to stay in business. I think they don't want to put people at risk and I don't want to put myself at risk.
Matt: Do you agree with Khushbu that we need to be tipping more? Do you have a recommendation on how much we should be tipping servers?
Carlos: Yes, like she said, Khushbu is right. Tipping is the worst system that we have for paying people. I think if you're not tipping 25% on anything, especially now, I think you're doing a disservice to the people who are putting themselves in danger for you.
Matt: Khushbu and Carlos, we've also been talking to our listeners about this. Some of them like this one told us they weren't ready to go back.
Diana Cruz: This is Diana Cruz from Edwardsville, Illinois. I don't think I will be having any indoor dining soon. I just don't feel comfortable that even with enough social distancing, that I can be protected, and so I definitely will not be participating in that for quite some time.
Matt: Meanwhile, we also reached out to folks who run restaurants to see how they're feeling about it. I want to play you a few of those calls.
Greg Keenan: My name is Greg Keenan, I'm calling from Conshohocken, Pennsylvania, and I'm a restaurant owner. I'm 68 years old so I guess you'd call me part of the risk group but I haven't felt that way. From the get-go, I wore a mask. From the get-go, everyone who works here wears a mask all the time they work here. We put Plexiglas up between booths and tables. We obviously practice social distancing. We're very clear with guests when they get up from that table, they have to have a mask on when they have to have a mask on to get to the table. We think we've minimized risk.
Susannah Koteen: My name is Susannah Koteen, I am the owner of Lido restaurant on Frederick Douglass Boulevard and the corner of 117 Street in Harlem Manhattan. I'm thrilled to be able to welcome our guests back to the restaurant. Of course, I do understand that this has to be a gradual process to keep the staff and the guests safe. In New York, we've just been allowed 25% capacity, as well as to take over some space in the parking lanes. During a very difficult time with COVID, we had to invest in structures to allow our guests to sit outside, and then the city is also allowing us to keep these structures throughout the winter, which means that we'll have to invest more to enclose and the heat them.
Mark Jamison: My name is Mark Jamison. I have two restaurants one in Bucks County, Pennsylvania, one in Lee County, Pennsylvania. Both our old stone colonial hotels. We're petrified. You talk about improving ventilation systems, we don't even have ventilation systems, we heat with radiators. We're going to get locked in the next week or two, although Pennsylvania has been very safe thanks to Governor Wolf, and our area is not a hot spot anymore. All it takes is one person to come in and we're all just sitting ducks in there. Surely, we're scared to death.
Matt: Khushbu let's talk about the money. How much is the gradual shift back to indoor dining helping these restaurants financially?
Khushbu: I understand that restaurants are really desperate right now, they're in such dire straits, but I'm not sure that indoor dining is necessarily going to pay off, it's going to ultimately help their bottom line more. A lot of the upgrades that they're required to do, or the upgrades that they should be doing to help their customers feel more safe, are expensive. That restaurant owner just mentioned putting up perks like plexiglass. I've heard reports of different restaurant owners paying upwards of $3,000 to $5,000, just to put a plexiglass in their restaurants. Air purifiers cost a lot of money. They have to provide masks and other PPE type equipment to their servers and to their other staff members. These things add up, especially when the money isn't coming in as it used to. I'm not sure at 25% capacity, especially in New York City where a lot of restaurants are teeny tiny, and 25% capacity, maybe means six diners at once max, is really going to help their bottom line ultimately.
Matt: That's why some restaurants are implementing a time limit where you have to leave at a certain time, which takes away a lot of the enjoyment of going out to eat. Carlos, Miami is such a great restaurant town, how big of a hit have restaurants they're taken? Have there been a lot of closures?
Carlos: Yes, it's hard to put a number on how many closures we've seen because some places did close with the hope of reopening at some point in the future. I think the summers in Miami are slow to begin with. It's really going to be interesting to see what happens in the next couple months because honestly, outdoor dining doesn't get really nice here until right around now, right about the next two weeks.
Miami, I will say, has done a really good job at making it easy for places to make room for dining. In other words, turning parking spaces into seating areas, closing off parts of streets, Miami Beach did to allow places for people to sit. We'll see if this really is a solution for them because like I said, most folks want to sit outside in the next couple months. This might play into giving them a little bit of a lifeline.
Matt: In terms of a lifeline, Khushbu, do you think there's any support that the federal government could be offering to restaurants right now?
Khushbu: I think that's honestly the only thing that's going to ultimately bail out the restaurant industry is help at a government level. There is a bill that's going through the house, again, that does call for help for small businesses, especially the restaurant industry. People are really hopeful that this will pass. I think it's the first time that restaurants have actually banded together to form a lobbying group besides the National Restaurant Association. The National Restaurant Association tends to represent a lot of chain restaurants. This is the first time you're seeing more independent restaurants band together to have a lobbying voice in the government. They're hopeful that this might pass, but I'm not so sure it will.
Matt: Sure, like anything in Washington it's a question mark. Khushbu, are there innovations in the meantime the restaurants are implementing in order to help them during this time, but that might stick around long term?
Khushbu: Yes, you're seeing a lot of cool cocktail to go programs. I hope that cities keep adjusting their liquor laws to allow for this. I think it's a way that restaurants are actually able to make a lot of money on takeout and delivery is to be able to still have that alcohol up-charge with the takeout options. Restaurants are serving cool meal kits that people can take home and still have the restaurant experience. They're pairing them with videos of the chef making the dish, so there's an interactive experience. People are doing really cool.
You're seeing a lot of innovations too of people selling food through Instagram, like former actual restaurant workers, a lot of former pastry chefs. Just former line cooks selling restaurant-quality food through Instagram thanks to the cottage laws. You can get really high-end pastries from the former pastry chef at Gramercy Tavern. On Sundays in Queens they do a pastry box for, I think, it's $50 it's a whole assortment of pastries. They're seriously high-end. It's cool to see these types of businesses pop up.
Matt: Sure, that can stick around long past this pandemic. Carlos, we got about a minute left. I'm just curious how your job as a food editor for the Miami Herald how some of the reporters who cover restaurants how their job is just totally changed during this pandemic.
Carlos: Well, I think it's changed focus away from food criticism, which I'm happy about. I like to write about stories that are very Miami-centric, in other words, stories that could only happen here. You have stories like Khushbu was saying about the guy who was the head chef at one of our top restaurants down here, Q, it's like an Asian barbecue place, who started his own little barbecue spot out in front of his house, and taking orders through Instagram. We have a guy who had led a successful seafood restaurant, but he said nobody wants to order limp seafood delivered in 30 to 45 minutes, so he turned it into a classic Italian American red sauce place, more comfort food, things that can reheat well. I think we're seeing the most creativity out of restaurant owners and food people and that's really been the most interesting encouraging part and the most interesting thing to document.
Matt: Yes, for sure. Well, that is getting me quite hungry. I appreciate it, guys. Khushbu Shah is Food & Wine magazine's restaurant editor, and Carlos Frias is the food editor for the Miami Herald. Thank you two you both for being here.
Khushbu: Thanks for having me.
Carlos: Thanks for having me, Matt.
Copyright © 2020 New York Public Radio. All rights reserved. Visit our website terms of use at www.wnyc.org for further information.
New York Public Radio transcripts are created on a rush deadline, often by contractors. This text may not be in its final form and may be updated or revised in the future. Accuracy and availability may vary. The authoritative record of New York Public Radio's programming is the audio record.