India's Democracy is in Crisis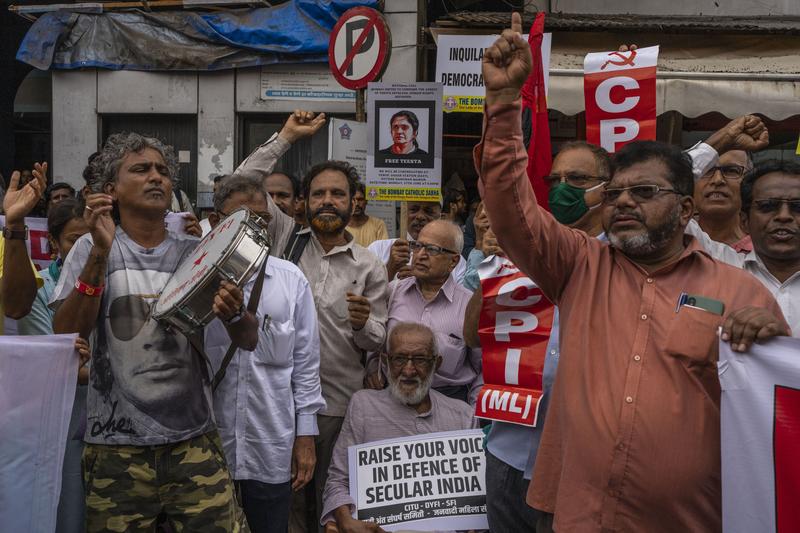 Transcript
[music]
Arun Venugopal: You're listening to The Takeaway. I'm Arun Venugopal in for Melissa Harris-Perry. Good to be with you. India has long been considered the largest democracy in the world, chief among the tenants of India's liberation from British Imperials rule were the principles of religious pluralism and tolerance championed by Mahatma Gandhi and others. That movement culminated in India's independence in 1947. In 1950, the constitution of India was established, granting freedom of religion for all, prohibiting religious discrimination, and mandating a secular state, but the ideals of Gandhi and of India's constitution are struggling against the test of time.
Prime Minister Narendra Modi leads the BJP, a right-wing Hindu majority political party, and today there are growing concerns about the direction of India's democracy.
Rana Ayyub: There's a stench that is unbearable in India right now. The stench of everything which is dictatorial. We are slowly getting into a dictatorial space.
Arun Venugopal: Rana Ayyub is a global opinions writer for the Washington Post. As an Indian Muslim, Rana is part of a 200 million population of Muslim Indians in the country of 1.4 billion. Nearly 80% of which is Hindu. Recently, there has been a crackdown on freedom of speech and freedom of the press. In May, 10 human rights organizations, including Human Rights Watch and Amnesty International, condemned India for targeting and prosecuting journalists and government critics, particularly Muslim journalists. Rana Ayyub herself was recently detained, trying to leave the country. Authorities in India said it was because of ongoing investigations into money laundering and tax evasion.
Allegations which Ayyub denies. She says, it's a pattern of the incessant harassment she faces which special rapporteurs from the UN's Human Rights Council refer to as "relentless, misogynistic, and sectarian attacks" amounting to "judicial harassment" against her.
Rana Ayyub: There are so many complaints against me that some days I completely lose touch about, "Oh, this is the case." I have money-laundering investigation going on against me. I have been asked why I write for international publications as opposed to Indian publications. I have been questioned for income tax violation. I have been questioned for an interview on Al Jazeera, where I spoke about the lynch mob against Muslim minorities and Hindu nationalists. There's very few cases that have not been slapped against me. As my lawyer said, I'm just living one day at a time not knowing what's going to happen next.
Arun Venugopal: You'll hear more later in our conversation about Rana's personal experiences as an Indian Muslim journalist. First, I asked her to give us her sense of the state of democracy in India.
Rana Ayyub: Right now it feels like the Indian democracy has been let down, not just by the ruling government, but also the institutions that are meant to safeguard democratic values of India. It feels like the world's largest democracy is only a democracy on paper because everything that is happening around me feels like a dystopian world. Like an Aurelian world where journalists are being arrested for fact-checking, for busting fake news, for speaking truth to power. Activists in India who are fighting for a free and fair country are finding their houses bulldozed in broad daylight, minorities in India are being treated as second-class citizens.
The prime minister of the world's largest democracy has not taken a single press conference in the last eight years since he assumed power. I do not know how do we continue to call ourselves the world's largest democracy because we have let down the very ethics, the very values that we used to take great pride in.
Arun Venugopal: Let's talk about one of the points you touched upon, which had to do with journalists being arrested. This happened a few weeks ago with the journalist who drew attention to a very controversial statement made by a spokesperson for the leading party. That would be prime minister, Narendra Modi's party, the BJP. What can you tell us about that incident and how it played out ultimately leading to this arrest?
Rana Ayyub: Mohammed Zubair who's the journalist in question is one of the co-founders of Alt News, which is one of the prominent fact-checking websites in India. He brought to fore a hate speech by the spokesperson of the ruling party, Nupur Sharma where she denigrated Prophet Muhammad on live television, where she insinuated that he was a pedophile who molested a nine-year-old. When he just brought that to the fore, and eventually, when multiple [unintelligible 00:04:49] countries lashed out at the Indian government for this denigration of Prophet Muhammad, a few days later, he was arrested for a 2018 tweet in which he just posted a screenshot of a film from the '70s, which was a widely acclaimed film.
He's been arrested for a screenshot while those who give explicit rape and death threats, while those whose made the most provocative statements against Indian minorities are being awarded, are being made ministers. This is where journalism stands right now. There's not a single day that we do not wake up to the fear that we could be next in line to be arrested for God knows what. Our tweet, our reports, our television statements, our interviews. I don't know, probably even this interview.
Arun Venugopal: You mentioned calls for violence coming from certain political leaders. They're also coming from leading Hindu religious figures. In December, one woman, Pooja Shakun Pandey said even if 100 Hindus could kill two million of them, by which she was referring to Muslims, then we'd be victorious is what she said. That is the kind of a thing that I guess basically suggests there is like a genocidal discourse that is taking place. Tell me a little more about that and the extent to which the BJP, the ruling party, how they're responding to this if at all.
Rana Ayyub: I'll give you an example, Arun to just prove what you just said. Pooja Shakun is just one of the many Hindu nationalists who has been spewing this kind of hate rhetoric against Muslims day in, day out. Three days ago, when the government of the day sent the Solicitor General of India and the Assistant Solicitor General of India in court to oppose the bail plea of Mohammed Zubair, during the course of the argument, when it was said that Mohammed Zubair called these very people as hate mongers. The ones who gave hate speech. The SG and the ASG in the Supreme Court said that Muhammed Zubair had defamed these religious leaders who gave hate speech, these honorable religious leaders.
I think it couldn't be more clear demonstration that on which side is the Indian government on. You have leaders flashing themselves on camera, asking to rape Muslim women, asking to kill Muslim men on sight. These people continue to be free. These people are endorsed. These people are being cited in the courts of law. When fact-checkers and journalists point them out, they are being arrested while these people who make the most disgusting genocidal speeches against the 220 million Muslim population are actually free. We are living at a time when those who hail Nathuram Godse, the man who assassinated Mahatma Gandhi are being termed heroes, and those who are defending the Mahatma are being sent behind bars. This is the new norm.
Arun Venugopal: How different is the climate for Muslims now from when you were younger?
Rana Ayyub: I'm a child of the '92 riots when the Babri Masjid was demolished.
Arun Venugopal: That would be a prominent mosque [crosstalk]
Rana Ayyub: A prominent mosque that was demolished and nationwide anti-Muslim carnage ensued. Me and my sister had to take refuge in a house when a mob came to gang rape us. That's where I'm coming from. I keep saying that India's communal rift has always been there, but for the first time, you see a state sanction for that hate and that state sanction is not covered. It's not something it is over. It is spoken on the streets of the country. A BJP leader two years ago in the streets of Delhi said, "Shoot the traitors," where of course the insinuation was to shoot Muslims. That man, a week ago, again, took a rally in New Delhi, asking Hindu nationalists to wipe out Islamists.
Now, we know what the language suggested, but that man is a free man, and all those people who opposed his speech during the citizenship protest in 2020, some of our best friends, some of our best activists and writers are behind bars for opposing this. I think it's a nightmare to be a Muslim in India.
Arun Venugopal: One phenomenon that you referred to earlier, something that's occurring is the bulldozing of homes owned by Muslims, particularly Muslims who have protested in recent weeks or months. What can you tell us about this?
Rana Ayyub: Bulldozing Muslim houses is possibly the worst that we can ever get to the idea of the Indian democracy. The last time you witnessed that was in Israel. India is actually taking a page from that playbook where Muslim houses are being demolished. Now, the government is giving us specific reasons saying water bills are not paid, house bills are not paid, but after the demolition and the demotion spectacle, you see some of the top news channels in India live streaming the demolition. What are you trying to say? It's not just a message for those who are speaking up, but for every citizen in India, that this is who you are, a second-class citizen of this country.
You might have been accorded these rights due to the Indian constitution but according to Modi's rule, this is we are not accorded equal rights. We are second class citizens.
Arun Venugopal: You have yourself experienced some of this trend in terms of cracking down on freedom of expression and speech. You were detained and barred from leaving India a few months ago, tell us what happened then.
Rana Ayyub: I was leaving for London to speak at a press freedom event, and I was supposed to leave for Italy right after for the Perugia Journalism Festival to give the keynote speech on freedom of press in democracies and what an ironic situation that I was detained at the airport. While I was detained at the airport, the summons were sent to me while I was sitting there just to make sure that I was stopped from speaking on what is happening in India. They were trying to censor me. I had to go to court to take permission to fly, which is against my fundamental rights. There was nothing that was against me. There were no summons for which I had not appeared, the court quashed it down.
Again, this is where we are at, where journalists who are being critical will be stopped at the airports. Recently a Kashmiri journalist who won the Pulitzer this year was stopped at the airport from traveling to France, where she was supposed to showcase her work. I'm not the only one. Of course, the fact that I have multiple cases filed against me. Very, very recently I was asked to present my bank accounts from the year 2006. That is from the year I started doing my journalism. This has now become a part of a daily life. Whereas we spend 10 hours of the day fighting legal cases and whatever is left of us, we try to speak our mind.
Arun Venugopal: Broadly speaking, the issue of minority rights in India has not been making waves in the US. I'm wondering why you think that is.
Rana Ayyub: I was in the US two months ago and I was baffled at no, I don't know if it's ignorance or if it's a deliberate ignorance to not speak up about what's happening in India because India is a strategic ally for United States and its stand against Ukraine or whether with China. I have spoken to many diplomats. I've spoken to many officials in the US and they said, "Well, we do know what's happening in India." The US reports for freedom rights has called out what it is, what is the lack of democracy is the attack on minorities, but they do not want to be seen as antagonistic to the Modi government because they need Modi as a strategic ally.
I think it is willful ignorance to make sure that the strategic relationships are maintained, human rights be damned.
Arun Venugopal: Rana Ayyub is global opinions writer for the Washington Post. Rana, thank you so much for your time today.
Rana Ayyub: Thank you so much, Arun for having me on the show.
Arun Venugopal: We'll be back in just a moment with more on India. We just heard from Muslim Indian journalist Rana Ayyub about the rising aggression of rhetoric and violence against the Muslim minority population in India, as well as the government's antagonism towards journalists. To get a better understanding of how India got here, I spoke with Salil Tripathi writer and contributor to two Indian news outlets, Mint and The Caravan. I began by asking him to trace a little bit of the history of how India went from a fight for independence, from British imperialism to the world's largest democracy, and now to what we are seeing today.
Salil Tripathi: India was the world's largest democracy. It is now the most populous country in the world that holds regular elections. I say that very consciously, yes it holds elections, which are free and fair, and it is the world's most populous country, but it has made sure that its structures of democracy do not anymore adhere to the functions of democracy. You have a Supreme Court and even the lower courts, which on one hand have the authority to act, but are avoiding the tougher cases, whether it is about Kashmir, whether it is about political financing, or whether it is about dissidents who are being put in jail and not being produced before the court.
It has a parliament where the opposition is hardly effective, it's like that. It has a media and which is privately owned. A lot of it is privately owned and ostensibly free. Yet it has probably one of the world's largest number of journalists and writers either in jail or facing prosecution. It also has a structure of democracy in terms of allowing civil society to function, except that the way they can function is made very hard. If you are an NGO in India, whether you're Amnesty International or Greenpeace, it's made impossible for you to raise funding overseas.
If you raise funding internally, then the people who do donate to you end up finding themselves facing queries from tax department and enforcement department, and so on. Every day there is a new exhausting episode. What seems to happen is that the generation that fought for freedom in 1947 and was influenced by Gandhi and Nehru, that's fading and that's receding, and you have a new generation which has come up, which is much more muscular, which is much more vigorous. Which believes that Gandhi was all wrong for having emphasized nonviolence and their view that India and Hindus should be more assertive, should be more aggressive, and should be more intolerant.
Arun Venugopal: Rana Ayyub earlier mentioned the modern-day valorization of Nathuram Godse, the Hindu man who assassinated Maha Gandhi, that was just a year or so after independence. That valorization really wasn't the case earlier. Was it?
Salil Tripathi: Not at all in fact, but there is, he was light. For folks not familiar with India, it's a bit like valorizing someone like John Wilkes Booth or James Earl Ray, or Lee Harvey Oswald or Mark David Chapman for that matter, killing somebody who was in the public eye and certainly not a violent person. We were talking about Kennedy and Lincoln, people like that, and Martin Luther King here. You have that situation going on where you have the valorization happening because of this rewriting of Indian history that because Gandhi and Nehru agreed to partition, they were somehow traitors and Godse was right for assassinating him as though that would've brought Pakistan back into the Indian fold.
Now think for a moment that at independence had Pakistan been part of India, given the visceral hatred that the Hindu nationalists had toward Muslims, today they would have a country with about 40% of the population being Muslim as against 10% or 12% of the population. Is that really the India they wanted? There's simply no thinking about what they call [unintelligible 00:17:41] or United India. They wanted, and they think that Godse was a patriot when he killed Gandhi.
It's not simply the fringe element of the ruling Bharatiya Janata Party that believes that there are many, many more people who are saying that in a very aggressive and open way, parliamentarian who say that [unintelligible 00:18:01] in languages, like Gujarati have said that it's patriotism, but it's a patriotism of the scoundrel. It's not the patriotism of someone who is nationalistic with a small end.
Arun Venugopal: You are someone who is born into a Hindu family, and you're very outspoken about the embrace of Hindu nationalism but a lot of people are afraid to speak out, aren't they?
Salil Tripathi: Yes, they are. I don't blame them because I'm lucky I lived 30 years outside India. I was in Singapore then in London in the last three years in the US. I can take certain risks, but I bow my head to people like Rana and people like Aakar Patel and people like Zubair Mohammed and [unintelligible 00:18:46] all these wonderful folks and the so-called Bhima Koregaon detainees, they're 16 to 17 people who are in jail, who are trying to speak for the underprivileged, for the marginalized, for the minorities and for women, for Dalits and so on, and who are facing a much, much harder battle, even some of the web-based news organizations like Article 14 and Scroll and Wire, they're fighting the real battle. They're the brave ones. They're the courageous ones.
I think we need to remember them and name them and celebrate them because one of the advantages India has had. Thanks again to people like Nehru, is that it was a genuine democracy for a very long time. Therefore people tend to give it a free pass in the west saying that there are a few problems, but it's not as bad as Turkey or not as bad as Russia, not as bad as Brazil for that matter, but it's getting there and it's getting there without the kind of-- It doesn't even need the constitutional imprimatur which the emergency had. When the emergency was declared in India, between 1975 and 1977 Indira Gandhi actually invoked the law to do what she did. At that time, there was this very famous incident where a minister in the government that came to power after Indira Gandhi was defeated, LK Advani. He told the media that you were asked to bend, but you crawled. Today people aren't being asked to bend, but a lot of the broadcast media in particular and even some print media is asking, "Sir, how high," and they're willing to jump even when they're not asked to. It's a very sad situation. It should not be taken, I think Freedom House was very right when it relegated India from free to partly free. Even the Scandinavian organization that made India into a less than a democracy. I think that's a path we are on. It's not a happy situation at all.
Arun Venugopal: Salil Tripathi is writer and contributor to Mint and Caravan. Salil, thank you so much for joining us today.
Salil Tripathi: Thank you.
[00:21:30] [END OF AUDIO]
Copyright © 2022 New York Public Radio. All rights reserved. Visit our website terms of use at www.wnyc.org for further information.
New York Public Radio transcripts are created on a rush deadline, often by contractors. This text may not be in its final form and may be updated or revised in the future. Accuracy and availability may vary. The authoritative record of New York Public Radio's programming is the audio record.