Justice Delayed: Dysfunction in Immigration Courts System Leads to Growing Case Backlog During the Pandemic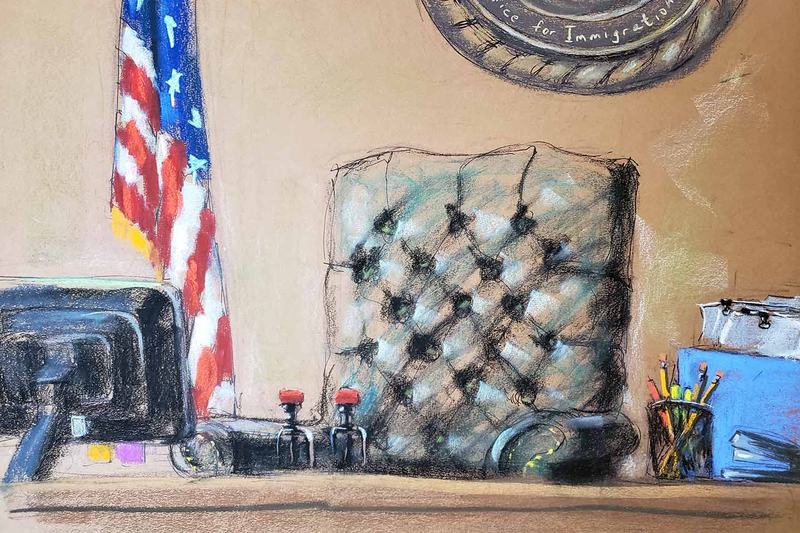 Transcript
Tanzina Vega: Under the Trump administration, the backlog of pending immigrant deportation cases has more than doubled, from roughly 500,000 cases in 2016 to more than 1.2 million cases in 2020. Prior to the pandemic, immigration courts were completing roughly 40,000 cases a month. Now, that total has slowed to just around 6000 a month. A lack of clear planning and messaging from the federal agency overseeing immigration courts has added an additional layer of confusion to the system, with immigrants, attorneys, and even judges scrambling to figure out the plan.
Ashley Tabaddor: When you don't provide transparency and effective communication, there is confusion and chaos, and that's exactly what we're seeing, is that people don't know which cases are going to go forward.
Tanzina: That's Judge Ashley Tabaddor, President of the National Association of Immigration Judges.
Ashley: We don't even find out about reopenings until there is a Twitter announcement to the public. Oftentimes, neither the judges nor even their first-level supervisory judges have been notified about the agency's plans to reopen until the public announcements are made. There is a very challenging situation of having to ramp up quickly, not knowing what the target is. Oftentimes, what ends up happening is that you're bringing people together, but nobody can really get anything done because there hasn't been effective communication and effective preparation in bringing these hearings back up.
Tanzina: Judge Tabaddor told us that her Association also has big concerns over the government's handling of COVID-19-related health protocols inside immigration courts.
Ashley: Other than this lip service to mask wearing and social distancing and hygiene, what we're seeing is that they are not answering basic questions about, what are the H back filter? What are some of the access to building protocols? What are the protocols for when somebody comes into court and is COVID-symptom positive, or COVID-test positive and has obviously come in and put other people at risk?
Tanzina: For the next part of our ongoing series Justice Delayed, we're going to try and make sense of what's been happening within the immigration court system during the pandemic. Joining me now is Austin Kocher, a Faculty Fellow at Syracuse University's Transactional Records Access Clearinghouse. Austin, thanks for joining me.
Austin Kocher: Thank you, so nice to be with you.
Tanzina: Austin, what types of cases are we talking about that are really leading the backlog right now?
Austin: The backlog is composed of all kinds of asylum cases and other forms of immigration cases that are heard by the courts. The immigration courts are within the Department of Justice. Even though they're legally complex and bureaucratic, they're really high stakes. If an immigration judge gets a case wrong, those individuals could be deported back to violence or even death.
The basic question that immigration judges are asking in these hearings of all kinds are, should this person be allowed to stay in the United States or not? There are a variety of hearings that go into determining that. In addition to basic master calendar hearings, which are procedural hearings, all the way down to individual hearings, where there's substantive discussion about the content of someone's case. All of those cases are contributing to the backlog.
Tanzina: Austin, in the meantime, we mentioned earlier that this is something that's really putting people's lives in limbo, where are these folks right now, the majority of people who are waiting for their cases to be heard, are they in detention centers, are they incarcerated, are they living in the United States? Where are a lot of these folks while they wait?
Austin: There continue to be thousands of people in detention even during the pandemic and high-risk environments and institutions. We've seen outbreaks of COVID-19 in many of these facilities. Many of them are waiting and living in the United States. The main immigration courts with the biggest backlogs and the biggest hearing schedules are New York City, Miami, Houston, Los Angeles, and San Francisco. Those five courts make up almost half of the cases that are in the backlog, people living in those areas.
New York City alone right now has about 300,000 people who are facing deportation and have a case pending before the immigration courts. It's a lot of people in a lot of parts of the country, but those are some of the main cities.
Tanzina: We know that before the pandemic, there was also a backlog. There were just not enough judges to handle some of these cases, and now there's this backlog that's happened. Are immigration courts switching to virtual formats to move the backlog through?
Austin: That's a good question and an important approach, because even though we want the courts to close down for safety reasons to keep people from being exposed to the virus, the reality is, a lot of individuals facing deportation and their attorneys would like to see their hearings happen. Unfortunately, the immigration court system, immigration attorneys are telling me that they really are not using technology in the way that they could. In fact, one attorney said, "How is it that my eight-year-old can do a three-way Zoom call with their classmates, but the immigration courts can't do the same thing?"
Even when the courts are using technology, they're doing it in a way that really compromises issues around fundamental fairness and due process, because in many of these cases, the immigration judges and the ICE attorney to act as prosecutors, they can see each other and they have full access to video and audio, but the immigration attorney has to call in by phone, for instance, can't see the disposition of their client, can't see the disposition of the judge or the opposing counsel. That creates real questions for whether or not the hearings that are going forward are being done so fairly.
Tanzina: How long do we think it's going to take to undo the backlog?
Austin: This backlog has only grown in the time that we've been tracking it, it hasn't declined. Even though the Trump administration has doubled the size of the immigration judges, half of the judges today have been hired or appointed by the Trump administration, that has led to the immigration courts completing more cases.
At the beginning of the year, around 40,000 cases a month, that was really high, but with the pandemic, with the backlog and with the influx of over 100,000 new immigration cases that have been filed with the immigration courts during the pandemic, we don't see a time when the backlog itself is going to go down. It remains to be seen, but it's going to be a problem that Americans are living with for a long time.
Tanzina: Immigration courts were also closed when the government shut down in 2019. How does that compare to what we're seeing now?
Austin: In terms of the total number of cases in the backlog, that certainly had an impact, we saw almost 90,000 hearings canceled during the month that the government shutdown in late 2018, early 2019. That added to the backlog. This is obviously much longer and much more protracted. In addition to just adding even more cases to the backlog, we see two different things. One is, ICE has continued to file new cases with the immigration court and reopen old cases, even while the courts are shut down.
The courts are being inundated with new cases, even while they can't even get through any of the cases they already have. Secondly, one of the major differences is that when the courts shut down in 2018, it was uniform, because the government was shut down across the board. In this case, what we've seen is that the way that the EOIR has handled the shutdown. People are really looking to the EOIR for leadership specifically. Because it hasn't really risen to the moment from the perspective of [unintelligible 00:08:31] judges and attorneys, we're seeing a real decline in trust with the agency in general.
Tanzina: At the peak of the pandemic, in some of the cities that were hard hit, including here in New York City, we saw medical personnel being flown in from different places across the country to help deal with the number of sick and ill and those who were dying because the cases were just so intense. Is there a way- and I could be completely wrong about this, is there a way for some of these cities that you mentioned, New York, Miami, Houston, San Francisco, to increase, even temporarily, its legal bench, if you will, to help process some of these cases?
Austin: The government has tried that at different points in the past by moving immigration judges around. Most often that happens during high numbers of cases along the US Mexico border. They'll send judges down on temporary duty for a couple months at a time. The problem is, it really is just moving judges around. Without increasing the immigration judge bench across the country, it's unlikely that that's going to really solve the problem. The real core of the problem is that the enforcement part of our immigration system has received disproportionate funding to the courts themselves. ICE is creating more and more cases, many of them during the Trump administration, in particular, have been lower priority cases. We've seen a huge growth in cases, detained individuals, specifically, with no criminal conviction, or very low criminal convictions, it's kind of cases that would have been not prioritized in the past. ICE is spending their resources, focusing on those kinds of cases and putting individuals in removal proceedings, while at the same time, even with the growth in the number of immigration judges, the courts just aren't able to really keep up with the number of cases that the ICE is filing with the court.
Tanzina: It's interesting you mentioned the funding for ICE and how that outpaced the legal support mechanisms in place to move some of these cases forward. We do know that this current administration, the Trump administration, has had a hand, a very heavy hand in detaining folks, and essentially wanting to deport folks, or prevent them even from coming into the United States. Given that backdrop here, are there any signs, Austin, that the federal government is going to try and mitigate this backlog, at least under this administration?
Austin: It's hard to imagine the backlog going down under this administration, or anytime soon. It would really require a pretty significant shift in priorities from administration's both-- When we look back to the Obama administration, there were also high numbers of deportations, that declined in the second half of the Obama era, but has gone back up during the Trump administration. I think that, in addition to thinking about this as an administration issue, I think there's also just a really big push and the need for Congress to act to update our immigration priorities in a way that fits the 21st century and fits what Americans really want today, which is a much more reasonable immigration policy that's good for families, that's good for Americans.
Many of the people who are facing deportation are in mixed status families where it's a spouse who is a US citizen, and so that deportation and putting someone in removal proceedings, it doesn't just affect immigrants, it affects American citizens as well.
Tanzina: I should note that we have reached out to the Department of Justice's Education Officer of Immigration Review for comment, and have not yet heard back. Austin Kocher is a Faculty Fellow at Syracuse University's Transactional Records Access Clearinghouse. Austin, thank you so much.
Copyright © 2020 New York Public Radio. All rights reserved. Visit our website terms of use at www.wnyc.org for further information.

New York Public Radio transcripts are created on a rush deadline, often by contractors. This text may not be in its final form and may be updated or revised in the future. Accuracy and availability may vary. The authoritative record of New York Public Radio's programming is the audio record.