Illinois Leads the Country in Banning Interrogators Lying to Minors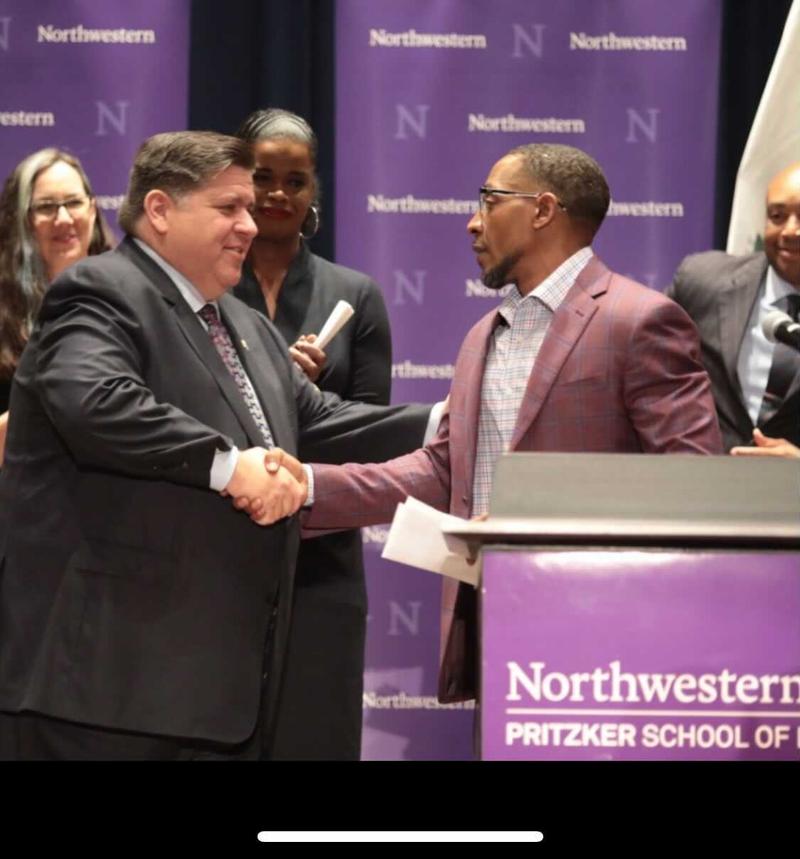 Transcript
[music]
Melissa Harris-Perry: Quick question, in how many us states do you think it is legal for police to lie to minors in order to get these young people to confess to crimes? It's okay if you don't know, for sure. Just guess. Maybe you're thinking four or five states allow this practice. Just maybe you think about half the states allow police to see children while interrogating them, but oh, no. 48 states allow this practice, and until last month, it was legal in all 50 states, but that's when Illinois became the very first state to outlaw this practice. When Illinois Governor JB Pritzker signed Senate Bill 2122 into law. For more on this, I turned to.
Laura Nirider: Laura Nirider.
Melissa Harris-Perry: The Co-Director of Northwestern University's Center on Wrongful Convictions and host of the podcast "Wrongful Conviction: False Confessions."
Laura Nirider: It will surprise no one who's listening who's a parent that children are more vulnerable inside the interrogation room. Children of adolescents are between two and three times as likely to falsely confess as adults.
Melissa Harris-Perry: Now, this actually happened to one of Laura's former clients, and just a heads up y'all, this story includes sensitive topics that some might find disturbing.
Terrill Swift: My name is Terrill Swift.
Laura Nirider: One of the most compelling pieces of advocacy that led to Illinois adopting this reform was, of course, the legislature held hearings about this bill before voting on it. At the hearing, testified a man named Terrill Swift, a former client of the center on wrongful convictions, who was one of the so-called Englewood Four in Chicago.
Terrill Swift: Once I get to the police department, I always sat down on a chair, like an office setting. I was handcuffed to the chair and that's when the psychological torture began saying that I raped and murdered someone immediately. I was crying and I was screaming out for my mother, can I call my mother so that I can get an attorney and nothing came of that.
Laura Nirider: Terrill was 17 years old when, after an interrogation that was filled with deception, he confessed to a brutal rape and murder that he did not commit as did three other teenagers. They confessed during separate interrogations to the same crime.
Terrill Swift: That was coerced into signing a false confession after I was laid details of the case by the officers and that confession, which I felt, was going to lead me to go home, which is what I was promised. It ultimately didn't lead to that, it ultimately led to me losing 15 years and three months of my life in prison.
Laura Nirider: All four of them were put away for terms of decades in prison until about 15 years later, the DNA was tested in this case. Not only did it exonerate Terrill and his three co-defendants, but it identified the real perpetrator, a man who had gone on to terrorize the south side of Chicago and commit a series of additional rapes and murders while these innocent teenagers did his time.
Terrill Swift: My time in prison, I tried to make the best out of the unfortunate situation. For 10 years, I went to college, I got associate degrees, various trade certificates, and building maintenance, horticulture, culinary yards to different things, just trying to occupy my time, I was doing that, and I was riding the waves, riding layers, and working out and just trying to stay positive and not get in any trouble while I was there because I always knew that I was going to continue to fight for my name because you're nothing in this world without your name and my name was scared and I knew that I was going to get out whenever I was able to get out other than I continue to fight, and that's what I was able to do.
Melissa Harris-Perry: In prison, Terrill wrote to lawyers about his case all the time but it wasn't until nearly 15 years into his sentence that lawyers from Northwestern University Center on Wrongful Convictions came to visit him, and they told him, they thought he was innocent.
Terrill Swift: I just started crying even more. It was like, I've been waiting for years, for someone to look at my case, and before we did anything in court or anything, I just knew that I would be okay because I had lawyers that really solved the injustice that we went through, and I knew that we will be okay.
Melissa Harris-Perry: Terrill told us how it felt to help get the Illinois bill passed.
Terrill Swift: Some good that came out of a bad situation, and that's how I look at it. I look at even in my prison time, I can't be mad at it because I always have bitterness about what I lost, but I can't continue to live in that hatred because if I did I don't think I would be able to be proactive and be helpful and being able to help pass this bill.
With that, with everything that I've been through my other co-defendants, many other young Black males that have been through the same thing that we've been through, it felt good to see that we're making progress 2021 and we're just signing a bill saying that police can't like to the youth when it's already proven that a 17-year-old or a youth brain is not fully developed and are easily manipulated and we're thankful that they're finally passing the bill, but again, it is 2021. We should've been doing this.
Melissa Harris-Perry: Since being exonerated 2012, Terrill has been working, spending time with his kids and trying to enjoy his life, and he's speaking out to bring awareness to those who are still incarcerated, although they were wrongfully convicted, helping pass this bill was a first step.
Terrill Swift: Moving forward, it is a big step, and definitely we think that it could have changed our lives, but moving forward, we hope that it will stop someone else being another Tirrell Swift, Michael Sanders, Harold Richardson, and Vincent Thames.
Melissa Harris-Perry: Thank you, Terrill Swift, for sharing your story with us. Now, let's turn back to my conversation with Laura Nirider. She and her team, at the Center on Wrongful Convictions, have been working a long time to expose the risk of false confessions when police lie in interrogations. She consulted on the Senate bill in Illinois together with the National Innocence Project and the Illinois Innocence Project making Illinois the first state in the US to pass a law that prohibits police from lying in interrogations to people younger than 18. I asked what it meant for her to finally see this bill signed into law.
Laura Nirider: This is a groundbreaking historic bill. It passed with bipartisan support, and it means so much to those of us who have spent our careers working in the area of wrongful convictions. For two-and-a-half decades, organizations like the Center on Wrongful Convictions and the Innocence Project attorneys that have been working to exonerate people across the country who confessed to serious crimes that DNA testing later proved beyond a shadow of a doubt that they did not commit.
Of course, the question that arises as hundreds and hundreds of these false confessions have emerged. Why would anyone confess to a crime that he or she didn't commit turns out the answer has everything to do with the use of these deceptive manipulative interrogation techniques that our police have been trained to use for decades. It turns out those techniques are a significant risk factor for false confessions. This bill is the first in US history to take direct aim at those techniques.
Melissa Harris-Perry: When you phrase it as saying, this is a bill that prohibits police officers from lying to children, certainly, the first time that I heard about the bill, I was like, "Wait a minute, was it not already illegal to lie to children during an interrogation?" Pause and just step back and walk our listeners a little bit through what kinds of scenarios we're talking about, what kinds of lies are being told
Laura Nirider: Sure, and by the way, that is the universal response to this bill, everybody has the reaction that you had. I can't believe this was allowed in the first place. The kinds of lies that this bill takes aim at they're really two types. The first category of lies are lies about the evidence. It is commonplace, and again, police are trained that during interrogation, they should confront the suspect with a rock-solid case against them in order to reduce them down to a sense of hopelessness, of being cornered.
Part of the techniques police are trained to use during that first stage of interrogation is lies about the evidence. It's quite common for police to say things like we found your DNA at the scene, or we found your fingerprints on the gun when those things aren't true. Those kinds of lies about the evidence or one type of lie that this bill targets. The other type of lie is lies about the consequences of confessing. Once you make the suspect feel trapped, cornered, hopeless, we've got mountains of evidence against you no one will believe that you're innocent.
Police officers are trained to suggest falsely to a suspect that confessing will help them. You see police officers saying things like if you don't confess, they'll throw the book at you, you'll get the death penalty. You got life in prison, but if you do confess, if you show remorse, if you cooperate, it'll be a slap on the wrist. Just a couple of years, maybe you can even go home tonight. When, of course, in a serious case, a murder case, and sexual assault case, of course, if you confess you're not going home tonight.
It's these two categories of lies, lies about the evidence and lies about the consequences of confessing. By the way, those two interrogation techniques have been around and in practice. They were developed in the 1940s and 1950s, actually here at Northwestern University, where I now teach. At the time of these psychological techniques were thought of as really progressive, really enlightened because they replaced what had previously been abuse, which was the third degree, physical abuse. Beating somebody until they confess.
At the time these psychological deceptive techniques were thought of as enlightened and were even blessed by the US Supreme Court in a 1969 decision called Frazier v. Cupp. Of course, since then, with the advent of DNA technology, we've been proving these confessions false at a rate that's much higher than anyone imagined. It turns out that these psychological deceptive techniques are just as coercive, just as capable of producing false confessions as confessions obtained with physical abuse.
Melissa Harris-Perry: It's so helpful to understand that particular historic context, that psychological techniques, that tactics of deception do seem like a progressive betterment over physical torture. I get how we start moving down that line. Now, here we are quite a bit later, nearly 100 years later, if you're talking about the 1930s. Nearly 100 years later, acknowledging that it's not only problematic for the defendant.
Obviously, if you're getting a false confession, it means someone who did commit a crime in this case, isn't paying for that crime, isn't being caught and it be stopped from other crimes. Talk to me about the miners' aspects, particularly when you're talking about these psychological techniques, how do they work differently with young people?
Laura Nirider: Illinois is home to 100 proven false confessions than most of any states in the country and out of those 100, 31 false confessions came from people under the age of 18. Teenagers and children are just more malleable, more susceptible to influence, more vulnerable to pressure than adults. That's why you see this rash of false confessions affecting some of the youngest members of our community. I think what we saw in Illinois with this bill was not only a recognition that kids are much more vulnerable, but that wrongful convictions are a public safety issue.
That's why I think at the end of the day, we were able to garner such compelling and strong law enforcement support for this bill. We have the Illinois Chiefs of Police, we had the Illinois state's, Attorneys Association, the State Prosecutor Organization. We had deep support from Law Enforcement Training Organizations. No one wants an innocent person behind bars while the guilty person is free to continue committing harms in a community.
Melissa Harris-Perry: You've talked a little bit about the breadth of support by partisan support, support by the states chiefs of police. Talk to me a little bit about what's in the bill? If this is a tactic taught to law enforcement and that has been taught to law enforcement for decades and has been used very recently, how in the world does the bill actually stop this in practice? What are the penalties for police who use it? Who's going to oversee changing how interrogations are done?
Laura Nirider: It's a great question. Under this bill, if a police officer uses deceptive tactics during an interrogation of somebody under the age of 18, any confession that results will be presumed to be inadmissible in court. It cannot be used as evidence, because the risk that this confession might be false is simply too high, but here's the good news. Here's one reason I'm really excited about the way we've thought about implementing this bill. We worked hand in hand with Law Enforcement Training Organizations to vet that language and to think about what concrete changes will happen inside the interrogation room as a result of this bill.
It turns out that there are plenty of alternative interrogation techniques out there that are less coercive that run a much lower risk of false confessions but that are still capable of obtaining statements from guilty people and that still allow police to be able to close cases and to be able to solve crimes. These deceptive interrogation techniques, just as one example, were prohibited in 1984 in the United Kingdom after a slew of false confession cases came to light there in the 1970s. Of course, police officers, Scotland Yard in the UK, they've been solving problems with no problem [unintelligible 00:15:20] these techniques.
Melissa Harris-Perry: We also managed to police communities without guns, but a lot of things are going on differently.
Laura Nirider: Totally. I'm glad you raised that too because that's another aspect of this use of deception during interrogation that I think about a lot. When you're talking about the interaction between police and the communities that they're supposed to serve, lies cannot be part of a foundation that breeds trust, if you have these types of interactions across the community, that contributes to the sense of mistrust between communities and police. There's just no reason for this technique to be in use longer, it's outdated. It raises the risk of false impressions, it breeds mistrust between communities and police and it's not needed to solve crimes.
Melissa Harris-Perry: Tell me then, if there's a universal reaction like I had. What do you mean, I can't even believe this is legal? Then as I just heard you say, there are all of these alternatives, and this is not even effective as a crime-fighting technique. Talk to me about the breadth and the depth. One, is this going to move beyond Illinois? Do we see bills like this being introduced in other states in the nation? Also, on depth, will it go beyond minors so that officers also cannot lie to adult suspects?
Laura Nirider: Well, I'm pleased to report that on the very same day that Illinois became the first state in US history to adopt this reform, Oregon adopted a similar bill, a nearly identical bill. Right now, it's two states in the country, Illinois, and Oregon, that banned police from lying to children during interrogations. There are other bills that have been introduced and that are going to be introduced in states across the country. New York has a bill pending, for example, right now, that not only would ban police from lying to kids but as you suggest also, would ban police from lying to adults. Because, of course, deception and these deeply manipulative interrogation techniques, they work on adults as well as kids.
We know of course, of hundreds and hundreds of false confession cases in which the person who confessed wasn't adults. In Illinois and in Oregon, we took an incrementalistic approach in so far as we began with kids, they are the most vulnerable during interrogation. We were able to build that consensus with law enforcement around kids. As we see this reform taking off around the country, I believe we're looking at the beginning of a wave of similar reforms around the country. I think it is going to spread not only to kids but also to protections that adults need to. Once we realized that these tactics they're just not needed and they're just too risky for us to be using them.
Melissa Harris-Perry: I'm going to see if I can start a movement that any state that introduces a bill against critical race theory also has to introduce a bill that should be illegal for officers to lie to children during interrogation. Laura Nirider is Co-Director of Northwestern University's Center on Wrongful Convictions and host of the podcast "Wrongful Conviction: False Confessions.". Thank you for joining us.
Laura Nirider: Thank you so much, Melissa. It's been a pleasure.
Copyright © 2021 New York Public Radio. All rights reserved. Visit our website terms of use at www.wnyc.org for further information.
New York Public Radio transcripts are created on a rush deadline, often by contractors. This text may not be in its final form and may be updated or revised in the future. Accuracy and availability may vary. The authoritative record of New York Public Radio's programming is the audio record.