How Trains Built America's Labor Movement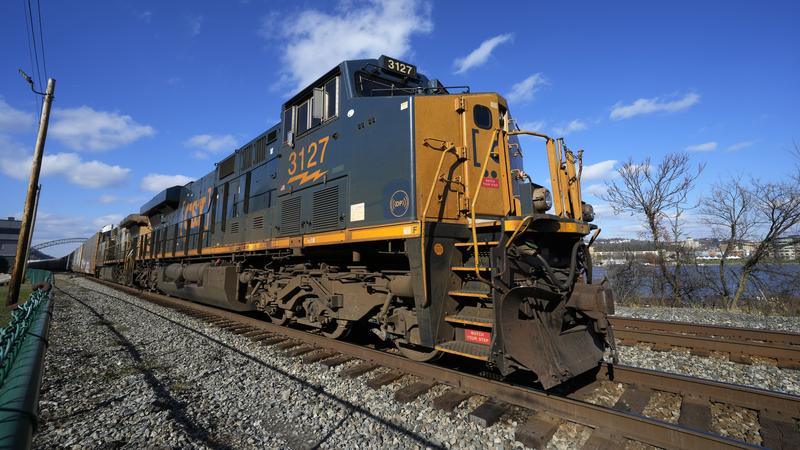 Transcript
[music]
Melissa Harris-Perry: Hi I'm Melissa Harris Perry. Welcome to The Takeaway and I'm putting on my engineer's cap. America loves trains. We love to ride trains.
Joe: Joe [unintelligible 00:00:23] Sacramento, California, my wife and I ride this ride regularly in order to visit our daughter. It's much more convenient, more fun than driving both ways.
Melissa Harris-Perry: We love to watch trains.
Fredo Wilson: Fredo Wilson, I'm calling from Moon Township, Pennsylvania. I have a former student who takes photographs of trains and post them on Facebook. I am totally enamored by them. They are beautiful. There's something about trains, the tracks the signals, the towns that they go through.
Melissa Harris-Perry: We love that they bring us everything from the food in our grocery stores to holiday presents. Here at The Takeaway, we love trains so much that over the rest of today's show, we're bringing you stories of how trains built America. Our economy, our culture, our religious practices, even our sense of time and space, all aboard the takeaway train.
[music]
We begin with the people who work on the rails. From those who laid the tracks to those who ensure all that precious cargo, groceries fuel for our cars, holiday presents, even our loved ones move safely and swiftly across our vast country.
Edwin: Edwin from Dallas. I love trains. I plan vacations around Amtrak, I take dark to restaurants, I take dark to work sometimes if I have enough time, I just really wish that they take care of their workers better on the big national railroad.
Melissa Harris-Perry: As Edwin noticed, lately many of these workers who are so crucial to every facet of the economy haven't been feeling the love. Unlike about 80% of civilian workers in the US, rail workers are not guaranteed a single day of paid sick leave, not one single day. After three years of failed negotiations between rail unions and companies, more than 100,000 workers from 12 railroad unions threatened to strike earlier this year.
In September, the Biden administration brokered a deal between the rail companies and union leaders, but members from four out of 12 unions voted not to ratify the deal, which included just one pay personal day per year. With the December 9th strike deadline looming, the Biden Administration called on Congress to enforce the September agreement by barring all rail workers from going on strike, because when the trains aren't running, the economy ain't running. Congress agreed and President Biden signed the deal earlier this month. This leaves rail workers with very little room to legally exercise their basic rights as workers.
Jeff Schuhrke: One of the biggest issues that came out near the end of bargaining was sick leave. That may surprise a lot of people but they don't have any guaranteed sick leave paid or otherwise. If they get sick or if they have to go to the doctor or take their kids to the doctor, they can be penalized for that, they can be fired for it. I'm Jeff Schuhrke. I'm an assistant professor at the Harry Van Arsdale Jr. School of Labor Studies at SUNY Empire State College in New York.
Melissa Harris-Perry: Jeff helped explain the current railway labor dispute and how it's connected to ongoing struggles.
Jeff Schuhrke: This current dispute you could say it goes back maybe 25 to 30 years with the deregulation of the freight rail industry. Some of the major operational changes that the rail carriers have been doing around this what they call precision scheduled railroading. Which is really just cutting a lot of costs, reducing staff and it has created a really a staffing shortage and a whole lot more work falling onto the shoulders of the rail workers who are still there.
Melissa Harris-Perry: Help us understand the major demands the key issues that real workers are fighting for.
Jeff Schuhrke: Originally, the demand was 15 days of paid sick leave. Near the end, some members of Congress were trying to put in at least seven days of paid sick leave. That was the major thing that made a lot of headlines in recent weeks. Really, it's much bigger like I was talking about this precision schedule railroading where rail carriers have been cutting costs, staff has been reduced by about 30% in the last six years. In the last six years, there's 45,000 fewer rail workers than there were before, so these issues of just long hours, unpredictable schedules, really draconian attendance policies, because there's so many fewer workers now to operate the railroads that the workers who are still there, there's just so much more expected of them.
They don't have time to have a life or to see their kids grow up. They have to use their vacation days if they get sick. It's not a normal 9:00 AM to 5:00 PM Monday to Friday job, it's there on call 24/7. There have been some cases of people actually being penalized for taking sick leave.
Melissa Harris-Perry: What are the jobs that are rail jobs that we're even talking about here?
Jeff Schuhrke: The engineers and the conductors who are actually on the freight trains, the trains themselves. This may or may not surprise people, there's only two people operating those big freight trains. It might be a mile long or two or three miles long carrying everything from agricultural products to chemicals, fuel. There's only really two workers on board, but then there's also the people who operate the signals so that the engineers conductors know when to go and when to stop.
There's also people who work on the infrastructure, people who repair the locomotive engines when they need maintenance. There's people who repair the actual tracks when they need maintenance. Altogether, there's 12 different unions representing these different crafts on the railroads.
Melissa Harris-Perry: How is it the Congress ended up with the power to simply pass a law that imposes a labor agreement between rail companies and workers?
Jeff Schuhrke: Railways and airlines are under a 1926 law called the Railway Labor Act. It is unique because these are important transportation sectors of the economy. It goes back to the 19th century, the railroads being really at the center of the industrializing economy, moving freight-- it was because of the railroads that we first had a national supply chain where products grown in one part of the country could be sold and consumed in a completely different part of the country. Workers on the railroads were often highly exploited, working long hours for low pay.
There were a number of these epic labor conflicts where rail workers in the late 19th century, early 20th century would go on strike and shut down rail traffic across the country. That meant food and fuel wasn't moving from point A to point B and people weren't moving. Obviously, this is before interstate highways and cars this is before airlines. The whole countries that could pull national economy would grind to a halt because of these conflicts, and the federal government would often step in with force sending in the military, the National Guard, put an end to the strikes pretty violently.
Finally, in 1926, the Railway Labor Act was passed to try to solve these problems in a way just to allow the rail unions the right to negotiate with the rail carriers, and to in theory have the legal right to go on strike. The Railway Labor Act included all kinds of obstacles to basically make sure a strike would never happen. That included forcing railroads and the unions to have to enter into mediation before a strike could happen. Then allowing the President of the United States to create a panel of experts called the Presidential Emergency Board to study the situation and offer recommendations for how to settle the dispute.
In between all of these steps, there's these 30-day cooling off periods they call them, which is basically just to slow everything down. Then finally, as a last resort, the Railway Labor Act allows Congress to step in and just either impose a contract or further cooling off periods or more mediation. Congress can do a number of things, but the most drastic is to actually just step in and impose the contract whether you like it or not. In this case, it's important to note that a majority of the rail workers voted to reject the contract that was basically forced onto them. Congress in effect overrided union democracy or overrode.
Melissa Harris-Perry: Rode the rails over.
Jeff Schuhrke: Right.
Melissa Harris-Perry: [chuckles] Help us understand how the rail industry is so profoundly integrated into the American economy.
Jeff Schuhrke: It goes back to the 19th century, especially after the Civil War ended in 1865. The United States really started to industrialize the growth of railroads. There was something like 35,000 miles of railroad track in 1865 when the Civil War ended. Within 50 years, there was 250,000 miles of railroad. This really condensed time and space in the country. Before the railroads economies were very just localized or regional and now for the first time you had a national economy, an integrated national market.
Where cattle from Texas could be sent on a train to Chicago where they'd be slaughtered and butchered and then the meat would be put on refrigerated rail cars to the big cities in the east, that had never happened before.
The railroads were extremely powerful, politically connected. The railroads became the poster child for corporate greed for political corruption and for worker exploitation, really just vital part of national supply chain which in the 20th and now 21st centuries has expanded into a global supply chain and the railroads still play an important role in that. Even just something like time zones, the railroads invented time zones in 1883 because before then communities just had their own time zones based on where the sun was in the sky, and this was very inefficient for the railroad companies because they would want to predict when a train would arrive in a certain location, when it would depart from a certain location. It can be very confusing, and the railroads were so powerful that they could just cut North America into these four time zones that they said, this is what it's going to be, and it wasn't until like 1918 that Congress basically made it official, but by then everyone was already going by these.
Melissa Harris-Perry: Initially, rail workers are not organized. Help me to understand where rail labor organizing fits within that broader story of American labor organizing.
Jeff Schuhrke: There had always been workers advocating for themselves and trying to collectively advocate for themselves. With railroad workers, it was because the railroads themselves were this nationally integrated network. There can be a national movement of workers, but early on it was messy, and spontaneous, and unpredictable. One of the most famous labor conflicts in US history was in the summer of 1877. It's often called the Great Railroad Strike of 1877, or the Great Upheaval, which started on the Baltimore and Ohio Railroad in Martinsburg, West Virginia, where the workers were told that they were getting a 10% wage cut just a few months after another wage cut that they had got.
The workers just among themselves, organizing, talking to themselves said that they weren't going to take this anymore, and they decided to go on strike. Word of that spread along the tracks to Baltimore and then to Pittsburgh and New York, and then eventually Chicago and St. Louis, and workers, first railroad workers, and then workers in other industries started going on strike. This was a period where they would be working 10 to 12 hours a day for poverty wages with absolutely no-- there was no social safety net legal rights on the job, and also the 1877 was in the middle of a major economic depression.
It's called a strike, but it really resembled more like a national uprising with rioting happening and property destruction, workers destroying some of the rail infrastructure, and burning the rail cars. This is why police and National Guard and the Army would be brought in during the great railroad strike of 1877, it lasted only about a couple weeks, but about 100 workers were killed by law enforcement or the military.
Coming out of this, the workers realized they needed to have more organization, they needed to have more strategic planning, and if they were going to go on strike, how they were going to do it in an orderly way that they could actually exert real pressure strategically and win. This is how organizing started, but it was this explosive process at the beginning.
Melissa Harris-Perry: What kinds of gains were strikes able to achieve for rail workers?
Jeff Schuhrke: Early on there was a lot of defeats that strike in 1877, another very famous one in 1894, the Pullman Strike ended in a defeat. Although after the Pullman Strike, the federal government has a way to conciliate the working class. The federal government created Labor Day right after the Pullman strike of 1894. That was something, but just before the US entered World War I, the railroad workers were again threatening a strike, and this time the federal government decided instead of trying to just crush them to actually give them what they were asking for and giving them the eight-hour day.
The railroads were one of the first major national industries to secure the eight-hour workday. That was an important gain. One of the rail union activists who I talked to recently made this point that for the workers throughout history and right up till the current labor dispute on the railroads, the point is really to try to put up some kind of a fight to show that you're willing to strike or actually go on strike, and even if the government shuts it down, you can still build up organization to continue the struggle later on.
We're seeing this right now with now this call for seven days of paid sick leave, that hasn't gone away, and there's movement to try to pressure President Biden to issue an executive order to allow seven days of paid sick leave on the railroads. There's talk about how they're going to- in a couple of years, the rail unions are going to enter into negotiations all over again, and so they're already starting to strategize and plan how they're going to try to be more united and what kind of demands they're going to put forward. Often is just building, even if it's a defeat in the short term, it's building towards more victories in the future.
Melissa Harris-Perry: Jeff Schuhrke is assistant professor at the Harry Van Arsdale Jr. School of Labor Studies at SUNY Empire State. Thank you for joining me to talk trains, Jeff.
Jeff Schuhrke: Thank you. It's been a pleasure.
Melissa Harris-Perry: All right. The takeaway train is make it a quick stop, but don't you get off yet. Next, we're taking a look back at some of the epic battles when rail workers put everything on the line to win basic rights. Next on The Takeaway.
[music]
[train horn]
Melissa Harris-Perry: Welcome back aboard The Takeaway train. I'm Melissa Harris-Perry. We've been digging into the vital role that trains and the people who run them play in our country today and throughout our history. Railroads were the site of crucial early labor organizing, but many workers were excluded.
Manu Karuka: I'm Manu Karuka, author of Empire's Tracks: Indigenous Nations, Chinese Workers, and the Transcontinental Railroad, and I'm an assistant professor of American Studies at Barnard College.
Melissa Harris-Perry: Some 20,000 Chinese immigrants endured grueling labor and racist brutality as they built the Transcontinental Railroad. Thousands died as a result of the hazardous conditions and Black workers, many of whom were newly emancipated faced similarly inhumane working terms. Manu's work reveals how the story of the American rail is also the story of American immigration law, race, and empire.
Manu Karuka: In California, there was a convention of Black citizens called the State Colored Citizens Convention, and they met in San Francisco and presented a report proposal to the Central Pacific Railroad, arguing that the Central Pacific should hire Black workers who would march across the continent and do the labor to build the railroad. Of course, the railroad directors received the proposal but they turned it down and instead they hired Chinese workers. One reason they did so is they found that this would lower the wages that they had to pay and increase their profits. They experimented continuously pitting the Chinese workers against other groups of workers.
Melissa Harris-Perry: I grew up hearing the story of John Henry, the legend of the African American rail worker who beats the steam drill laying the American railroad. Suddenly, it occurs to me that this may be the story of an African-American legend, but I'm wondering, is there also something I'm missing here about John Henry and Chinese real workers?
Manu Karuka: Of course, John Henry is one of the great folk stories of the United States. It's a story about a person, human strength, up against machines, up against these new machines that could work continuously in a way that humans couldn't. It's this story of human strength, but at the cost of life, and it's this memory of workers in the south during reconstruction and after the defeat of reconstruction, and workers in the southwest in the mines, and on the railroads and workers in the west.
Each of these places we see the application of industrial technologies and workers, different groups of workers divided socially competing with these new machines and also competing with the new organization of labor. These corporations and trying to figure out how could they rest power over the process of the pace of work, the speed of work, the number of hours they were working every day, and the wages they would receive for wrecking their bodies day after day, month after month, season after season.
Melissa Harris-Perry: What were some of the other costs that had to be paid because of this lack of labor protections?
Manu Karuka: The Chinese workers actually incredibly organized a strike in the Sierra Nevada mountains, and they timed the strike perfectly for when it would affect the bottom line of the company most severely, and the strike demands I think they tell us a lot. Among the strike demands were the demand for the right to leave work whenever they wished, and another strike demand was not to be whipped at work. These two demands are not at all associated with what we think of industrial labor or free labor, to quit your job whenever you want.
They had to go on strike to try to get that right, and of course, the right not to be physically attacked, whipped. This is after slavery is made illegal in the United States. It's after emancipation and it's on what we associate as one of the great modern infrastructures.
Melissa Harris-Perry: Talk also about the ways that these laborers, or rather the behavior towards, and policies towards these laborers affected the US system of immigration.
Manu Karuka: It was a great upsurge of organizing among rail workers, particularly white workers, and in 1877 there was a wave of historic rail strikes across the country. It was a moment of great possibility. These rail strikes were defeated and they were defeated at the same time that reconstruction was defeated in the South, and in the aftermath of this defeat, these rail workers, many of whom were immigrants, white immigrants, they started to turn their ire against Chinese workers.
They diverted their criticism, their critique away from the corporation, away from the machine, and they turned it against Chinese workers instead saying that Chinese workers were driving their wages down. These organizing efforts that they had eventually led to the movement towards Chinese exclusion, which culminated in 1882 and the passage of the Chinese Exclusion Act, the first federal law that barred a specific racial group from entering the United States.
Melissa Harris-Perry: What is it that the railroads left behind as it charted West?
Manu Karuka: I was student of Du Bois and I've studied Du Bois very carefully and I believe his book Black Reconstruction is really the high point of historical research and writing in the United States. Du Bois has a crucial chapter of what he calls the counter-revolution of property and the defeat of reconstruction, he argues, was actualized by this counter-revolution of property, it was a counter-revolution because reconstruction provided revolutionary possibility for the lives of freed people and poor whites in the south.
Public education, access to health care, access to housing, access to public loans, public credit, and of course, democratic participation. All of this was lost with the counter-revolution of property as Du Bois argues. Part of the story, I think, with the counter-revolution and property is westward expansion, the energies and the capital and the possibilities that were being invested for a short period in the US South to make the meaning of emancipation real, those energies and those promises were diverted, by property by the owners of property into westward into what we now call and remember, is westward expansion.
There's nothing ordained about the expansion of the United States, west of the Mississippi River. This was instead, a process by the owners of capital, these huge corporations by the investors in these corporations, and also crucially by the US military, which worked with these corporations and we diverted its resources. Again, away from the USL in the aftermath of the civil war, and instead towards the invasion and occupation of indigenous lands west of the Mississippi River.
Melissa Harris-Perry: Even as the Transcontinental Railroad is moving west in this way, talk about the ways that Indigenous folks, native folks resisted.
Manu Karuka: One of the nations I write about is the Pawnee Nation, which was actually allied with the United States in this process of railroad construction in some ways, but there was resistance taking place. The Pawnees had signed a series of treaties with the United States and in these treaties, the United States promised to teach the Pawnees how to farm and it promised to provide schools. Pawnees, of course, had been farming for generations, it was Pawnee women who have been doing this work, Pawnee children were learning they were being taught by their grandmothers.
These promises on the face it promises from the United States were actually we could think of them as gendered forms of control to usurp the relationships and the power of Pawnee women. This brings us to the question of resistance because over decades, the amount of land that Pawnee women farmed, since these treaties had begun increased. By the time the railroad was being built, Pawnee women were farming five times the amount of land that they've been farming since the first treaty have been signed. That I think we can think of his resistance at the same time that the commercial farms run under the treaty, were actually declining and significance.
Melissa Harris-Perry: Tell us if there are connections and parallels that you see between this moment and this history about what you write?
Manu Karuka: There's no point at which this westward expansion was understood to be inevitable. The map of the United States that we associated now with the idea of the United States, it's not inevitable, it's not historically inevitable and if it's not historically inevitable, it suggests that it's not permanent either. I think studying history in a careful way brings us back to the sense that history was made, the sense of possibility, we don't know what will happen the next month and next year.
Melissa Harris-Perry: Manu Karuka is assistant professor of American Studies at Barnard College, and author of Empire's Tracks: Indigenous Nations, Chinese Workers, and the Transcontinental Railroad. Thank you so much for talking trains with me today.
Manu Karuka: Thank you for having me on.
Melissa Harris-Perry: What's the takeaway from this story? That history is not an inevitable freight train barreling down the tracks, it's also the moral of our next story about Pullman porters and the engines of power they built.
Bob Lettenberger: If you look at the March on Washington as Dr. Martin Luther King, Jr. is giving his famous I Had a Dream Speech on the steps of the Lincoln Memorial, you're going to see a lot of folks there from the Brotherhood of Sleeping Car Porters, I'm Bob Lettenberger, associate editor Trains Magazine.
Melissa Harris-Perry: Now, Bob is also the former Director of Education at the National Railway Museum in Wisconsin, where he curated exhibits about a group of rail workers who formed the first black LED black member labor union in US history, the Pullman porters.
Bob Lettenberger: The porter really was your custodian, your butler, your servant throughout the trip, he was there to take care of everything that you needed. George Pullman in the middle part of the 1860s, he didn't invent the sleeping car, but he perfected the idea of sleeping accommodations on rails. Now, one of the things that Pullman found key to his success was providing service like someone would receive in their Victorian-era, home or in a nice hotel of the time, and to provide that service on each Pullman sleeping car, there was a Pullman Porter.
The Porter had over 200 rules to follow to provide this service and it was designed to be an impeccable travel experience for the passenger. About 98% of all porters that worked for Pullman, through the course of time were African Americans, were in the time period right after the Civil War and Pullman literally hired some of his first African Americans from the southern states. It was a great job opportunity but yet Pullman wanted somebody who could follow rules could up here to Muir to the passengers. They had to make sure the car was ready, count the linens, make sure there was enough linens, make sure the car was clean, make sure everything was functioning properly.
The Porter was also responsible for making sure that you were prepared to the train at your station as if that whole list was not enough, porters were known to have to take care of passengers that had become inebriated and get them back to their quarters and settled. They were expected to take care of medical emergencies, you name it, it could be requested of a porter. In fact, there was kind of an old joke in the railroad world that part of the standard equipment that came with a Pullman car was the porter, almost referencing them as a tool. The dehumanization is really sad and tragic.
Melissa Harris-Perry: Tell me how the Pullman porters begin a long history of building collective worker power.
Bob Lettenberger: For African Americans of the time, the late 1800s, early 1900s even up into the time of World War II, the job as a porter was an incredible feat. It was steady work for them for the time, it was good money to lose a job like that, created a lot of tension and a lot of pressure for the porter. They were trying their utmost to fulfill what Pullman wanted. Now, at the same time, there was a lot of passengers that treated porters very well but there were also those that did not respect porters as human beings.
If a passenger began slurring racial epithets at a porter, the porter could not rebuff them. Porters generally also were not even addressed by name, the old Southern plantation style was that slaves were called by the Masters name. Well, in this case, the master is George Pullman, and many porters were addressed simply as hey, George, pretty demeaning because we all have respectable and honored first names. It was not until the formation of the Brotherhood of Sleeping Car Porters, the first minority labor union in this country that the porters gained the right amongst other things to put a small card in the sleeper saying that today you are being served by and have their full name.
Melissa Harris-Perry: At the same time that there is this strain, that there are 10,000 Black men all named George, it's also that the Pullman porters again, moving across the country, being in this intimate contact with customers. They're also passing the news, they're basically the social media network of the time, is that right?
Bob Lettenberger: You've nailed it right on. Melissa, it's a slow motion, or I should say, let's call it train speed of social media network. One of my favorites is when you think about Chicago, settled by basically Caucasian Europeans, they're not singing the blues. That blues music it comes from the Delta from the south, the old field songs and here you have the porters bringing that type of music to the north, or we're taking music or culture that they have picked up really anywhere and transferring it to somewhere else in the country, an incredible pre-electronic social media network, to say the least.
Melissa Harris-Perry: If we come to this somewhat more contemporary moment, let's get to the Civil Rights moment. Tell us how the Pullman porters lay the groundwork, maybe they lay the track for the modern Civil Rights Movement.
Bob Lettenberger: It's Philip Randolph, who was hired by that nucleus group of porters that would become the Brotherhood of Sleeping Car Porters, when he was brought on by them and started look at what their struggles were and what they were going, what they were up against. Randolph and the porters realized now this just isn't labor that we're talking about. We'd like a raise and we'd like better working conditions but they came to realize that this is more than just a labor union for the Pullman porters. Now we springboard into what is happening in this country in the late 40s, the 50s definitely the 60s, and the Sleeping Car Porters go we need to take this to a bigger stage.
We need to work and help everybody. Yes, the Pullman porter's organization in a lot of ways became an instrumental backbone in the American Civil Rights Movement. If you look at the March on Washington as Dr. Martin Luther King Jr. is giving his famous I Had a Dream speech on the steps of the Lincoln Memorial. You look around him and if we had one of those little pictures, I had the numbers by the people going who's who? You're going to see a lot of folks there from the Brotherhood of Sleeping Car Porters.
Rosa Parks when she tangled with the folks for her seating on the boss, one of the first people that she called to help get her out of custody, it's a gentleman named Ed Nixon. Nixon Popularly was known as the local chapter president for the NAACP. He was also a Pullman porter and at the time that the bus boycott was being organized there was some meetings that Nixon was unable to attend because he was on a train going somewhere working as a Pullman porter. The Springboard was natural and the porters were very strong in that American Civil Rights Movement.
Melissa Harris-Perry: Bob Lettenberger, associate editor of Trains Magazine thanks so much for joining us on The Takeaway today.
Bob Lettenberger: Thanks much for having me.
Melissa Harris-Perry: All right y'all we're coming to the end of our show but every train has a caboose and you are what keeps The Takeaway on track, so we wanted to hear your train stories.
Gay: This is Gay Edelman from Redbank New Jersey. I love trains. I've commuted from Monmouth County to New York on and off for the last 40 years. I moved here for the trains on my vacations, I jump on Amtrak. I've been to Florida, used to go back and forth to Raleigh. I'd rather take a train than drive or fly sometimes even walk. I love rain model trains, big-honking Amtrak, and Jersey Transit trains. Woo. I love trains.
Melissa Harris-Perry: Some of you nearly sent us off the rails. Here's a poem we received.
Jonathan: Hi, this is Jonathan Juan on New York. Trains and me started small when I was four years old as I recall, underneath that Christmas tree dad set up a pre-war marks toy trained for me. I loved the sparks through my youth at various stages I hobb with trains of various gauges until now laid in my upper youth on the Long Island Railroad I do commute. Home to work and back again for 12 hour shifts from 10 to 10. The train is often cold or slow or delayed but why is rudeness so easily displayed? I remember I'm on a train and in time all this will be gotten when I hear that. [train horn]
Melissa Harris-Perry: One of you has taken this model train hobby to a whole new level.
Jim: Hi this is Jim from Colfax Wisconsin, and I love trains. In fact, I love trains so much that I bought an authentic 1921 wooden railroad caboose and moved it across two states, and parked it on railroad tracks that I put in my front yard. Thankfully my neighbors thought it was cool too and especially today when it's snowing Wisconsin it looks beautiful there in red surrounded by all the white snow.
Melissa Harris-Perry: Listen some of y'all had us Googling terms we'd never even heard before.
Paul: Hi, it's Paul in Minneapolis and I'm a foamer. When I hear a train whistle I start filming at the mouth. That goes back to my very first Christmas 1952 when my dad got me a lionel train set. I have begat another foamer and he has begat another foamer. We ride Amtrak whenever we can and hope that the new Congress will be kind to them.
Melissa Harris-Perry: We learned a lot about trains and the imaginations of our youth.
Sue: My name is Sue. I'm calling from Charleston South Carolina. Yes, I absolutely love trains. I grew up being able to hear trains whistle in the morning and echo off of the rocks because we lived in a valley. That sound is just near and dear to my heart and enjoyed talking to engineers and conductors back when they had caboose.
Melissa Harris-Perry: One thing is certain, America would not be what it is today without trains. All right. We're pulling into the station. Thanks for riding The Takeaway train with us and we'll be back next week. Listen out for more train stories. Here's a shout-out to The Takeaway team. Our producers are Katerina Barton, Ryan Wild, Mary Stephan Hagan, Katz [inaudible 00:35:42] and Monica Morales Garcia.
Our amazing intern is David Escobar, our director and sound designer this week with Vince Fairchild, while Jay Cowit is enjoying a little time off. Our board operator all week was Sham Sondra. Our line producers this week are Jacklyn Martin and Katerina Barton. Zachary Bynum is our digital producer. Our senior producer is Shanta Covington, and our interim executive producer is Lindsay Foster Thomas. Thanks as always for being here with us. I'm Melissa Harris-Perry, and this is The Takeaway.
[music]
[00:36:44] [END OF AUDIO]
Copyright © 2022 New York Public Radio. All rights reserved. Visit our website terms of use at www.wnyc.org for further information.
New York Public Radio transcripts are created on a rush deadline, often by contractors. This text may not be in its final form and may be updated or revised in the future. Accuracy and availability may vary. The authoritative record of New York Public Radio's programming is the audio record.