How the New Sitcom "Rutherford Falls" Goes Far Beyond Token Native Representation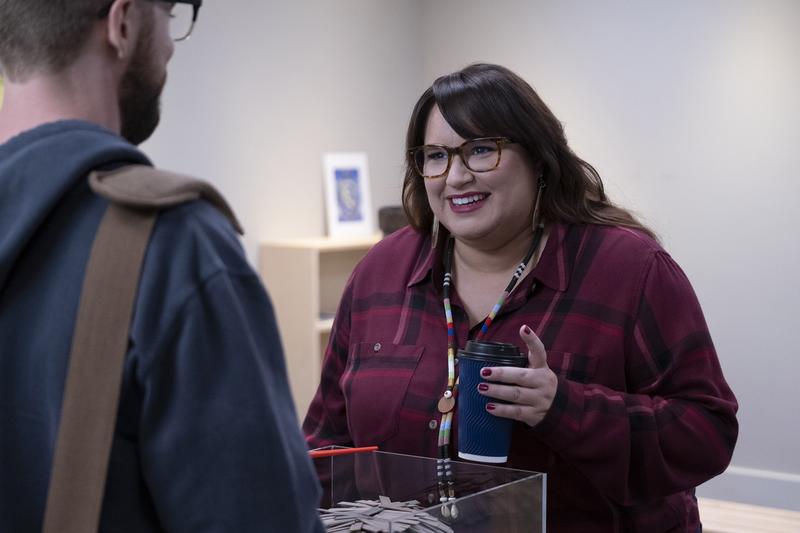 Transcript
Tanzina Vega: This is The Takeaway. I'm Tanzina Vega, and we're going to round out the hour talking with two of the people behind a new sitcom that's at the forefront of a new wave of native representation in television.
Sierra Teller Ornelas: Hi, I'm Sierra Teller Ornelas. I'm a member of the Navajo Nation. I'm Edgewater, born for the Mexican people. I am one of the co-creators and the showrunner of Rutherford Falls.
Jana Schmieding: My name is Jana Schmieding, I am [unintelligible 00:00:24] in Cheyenne River Lakota Sioux Tribe, and I am a writer and I'm a lead on Rutherford Falls.
Tanzina Vega: Rutherford Falls premieres today on the NBC streaming service Peacock, and Jana stars in it as Reagan Wells, a member of the fictional Minneshonka Tribe. Her character is the best friend of Nathan Rutherford, played by Ed Helms, whose ancestor was one of the first white settlers to arrive in the town. In the show, calls to remove a statue of Nathan's ancestor from the town's center, set off a ripple effect for the two friends and the town as a whole.
The two writers find themselves at different points in their careers. Sierra is a sitcom veteran who's written for shows including Brooklyn Nine-Nine and Superstore, whereas Jana is a former public school teacher who hadn't worked in a television writers room before. But for both of them, Rutherford Falls was their first time working on a show where the writing staff was 50% native. I spoke with Sierra and Jana about going beyond token representation with their sitcom.
Sierra: Before I start [unintelligible 00:01:29] My name is Sierra, I'm a member of the Navajo Nation. I'm Edgewater born for the Mexican people. Thank you so much for having me here today. Yes, I've worked on many shows before, and I've worked on shows where there was one other Latina writer, even if there was a Latina star, but there wasn't-- half the room was representative of one of the leads if they came from a marginalized community. Working in television for 10 years, I was like, "It's going to be great to have like one, maybe two native writers on staff," was my initial inclination.
Then Mike Schur, who co-created the show along with Ed Helms, the three of us, he asked, how many writers do you want in the room? Just writers, total. I said, "I want 10." He goes, "Okay, well, then five should be native." I was like, "Wow, okay." That's the dream, but knowing that he had said that, really just opened so many doors in terms of, if there was ever any question, if there was ever anything, I could just say, "Mike Schur, Grand Poobah of television said we want five." It just afforded us a lot of opportunities to really go into community and see a lot of different types of native writers and create this room. It was just a wonderful experience.
Tanzina: Jana, you're one of the stars and the writers in that room. What's the writer's room like for you? Is it the first time you've had that experience?
Jana: Yes, this was my first staff writing job. I was trying for a few years to work in TV and to get staffed as the writer and I was really-- I wasn't getting anywhere with my samples. They were native female-centered stories. I really believe that it took another native woman in a producer role to pull me up and pull me into the project.
The writer's room has been an absolute dream. It is so fun to work with every single person in our room. We have a very diverse room beyond just having five native writers. Yes, it was a dream come true. We had so much fun, we didn't have to really mess around with a lot of the native 101 stuff, we just jumped right into storytelling. It was a very fulfilling creative experience for me.
Tanzina: Speaking of the storytelling itself, and bypassing the whole native 101 stuff. Oftentimes when native people are depicted on screen, it's in very either serious roles or stereotypical roles. What does it mean to see native sitcoms or a sitcom centered around native characters?
Jana: It's been wonderful in that we were able to reflect the conversations that we had in the room where you could talk about something like casinos or talk about something like capitalism, and have three very distinct opinions about it and also very funny opinions. Normally there's, if you're lucky, one native character, sometimes only on one episode, and they're expected to carry on their shoulders "the entire native perspective" and we on the show are so much about saying this is a native perspective, this is not the native perspective. That native people are varied even within their own nations.
There's over 500 federally recognized tribes in the United States and each nation is different, and even within each community, there's differences. It was just such a great opportunity to have three native characters get to have a conversation about literally anything, whether it's just like pop culture, and have different takes. It was so lovely.
Tanzina: Sierra, speaking about that, the tribe that's at the center of Rutherford Falls is the Minneshonka, and they are not a real tribe. Why did you decide to take that approach?
Sierra: I think ultimately fictitious tribes are seen as a bummer because there are so many native tribes to depict, and for so long we've been erased. We decided to have a fictional tribe because the non-native history was fake. Growing up, I had just always remembered there being so much white history that was told in this very accurate way, and the native history was coupled in a way that wasn't accurate. I just really did not want to put more fake native stories that people would misconstrue as actual history out into the media.
I worked for many years at the National Museum of the American Indian. I was a film programmer for five years, writing about Native film, showing native films. I remember there was one day where we got a call from the front desk, and there were all these teenage girls who wanted to know about the Quileute nation, and they wanted to know how they could become werewolves and how they could learn more about any kind of werewolf ceremony. We had no idea what they were talking about, and I guess they had been obsessed with this movie, Twilight.
Apparently, the woman who wrote Twilight was looking for a town where there was no sunlight, and so she found the city or found the town and realized that nearby there was a native nation and so with the flick of a pen, she just included this tribe. It really affected those people, it affected us at the museum. It really was apparent to me how quickly this impact can happen. I'm sure there will be impact no matter what, but we were very conscious of not wanting to put that on a specific nation.
We also, the writer's room itself, the five of us are from different regions of the United States. We come from different backgrounds, while we're all native, so I'm just really proud that this is a reflection of our stories and our diverse perspectives in this way.
Tanzina: How do you, Sierra, think that the show is going to resonate with native viewers versus non-native viewers? Did you think about that? Do you think about that at all, or is it really just about getting the writer's room where it needs to be and just hoping for the best?
Sierra: I think ultimately, you want to make the funniest comedy you can. You want the show to be funny, you want this show to be entertaining, but we talked a lot about Native awareness of the show and making sure that we were always in on the joke, that native people were always in on the joke, that we never punched down.
To me, there's this Chris Rock bit about how you never see six Native Americans just chilling at Red Lobster. Anytime me and my family went to Red Lobster, we'd make the joke like, "Oh, look, it's six Indians at Red Lobster." It was funny, but it was also, you never actually get to see us be mundane. You never get to see us on screen. Just be people who have lives and teenage daughters and jobs and workplace drama and romances. For us, it was very important to try to show us and our humanity and the truth of who we are as people, and that, I can't speak for Jana, but I think we were all very excited about getting the opportunity to do that.
Tanzina: Jana, what's interesting is that one of the plotlines in the show is about calls to remove a statue of a white settler who the Ed Helms character is a descendant of. Was it tricky to balance these pretty heavy stories that are based on what's happening in the real world with the lighter tone of a sitcom?
Jana: It wasn't hard to balance. As a performer or as a writer, I will say, I think that we actually had a lot of-- it was very fulfilling to explore these topics. As native people, I think we are historians because we are raised and we walk through the world defending our existence and explaining our existence to non-native people. I'm speaking generally, but I speak for myself and from what I know being in this room, we all know our histories very well.
We also know the experience of living outside of whiteness. It was a really fun opportunity to explore some of those more touchy topics and also to make jokes about them because this is how we exist. We're very adept at making commentary on colonialism and settler culture. This is our forte, I think, as native comedy writers. We also are cultural critics. So that part was actually, as opposed to being extremely challenging and trying to crack the code, that was the best juiciest part of this job, was really playing those dynamics. On screen, as a performer, I felt like I was really taken care of. Working with Ed who is not just like a comedic icon, he's also an extremely brilliant actor and he knows how to hold space for the highs and the lows that the characters are experiencing.
He was really good at encouraging me early on in the process to play and to improvise with him and if I have a bit, to talk it through with him or not, or surprise him. He's just so good at helping to cultivate an offscreen rapport with me. Then Michael Greyeyes, the other icon that I got to work with on the show, he's a university professor. He's extremely, experienced in the world of film and TV and shared so much wisdom with me, not only about the history of our people on screen, but also how to be good at this craft. That was just like, having both of those people at my side, championing me and creating space for me as a performer was like, I almost don't have words to describe how extraordinarily rewarding it was to perform with them.
Tanzina: The question, I guess, that that begs is whether or not it's possible to have a show that's an all native cast, as opposed to having a white character in the show. Is it something that networks have an appetite for right now or streaming services or not?
Jana: Yes, there is an all native cast, a TV show with an all native cast and an all native writers room called Reservation Dogs that's coming out this year on FX. So there is a hunger for it and I think that there is a desire to see native people on screen. I think the mainstream population is good and interested in learning and seeing our stories told. I don't think it's just coming, the call is coming from inside the house. We want to see our stories very badly, but I really do think that there's a hunger to see new, fresh stories on TV right now,
Tanzina: Sierra, last year we spoke on the show with the comedian Joey Clift, who's a member of the Cowlitz Indian tribe. He said that when it comes to native representation in Hollywood, that things are slowly moving in the right direction. Your thoughts?
Sierra: I will say this. People are claiming that this is the first native American sitcom show run by a native woman. That's a huge honor and I think we all feel so incredibly proud of the show that we've made. I also think this show should not have been the first in 2021. This is a long time coming. We're not the first because we are the best, we are the first because we're the first. 20 or 30 years ago, Charlie Hill, a very famous native comedian, should have had a sitcom the same way that Roseanne Barr did, because he was her contemporary. I feel like this is all a long time coming. I do think though, that the current landscape of television, nobody knows, everyone's trying to figure it out.
There's more TV than there's ever been. There's more options for television. I remember watching Transparent and Pose and being like, oh my God, this is incredible television. Part of me was like, maybe we're next. Maybe this is like the momentum that we all are hoping for and that it's happening. I think the beginning of this process was so overwhelming that I almost was like, is this--? I couldn't believe we were actually getting to do this because so many people had had been trying and so many people had wanted this for so long.
What I think lifted up all of our boats was knowing [unintelligible 00:14:06] show was coming. There's a Marvel show about a native superhero. Echo coming. Bird Runningwater and Sydney Freeland have sold a show called Sovereign to NBC. I know we may be the first, but I don't want us to be the last. I know that every native writer-- All of the writers on our show are incredible, but I do believe that every native writer on our show could be a show runner, so to me that's what's exciting. It's not to say like we fixed it and it's all done, but there is a real momentum here that I can feel beyond just our show that I'm incredibly proud to be a part of
Tanzina: Sierra Teller Ornelas is the co-creator and showrunner for Rutherford Falls, and Jana Schmieding is a star and writer for the show. Great to talk to you both.
Jana: Thank you so much.
Sierra: Thank you.
Copyright © 2021 New York Public Radio. All rights reserved. Visit our website terms of use at www.wnyc.org for further information.
New York Public Radio transcripts are created on a rush deadline, often by contractors. This text may not be in its final form and may be updated or revised in the future. Accuracy and availability may vary. The authoritative record of New York Public Radio's programming is the audio record.