How Journalists Are Covering the Post-Trump Era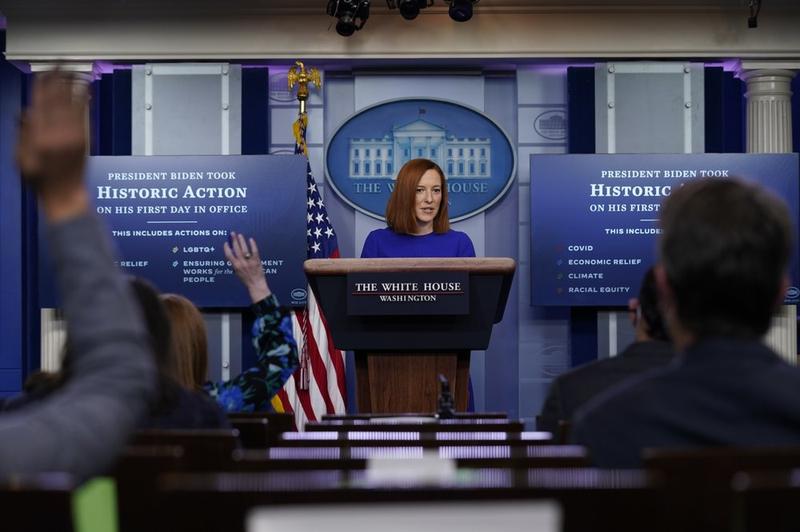 Transcript
Tanzina Vega: You're listening to The Takeaway. I'm Tanzina Vega. In her first press briefing, White House Press Secretary Jen Psaki set out to underscore just how different the Biden administration would be in its approach to the press from its predecessor.
Audio clip Jen Psaki: There will be times when we see things differently in this room, I mean among all of us. That's okay. That's part of our democracy, and rebuilding trust with the American people will be central to our focus in the press office and in the White House every single day.
Tanzina: For many White House reporters, Psaki's style is a welcome change from the more outwardly combative Trump era press secretaries, but figuring out how to properly hold President Biden accountable, even as the new administration emphasizes its commitment to a return to normal, is just one of the calculations that journalists have had to make in recent weeks.
I've got two folks here to help us talk about all this. Richard Prince is a journalist who writes a column on Journal-isms.com about diversity issues in the news media. Richard, thanks for joining us.
Richard Prince: Glad to be here.
Tanzina: Also with us is Jay Rosen, author of PressThink, a blog about journalism in the digital age and a professor of journalism at New York University. Jay, thanks for joining us.
Jay Rosen: Thanks Tanzina.
Tanzina: We'll start with you, Jay. We had about a week of White House press briefings under the Biden administration. Your assessment so far. Journalists doing the right thing?
Jay: I think it's a return to normal that is in many ways welcome. They certainly know how to ask questions and hold a government accountable. It'll be a much different atmosphere than under Trump, who very often tried to position journalists as hate objects in order to fire up his own supporters. It's a very different approach coming from the Biden government.
It was really quite reassuring to see a normal press conference, not only at the White House but at the State Department, where answers to questions that government officials should have, were given. So far so good on that front.
Tanzina: Richard, your thoughts on the press briefings from the White House so far?
Richard: I think that's great. I agree totally with Jay, but I think that the real problem is not what is said from the podium but how it's received. That is, a lot of people who are, because of all the disinformation they've taken in, just don't want to believe what the White House says, what the press says, and they're stuck in their silos, i.e Fox News or similar operations, and they will only believe what they're told by those organizations.
Tanzina: Jay, I'm curious about that, because you've written a lot about, I mean, we are coming out of the the age of at least the administration of misinformation but often I say this is the age of misinformation. You've written a lot about mainstream outlets running into problems when how they frame political issues. Have you noticed this playing out in the days since President Trump left office, which we should say we are still very early, early into the Biden administration?
Jay: I think the looming problem for the press is not covering briefings which are quite normal. It's something very different, which is that we have a political press that's premised it's work on an image of politics in which two major parties are roughly similar in the way they organize themselves and they have different philosophies and they fight it out for political advantage and elections and then the day to day of politics.
That picture of the world is underneath or serves as a foundation for journalistic practice. That was a big problem during the Trump years because he didn't obey any of those assumptions, but it's even more of a problem now because the Republican party has mutated into something else. I don't think our journalists are quite prepared to deal with a party that is counter majoritarian, meaning it doesn't respect the principle of majority rule in for example elections. Which is trying to make it harder for people to participate and to vote, which refuses to cut off.
It's a white supremacist wing and as AOC said last night, draws energy from it, and is also completely hostile to evidence and facts. As the Republican party devolves in that direction, the rules of journalism as usual simply don't apply anymore. You can't have this routines of balance and get comments from one side and comments from the other side, because you have a kind of a rogue or destructive element right at the center of our politics. I think dealing with that Republican party which is anti-democratic is going to be the major puzzle for journalists in the years ahead.
Tanzina: Richard, I'm curious, one of the things that journalists, to Jay's point, were criticized for under the Trump administration was attempting to hold up that value of both sides-ism, if you will, under the guise of some "objectivity". Have we been able to break out of that more now than we were four years ago, so far?
Richard: Yes, somewhat. We've learned our lessons in some ways, but the issue still remains of how what we say is received by the general public and by the doubters and haters, and that gets to the issue of trust in the news media regardless of all these other issues. That leads us to other issues such as who is delivering the news, how it's reported, what their frame of references are.
That leads us also to the issue of diversity and inclusion. That's something else that while this whole Trump thing was going on last year in the elections, there was also the George Floyd killing. That sort of [unintelligible 00:06:32] news media as well as the rest of the country into more introspection about the way they're reporting and who's doing the reporting and editing. I think that it's a really complicated jumble.
Tanzina: Jay, let's turn to some news here. The New York Times fired freelance editor Lauren Wolfe after she tweeted, "Biden landing at Joint Base Andrews now. I have chills." What's her firing signify? Because we know The Times has also been caught up in a lot of questions about its Caliphate podcast and the daily and other issues. Why this emphasis on firing Lauren?
Jay: We don't know the backstory. I don't. I don't have sources that would tell me what the history of this appointment is. I think we should be a little cautious about that. However, what strikes me about it is that The Times has a kind of a policy that it discourages and it penalizes journalists on its staff for saying things that critics of The Times might perceive as bias.
When your measuring stick is the perception of critics, you've entered a very dangerous territory, because there are many people in this country who would love for The New York Times to simply expire, and they are constantly claiming bias. They constantly say that New York Times is against them. If the perceptions of those people can edit your staff, you have in effect handed power to your critics, to the people who want you dead.
That is something that The Times has done before. It's written into its social media guidelines which say that you shouldn't do anything that critics will perceive as bias. I find that whole problem of perceived bias versus actual performance to be the heart of this issue and I'm not sure the editors have a good handle on it.
Tanzina: In full disclosure I should say I have worked as a reporter at The New York Times for a few years. Richard, another issue, and we don't want to beat up on The New York Times here, but these are news elements that have come into our purview. Earlier this week The New York Times published an article about European neo-Nazis, that Becca Lewis, who's a researcher who studies the far right, criticized.
It sort of has the sense that early on when the media was covering the "alt right", the media writ large was criticized for their coverage of the alt right, for giving them glossy centerpieces and photos that were flattering. What are your thoughts on this? Is there still an issue, Richard, in how mainstream outlets are covering white supremacists?
Richard: Yes, there is, but to Jay's point, let me just quickly say that it depends on whose criticism is being listened to. The Times has been criticized on many different kinds of issues from many different kinds of people for years, and not just The Times, all media. But some people's criticism apparently counts more than others. Let me just make that distinction about the perceived bias.
Now on the issue of white supremacy, I think that-- I wrote about the statement by the NewsGuild right after the storming of the Capitol, and they laid the whole, not the whole issue, but much of the issue to media literacy and misinformation. It said here, I'm just going to quote them. "It's clear that we need to prioritize media literacy in our education system. Too many people accept lies and conspiracy theories as fact. Media literacy education would provide our children with the skills necessary to understand the intent behind messages, understanding bias, determining fact from fiction, and looking for alternative sources of information."
They also went on to put some of the blame at the evisceration of newspapers, many of whom are being bought up by hedge funds, the news [unintelligible 00:11:18] being cut, et cetera, et cetera. Therefore since this whole issue of white supremacy, white nationalism, is a national issue, not just in Washington, all those places that had news deserts where they can't get the local information that they need, are feeding the misinformation, the white supremacy, the social media networks, and that's a problem that of course we need to address as well.
Tanzina: Jay, what are your thoughts on that? Has the media, "The media" gotten better or more specific or less afraid, I should say, of calling out racism?
Jay: I think there's been a change in that and they're freer to say, "This is racist." I think there has been more suspicion of euphemisms that kind of cushion the blow, Trump [crosstalk] [inaudible 00:12:20]
Tanzina: You mean like racially tinged.
Jay: Yes, things like that. I think Trump forced a reckoning with that. Although our earlier subject, The New York Times, still has this funny way of talking where it's very formal in its language and distant and institutional in its voice and that can be discordant a lot of times with some of the very threatening realities that are in the news these days. But yes, have been a little bit more direct in that way, was one of the results of the Trump years, as well as more willingness to say, "This is untrue, this is a lie," to confront falsehood directly. Those were some of the big changes we saw in journalism over the last five years.
Tanzina: Richard, what do you want to see more media outlets do to address some of these coverage issues going forward? Is it a question of hiring more people of color? Is it a question of really understanding? What should they be doing right now?
Richard: Well, hiring more people of color is certainly part of the resolution of this. Just more sensitivity to the diversity in this country, and I have to go back again to the whole issue of media literacy. It's just alarming that you have all these people out there who just refuse to believe the truth. The media have a role in establishing trust in the truth that they are putting out there so that people are--[crosstalk]
Tanzina: I was going to ask you that, Richard. Is it a question of the media not being clear enough in its questioning, for example?
Richard: Yes, but I just think it's too many people who are dismissive of the truth. How do we deal with that? I just think we just have to educate the public a little better and do what's necessary internally so that the truth that they will understand is as relevant to them, is part of the daily news diet.
Tanzina: We can only hope these things come to light. Richard Prince is a journalist who publishes a column on Journal-isms.com about diversity in news media, and Jay Rosen is the author of PressThink, a blog about journalism in the digital age and a professor of journalism at New York University. Thanks to you both.
Richard: Thank you.
Copyright © 2020 New York Public Radio. All rights reserved. Visit our website terms of use at www.wnyc.org for further information.
New York Public Radio transcripts are created on a rush deadline, often by contractors. This text may not be in its final form and may be updated or revised in the future. Accuracy and availability may vary. The authoritative record of New York Public Radio's programming is the audio record.