"How Can America Not Know This Story?": Lee Daniels on the Enduring Relevance of Billie Holiday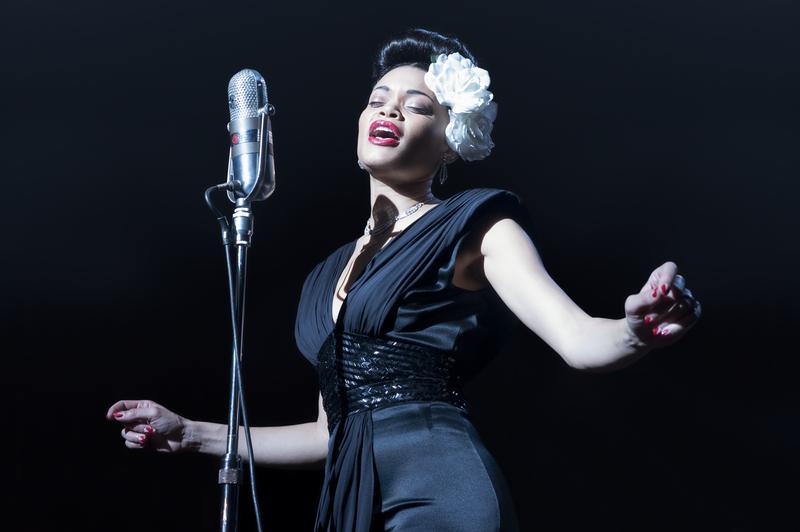 Transcript
Tanzina Vega: This week on The Experiment, how did one group of immigrant workers become the hardest hit by the coronavirus? That's this week on The Experiment, a podcast from The Atlantic and WNYC Studios. Listen and subscribe today.
[music]
Tanzina: It's The Takeaway. I'm Tanzina Vega. Decades after legendary jazz singer Billie Holiday first sang her song Strange Fruit, its legacy endures, but 21st-century fans of Lady Day might not be entirely aware of just how controversial the song was when Holiday originally performed it in the late 1930s. Director Lee Daniels says he didn't learn about the troubling history surrounding Strange Fruit until he began to work on a film about Holiday's life.
Lee Daniels: It wasn't until I read Suzan-Lori Parks's script, The United States vs. Billie Holiday, that I realized that the government and media had suppressed information about her kicking off the civil rights movement with this song of hers, Strange Fruit, which is about Black men and women being lynched.
[song Strange Fruit plays]
Southern trees bear a strange fruit.
Lee: I think what upset me most was that I thought, how can America not know this story? If America doesn't know this story, how many other stories are out there that we don't know?
Tanzina: Out this week on Hulu, The United States vs. Billie Holiday depicts how federal law enforcement officials targeted Holiday for shining a light on racial injustice.
Lee: They asked her nicely to stop singing it, and then she said no. They realized that she was addicted to heroin and that's how they got her. They took away her license to sing. In that time, that's how you really make your money. She couldn't perform any longer in New York City. They arrested her and they went to no extent. She just continued to sing the song because she understood the importance of the song.
Tanzina: When I spoke with Lee Daniels about his new film, he told me that Holiday's story has unfortunately become even more relevant since he first started to bring it to the screen. Daniels also doesn't hold back. We should warn you, there's some harsh language as he describes how he deals with the executives in his business that some of you might find offensive.
Lee: I was doing it because she was an unsung hero, but not even really connected to the now. We did it before George Floyd. We certainly did it before the noose that was at the Capitol. I think that this movie is a call to arms. This movie is a call to arms. When I did The Butler, it was really about hope. We had so much hope with-- I don't know whether you remember that last scene.
Cecil Gaines is walking down to see a Black president. I cried at the end of it. I don't see my movies very often. I haven't seen any of my movies actually once I leave the edit room. I remember going to the premiere of the film and crying. When I left the edit room for Billie, I was crying for another reason. The state of affairs that we are in and how Strange Fruit and Billie's journey is so relevant today.
Tanzina: You mentioned The Butler. I actually remember that moment clearly. I was at a screening for that film when it came out. You're right. It was a very different moment then compared to today and what we're dealing with when it comes to racial justice in this country. I want to pivot for a minute to your work in television. You've worked on Empire and Star. Do you have specific things that you prefer when it comes to film versus TV or do they give you the same type of energy? Do you have a preference for one over the other? Does the format matter to you?
Lee: I love both mediums. It's like, do you like jazz or do you like disco? Both are outlets for me to express myself and to get my work out there. I think that with television though, I hadn't done it. I didn't know what I was doing when I walked into and did Empire. I only did it because I was told by many of my friends that television was where the money was and I couldn't afford-- though I had gotten Oscars for people in such many awards, I could not afford to put my kids through college. They were about to go off to school and I was not going to take out a loan.
My partner said, "Hey, let's make another movie about-- let's make a musical, a Black musical. Empire." I was like, "No, we're going to do this on television because I want some money." I didn't know what that meant. I just thought it was like, "Okay." We've written and directed this beautiful story, which was the pilot. I don't know. I thought that was it and then they said it was picked up. I said, "Well, what does that mean exactly?" "Well, you got to go back and you got to tell us more story." I go, "Wait a minute. Hold up. I don't know whether we signed up for all of that," and-- [chuckles]
Tanzina: Keep them hooked every week now, Lee. [laughs]
Lee: I know. It was really trying and hard. It was really hard for me. Also, because in film, I am king. I am "no one questions anything." If you don't like anything in my film, it's me. Blame me, no one else, because I am the ultimate approval over everything. With television, it's by committee. It's your vision, but people are constantly giving you notes. I remember my partner, Danny Strong, who wrote The Butler for me, who co-wrote Empire with me, was like, "Lee, I know you don't take notes, but we're walking into a group of--" and he's white by the way.
He's like, "We're walking into a group of white people. Trust me. It's a room full of white people. You're going to have problems. Just be quiet, nod, and say yes," and so I did. This is the first episode and the notes then kept coming. They were stupid notes. It doesn't make any sense at all. Finally, there were literally six white people on one side of the row and then six white people on the other side of the row. Me and Danny at the head of table.
By the end of the hour, they were like, "Well, I don't understand why Cookie beats her son with a broom. Can we just take that out? I think that people will--" and I lost it. I said, "Because that's what niggas do." At the end of that, no more notes. It was Kumbaya and they let me do my thing for that season. I was able to do it, but I couldn't continue on after the first season.
Not that I don't love the characters, it's not creatively fulfilling to continue to write for characters that-- I had never done it before, so I jumped into another television show and had other people write. Maybe that was a mistake because I never responded to what was happening from the second season on. I often did Star, which I thought was important to the-- we talked about Black Lives Matter and Trans Lives and stuff that was important to me.
Tanzina: You mentioned not wanting to have to go through getting a loan for a project. You've talked about the difficulty in getting whether it's a loan or any type of funding for the films that you make. What have been some of the biggest stumbling blocks?
Lee: Actually, I don't look at it because the first movie I did was Monster's Ball and nobody wanted to do that either. I remember trying to find and get the script and trying to get the writers and all that stuff and really having to borrow from some illegal places to get my first movie go up and going. Thank God, that's like 100 years ago that I've had to go to those sources. I'm not a part of the system. I was never a part of Hollywood. I broke into Hollywood with a vision and with a specific vision that sometimes is alarming to even Black people, my own people.
Tanzina: Why is that, Lee? What do you mean by that?
Lee: Well, I mean, a lot of people were upset with my portrayal of Halle Berry for Monster's Ball. A lot of people were-- I got death threats because I had Jamal in Empire kissing a man. That was never done before. I think that I'm not aware of it in the moment, but we're breaking-- I'm paving the path for others to-- There wouldn't be a Black Panther or Insecure or any of these shows without the juggernaut of Empire.
In that though, you are doing such iconoclastic stuff, even within the culture, that you don't realize how offensive you are to people that don't want to see two men kissing on-screen, two Black men kissing on-screen while white woman having sex with a Black woman and all these. I can only tell the nuanced experiences of my people, of people that I know are real, and people I know are in pain and the preciousness of the world that will never ever have a life, which is one of the reasons I was so attracted to anybody else out there.
People were offended when I did Precious. They're like, "How can you show this Black family?" Guess what. Because it's real. It's real and people need to-- and I can't tell you how many people, how many families, how many women came up to me and cried in my arms because of Precious. With that, for every Precious, you want to take a hit with people that don't want to see that and look at me as a shit-starter, et cetera. I've taken that as-- it is what it is, but I'm going to continue to march to my own beat.
Tanzina: To that point, I could see people saying, "Well, Lee, because you have all this power, is it important to highlight pathologies in Black and brown communities rather than more uplifting stories, stories that focus on other issues within American blackness and the Black community?"
Lee: Well, I did, I thought. I really thought I did with Billie Holiday. I thought that I'm giving her a life. Here's the thing. With that life that I'm giving her, I'm honoring her as a civil rights leader. I'm also talking about her past, which people are going to be upset about, but what am I supposed to do? Lie about her past? Because that is what makes her the gym, the beauty, and the beautiful soul that she is.
She can't help but being born into what she is, what she was born into. I'm not going to lie. Everybody wasn't born into the Huxtables. We are from slaves. From that, we survived this long and have been-- that you and I are sitting here talking about it is a miracle. It's a miracle from God. I don't take that for granted.
Tanzina: We talked a little bit about Precious. Lee, I'm going to have to ask you. I'm sure you've been asked this many, many times, but regarding Precious, Mo'Nique, who won an Oscar for Precious, has criticized you several times. Last year, she told Fox Soul's Claudia Jordan that you and Oprah and Tyler Perry, all big names, were responsible for blacklisting her in Hollywood. Do you have anything to say about that? Any thoughts on that issue in retrospect?
Lee: I have no comment about Mo'Nique. I have nothing but love to send to her and, no, I never blacklisted her.
Tanzina: You have worked in Hollywood since the 1980s and you said you'd broken into it, but the #OscarsSoWhite was only a couple of years ago. I wonder whether you think the industry has made any lasting real change, not just symbolic change but actual change.
Lee: Yes, I do. You have to understand. I come from a time, I come from back-- I've been at this for a very long time. I can't believe I'm as old as I am, but I've been at this since I was 22. I'm 61 now. I was at it when a time when it was acceptable for white people to be writing and we were happy just to have a job. White people were writing our stuff. White people were directing our stuff. White people were producing our stuff.
I have been a part of the evolution of making change, not just in front of the camera but behind the cameras, making sure that Black people were employed and that gay people were employed and that trans people were employed my entire career. That was as important to me as the stories that I am telling and that I was telling. It became popular to say that this was all important, but it's a journey that I've taken, I carried myself. It was important to me as my stories.
I don't think that-- Yes. Has it changed though? Yes. Clearly, it's changed from the time that I've been in here and been fighting with the studios to hire Black people even as far back to-- I remember for Empire, John Singleton was my buddy and I wanted him to direct an episode of Empire. The system wasn't set up for Black people to direct episodes of Empire or to write episodes of Empire. The unions have white people.
I had to fight for an Oscar-nominated director like John Singleton, tooth and nail for him to direct an episode of Empire. That's where we were. That's where it was that I come from, so I see it as an enormous change. I know some of these young kids out here now, it ain't change, but I've seen it and I'm really grateful for it because I'd like to see how they could hang 30 years ago back in the trenches with me. Has it changed in a way that is groundbreaking?
No, it's not going to be that way until we have studio heads, meaning the presidents, the CEOs of studios, Disney, Sony, Paramount, Netflix until you get Black people that are at the top of that food chain that understand that hot sauce goes on a fried chicken and the collard greens before you eat them. You're not going to understand the nuance of the African-American experience. You can certainly hire producers that do that, but are you going to finance those films that are important? Do you really understand the culture the way you understand your culture?
Tanzina: Finally, we started talking about how difficult of a year this has been for so many people with the pandemic. One of the things, Lee, that we've been doing here on the show is asking guests throughout the year whether there's something they're doing in this moment to find joy, something that brings them joy in this moment. Do you have anything that you're doing that brings you joy?
Lee: I do. [chuckles] I do. My boyfriend is so upset with me because I can't, but I love CNN and I love Good Morning America. [laughs] I'm embarrassed, but I wake up to it. I wake up to Good Morning America and Robin Roberts, the one I'm obsessed with. I go to sleep listening to Don Lemon. It's a beautiful thing to get a good grasp on what's happening in the world.
Tanzina: What else can I say? Lee Daniels is the director of The United States vs. Billy Holiday. Lee, thanks so much for being with us.
Lee: Thank you.
Copyright © 2020 New York Public Radio. All rights reserved. Visit our website terms of use at www.wnyc.org for further information.
New York Public Radio transcripts are created on a rush deadline, often by contractors. This text may not be in its final form and may be updated or revised in the future. Accuracy and availability may vary. The authoritative record of New York Public Radio's programming is the audio record.