House Votes to Establish Bipartisan Commission Looking Into Capitol Attack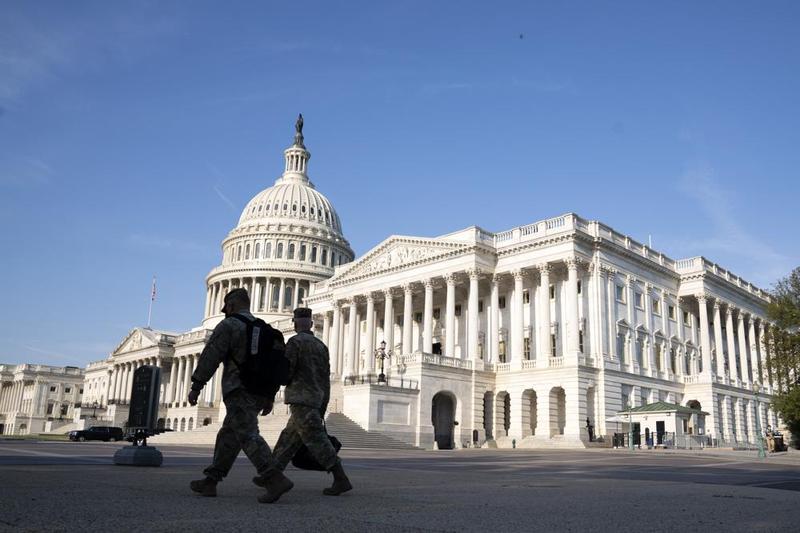 Transcript
[music]
Matt Katz: We're going to take some time the rest of this hour trying to understand the happenings in Congress this week over the formation of a bipartisan commission to investigate the January 6th attack on the Capitol. The idea to form a commission and the style of the one that investigated the 9/11 attacks has been fraught since day one.
Democrats are in favor and Republicans are, for the most part, staunchly opposed, but last Friday marked a breakthrough moment when a group of House Democrats and Republicans announced they had reached a deal. This rare Kumbaya moment, however, was short-lived. By Tuesday, four days later, Republican leader Kevin McCarthy came out against the commission. He spoke to the press later in the week about it.
Kevin McCarthy: That's the type of work we want to make sure done that it never happens again, that those who have participated in and caused it, should be held accountable, and that we secure this Capitol and we don't play politics with it. I just think a Pelosi commission is a lot of politics.
Matt Katz: Some Southern Move is throwing fellow Republican Representative John Katko under the bus.
John Katko: I strongly believe this is a fair and necessary legislation. I encourage all members Republicans and Democrats alike to put down their swords for once. Just for once, and support this bill.
Matt Katz: Katko helped negotiate the deal. This pivot may have dashed hopes for a truly bipartisan vote, and Speaker Nancy Pelosi lamented the situation this week.
Speaker Nancy Pelosi: I don't know, you'll have to ask them what they're afraid of. You have to ask them, but it sounds like they're afraid of the truth, and that's most unfortunate, but hopefully, they'll get used to the idea that the American people want us to find the truth.
Matt Katz: Before the bill came up for a vote, the house was filled with passionate debate.
House Member 1: One question encompasses everything. What happened? A two-telling commission we'll set the record straight.
House Member 2: The crisis at our border is unlike anything we've ever seen. Democrats would rather spend $2 billion on a wall around this building and DC.
House Member 3: This bill is not about politics. It's not about settling scores. It's about ensuring that every person who comes onto the Capitol grounds is safe and is protected.
House Member 4: You see what's going to happen with the January 6 Commission is the media is going to use this to smear Trump supporters and President Trump for the next few years.
House Member 5: There has been an active effort to whitewash and rewrite the shameful events of that day to avoid accountability and turn away from difficult truths.
Matt Katz: Nevertheless, after hours of speeches and debates, the House voted in favor of the Commission.
Speaker Nancy Pelosi: On this vote, the yeas are 252, the nays are 175. The bill is passed.
Matt Katz: Just 35 republicans voted to support it. In fact, Congressman Greg Pence, brother of former Vice President Mike Pence, voted against the bill. If you remember some insurrectionists chanted "Hang Mike Pence" during the attack on the Capitol.
Insurrectionists: Hang Mike Pence. Hang Mike Pence. Hang Mike Pence. Hang Mike Pence. Hang Mike Pence.
Matt Katz: Some Democrats were not pleased, to say the least.
Tim Ryan: Holy cow. Incoherence, no idea what you're talking about. Benghazi, you guys chased the former Secretary of State all over the country, spent millions of dollars. We have people scaling the Capitol, hitting the Capitol police with lead pipes across the head, and we can't get bipartisanship.
Matt Katz: House Democrat Tim Ryan from Ohio.
Tim Ryan: What else has to happen in this country? Cops, this is a slap in the face to every rank-and-file cop in the United States. If we're going to take on China, if we're going to rebuild the country, if we're going to reverse climate change, we need two political parties in this country that are both living in reality, and you ain't one of them.
Matt Katz: Senate majority leader Chuck Schumer vowed to bring the bill up for a vote in the Senate.
Chuck Schumer: I will put the January 6 commission legislation on the floor of the Senate for a vote, period. Republicans can let their constituents know, are they on the side of truth, or do they want to cover up for the insurrectionists and for Donald Trump?
Mitch McConnel: I've made the decision to oppose the House Democrat's slanted and unbalanced proposal for another commission to study the events of January the 6th.
Matt Katz: With me now is Tom Kean, chair of the 9/11 Commission and former New Jersey Governor. He's a Republican for context. Governor Kean, nice to speak with you again, and welcome to the show.
Tom Kean: Thank you very much. Good to be with you.
Matt Katz: Also, here is Nick Fandos, congressional correspondent for the New York Times. Nick, welcome back to The Takeaway.
Nick Fandos: Thanks for having me.
Matt Katz: Governor Kean, I imagine you've been thinking a lot about your work on the 9/11 Commission as this debate over a possible 1/6 commission moves through Congress. What do you think was so important about the 9/11 Commission and the report that you published, which by the way was so widely read, it even reached bestseller lists?
Tom Kean: It was a unique event in American history. We didn't know a lot of the answers. Congress did an investigation because Congress has not got enough staff or enough time or They get distracted, whatever, they weren't able to do a complete investigation. A lot of people, including the families in 9/11, demanded the facts and demanded something different be done. Really, due to public pressure at that point, and only due to public pressure, the Congress authorized the bill, the President signed it, and we were set up.
The important thing is, it was truly bipartisan. It was unanimous in its recommendations. It went over all the facts. We made 41 recommendations, most of which were enacted, the whole intelligence system of the country was redone, and we haven't had an attack of that kind, or contemplated attacks of that time since. It was a successful committee supported at the end by 85% and 90% of the American people so it worked. The bottom line is, it was an important event, you can do this, and it works.
Matt Katz: Given that, Governor Kean, how do you think Congress should proceed in terms of establishing a similar bipartisan commission to look into the January 6th attack?
Tom Kean: I think this is an important enough event. The first time something's happened in the Capitol since 1814. This is important enough. We need answers that we haven't got right now, how wide? Who's conspiracy? Who was involved? Was there a conspiracy? Was it, or just a riot? What are the facts? I don't think the American people really know that yet. The way to find it really particularly important right now, with Congress so polarized, the important things to do is to have an investigation that is credible, that the people accept, that's truly bipartisan. Once we've done that, and found the facts, we can make recommendations, so this kind of thing can never ever happen again.
Matt Katz: Governor Kean, you're a former Republican Governor of New Jersey, what do you think about the fact that just 35 Republicans in the House voted with Democrats in support of this commission, and now Senator McConnell is opposing it? What do you make of that?
Tom Kean: I'm very disturbed by it because Congress, and we got an expert on Congress on your show here, so I shouldn't be saying it, but it looks to me and a lot of the American public, is that Congress doesn't work anymore. They just can't do the really important things anymore, and partisanship and a whole bunch of other stuff gets in the way.
If the Congress isn't going to work, then you've got to find ways to do the most important things without Congress. That's, I'm afraid, where we are right now, and what Congress is saying, I think right now, or at least the Republicans a lot them are saying, "We can't do this anymore. Not in a fair way. Not in a bipartisan way. We can't really do investigations that are going to be credible with the American people." That's been one of the primary functions of Congress over the years. If they can't really do this, can't really set up a bipartisan commission, can't agree on that, then I think we got problems in the future for democracy.
Matt Katz: We'll go to our congressional expert, Nick Fandos, from the New York Times. What are the chances that the Senate gives a green light to create this January 6 commission?
Nick Fandos: I think it's looking increasingly pessimistic after this week that the Senate will come up with 10 Republican votes to join with all 50 Democrats to approve this. There was a brief window of time where it seemed as if it might be possible on Tuesday as House Republicans were coming out against the commission and mass. Mitch McConnell, the Republican leader in the senate said he was open to it and willing to hear the arguments. He had some minor quibbles. They seem like things that might be overcome, and we heard-- I was talking to a lot of his members who seem to like this idea. As the governor was saying, take it out of the hands of Congress to an independent body that might be better trusted and could come to some independent conclusions.
Really, literally overnight, Tuesday into Wednesday, McConnell, decided he was going to oppose this and most of his folks seem to be falling very quickly in line. It's almost surreal to hear conversations change from Tuesday to Wednesday from some of the same senators who are now arguing that this is redundant, the Justice Department already has hundreds of criminal prosecutions underway. There's a handful of congressional committees as they were before the 9/11 Commission set up that are doing investigations, I'll be that far narrower into what happened. They said "That's enough. We don't need to set something else up in addition to that." In any case, it will take too long.
Matt Katz: What is McConnell's political concern here with this? Why did he change his mind? What were the political reasons for it?
Nick Fandos: I think the only conclusion, frankly, is political. McConnell criticized Trump pretty clearly after the sixth, but he's decided, as have other party leaders, that taking time to pause and go back and re-litigate, and maybe unearth other disturbing findings from that day are not going to be good for the Republican Party. That it's better to put this event behind them then to really understand what happened. Particularly as they're trying to win back control of the House and Senate in 2022, and this kind of commission would easily leave the control of their grasps and could produce a report right on the eve of that election that they might find pretty unsavory.
Matt Katz: Because it would reflect poorly, perhaps on the Republican base?
Nick Fandos: Sure, and on their standard-bearer, Donald Trump and other members of Congress who, as you recall, were embraced and fanned the outrage over the President's lies about what happened in the 2020 election, that ultimately fueled this uprising?
Matt Katz: Governor Kean, you mentioned this earlier, but can you tick off some of the most impactful recommendations of the 9/11 Commission?
Tom Kean: We reorganized. It was one of the largest reorganizations of the American government in our history. We changed the whole intelligence operation into DNI, Director of National Intelligence, centralized it, so that the agencies would have to talk to each other. Put a commission together, so they met together, not a commission but an agency together, so they met periodically. It was a whole SS41 recommendations. The important thing was, not only were they almost all of them implemented, the only one that wasn't implemented was for the reform of Congress, by the way, but it worked. It's simply worked.
Matt Katz: It worked because we have not been attacked like that in any way in almost 20 years since the events of 9/11, right?
Tom Kean: Our intelligence has been operating in a successful way, because of those recommendations, because it's a total reorganization, and we now forced the agencies to talk to each other. The CIA and the FBI didn't talk. If they had talked, frankly, some of these conspirators would have been caught. If they had been caught, we wouldn't have had 9/11. That's how important it was, and so it worked. That's the bottom line.
Matt Katz: Nick, I'm wondering what kinds of conversations are happening on the hill between Kevin McCarthy that House Minority Leader, and members of his party who voted with Democrats on this?
Nick Fandos: As you mentioned at the outset Matt, there were 35 Republicans who broke ranks from McCarthy. That was a number that, for this very partisan Congress seemed pretty big. It was still only about, I think, less than a fifth of House Republicans though, and in that respect, it was a bit embarrassing for Leader McCarthy, who as you recall, last week, led the charge to oust representative Liz Cheney as number three and part of many of these same issues, her refusal to stop going after Donald Trump and members of her own party for the way they're talking about January 6th, and the election.
After that, he pledged to unify the party, that Republicans were going to put these divisions behind them, and go united towards 2022. This week was kind of a miserable example of that. He at the last minute spent a lot of time scrambling to try and tamp down support, keep adjusted those 35. He said subsequently, obviously, it's their prerogative to vote how they want. I think, in some cases, a lot of those members are what we call frontline members. They're in competitive districts, and I think he felt if they judge this to be important for their constituents or for their reelection campaign, go for it, but as long as I keep the numbers down in the twenties and thirties and I've got McConnell on my side, well, there's no risk that this is going to end up happening.
I think there's a fair amount of hand-wringing in his leadership team and frankly, some sniping and backbiting from his backbenchers who saw him. We should also say deputize a key Republican John Katko go and negotiate this deal. He did on the terms that McCarthy wanted basically, and then McCarthy hung him out to dry, went against it. I don't think there's a lot of good feeling, but in the end, I think it's looking like the leader is going to walk away with what he wants, which is no commission.
Matt Katz: This now goes to the Senate after passing the house, but it looks-- as you said earlier, things don't look good in the Senate. Governor Kean as a respected longtime figure in the Republican Party, have you or would you consider having conversations with members of the Senate to try to get them on board with this commission?
Tom Kean: Yes, if it would be helpful. It's very discouraging to me when it seems that the greatest sin you can make on Capitol Hill now is to vote your conscience. That didn't use to be. This has very wide ramifications. For instance, we've got to do something similar on COVID. We got to find out, how it happened, why it happened, what mistakes we made, and set up a group, so we make sure when the next pandemic comes along, we do it right. That's very, very important.
A group of scholars and former officials are looking at that right now, and you know what that first conclusion is? Congress isn't capable of doing it. Congress isn't capable of setting up even such a commission, and they're now looking to the private sector, and the colleges, and so on to set up some kind of a commission that the American people will accept. This has prime ramifications when the Congress cannot be trusted to set up an independent commission, that the world thinks is independent.
Matt Katz: It does seem reflective of the way Congress is right now, and that just nothing can get done. If they can't approve this, then what can they agree on?
Tom Kean: That's looking at outside of, again if we're talking to an expert on Congress, you know as well as I do what it is like. When somebody has been around government for a long time, and his father served in Congress [chuckles] for a number of years, My father he never told-- I love Congress. I've always respected Congress, but that respect is getting harder and harder to maintain, frankly, by a lot of people like me who are looking at it from the outside, because it doesn't seem to be able to do the most important things that the American people find necessary.
Matt Katz: Nick, how are members of Congress doing in terms of dealing with what they lived through just a few months ago? Are they still feeling the effects of that trauma, the attack on where they work? They were hiding under their desks. Are they still talking about that?
Nick Fandos: It's been a fascinating evolution to watch because if you think about it in terms of all the senators and members of the House that were there that day, lived through this one event together. Maybe they were in different parts of the building, and their experience varied slightly, but they lived through one thing. As time has gone on, I think that the way that they think about that and process that has really started to splinter, to the point where, yes, there are most Democrats and a lot of Republicans who feel what happened that day was chilling and undemocratic, and represents a grave threat to the nation, that shouldn't happen again.
There are also a growing number of Republicans, particularly in the House, we've seen who, and some in the Senate, Senator Ron Johnson was recently Wisconsin, who seemed to be rewriting or reframing the narrative of what happened that day. Saying, "This was not an insurrection." There was one member of the House who compared it to an average tourist visit to the building, who are now complaining that the Department of Justice is harassing and unfairly treating people who just came to protest peacefully, who they've now arrested or charged in connection to the incident.
Those cases will play out and most people are innocent until proven guilty, but it's a pretty stark turnabout, given how much of this was, as we say, a, live through in real time and place by many of these members and all played out on live television too. There's not a lot of room to escape what some of these images were. I think that that's part of what's fueling the disagreement about this commission. There's one key difference that I wanted to point out from the 9/11 commissioners,-
Matt Katz: Just a couple of seconds left.
Nick Fandos: - maybe the governor sees it differently. This is an incident that implicates one political party in a very big way. That 9/11 was an attack from the outside and here, Republicans think they have a lot to lose and Democrats have a lot to gain by continuing to look into it.
Host: Nick Fandos is congressional reporter for theNew York Times and Tom Kean is the chair of the 9/11 Commission and a former New Jersey Republican governor. Thanks for joining me for this conversation gentlemen.
Nick Fandos: Thank you.
Tom Kean: Thank you.
Copyright © 2021 New York Public Radio. All rights reserved. Visit our website terms of use at www.wnyc.org for further information.
New York Public Radio transcripts are created on a rush deadline, often by contractors. This text may not be in its final form and may be updated or revised in the future. Accuracy and availability may vary. The authoritative record of New York Public Radio's programming is the audio record.