House Investigation Will Look Into How the Capitol Insurrection Happened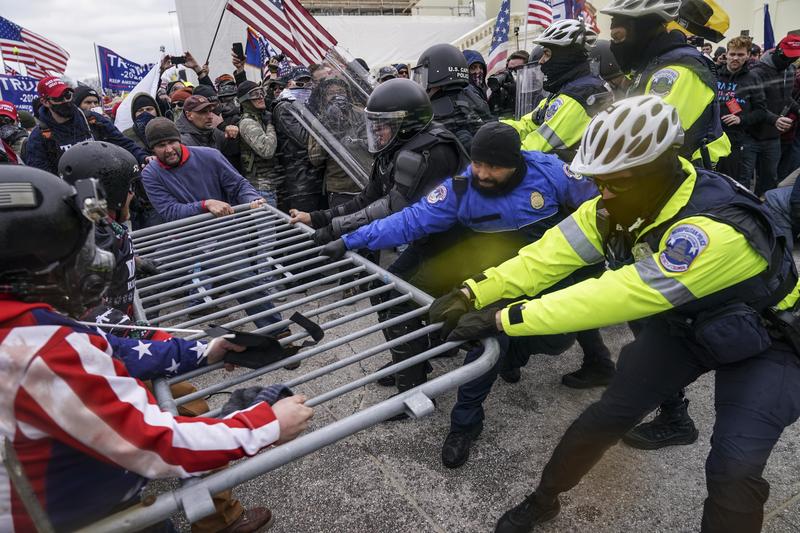 Transcript
[music]
Tanzina Vega: It's been nearly three months since insurrectionists violently stormed the US Capitol. While law enforcement officials are still figuring out how it happened, a new investigation from House Democrats hopes to reveal the answer. Last Thursday, seven democratic led House committees launched a probe into the federal government's handling of the events of January 6th, and what preceded it.
The committees are asking 16 different federal agencies throughout both the executive branch and Congress, including the White House, the Department of Justice, and the FBI for all documents and communications related to the storming of the Capitol from early December to Inauguration Day. I'm Tanzina Vega and unpacking what House Democrats hope to achieve with their new Capitol investigation is where we start today on The Takeaway. Congressman Adam Schiff, from California, Chairman of the House Permanent Select Committee on Intelligence joins me now. Congressman, welcome back to the show.
Adam Schiff: Thank you. Good to be with you.
Tanzina: Congressman, what type of intelligence is the committee looking for specifically in terms of the scope of the work you expect to do?
Adam: Well, there are really three things in terms of intelligence that we're looking at. First of all, what intelligence did the Department of Homeland Security, and the FBI have prior to January 6? What intelligence was out there for them to have they may not have been in possession of? Also, did they share that intelligence adequately with other agencies? Finally, was that intelligence acted upon by the agencies with which it was shared? We still only have really a dim appreciation of the answers to those questions so far, so we have a lot of work ahead of us.
Tanzina: Congressman, are you expecting a 9/11 commission type of report to emerge from this that had bipartisan support? Tell me what the end result is expected here because if it doesn't have bipartisan support, that might not help the case?
Adam: Well, the best thing would be to have a 9/11 like commission. Now, going back to 9/11, that Commission had opposition from then the Bush administration because it felt that a commission would be too critical of its handling or lack of preparation and ability to avoid 9/11. Nonetheless, over time, we prevailed in getting that commission established and it did incredible work. That took about a year to year and a half to do.
There is also a history of taking time to generate the consensus needed to get that legislation passed, but just like after 9/11, we're not waiting for that to happen. We are doing our own investigation in Congress to try to get answers, but I think you're right, ultimately, what would be best for the country is a completely objective, nonpartisan commission that would enjoy more of the trust and confidence of the American people.
Tanzina: Is there an expectation to get to that point?
Adam: There's certainly a hope that we do. The major roadblock right now is that Republicans are less interested in looking at the events of January 6, and want the commission to investigate Antifa. That's part of the counter-narrative by Donald Trump and others that this wasn't really a Trump insurrection, it was an Antifa false flag operation. They also want to investigate violence at Black Lives Matter rallies, which is clearly a distraction from what the focus is which is this violent attack on the US government, on the peaceful transition of power, but I think that's where they're coming from. As long as they're really not focused on getting the answers to January 6, it's going to be a problem.
Tanzina: Congressman, how is this investigation going to work alongside the parallel investigation by the Department of Justice?
Adam: We've written to the chairs that are working on this. We've written to the department to underscore, we want to make sure that we can deconflict any of our actions with the department so that we don't interfere in their investigative work.
Their primary role is to identify who's responsible and bring them to justice. Our role is more broad than that. We want to analyze what failures led to that insurrection, what lack of preparedness in terms of security and intelligence. Our inquiry is really quite broad, broader, I think than what the department is doing, but both are necessary. Both should be able to be conducted without interfering with each other.
Tanzina: Let's talk about the events of January 6th, and what specifically you're looking at. Is it the preparation of law enforcement prior to the Capitol insurrection? Is it the response to the insurrection? What exactly are you looking for with this investigation?
Adam: A broad range of answers. There are the intelligence questions that we discussed at the outset, but then there's the issue of why the Capitol physically was so unprepared, structural problems within the Capitol Police Department, difficulties in summoning in a timely way the National Guard.
We also want to look at the question of whether there was any foreign support for the insurrectionists. How was this massive rally financed? What role did the President and his campaign play in assembling the people who came to the mall that day? What before knowledge did they have of the intention of many who are present to be violent and attack the Capitol? Those are a range of the questions that we want to get answers to.
Tanzina: As the investigation proceeds, how long do you expect this to go on? Once it concludes, what exactly do you expect to happen? I'm sure a lot of that will depend on what you find, but is there an expectation of "what" at the end of all this?
Adam: It's hard to say how long it will take. I would hope that an investigation like this could be conducted within a year to two years. If we do the model of 9/11, it takes time to identify and pick the commission members to get it staffed and set up. So it's not something that happens immediately, and we want it to be thorough, so that will take time. In the meantime, we're going to continue the congressional investigation.
Hopefully, when the commission is stood up, whatever information we've been able to ascertain before then, we'll be sharing with the commission. It's certainly my hope that we can identify good people who just as with the 9/11 work, will write recommendations that will enjoy the support of the American people to better protect the institutions of our government, to deal with the problem of misinformation and disinformation.
That was so much at the heart of January 6, the perpetuation of the lies about the election, the claims about massive fraud. We have to somehow, and this is a very big and broad question, deal with the proliferation of untruths very much the attack on truth itself is nothing more corrosive to a democracy than the idea that there is no truth that people are entitled to their own ultimate facts, that we require really a shared experience for our democracy to work.
Tanzina: Do you legislate that though? Congressman, do you legislate that? Is that something that happens-- That feels like a societal issue that brought us here. There are reasons why the United States at least in certain segments of the country were such fertile ground for some of these conspiracy theories to take root, is that something that is the job of Congress and the federal government to suss out or?
Adam: No, I think it is part of our responsibility to figure out what's causing this proliferation of crazy conspiracy theories and big lies. What role, for example, social media plays. Social media enjoys an immunity from liability, and there's a vigorous discussion in Congress whether it should continue to enjoy that liability or that liability should be constrained unless they stop amplifying for engagement, which ends up meaning amplifying for things that provoke fear and anger that provides such virality to conspiracy theories, but it goes beyond that.
Other countries have developed educational approaches, in Norway, for example, to dealing with Russian disinformation, where they begin very early, teaching young people how to be good consumers of information, how to find what's true or not true online. I think part of our responsibility is to diagnose the problem. Part of it will be societal, a societal response, as you say, part of it may be legal as in changing the immunity for social media companies that aren't acting as good stewards of the public good.
Tanzina: A group of representatives have introduced an anti-domestic terrorism bill, but there are civil liberties groups including the ACLU that have come out against it saying that it will give law enforcement more power. What are your thoughts on the domestic terrorism bill?
Adam: Well, I haven't seen the terms of the particular bill introduced this session. I worked on one last session to deal with the rise in hate crimes around the country, shootings in El Paso, and the Tree of Life synagogue. I think it's important that we give the same priority to domestic terrorism that we give to international terrorism. That doesn't mean though that we use the same approach we're not going to create a list of domestic terrorist organizations, that would have real civil liberties concerns and so I think we have to analyze how do we make sure that we give this an adequate priority?
How do we make sure that we resource it? Is legislation required to do that? If it is required, how do we make sure that it has the civil liberties protections we need? One issue that's disconnected from domestic terror legislation, but is one that I think we really need to figure out and that is, what are the rules of the road in terms of the Department of Homeland Security or the FBI looking at social media? There were a lot of advanced indications of violence planned on social media.
This is one of the major criticisms of our domestic agencies that they didn't see this wealth of information, these flyers, or if they did, they didn't communicate it adequately that people were planning to storm and attack the Capitol. Of course, it makes a lot of us very uneasy with the idea that the FBI or Department of Homeland Security would be surfing the internet randomly looking at social media or using big data analytics, but there is no clear rules of the road in terms of what the FBI and DHS can do, what we would like them to do, what we don't want them to do. We're going to have to figure out those difficult questions.
Tanzina: Congressman how do you expect to get there without bipartisan support, particularly if you're trying to get, as you said earlier, Americans on board with finding out what the rules of the road are and agreeing to them.
Adam: We've got to try it. If you were going to bet, you'd always bet against the Congress these days, but we have been able to get things done very important things, notwithstanding the intensely partisan environment. Look, we're going to have to attack this problem of domestic terrorism, it's the predominant terrorist threat to the country at the moment and that threat comes predominantly from white nationalists domestic violent extremists.
It has to be dealt with and I would hope that my GOP colleagues would feel the same sense of urgency. I think during the Trump administration the former president viewed these folks as part of the space and that chilled the work of the intelligence agencies in looking at this problem. We've been investigating whistleblower allegations that they were told to deemphasize the threat from white nationalists to domestic terrorists and to hype the threat from Antifa. We can't allow that misdirection to occur if we're really going to take these problems seriously.
Tanzina: Congressman Adam Schiff is the chairman of the House intelligence committee. Congressman we appreciate the time. Thank you.
Adam: Thank you.
Tanzina: We're turning now to a reporter who's following this congressional investigation launched last week very closely. Kyle Cheney is a congressional reporter for Politico, Kyle thanks for being with us.
Kyle Cheney: Good to be with you Tanzina.
Tanzina: We just heard from Congressman Adam Schiff, let's talk a little bit about-- Was there anything in there that stood out to you? What stood out to me was how they're really lacking bipartisan support here, and this is something that I think could hurt them in the long-term. What are your thoughts on that?
Tanzina Vega: Yes, really the existence of this house investigation is a reflection of that lack of bipartisan support. As you discussed that 9/11 commission-style probe was really what they wanted here and that would give bipartisan cover to a very serious look at this. That was the hope because they weren't able to get that this House probe is now serving as a backstop. Speaker Pelosi has said, "We're going to do something," so this is there something, but as you pointed out that may not have as much legitimacy in the eyes of the American people if it's viewed as a Democratic project, as opposed to a congressional project.
Tanzina: Kyle, is there any chance that Republicans could or would get on board with this investigation?
Kyle: It seems remote right now. Look, there were about 30 Republicans that signed onto a bill to create a 9/11 commission-type investigation early on. There is some interest out there, but then things broke down as they discussed the nuances of that, what it would actually look like. I think the same thing here will depend on duties committee to approach it seriously. There a Senate investigation into similar things that has gone very smoothly because the chairs and the ranking members have worked closely together. Can that happen in the House? It's usually been harder to happen in the House.
Tanzina: Let's talk about what the goals given that there are multiple investigations happening here. What is the end goal of this investigation? What are they trying to figure out by asking a number of different agencies for paperwork, et cetera?
Kyle: I think as Chairman Schiff said, they're casting a wide net and seeing what turns up. That's the starting point here. As he noted too that the justice department is doing a really intensive, maybe the most intensive investigation in the history of the justice department into the actual crimes committed on January 6th, but there's this yawning gap into what they're looking at and what Congress wants to know which is did, for example, the Trump administration or Trump himself contribute to what happened that day?
Was there foreign financing? I think the committee can come at this from each of their different jurisdictions and say, "This is what the justice department is looking at. This is what they're not looking at and we can fill in those gaps."
Tanzina: Will this have any teeth at the end of the day though, Kyle?
Kyle: The one thing about the committee probes is they do have subpoena power and Democrats will have the numbers to be able to call the shots, but where they may run into problems is litigation. There's executive privilege issues with the Trump White House that don't go away just because Trump's not president and the House has been tied up for years fighting those battles against Trump, from 2018, 2019, and beyond and so it may be a long slog to actually get the information they want.
Tanzina: Let's talk about that because President Trump is no longer president, his impeachment trial ended back in February, but I'm wondering if there is a possibility that some of the findings of this investigation could implicate Trump again and if so his new status as citizen, what would that do?
Kyle: It does change the equation in the sense that, there's not a question of impeachment anymore really. The House explored whether you can impeach and convict a former president and pursued that, but now it's really about, is there a legal liability and does the former president have a hold on the information that might point to his culpability or lack of culpability? The staff administration decided pre-January 6th how can Congress access that will they have to go to court? Is it easier now that he's not president to do that? It's a lot of constitutional questions about dealing with a former president like that.
Tanzina: What about the federal government's own investigation?
Kyle: The justice department?
Tanzina: Yes.
Kyle: Look, this is massive. Every FBI field office in the country pretty much is looking into this. They have arrested hundreds of people who participated in the January 6th insurrection, and are now looking at, "What are all those pieces of the puzzle telling us, is there a bigger story here about how these groups came together?"
Right now, they're still focusing on these individual criminals and some of these conspiracies that they're charging related to groups like the Proud Boys and the Oath Keepers, militia-type extremist groups, but they're starting to roll up into the leadership of those groups. I think from there they will look at was the leadership of those groups in touch with, again, foreign elements or elements within government? What was the Trump administration's relationship with these groups? They're not at that step yet, but they're approaching that step.
Tanzina: And/or fellow law enforcement, correct?
Kyle: Right. Oh, for sure. A lot of the people involved in the insurrection were former police, former military, and it's a couple of cases current. That has been pretty eye-opening in terms of the institutions and extremism within the institutions as something that's going to be a follow-up for months and years following the event.
Tanzina: Kyle, are any of these investigations we think going to have any power in terms of really weakening some of the groups that you mentioned, some of these white supremacist groups, these militia groups, the conspiracy theory groups, et cetera?
Kyle: It cuts both ways. The intelligence community says January 6 was this massive success story for these extremist groups. They viewed the temporary occupation of the Capitol as a huge recruiting boon and they're going to use that to their benefit, but at the same time, they've now drawn the eyes of all of the law enforcement apparatus and the federal government.
Many of these groups, leaders are being arrested and could be jailed for a long period of time if they're convicted. The current leadership ranks of these groups have insignificantly disrupted by the arrests and there's many more to com,e but in terms of messaging, these groups won the day with just the audacity and the ability they were able to do on January 6th.
Tanzina: That's one of the things that we'll have to be paying close attention to as these parallel investigations move forward. Kyle Cheney reports on Congress for Politico. Kyle, thanks so much.
Kyle: Thanks for having me.
Tanzina: Now we turn to how the Department of Justice is continuing with its own investigation. To help us understand that is Chuck Rosenberg, legal analyst with MSNBC who's also held many positions in the Department of Justice. Chuck, welcome back to the show.
Chuck Rosenberg: It's a pleasure to be with you Tanzina.
Tanzina: The DOJ portion of this investigation, correct me if I'm wrong, but this is one of the largest criminal investigations, isn't it into domestic terrorism on US soil?
Chuck: You're not wrong. In fact, it's one of the largest criminal investigations period, domestic terrorism or otherwise. What makes it challenging as you can imagine is that you have so many different bad actors in so many different places which requires the full resources of the Department of Justice, the FBI, to examine this in a whole bunch of different cities and different states from where people traveled or the various ways in which they communicated. Yes, it's complex.
Tanzina: The FBI before they started this investigation were criticized for not taking the threat of this insurrection seriously. How did they miss this? How much did that affect what actually happened?
Chuck: Part of the problem pre-9/11, and believe it or not, I'm going back 20 years to try and make a point is that we didn't share intelligence and information with one another in the US government particularly well. Post-9/11, that's changed dramatically. We share just about everything, but that means in turn a torrent of information and so knowing what stuff is important and what stuff is actionable usually is only apparent after the fact. Did the FBI miss some stuff? Quite likely, yes. But how do you know ahead of time what stuff is important? Because you're getting so much of it every day from so many different places and that's the challenge.
Tanzina: Chuck, could it be though that the FBI just didn't think that this was important because they might've thought these were fanatics or conspiracy theorists, but not people that had actual means to take this on. Did they not take the threat of white supremacy seriously? That's the question.
Chuck: Yes, I don't think that's the case. The FBI has been grappling with the threat of white supremacy for a very long time. We often talk about the Oklahoma City bombing, but even long before that, the murder of Alan Berg in Denver and the rise of the order in the state of Washington, there are many, many examples of white supremacists doing what white supremacists do. They are a grave threat to the nation, the FBI is well acquainted with them. I find it hard to believe that they wouldn't take this seriously. They may have missed something which is different, but I find it hard to believe they wouldn't take it seriously.
Tanzina: Let's talk about the scope of the investigation. We know that the FBI has been attempting to identify some of the hundreds of people who were at this insurrection. How far have they gone and how are those efforts going?
Chuck: They seem to be going reasonably well given how large and complex the case is, Tanzina. Here's why I say that. We know that more than 300 people have been charged. We see in the documents that the US attorney's office has filed in court that they are making connections between various groups like the Three Percenters and the Promise Keepers and the Oath Keepers. They're beginning to do what happens in investigations, make those connections, draw the connections, review communications, putting people in the same place or same state of mind and that's important, but that doesn't happen immediately and it doesn't happen at the outset.
Tanzina: There are people who've already been identified. What happens to them at this point, Chuck?
Chuck: Sure. A bunch of been charged. Again, what you are seeing are pleadings or documents filed by the prosecutors to keep folks perhaps detained pending trial. In many cases of these folks who have been charged are being detained pending trial. You're also going to see more charges. We've been told to expect more charges of more people in these cases.
Some of the charges are very serious. They have to do with assaulting police officers. They'll be charges, I imagine, connected to the murder of officer Brian Sicknick. Right now, there are charges connected to the assault of officer Sicknick, but not yet to the murder. We've heard talk from prosecutors about the possibility that there'll be charges of conspiracy to commit sedition. Sedition being the use of force to overthrow the government or to interfere in its operations. Some of the charges, Tanzina, are less severe.
Tanzina: Chuck, you just mentioned conspiracy charges for sedition. How do you define seditious conspiracy? And what's the end result of being charged with something like that?
Chuck: Sure. First let's just talk about conspiracy, a word that we hear and use a lot, but maybe some folks don't quite understand. It's simply an agreement to do something that the law forbids. Tanzina, if you and I agreed to rob a bank together later today after your show, that would be a conspiracy to commit bank robbery. It's a really powerful tool in the hands of federal prosecutors because it permits them to introduce a wide range of conduct and the statements of all co-conspirators a very powerful tool.
Now, a conspiracy to commit bank robbery is easily understood. A conspiracy to commit sedition is a bit more complex and you don't see a lot of sedition charges brought in this country, thank goodness because what it really is an agreement, a conspiracy to overthrow the US government by force, or to try and interfere in the operations of the government. In this case, the counting of the electoral vote on January 6th at the Capitol building. We've been told to expect that some people will be charged with seditious conspiracy, agreeing to do this thing, to overthrow the government, or interfere in its operations by force.
Tanzina: 300 or so people have been charged so far or at least identified with doing things that were illegal. Are we expected to see some of these folks taken to trial? Like what's the process from here on out?
Chuck: Everybody who's charged has the right to have his or her case did adjudicated either by a jury or by a judge. Not everyone who's charged to trial. Most people who are charged plead guilty, that's been overwhelmingly true in the federal system, my guests is that-- [crosstalk]
Tanzina: Do we know how people are pleading right now, Chuck?
Chuck: Yes, right now people are pleading not guilty because it's preliminary and then they meet with their lawyers and they figure out the evidence against them and what their best options are.
Tanzina: Chuck, where does this investigation go? And how long before we see some final results here?
Chuck: It's going to take a while. There are still people who have to be charged. Of those who have been charged most will plead guilty as we discussed, but some will end up going to trial and that could take a while. We also need to understand for intelligence purposes what happened and who orchestrated it because if you really want to fully understand something, you have to understand it also from an intelligence perspective. That's what helps you to stop something like this from ever happening again.
Tanzina: Finally, we know that House Democrats are beginning their own parallel investigation where they'll be getting documents from multiple government agencies. What are your thoughts on how that investigation either will or won't affect this Department of Justice investigation?
Chuck: I hope it doesn't undermine it. If members of Congress are going to do a thoughtful bipartisan investigation like the 9/11 commission that could help all of us as citizens understand what happened and why, but if it's simply going to be showboating and theatrical, it doesn't help any of us.
It certainly doesn't help prosecutors because as a former federal prosecutor, the last thing I want are witnesses in my criminal case testifying elsewhere and making perhaps inadvertently conflicting statements. It all is up to members of Congress. Are they going to conduct a thoughtful bipartisan investigation trying to help us understand what happened or will just be theatrics? If it's the latter, it's not helpful to anybody.
Tanzina: Chuck Rosenberg is a former senior FBI official and a frequent contributor to MSNBC. Chuck, thanks so much.
Chuck: Thank you.
Copyright © 2021 New York Public Radio. All rights reserved. Visit our website terms of use at www.wnyc.org for further information.
New York Public Radio transcripts are created on a rush deadline, often by contractors. This text may not be in its final form and may be updated or revised in the future. Accuracy and availability may vary. The authoritative record of New York Public Radio's programming is the audio record.