A Host of Problems for Jeopardy!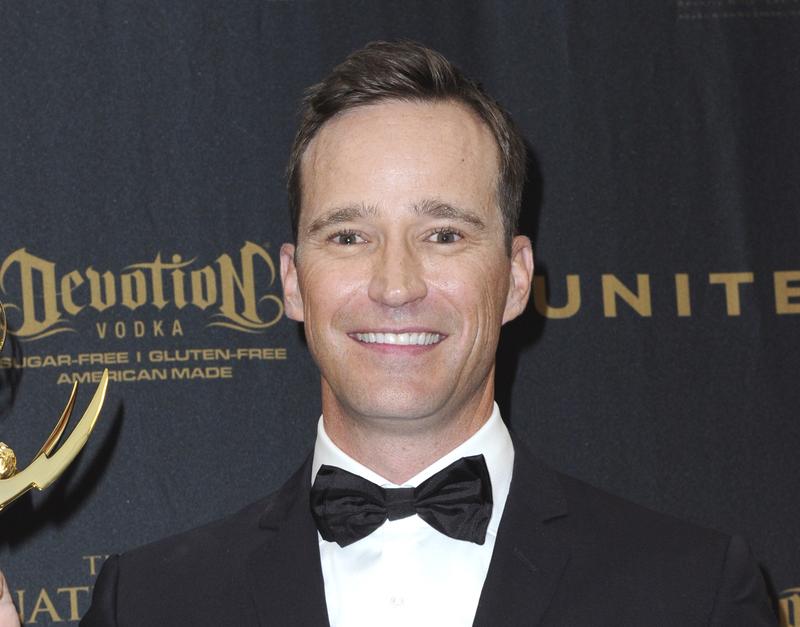 Transcript
[music]
Melissa Harris-Perry: We're back on The Takeaway. I'm Melissa Harris-Perry.
Speaker 2: This is Jeopardy.
Melissa Harris-Perry: I'll take a host of problems for 200.
Speaker 3: Nine days after he was announced as the new host of Jeopardy, this game show executive stepped down amid lots of controversy.
Melissa Harris-Perry: Who is Mike Richards?
Speaker 3: Correct.
Melissa Harris-Perry: That's right. Richards, who is the executive producer of Jeopardy was recently named host of the beloved quiz show. After an article from The Ringer revealed offensive and misogynistic comments made by Richards as host of a podcast called The Random Show, Richards announced he would be stepping aside from the hosting role. He remains the show's EP.
Now, a new search for a permanent host will begin. Again, with guest hosts returning to fill in for the new season, actor/neuroscientist Mayim Bialik, who was named the host of the show's primetime specials will now be stepping in to host the weekday show, at least for the next three weeks.
For more on this, I spoke with Claire McNear, staff writer at The Ringer and author of Answers in the Form of Questions: A Definitive History and Insider's Guide to Jeopardy. I started out by asking Claire about how she came by the story.
Claire McNear: I wrote a book about Jeopardy, and I've been reporting on Jeopardy at The Ringer for a few years now intermittently and have gotten to know a lot of people in that world. I've been writing a lot about the show over the past year since the death of Alex Trebek and writing with the guest hosts on the search for a new permanent host.
A couple of weeks ago, when it became clear that Mike Richards was probably going to be named permanent host, and then, of course, was, I basically started off by just being curious about his early career and how he got his start in television because it was pretty widely known and he has said publicly many times that he wanted to host in addition to producing. I was curious about that element of it.
There were a couple of main threads of the story that we published last week. One of them was his involvement in the search for the permanent host. Of course, he emerged victorious from this process, which I think raised a lot of eyebrows amongst Jeopardy fans. What I found from reporting is really that he was quite closely involved with just about every step of the process in ways that do absolutely seem like a conflict of interest.
The second thing was, as I was going back through his earlier shows and other things that he'd worked on, I came across this podcast that he hosted while he was the executive producer of The Price is Right, called The Random Show. He hosted that for a year and a half and over the course of that podcast, he made a lot of controversial comments. He used sexist language in classes, [unintelligible 00:02:47] language, he used some ugly slurs, he talked a lot about women's bodies and women's clothing. Basically, my story was just exploring those two veins.
Melissa Harris-Perry: What's happening with Mike Richards right now?
Claire McNear: It's a strange moment for Jeopardy because while he stepped down at the end of last week as the host, right now, Sony is saying that he's remaining the executive producer of the show and he is also the executive producer of Wheel of Fortune, which tapes next door and shares a lot of the same crew and has historically shared an EP with Jeopardy.
I think a lot of fans are questioning why, if all these revelations were disqualifying to be the host of Jeopardy, they are not also disqualifying to be the executive producer of Jeopardy who really is the number one at the show. It's a strange moment and of course, Jeopardy had just begun taping its new season that will begin to air in mid-September. He taped five episodes as the new host of Jeopardy.
We don't know if they'll try to retape at least the hosting portions of that. Jeopardy is supposed to be back in the studio this week, taping more episodes after they canceled production on Friday and we don't know if he will be the executive producer. I suppose so when he says that he will be, and we don't know who's going to host it. They've said that they're going back to guest hosts, but we don't know who's going to do that.
Melissa Harris-Perry: Okay. For those who are not involved in the making of TV, help people understand what it is that an executive producer does so they will understand what Mike Richard's involvement, at least as far as we know right now, is going to continue to be on Jeopardy.
Claire McNear: At Jeopardy, the executive producer, like I said, is the number one. He's the boss. The EP at Jeopardy really just runs every other component of the show. They will start off their morning going into the daily writers meeting where this fun writer's room, these people who've been working on Jeopardy, writing clues for Jeopardy for years and years, decades in some cases, to go over the material for the day's games and critique the phrasing and the host will be there as well.
Once they actually start taping the show, the executive producer sits at that offstage judges' table that you sometimes see the hosts look over to when there's an uncertain ruling, basically calling the shots. There is a director, there is a stage manager, but this is the person with a connection to the host, the earbud in the host ear and really running it. Also, the executive producer does these big picture things like figuring out what the next big tournament is going to be for the show.
They really do run everything. I think what makes us especially interesting and to some degree concerning is that the executive producer is intimately involved with the host. Whoever the host is, as we go back to guest hosts, but eventually, they will name a new permanent host. Once again, the executive producer will be that person's boss. You can imagine how awkward and strange it would be for that person to be Mike Richards.
Melissa Harris-Perry: I think that's so helpful for folks who just understand that constellation. Let's go in just a bit more around his selection or announcement as host. Fans of Jeopardy are not necessarily like fans of other kinds of television watching. They're very invested in this show. How did fans and viewers respond to the initial selection?
Claire McNear: Yes, to your point, it is a very intense fandom and Jeopardy fans feel very protective of the show. There is this, "This is my Jeopardy." It's an interesting community with a lot of former contestants in it. There was naturally going to be some suspicion of this host search process ending with an internal candidate being named host. The joke everybody was making was that it was a lot like Dick Cheney leading the search for George W. Bush's Vice President and being named the VP himself or the candidate, anyway.
Sources within Sony have said that Richards removed himself from that search process after he became a candidate himself. What's become abundantly clear is that as the show's EP, he had an enormous amount of influence over the process, even if it was just the day-to-day of what the other guest hosts were doing because Richards was giving all of these interviews over the course of most of the year about how the guest hosts were auditioning.
These were live auditions and that viewers should tune in and vote for their favorite and make themselves heard. Where it gets complicated with Richards as the EP, even if he was no longer in the room with the Sony executives, trying to choose the next host, he was the person in the ear of that host telling them what to do.
He was the person who trains that host. He was the one, it's come out, that chose which episodes from that host's run to send on to focus groups. Richards and Sony both talked a lot about how the studio was using data and analytics to make the choice for the next host. In fact, a lot of that data is suspect knowing how involved the EP was as he became a candidate.
Melissa Harris-Perry: It's so helpful, again, to understand the ways in which-- if it's meant to be even a version of research, that is definitely a stacked research project. No one is blind to the hypothesis there. I guess part of what I want to go to here is that it is exactly the thing that goes against Jeopardy's brand.
The whole idea of what makes Jeopardy stand out is that we all know it's entertainment, we all know it's a show, but it feels more genuinely attached to facts, to curiosity, to fact-checking itself, even sometimes live on air. How might this whole debacle impact our sense of trust about Jeopardy?
Claire McNear: Listen, I think the show is in a really tough position right now. It was always going to be impossible to replace Alex Trebek because nobody is Alex Trebek. He was the only person who was what he was, and they're very aware of that, that whoever comes next is not going to be what he was to audiences and to contestants and to the staff of the show.
I think that, yes, there is something of a fracture of trust now. I think there was a lot of suspicion after Richards was named host, but with what's come out over the last couple of weeks. It's clear that this process is not exactly rigged, was at least not totally honest. I think the concern for Jeopardy is that this show has occupied this very unique space in television and in pop culture of being this pure place where facts matter and nothing else matters. You come, you do as best as you can on that stage.
As a viewer, you were watching, you were playing along on your own couch, and to lose some of that objectivity to suddenly be controversial, this show that for so many years never has been, threatens Jeopardy's place in pop culture, I think.
Melissa Harris-Perry: You were talking about the impossible task of ever replacing Alex Trebek, and I think that seems right. We do know that Alex Trebek, he was deeply aware of his own mortality at the end. He was fighting with everything he had, but we also know that he understood that that bite could not go on forever. What did Trebek talk about in terms of the future of the show, both in terms of hosts that he might have wanted to see come next, leadership, any of that vision?
Claire McNear: I interviewed him a couple of times as I was working on my Jeopardy book, and I asked him, "What do you want for the future of this show?" Because at various points, as he entered his 70s, he would talk about retiring and talk about wanting to sit back and enjoy himself and not work anymore. Of course, he ended up passing away as he was in the midst of filming a season, but certainly, he himself had thought about what Jeopardy would be like after him.
I think, to a great degree, he didn't want to be the person anointing the next host of Jeopardy. I think he knew that that was going to probably be a difficult transition for Sony, just because it's such a major change. He had been the host for 36 and a half years and was this larger-than-life iconic figure, really the face of Jeopardy. He did, of course, name a couple of people that he thought would be at least good candidates, and that was Alex Faust who is the play-by-play announcer for the LA Kings hockey team, and Laura Coates who is a CNN legal commentator.
I think a lot of fans over the last couple of weeks have been calling for them to finally get a shot, and we don't really know if they were ever contacted to be guest hosts the first time around. As Jeopardy re-embarks on this guest host process, this audition process, I think there's certainly a lot of interest in seeing one or both of them come in because Trebek who had so much experience certainly thought that they were capable of it.
Melissa Harris-Perry: It's interesting. Any sense of what were the particular, either skills or talents or just what they communicate via the camera that made them interesting candidates for him?
Claire McNear: Well, I think a comparison I've heard a lot in the case of Alex Faust is that being the host of Jeopardy really is a lot like calling a sporting event. There's just so much happening, you're refereeing in the moment, you're watching people go up and down, you have to keep track of all these different storylines, and you're constantly the one dictating the action, even though, of course, it's players answering these things. It's a very involved thing for the host of Jeopardy, especially compared to other game shows that don't really demand as much in the moment.
I think Laura Coates is interesting, and this sort of speaks to what Jeopardy and Sony were doing with the guest host the first time around, where I think Trebek certainly felt that having experience as a broadcaster was critical. He himself got his start as a broadcaster in Canada before he moved down to Los Angeles and started doing game shows. You have both the television reps of saying complicated words and moving through breaking news and refereeing all those things in much the same way that a sporting announcer would.
Melissa Harris-Perry: They were not obvious races to me, so I think that it's interesting to understand even how Trebek's mind worked around that. How do you see the future of Jeopardy? Will this moment with Mike Richards be-- Again, you make the point about 36 years, a show that is beloved even by its theme music, this sense of attachment over all of the things that we can think about that have happened over the past four decades, and yet have been largely drama-free. Presumably, Jeopardy has a deep well of goodwill that it can draw from and that this will be momentary, or do you see this as maybe a real turning point that maybe Jeopardy actually can't outlive Alex Trebek?
Claire McNear: Well, I think that there's a lot of concern among fans and the Jeopardy staff, that this has really imperiled Jeopardy as a show, as an institution, as just this holder of this very unique place in American culture where it was this unimpeachable thing that was not controversial. It was just the facts and now, that's just not the case. On the other hand, I think it's true that Jeopardy has this massive, massive audience. It is a ratings juggernaut, and it has been for a very long time.
For Sony, it makes Sony a whole lot of money. I think that those audiences are not going to vanish overnight even with this controversy, and whatever they do next. Ratings have declined a little bit since Trebek's death, they're down about 10% year over year, but people still love Jeopardy, and that hasn't changed. I think that so much of the game is the same and will stay the same. The writers are all still there. That has not changed and it is still those 61 clues. I think that for all these bumps, Sony does at least understand that there is some magic to the Jeopardy formula, and I think we will have that going forward.
Melissa Harris-Perry: Claire McNear is a staff writer at The Ringer, and author of Answers in the Form of Questions: A Definitive History and Insider's Guide to Jeopardy. Claire, thank you for joining us.
Claire McNear: Thanks for having me.
Melissa Harris-Perry: Now, for months, there was speculation about who would replace beloved longtime host, Alex Trebek, who died of pancreatic cancer in November 2020. Now, that speculation is going to continue, and we asked you about this and y'all definitely had a name in mind for who you'd like to see.
Speaker 5: I would choose LeVar Burton.
Speaker 6: I think LeVar Burton is the clear choice. He's a national treasure.
Speaker 7: My top choice by far is LeVar Burton.
Speaker 8: LeVar Burton will be a great host.
Speaker 9: If it's not LeVar Burton at this point, you're really just missing out.
Speaker 10: LeVar helped so many of us as young kids enter into a love of reading and learning, which dovetails beautifully with the insatiable curiosity that you need to do well on Jeopardy.
[music]
Copyright © 2022 New York Public Radio. All rights reserved. Visit our website terms of use at www.wnyc.org for further information.
New York Public Radio transcripts are created on a rush deadline, often by contractors. This text may not be in its final form and may be updated or revised in the future. Accuracy and availability may vary. The authoritative record of New York Public Radio's programming is the audio record.