The Historical Significance of the January 6 Capitol Riot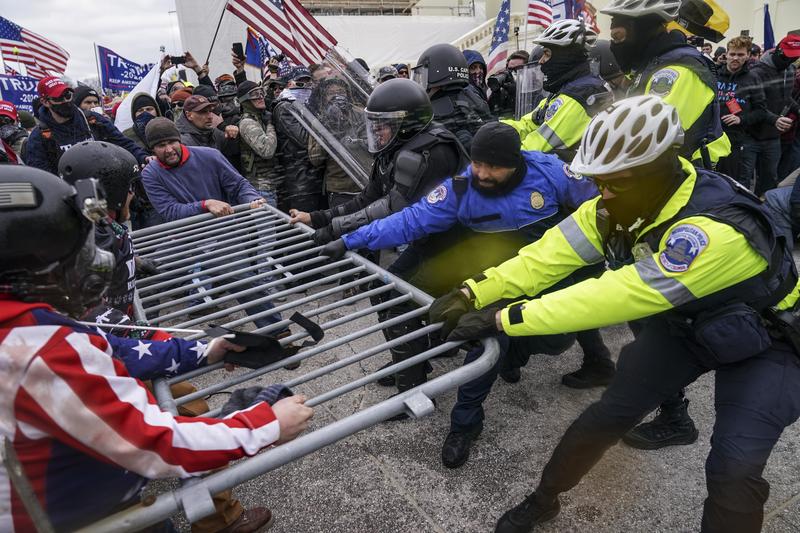 Transcript
[music]
Melissa Harris-Perry: Back with you on The Takeaway, I'm Melissa and it's good to have you with us. The justice department will now consider criminal charges against a former Republican Congressman and former Trump White House Chief of Staff, Mark Meadows. On Tuesday, the House voted to refer Meadows to the DOJ after he failed to appear for a deposition in the investigation of the attack on the Capitol on January 6th. Committee Chairman, Bennie Thompson had this to say about Meadows.
Bennie Thompson: Whatever legacy he thought he left in the house, this is his legacy now.
Melissa: This is his legacy. See with that turn of phrase, Representative Thompson reminds us that the role of this congressional committee is not only to pursue accountability in the present moment but also to create a historical record for the nation's future. It's why each February, many Japanese Americans mark the day of remembrance by returning to the site of internment camps. It's why we celebrate on July 4th with fireworks and by reading aloud the declaration of independence. It's why our nation pauses each year on September 11th to commemorate lives lost and to never forget.
In these moments, we reexamine the historical record that tells us who we are. As a nation, we are deciding right now in these days, what we will remember or forget about January 6th.
[demonstration noises]
Martha S. Jones is the Society of Black Alumni Presidential Professor and professor of history at Johns Hopkins University. Professor Jones, thank you so much for joining us.
Martha S. Jones: I'm happy to be here.
Melissa: Help us in this moment to think about how violence has at times been used in the US to determine the outcome of elections or who it is who gets to govern.
Prof. Jones: I think there are two threads that run through American political history. The first is violence and a very particular form of violence. Violence wielded and, in many cases, condoned by political parties who are looking to prevail in any other election season. Oftentimes that violence is coupled by symbolism. That is to say, it is enacted at courthouses, at statehouses, at the Capitol as a way of underscoring the audacious claims that political parties make to power.
Melissa: I want to ask you about two moments in particular, and let's start with the Colfax massacre of 1873. Can you tell us some of the basics of that moment?
Prof. Jones: Here we are in 1873, the spring, after what has been a violent and contentious election season in Louisiana, a governor's contest, state house at stake just two years after African American men have won the right to vote with the 15th amendment to the Constitution. Here in Louisiana, the Republican Party is importantly undergirded by African American voters. The contest doesn't end on Election Day and violence becomes a part of the political culture of Louisiana as Democrats and Republicans vie over control of the state itself and of its many localities including grant parish where the Colfax courthouse sits.
There, Black militia members along with Republican Party stalwarts face off against a mob that is comprised of white supremacists activists along with former Confederate veterans. In that confrontation when it becomes clear that the Black Republicans are not going to be able to hold and protect the courthouse in Colfax, they look to surrender but instead, they're massacred. Some 150 Black men are killed at Colfax in the interest of winning supremacy for the Democratic Party.
Melissa: I want to go to a second example and then we'll start to pull these together. Can you talk to us a bit about Wilmington, North Carolina, and what happened there in terms of violence, race, and governance?
Prof. Jones: Of course. Now, it's 1898 and already the US South is turning toward a Jim Crow political order. Across many locals in the south, Black men have been violently driven out of politics. North Carolina charts a quite distinct path in that it manages to hold onto, to some degree, Republican control fusion tickets that hold democratic dominance and the dominance of white supremacy in North Carolina at bay.
That is going to end at Wilmington in what I think we can fairly call a [unintelligible 00:05:25] that targets Black political power and the influence of Black men at the polls for the Republican Party, but also targets Black economic success, Black cultural and community success. Here is an example, one of many, in which again, violence is used to turn the tide of political power in North Carolina, and the Black citizens of Wilmington are in the vise grip of just that.
Melissa: Both in Colfax, this story of Louisiana and in Wilmington, this story in North Carolina at precisely this 1870s turning point where Reconstruction is going to end and we're going to begin to see the descent of the shadow of Jim Crow, would you describe those moments of political violence ultimately as wins? In other words, those who committed the violence, those who killed, those who'd actually won elected office, Black folks, were they ever held accountable, and did they ultimately win the power that they sought in that moment?
Prof. Jones: I think for me, it's necessary to take a historian's measure, which is to say these are devastating losses for Black Americans, for the political parties with which they are affiliated, and for all Americans aspirations to a true interracial democracy in this country. Perhaps we are still even in 2021, in the grips of a reckoning with that kind of political violence. We are in a moment where we are the inheritors of a tradition, a political tradition that includes and has permitted violence to be an instrument of political parties at critical moments. The wake of the civil war Reconstruction and its violence is one example. Here we are in the 21st century, perhaps in a confrontation with another such moment.
Melissa: I wonder as you speak of taking a historian's measure, if your deep knowledge of the fact that sometimes we'll say, "The public has forgotten or we've all forgotten, but historians have never forgotten." As you watch January 6th at the beginning of this year with a clear historical memory of these other moments that you've talked with us about, I wonder if that knowledge gives you comfort that we have as a nation experienced this before, lived through this, and continue at least some version of a perfecting union or if it gives you pause and distress knowing that this is not something new and entirely unprecedented.
Prof. Jones: I think for me, there is a moment of profound pause, precisely because I think what the historical record offers us is an understanding of how deeply entrenched both literal violence and symbolic violence is in our political culture. That there is one sense in which January 6th is unprecedented, of course, but there are many ways in which we can see the roadmap to January 6th written in our very history.
On a good day, I certainly only hope that bringing to light the historical record helps us understand what a formidable challenge we face in this very moment that is not only a reckoning with an incident just shy of one year ago but a reckoning with a longer history that in some ways gave license to that moment.
Melissa: All right. Professor Jones, I want to go back. As I was framing the question to you earlier, I was talking about the ways that sometimes in our public conversations we'll say, "This is entirely forgotten. No one remembers this anymore." While historians certainly help to uncover and shine light on and expose the historical record of our nation, it can feel as though, at least in our general public conversations that we lose particular moments in a way that we don't lose others.
It feels like for example, 9/11 is present for us, World War II is present for us, but that Colfax and Wilmington are not as present for us. Is there a way to understand which historical moments walk forward in our public narrative and understanding of ourselves and which we tend to discard or push aside so that they don't form our understanding of ourselves as Americans?
Prof. Jones: I think as a country, our collective memory suffers from the legacies of American apartheid or Jim Crow. That our memories and the moments that make up the patchwork, that is the nation's past, is not the same for all Americans. That is a reflection of the long years that we spent separate not only on streetcars or in public schools but in, in fact constructing the story of the nation itself.
I dare say, were we together to visit today Colfax, Louisiana, or Wilmington, North Carolina, we would still discover the ways in which while many, if not everyone in those locals remembers these incidents. They are marked with historical markers and more in those places. Even still today, the ways in which these incidents are remembered is a contested matter.
Melissa: Now, I really want to get into this because when you talk about the contested matter for how we remember these incidents, I want to pull that to this moment. We're going to go back in time again but first, I want to come back here to 2021 and ask if there are ways that we can ensure in this moment, whether or not you can ensure legal justice, but ensure some justice in the historical record even the context of what is clearly contestation about how we will remember, and speak about and understand, or forget January 6th.
Prof. Jones: Well, this is why, I might say, and I confess to being a legal historian in part, that I think that the formal legal record is important. Making that record whatever the outcome of the proceedings in Congress might be, the construction of that record is one of those instruments that will permit, not only us but our children and our grandchildren to come back to this moment and to make their own sense of it. These are tools certainly, that historians use. These formal proceedings, the testimony, the raw record, is the place to which certainly we turn to write our books and articles, but I expect it's the place to which Americans will return in next generations to answer for themselves what happened here.
Melissa: Is that question the what happened here question? The thing that is currently under attack in so many state legislatures who are using the language of critical race theory, but not really talking about critical race theory. Is it about removing our capacity or damaging our capacity to talk about and understand and contextualize what happened here?
Prof. Jones: Absolutely. Making, certain topics, certain language, certain framings toxic, if not, even more so opening one's self up to retribution, that is part of what is being cooked up right now in statehouses across this country. The laying the foundation for retribution, for educators, for activists, and more, around something like critical race theory. One of my touchstones here is one of my heroes from the end of the 19th century, Rodolphe Desdunes, who was one of the organizers behind the challenge to segregated streetcars in New Orleans in the case of Plessy v. Ferguson.
Desdunes knew that they were going to lose the Plessy case at the Supreme Court. The handwriting was on the wall. What he knew was that they had to bring the case because they had to force the state to show its hand. They had to force the proponents of Jim Crow, of segregation, of lynching, of violence, to admit exactly and precisely their scheme. He succeeded in that. It takes the nation a very long time until Brown v. Board of Education, 1954 to return to Plessy and to reckon with that record. Desdunes knows what he's doing when he goes to the Supreme Court and it is to in a sense, write that story in indelible ink, looking to the next generations to do the work.
Melissa: In telling us the story of Desdunes, I suppose you remind me also that, as we are trying to reconstruct our historical record to understand our own moment, we need to look not only for these other moments of political violence or those that go against our understanding of what's the American narrative is, but that there are also heroes and sheroes there, who may have been largely lost to our general memory.
Are there others you want to point to, that maybe we'll put a little something on the website to encourage folks to also remember not only these moments of political violence but these unsung or often forgotten sheroes and heroes, from whom we could draw some lessons in this moment?
Prof. Jones: Thank you because I would love to hold up a woman I have written about, and that is, Mrs. Mary McLeod Bethune. Mrs. Bethune is born during Reconstruction, right in that moment of the Colfax massacre. By the early 20th century, she is an educator, a suffragist. By 1920, she is organizing Black women in the state of Florida to get them to the polls in the wake of the adoption of the 19th amendment to the Constitution.
Mrs. Bethune and women like her, Black Americans in Florida more broadly face and organized unforgivingly violent campaign, looking to suppress votes in the interest of the Democratic Party in that state. Mrs. Bethune and her girl school, today Bethune-Cookman University, will be visited on the Eve of Election Day by the Ku Klux Klan, full regalia, burning crosses, horsemen on horseback, and more looking to intimidate Mrs. Bethune, her faculty, and the Black people of Daytona from coming to the polls.
The next day in Ocoee, Florida, there will be a massacre, 50 Black Americans who, like Mrs. Bethune, had been organizing to vote are murdered there. I hold up Mrs. Bethune because she's someone who, unlike so many other Black Americans, persists in the face of that violence and she will live a long life to see many changes in American political culture.
Melissa: Martha S. Jones is the Society of Black Alumni Presidential Professor and professor of history at Johns Hopkins University. Professor Jones, thank you so much for joining us today.
Prof. Jones: Thank you for having me.
[00:18:32] [END OF AUDIO]
Copyright © 2021 New York Public Radio. All rights reserved. Visit our website terms of use at www.wnyc.org for further information.
New York Public Radio transcripts are created on a rush deadline, often by contractors. This text may not be in its final form and may be updated or revised in the future. Accuracy and availability may vary. The authoritative record of New York Public Radio's programming is the audio record.