Happy the Elephant Could Change the Face of Animal Rights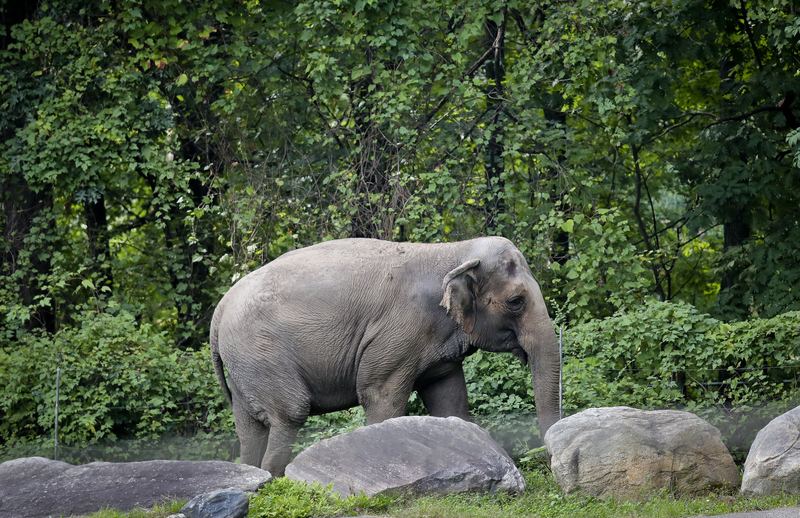 Transcript
Melissa Harris-Perry: I'm Melissa Harris-Perry and we are switching gears, so go ahead and get comfortable because we are going to get philosophical as we ask a question that will soon be considered by the New York court of appeals. Are animals persons? One thing is for sure, many of you have noticed that your own beloved pets have acted in ways that have you thinking that these little critters may be more person-like than we always admit.
Karen Sader: Hi, my name's Karen Sader. My American bulldog, he's a big dog. He weighs about 80 pounds. One night, I was lying in bed, sound asleep and I started having a nightmare and I started crying out and slapping my arms around. Frank jumped up on top of me, laid full-body on me to comfort me and protect me from whatever it was I was dreaming.
Melissa Harris-Perry: As a guardian to many furry and feathery little ones, I have a lot of stories about my moody cats, my eager pups, and my broody hens who can most definitely count the number of eggs that they're hatching in a clutch but do the thoughts, feelings, or even surprising skills of an animal render that animal a person in a legal sense.
Jill Lepore: Happy the elephant is a female Asian elephant who is confined at the Bronx Zoo in New York and has been there since 1977. She was born in Thailand about 1970.
Melissa Harris-Perry: This is Jill Lepore, professor of American history at Harvard University and a staff writer at The New Yorker. Jill recently wrote a piece for The Atlantic which pursues exactly this question. What does it mean to be a person? Is it possible that an elephant, in particular, an elephant named Happy who's living at the Bronx Zoo is a person?
The Nonhuman Rights Project-- think of it as an animal ACLU, has filed a writ of habeas corpus or a claim of unlawful detention on behalf of Happy in an effort to get at her rehomed to a sanctuary. Right now, you can only use a habeas corpus petition on behalf of a person, so the petition was rejected by multiple lower courts, but now, the New York Court of Appeals has agreed to hear the case in early 2022.
Jill Lepore: Lawyers looking for test cases are looking for the best possible subject for their case. One that they might not necessarily even be able to win but that will call the strongest support behind their cause. Think about the ACLU using John Scopes, the high school teacher in Tennessee, to bring forward the case regarding his possible prosecution for the crime of teaching evolution in Tennessee which was against the law in Tennessee.
The ACLU just was looking for someone in a state where there was a law that someone who's willing to be tried for breaking that law. I think of Happy's case in relation to the famous 1960s Supreme court case Loving v. Virginia but the case of Richard and Mildred Loving, a mixed-race couple who were charged with violating Virginia's miscegenation laws for being a married couple. It was a great case because they were an incredibly appealing couple.
They had a very loving marriage but it also helped that their last name was Loving. I think in some ways, honestly, and this is a slightly cynical reading but in some ways, Happy is appealing to the lawyers arguing for her case because of her name because the case is about happiness.
Is it possible for an elephant in captivity ever to be happy or what kind of suffering are we actually talking about here? Then you might ask, "Well, okay, why elephant? Why consider elephants to be persons?" Well, partly that's because if we think about personhood in the vernacular way like when we think about a person, someone who exists and has a mind and a soul and a personality, like in a colloquial sense, that's what we mean.
Like which animal is most person like? You might think of a chimpanzee. Tis organization has, in fact, to advance personhood claims with chimpanzees without success. Actually, you might think of an elephant because elephants social relationships are so profoundly moving.
They're so deeply tied to their families. They have a very extraordinary social intelligence that I think humans watching elephants have for thousands and thousands of years considered a likeness. I think humans look at animals and animal social life and say, "Elephants are like us." That's not necessary from a legal vantage at all. A corporation is a person. A corporation isn't like us but an elephant is surely more like us than a corporation.
It's necessary from communicating to the public the need to protect the rights of animals, not by acting on their behalf but by granting them rights as creatures, as independent beings. There's something person-like about elephants in that way.
Then with this particular-- maybe we get to, "Okay, she's got a good appealing name. Elephants are very appealing. They seem to be like us. They are loving and they are capable of joy and happiness and delight and we could see that when we watch them." Put on YouTube and look at elephants. Then why this particular elephant? Well, one very good reason is that she was part of a landmark experiment that was conducted in 2005 and published in 2006 by a scientist who studied comparative cognition in animals.
She passed this test which had been designed for chimpanzees much earlier called the mirror self-recognition test. That is to say in a verifiable empirical experimental setting, scientists could prove that Happy, this particular elephant, can recognize herself in the mirror, knows she's looking at an elephant that is not an actual elephant and not a reflection of just any elephant, but a reflection of her very self.
In that passing that test is seen as a possible measure of the capacity for empathy or a level of social intelligence that we don't see in other animals. Chimpanzees can pass that test. Humans can pass it as toddlers but not before and elephants can pass it and maybe that certain dolphins can and that's it. It's hard to test animals, so it's hard to ask animals questions but elephants can answer certain kinds of questions.
This is one question that Happy happens to have been the first elephant to pass this test.
Melissa Harris-Perry: In part as I'm reading I think as so many of your readers must feel, you have this sense of, "Okay, I get it. This elephant and elephants as a class of beings do seem to be unique. We do have a shared sense of cognition." Then I think also as you write about their sense of community, the fact that they grieve. Also as you write, if I didn't know I was reading about an elephant, I might think that I was reading about a person or a human who'd been trafficked.
Where she's born, the purposes that she's used for, the way that she's used to entertain. It does read not entirely unlike a young girl being snatched from her mother in Asia or in Africa, brought to the US and used for the entertainment of the wealthy.
This I guess is both where I felt the sense of empathy but also bristling and wanting to reserve some particular space for a human person who experiences that. I have been back and forth with myself about this. Is that wrong to want to still carve out something particular about a human experience of enslavement. Well, I'm not necessarily denying that there is experience of suffering on the part of the elephant.
Jill Lepore: I know just what you mean about that unease. One of the things that's interesting about this case is this particular legal maneuver of filing a habeas corpus petition for the release of someone, a person unlawfully confined, was used by abolitionists to advance the cause of abolition so that when people who escaped enslavement and made their way north were captured by bounty hunters and put in prison, abolitionists filed habeas corpus petition saying, "This is a person who is unlawfully imprisoned."
It was a part of the legal step required to establish the personhood of people who had been enslaved or who were being enslaved as opposed to their status as property. Animals are property. Happy is technically the property of the Bronx Zoo. She's not a person but that was, in fact, the legal status of people held in human bondage in the United States into very recent modern times.
The connection there is certainly not one that you're imagining. It is a very deliberate reuse of the methods used by abolitionists in seeking this case. Then you might say, "Well, that's somehow demeaning to people who are both persons and humans as opposed to non-human animals to class them together in this way to use the same legal strategy." Well, I happen to think it's ultimately not.
First of all, one of the things I learned about working on this piece which I had never really understood before, not really being a historian of animals is how much of the capture and display and torture and public execution of elephants took place very much in the shadow of reconstruction, the abandonment of reconstruction, the rise of Jim Crow. There is some deeply troubling way in which the history of the elephant really is tied to the history of enslavement and deep brutality in the history of the United States. There are historical ties to be made there. Ultimately, I came around to thinking, "I'm not interested in collapsing the distinction between humans and other animals, analytically." As a historian, I wanted to take seriously the idea that if animals can be legally persons, who can be rights bearing persons, then we should understand their lives better.
At the level of biography that, we, as a historian are-- the next step [inaudible 00:10:37] we'll just take seriously the idea that all animals aren't just a category of animals, but they are also individuals. What would it mean analytically to take that seriously and try to tell a life story? I don't think that moves into in any way lowering the boundary between distinctions that we need to think carefully about.
[music]
Melissa Harris-Perry: We've been talking about the legal case of Happy the elephant, who could be granted legal personhood by the State of New York in 2022. If you've been thinking that the term personhood sounds familiar, it's likely because the personhood movement has been a powerful force in American politics for more than a decade, not in the arena of animal rights, but on the issue of abortion.
In pro-life circles, there is an interesting intersection between fetal rights, personhood politics, and an elephant. It's an intersection that meets in the pages of Dr. Seuss's 1954 classic, Horton Hears a Who. It's a story of Horton the elephant who works overtime to save a tiny planet in a speck of dust. No one else in Horton's world thinks these tiny invisible whos are worth all of the noble elephants effort. For Horton, the calculus is different.
Horton: Even though you can't hear or see them at all, a person's a person, no matter how small.
Melissa Harris-Perry: Perhaps it's not surprising that the legal case of Happy the elephant has attracted the attention of Catholic theologians. Back in February, a handful of Catholic theologians submitted a brief to the New York Court of Appeals in support of declaring Happy the elephant as a person.
Given that the US Supreme Court is actively considering a Mississippi case that could overturn Roe v. Wade and eliminate 50 years of legal precedent protecting the right to an abortion, I wanted to understand if the New York appeals court's willingness to hear the case of Happy the elephant could establish a new legal basis for also understanding a pre-viable fetus as a person. I asked Jill Lepore about precisely that issue.
Jill Lepore: Personhood is a quite explosive notion. You could equally say, we would be distressed to see the courts granting personhood to a nonhuman animal at a time when human persons all over the world are unlawfully confined with no possibility of release or remedy because of profound structures of injustice that affect people all over the world. I think the answer to both is, we don't decide questions of justice based on other questions of justice.
I don't think this is an easy case by any means, but I do think it is one that we are required to examine. We are required to examine in the context of moral obligations to one another, and to the natural world, and to our notions of law, and justice, and charity. We can't pretend that this case doesn't exist, because it's inconvenient for other judiciary priorities that we might have.
I'm not an animal rights person, this is not my life, this is not my cause. I'm a political historian. I have come-- in looking at this case carefully, to believe that it is a necessary part of the political journey in the history of humankind toward granting rights to more than just the people in power. Historically, rights are those that are within--
Kings have rights, then nobles have rights, then maybe commoners have rights, then maybe peasants have rights, then maybe eventually women have rights, then maybe children have rights. Only after all of that, do people of different skin color held in bondage, maybe, possibly have rights. We are in a long moral journey as a species and I think we have taken some terribly, terribly bad turns on this road.
This is a turn in the road that I think we need to look at carefully and try to crane our necks and see what lies around the other side of that corner.
Melissa Harris-Perry: Let's go back to the case for just a moment. What is the Bronx Zoo saying?
Jill Lepore: The Bronx Zoo, should be said, is run by an organization called the Wildlife Conservation Society, which happens to be one of the world's leading conservation societies. They do an enormous amount of work protecting species during this biodiversity crisis and age of mass extinction, protecting species and habitats all over the world that are endangered, including Asian and African elephants, and have been a real leader in protecting Asian and African elephants in the wild.
The Bronx Zoo says that the case is really a PR stunt. It points to celebrities involved, within Twitter campaign that is annoying and celebrity driven. All the things that the Bronx Zoo says about it are probably fairly stated. On the one hand, they are dismissive of the sincerity of the Nonhuman Rights Project interest in Happy's actual condition. On the other hand, they stand by that they know what's best for this particular elephant.
That maybe there's fairly widespread consensus that elephants do not do well in captivity, and in general should not be held captive. Most American zoos have released their elephants or ended the elephant programs or are winding them down.
The Bronx Zoo says that, while they may agree with that it'd be sympathetic to that position, this particular elephant who has been in captivity since she was less than a year old and who has been at the zoo for decades now, again, since 1977, and who they say has a history of not getting along with other elephants, and therefore, must be alone, what is called solitary confinement by the critics of her confinement. The Bronx Zoo says is a necessary protection of her and that she is indeed content.
Melissa Harris-Perry: What is at stake if the court were to find that Happy is indeed a person?
Jill Lepore: The Bronx Zoo has secured a number of amicus briefs from organizations that say what's at stake is your ability to get the next generation of a COVID vaccine, which will be tested on animals. If animals are granted personhood, in this case, it will extend to all animals and then all animals at laboratories where vaccines are tested on animals, anybody could file a habeas corpus petition demanding the release of those animals in biological laboratories and virology labs.
The pharmaceutical industry has filed an amicus brief in support of the zoo. There are legal scholars who suggest that if Happy is found to be a person under the law, factory farming could be shut down and animals that are living in conditions of confinement in large agribusiness would be by law required to be released. I don't find those arguments persuasive, but that is a claim that is certainly out there.
One that your listeners who are interested should examine and contemplate, that if animals were persons, we can't eat them, would be the reverse of the Aristotelian notion that since animals don't have syntax, we can eat them. [chuckles] History of Western philosophy is we can eat animals because although they can communicate, they don't have syntax. They're lesser. They don't have souls or the Descartes' notion that animals don't have souls.
This actually, if the court were to find Happy to be a person that challenges this whole-- in the West, this tradition. In other parts of the world, and actually, in indigenous law, it's quite common for animals to be granted personhood. In other parts of the world, animals have been granted person without these huge effects that are the bell ringing of the other side.
What would be the consequences is hard to say and, in fact, the Nonhuman Rights Project has been asked that in previous cases where the courts have been necessarily quite cautious and said, "We might be sympathetic. We are persuaded on the matters of fact that this animal, this elephant, will be better off in the sanctuary than in the zoo alone in this little one acre enclosure. We agree with that, but we can't grant her personhood because we don't know what the effects would be."
That seems to be what the lower courts have generally said. In this case, what the lower courts have said is we can only keep this question down the road for so long. At some point, the road comes to an end. This actually is a question that the law must answer.
Melissa Harris-Perry: Jill Lepore is the David Woods Kemper Professor of American History at Harvard University, and staff writer at The New Yorker. Thank you for joining us.
Jill Lepore: Thanks so much.
Copyright © 2021 New York Public Radio. All rights reserved. Visit our website terms of use at www.wnyc.org for further information.
New York Public Radio transcripts are created on a rush deadline, often by contractors. This text may not be in its final form and may be updated or revised in the future. Accuracy and availability may vary. The authoritative record of New York Public Radio's programming is the audio record.