Haiti Struggles in the Aftermath of President Jovenel Moïse's Assassination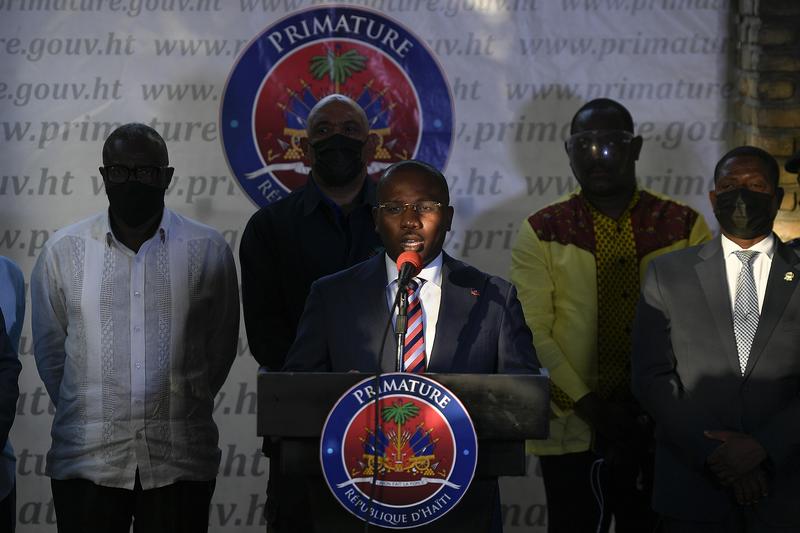 Transcript
Melissa Harris Perry: I'm Melissa Harris Perry in for Tanzina Vega and this is The Takeaway. Before we dive into the show today we wanted to extend a big welcome to our new listeners tuning in to hear us for the very first time from WUWM Milwaukee Public Radio in Milwaukee, Wisconsin. It's good to have you with us. Now let's get right to it.
[music]
Melissa Harris Perry: We start today with Haiti, a country struggling in the wake of last week's assassination of President Jovenel Moïse. Following the assassination, Haiti's police force has killed at least four people that it suspects in the President's killing and has arrested more than a dozen, including two who Haitian officials say are American citizens. The reasons for this assassination are still relatively unknown. According to the Miami Herald in March of this year, polling showed that around 57% of people in Haiti disapprove of Moïse's party and Moïse had drawn condemnation from global leaders for not holding parliamentary elections at their scheduled time more than a year ago.
Despite the instability that characterized much of Moïse's time in office, what comes next could be worse for Haiti's residents. The country is currently under a form of political control similar to martial law. In the days since the assassination two different leaders have claimed that they are now serving as Haiti's prime minister. The current interim government has requested assistance from the US military but thus far President Biden has resisted, choosing only to send a small team to assess the situation. These current conditions are being closely watched by world leaders including the Biden administration and the United Nations. Previous intervention by the US and other global powers in Haiti has often had disastrous consequences.
Speaker 1: Years since the devastating earthquake that ravaged Haiti, critics have faulted the efforts of international donors, including the US, for failing to deliver on pledges while exerting excessive control of the reconstruction process.
Speaker 2: United Nations peacekeepers there to help are accused of adding to the harm. A study claims they fathered hundreds of babies then abandoned the young mothers, some only children themselves.
Speaker 3: Last year Nepalese soldiers under UN command were accused of contaminating water leading to a deadly cholera outbreak, killing thousands of people.
Melissa Harris Perry: For more on all of this we're joined now by Garry Pierre-Pierre. Founder and editor in chief of the Haitian Times. Garry, great to have you here.
Garry Pierre-Pierre: Thanks for having me Melissa.
Melissa Harris Perry: Also with us is François Pierre-Louis, professor of political science at Queens College at the City University of New York who specializes in Haitian politics and immigration. François, welcome to the show.
François Pierre-Louis: Thank you Mellissa.
Melissa Harris Perry: Garry, I want to begin with you. What has been the impact in Haiti in the immediate aftermath of this assassination?
Garry Pierre-Pierre: The impact has been a shock from the population. Jovenel was not very popular in Haiti. I would say that poll was generous to the reality on the ground. He was deeply unpopular for a host of reasons but nevertheless his assassination brought people together because people say, "As much as we dislike Jovenel, he was our president and then foreigners came and killed him." Right now there's a period of mourning. I'm afraid the unknown is what would the people's reaction be? I think that one of the reasons why the so-called Prime Minister Claude Joseph asked for US intervention because he doesn't know what the reaction of the people would be and also, more importantly, what the gang leaders' reaction would be if they decide to come together and, God forbid, attack. It will be total chaos.
Right now the situation is very fluid. We're assessing what's going on and we're waiting because there is a mourning period of 15 days and so we wait.
Melissa Harris Perry: François, as we just heard from Garry there that reference to the gangs and to gang violence. I don't think we can really even think about this assassination and the responses to it without understanding something about the past few months. Can you walk us through this context a bit?
François Pierre-Louis: Since Jovenel Moïse became president there has been a total decline of political order in Haiti. Not only the political institutions were dismembered but President Jovenel, he didn't renew the mandate of parliament for new elections. The local officials, all the mayors appointed by President were appointed by President Jovenel right after their term ended. Also he fired several members of the Supreme Court so that actually right now you only had 11 people who are elected officials in Haiti, with Jovenel Moïse being one of them. Right now you only have 10 former senators as elected officials in Haiti. There has been a complete breakdown of the state institutions in Haiti.
One thing I think we should be aware of also, this was an insider job in terms of the killing of President Jovenel Moïse. There has been a lot of emphasis on the gangs and outside influence but no one has really spoken about the insider going inside the bedroom of a president without any shot being at anyone. No police officers, no security of the president was affected. No one in the security was affected. Therefore the gangs that came outside but they don't really talk about the breakdown of the institutional process that led to this crisis.
Melissa Harris Perry: That's so helpful. Garry, can you speak a bit on that. I heard you say in your first response, this sense of outsiders having come in and killed our president, right? Whether we like him or not, that that is such an indication of crisis. We're also hearing from François here this notion of this being in part an insider job and responsibility. Can you speak on that a bit?
Garry Pierre-Pierre: The rule of protecting an asset, if you will, is that you the first to be fired, to be shot at. In this case no one, according to reports anyway, was shot from the presidential security details and they went inside his bedroom. Which I understand from a credible sources, that room had a security door with a code to get in and that was breached as well. It brings one to think about, well, this was clearly an inside job because otherwise how did this happen? There's a lot of suspicions about who it could have been. We don't know right now at this moment exactly who it is and frankly we may not ever find out, given Haiti's history of dealing with these high profiles killings.
We can think about the journalist Jean Dominique who was gunned down in front of his radio station more than 20 years ago. Even today, we don't even know who was the culprit. We'll wait. Hopefully with a team of FBI agents on the ground in Haiti they'll be able to piece together what happened and hopefully bring someone to justice.
Melissa Harris Perry: François, you've talked here about the breakdown of these total government systems. We have two different politicians now claiming the title of Prime Minister. Why is there confusion about who's currently in charge?
François Pierre-Louis: A few days before he was assassinated Jovenel Moïse fired Claude Joseph, who has now claim to be the prime minister. Then he had a decree out to put in Ariel Henry as a new prime minister. In fact on the Wednesday when he was assassinated, Wednesday morning, on that very same day he was going to install Ariel Henry. Ariel Henry was to take the oath of office at that time. Technically, Claude Joseph is not the legitimate Prime Minister and officially Henry is not the legitimate Prime Minister either. Therefore you really have a real power vacuum there because there is no one at any level of government that can replace Jovenel Moïse.
Since no one expected him to die so suddenly and his intention was really to turn upside down the state institutions by reverting the constitution, writing a new one, putting in intelligence service by trying to dispossess many of the members of the business class. Therefore you have total chaos right now. The fact that he was relying on the gangs to control and suppress the population and push in his agenda, what you really have right now are the gangs are the ones that have the power in Haiti.
Melissa Harris Perry: That language of the total chaos and the actual deployment, the use of gangs rather than what we might think of as a state police force to keep law and order even in what one might call it a dictatorship. Just, Garry, can you put that in context? That sense of total chaos together with the COVID 19 crisis on the island, because Haiti does not have access to vaccines. The numbers are going up, and are likely underreported. How is the coronavirus also impacting this sense of total chaos?
Garry Pierre-Pierre: Well, the Delta variant has been wreaking havoc on Haiti right now. As you mentioned correctly, we've been getting underreported numbers. It is within that climate that Haiti is dealing with a constitutional crisis that's going on, on top of a security crisis, on top of socio-economic crisis. Again, the unknown here, the unknown factor, as François said, are the gangs. The gangs have been the de facto running Haiti. They decide when people can come out, when people have to stay in. They dictate the terms of law. They're the rule of law.
In fact, the police have tried many times to try to infiltrate and try to dismantle the gangs, with very botched results. Just a few months ago they tried to go into a gang stronghold in a neighborhood called Village de Dieu. Dieu means God, and God was not with the police at the time because they were basically massacred. They had tanks that were confiscated by the gang members that reportedly the government had to pay the gangs to retrieve these things. Frankly, what François said is correct, total chaos. Why the reason that we are not seeing that yet is because there hasn't been any street protests, violent protests, or so. Rest assured, there is no one in charge right now in Haiti.
Despite what the UN may tell us that it's Claude Joseph who's prime minister. Well, no, he's not. He was fired. Ariel Henry's nomination was published in The Monitor. The Monitor is the official publication of the Haitian government. Once something is published in The Monitor, it's official. The fact that he was not sworn in is purely ceremonial. Therefore, Henry legally should be the prime minister, but the UN has decided that Claude Joseph is their guy, and they're going to go with him for better or for worse.
Melissa Harris Perry: François, I want to talk a little bit about the request for US troops. I think for me, as I hear the request, on the one hand, I understand our sense of geopolitical and humanitarian interest in what is happening, but I also cannot help but to think about 1994's Operation Uphold Democracy which restored Aristide to power but did not make circumstances in the long-term better in Haiti. What are your thoughts about US intervention in this moment?
François Pierre-Louis: I think sending US troops to Haiti would be a total mistake for several reasons. First of all, what is happening right now, the narrative has been pushed and promoted by members of the same group that supported Moïse. That are still in relationship with members of PHTK, which is the political party of Moïse. What they're trying to do is having the US troops come in to protect them from different situations in Haiti. That would be a grave mistake. Secondly, the narrative also is excluding many of the democratic organizations in Haiti. The grassroots groups, the groups that have been fighting against corruption, the groups that have held Moïse to be accountable to the expenses of the PetroCaribe funds that he had squandered.
He himself took money from those funds, and when he was a private businessman. Third, all the Samui killings and the massacres that have taken place in Haiti under his administration. What they're hoping to do is to bring the marines back to Haiti to protect these people, so that impunity continues in Haiti. I think the biggest mistake the UN has made, and sometimes the US, is to exclude those organizations, those individuals, those groups such as the church, the members of the Patron Saint Catholic Church. The grassroots organizations, the students, the unions. In fact, 95% of the population that are represented by these organizations are excluded from the discourse right now.
Therefore, that's why if the US comes in, you'll be reinforcing the status quo that has put Haiti in this situation currently.
Melissa Harris Perry: Garry, I'm wondering about ways the US and/or UN might be able to leverage its power or its relationships in Haiti in such a way that actually do elevate the voices and the capacity for exactly those organizations and individuals who are Haitian society in the ways that François just laid out for us.
Garry Pierre-Pierre: Well, I think I agree with François absolutely. There's no need for US military intervention, but I think there's room for US intervention in terms of diplomatically, politically. I've been urging The White House to really look at a different approach. We need to engage the Haitian-American community. I've written a column, outlined some of the folks that I think are in a position to really lead such a Haiti task force. Haitian-Americans are the real stakeholders in this crisis. We have friends or family back home. Haitian-Americans send more than $2 Billion annually back home in remittances, excuse me.
In the past, they've been ignored, largely put on the side. We've been spectators. I think right now, we need to be players in this situation because everything that's being talked about has been tried and has failed. We need to push the reset button and look at, how can we actually get this right this time. The civil society members that François has spoken about are never engaged by the powers that be in Washington or the UN. Even the Organization of American States, when they come in, they just speak with what they think are the important people in the government, in the private sector. They ignore the civil society, which, as you all know, is what is the backbone of any society.
Melissa Harris Perry: That story of ignoring civil society and grassroots leaders and organizations in order to just speak with who is perceived as important. I just spent the week in New Orleans, and that language describes to me so much of what happened in my beloved city immediately following the Hurricane Katrina disaster. I'm wondering, and François maybe you can weigh in on this, as Garry is talking about this connection with Haitian-Americans, with stakeholders here in the States, there's also this issue of Haitian immigrants who have temporary protected status. I'm wondering where the Biden administration is standing on the extension of that program, I know there's been extension, but whether or not people are still being deported, particularly, back into an island that is in this kind of chaos.
François Pierre-Louis: In fact, yes. As of last week, a number of people were deported back to Haiti. The program has not ended yet. Sending people back to Haiti in this chaotic situation is really inhuman, in that sense. The other thing I would add to what Garry mentioned is the burden of the Haitian diaspora, Haitian-Americans. In terms of economic, social, and political mounting on their relatives back home. Whenever Haiti is in a crisis, Haitians in the diaspora, primarily in the United States, have to send more money back home to support their children, their family members, and their friends.
As a result, economically it impoverished the Haitian-Americans in the United States. Therefore, it is in the interest of the American government and other governments where you have large Haitian residents to try to take care of this situation in Haiti. How would they live with the burden of their own Haitian-Americans and other nationals? The other thing also, I believe that it will be impossible for the Biden administration to handle the number of refugees that will be coming. They may not land on the shores of Miami, but they're definitely going to be on Guantanamo Bay or some parts of the Caribbean.
Melissa Harris Perry: François Pierre-Louis is a Professor of Political Science at Queens College at the City University of New York and Garry Pierre-Pierre is the founder and editor-in-chief of the Haitian Times. Thank you so much to both of you.
Garry Pierre-Pierre: Thank you, Melissa.
François Pierre-Louis: Thank you.
Melissa Harris Perry: How are Haitians in the US processing the news? Last Friday, we spoke to three people deeply connected to the island to get their reactions to the situation.
Ricot Dupuy: My name is Ricot Dupuy. I'm the station director at Radio Soleil. That's 24-hour Haitian radio station here based in Brooklyn.
Marleine Bastien: My name is Marleine Bastien and I'm the executive director of Family Action Network Movement, FANM. I was born in Haiti, but I've been living here for the past 40 years.
Paul Christian Namphy: Paul Christian Namphy, lead organizer of the Family Action Network Movement and I'm a person of Haitian origin.
Ricot Dupuy: It was not until 5:30 AM in the morning that I heard something that sounded like a phone call.
Marleine Bastien: I heard the news about the assassination of President Jovenel Moïse while I was getting ready to go for my morning walk.
Ricot Dupuy: I got up and I said, "My goodness." I saw over 25 to 30 phone calls.
Marleine Bastien: My home phone was ringing off the hook at the same time with my cell phone. Usually, when that happens, that means something horrible is happening.
Paul Christian Namphy: I woke up, I was working on revising a document, and then there were people in my house including one of my sons who were saying, "Jovenel Moïse has been killed. The former president of Haiti has been killed."
Marleine Bastien: When I received the call, she informed me that President Jovenel Moïse was assassinated. I was really shocked.
Ricot Dupuy: I was shocked.
Paul Christian Namphy: This was a shock. I got on whatever media I could, NPR, CNN, the internet, to figure out what information can we get because there were reports also that the first lady had been killed. Oftentimes we say in Haiti the truth is worth more than gold. We were seeking to get to the bottom of exactly what was happening. As details of what has happened has emerged, it's become very, very clear that this is a very, very gruesome, brutal act that happened which was not an act in isolation, but which follows many, many, many other murders.
We've had massacres going on in Haiti since the last week of June until the present where many dynamic feminist leaders, journalists, many people have been killed by death squads and by armed gangs in really horrible fashion. This is just something that, as details emerge, it becomes more and more worrying for us.
Ricot Dupuy: I'm a fierce critic of the regime of Jovenel Moïse, the deceased president, that is well-known. Not only of himself but of his regime, the whole PHTK regime. Definitely, we deplore his death, the way he was killed, that's not what we wanted. We wanted him to cede power and to avail himself for the justice system to examine his actions and have him pay for the countless crimes that he committed in the country.
Marleine Bastien: Whether you were part of the majority from the civil society, from the opposition groups, from the religious sectors, business sectors who have been organizing against him, or whether you were part of the minority that supported him, it is shocking. It is shocking for a sitting president to be assassinated in his own home and his wife shot three times while his children were in the house. Whether you were for him or against him, whether you agreed with President Jovenel Moïse's politics or not, the fact that he could be assassinated in his own home highlights the high level of instability and violence that permeated the island over the past few months.
Paul Christian Namphy: My youngest daughter is in Haiti right now and it's a cause of concern, but she's not in Port-au-Prince right now so that's really a source of relief. Although we are still in a situation of uncertainty because she's in school here in Miami-Dade County and it's very important for us to get her back. Because of the closing of the border and the closing of flights, it's been a very, very, very fluid and uncertain situation about logistically how we can even get her back to school because we just don't know what's going to happen next, how long this is going to be going on. We don't know.
Marleine Bastien: I still have most of my family in Haiti. I have a lot of aunts, cousins, and uncles and there is a lot of confusion there now. People are very scared and concerned that this could degenerate into more violence because, as I indicated leading to this, a lot of people have been forced out of their homes because armed gangs have been wreaking havoc in people's lives, kidnapping people, kidnapping women and girls. In times of high level of political instability and violence, women and girls usually fare worse. For the past few months, the Haitian women and the Haitian girls have been kidnapped, raped, and killed, and thrown on piles of trash.
The situation has been chaotic to speak mildly, but the people of Haiti now, they are very concerned that this could get worse. Given what they've been through for the past few months, you can understand that they are very scared. There's an [foreign language], a state of siege in the nation, a lot of them are confused about that. The airport is closed, the police has occupied the streets so people are scared.
Paul Christian Namphy: What we want for Haiti is what everyone wants for a country. It's to really allow democracy to flourish. When we stop democracy, what does it mean? It simply means a lot of people to choose who's going to lead them and that has been denied the Haitians, the country, for years.
Marleine Bastien: My message to our brothers and sisters now is that, yes, we know you've been yearning for peace, you've been yearning for security, but now, with this crisis, there is a possibility to do it, but we have to unite. You have to unite your strength. You have to unite your voices and create a space for every voice to be represented and to come out with a short-term and long-term strategy to move this beautiful, beautiful island nation forward. Haiti will not die, Haiti will rise. Haiti will rise but we are asking our friends to let Haiti live and to heed the voices of the Haitian people. After all, they are the masters of their own destiny.
Melissa Harris Perry: The voices there are of Marleine Bastien, Ricot Dupuy, and Paul Christian Namphy speaking about Haiti.
Copyright © 2021 New York Public Radio. All rights reserved. Visit our website terms of use at www.wnyc.org for further information.
New York Public Radio transcripts are created on a rush deadline, often by contractors. This text may not be in its final form and may be updated or revised in the future. Accuracy and availability may vary. The authoritative record of New York Public Radio's programming is the audio record.