Former Olympian Dominique Dawes on Simone Biles, Mental Health, and More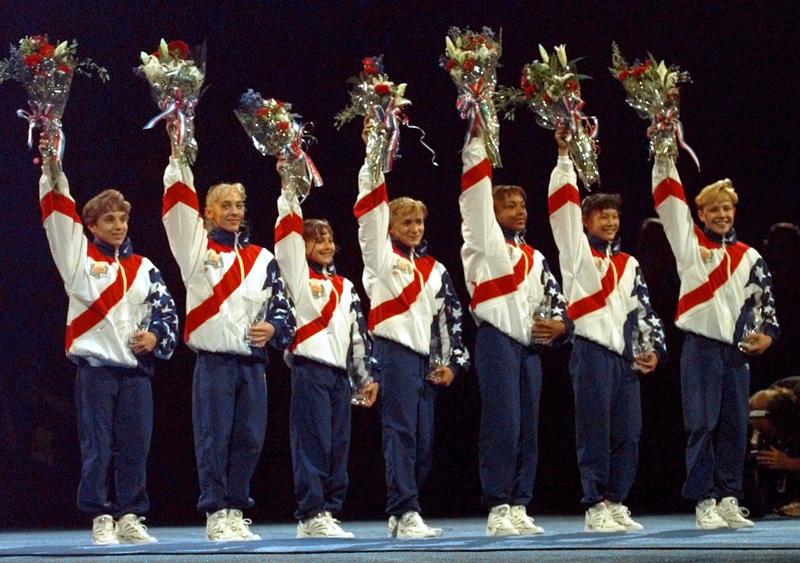 Transcript
[music]
Melissa Harris-Perry: Welcome to The Takeaway. I'm Melissa Harris-Perry and I love gymnastics. All the breathtaking, gravity-defying moves that seem simultaneously impossible and effortless. As a fan and enthusiast, I was deeply disappointed when I heard four-time Olympic gold medalist Simone Biles explained that she was withdrawing from the team final and later from the individual all-around finals.
Simone Biles: I just felt like it would be a little bit better to take a back seat, work on my mindfulness, and I knew that the girls would do an absolutely great job. I didn't want to risk the team a medal for my screw-ups because they've worked way too hard for that.
Melissa Harris-Perry: As a fan, I was sad to lose the opportunity to watch Biles perform. As a person, what made me far more sad was learning the reason why.
Simone Biles: It's been really stressful, these Olympic Games. It's been a long year. Just a lot of different variables, and I think we're just a little bit too stressed out, but we should be out here having fun and sometimes that's not the case.
Melissa Harris-Perry: With me to discuss the expectation for young women in gymnastics is someone who understands it better than anyone. I'm thrilled to introduce Dominique Dawes, a three-time Olympian and Olympic gold medalist who was the first African American woman to win an individual event medal with her bronze medal-winning floor performance in 1996. She's also the owner of Dominique Dawes Gymnastics Academy. Thank you for being here.
Dominique Dawes: Thank you for having me on. I appreciate it.
Melissa Harris-Perry: Now, I know that it is a tight community of gymnasts, and without revealing anything that might be personal, I'm just wondering if you've had an opportunity to talk with either Simone Biles or with her family and if you know how she's doing.
Dominique Dawes: No, I have not. I did reach out to her dad prior to the start of the 2020 Olympic Games when there was an announcement about a postponement. I just put myself in her shoes back then thinking a whole nother year to have to train for an Olympic Games would be an arduous task. I asked him if she would stick it out for one more year to make it to the Tokyo Olympics that would be happening in 2021 and he said, "Yes, she's going to give it a shot." I have not reached out since, but during everything that has come to light, I do plan on reaching out to her family as well.
Melissa Harris-Perry: The very fact that we're having this Olympics in 2021 is already indicative of a kind of weirdness or difference; additional pressure that so many athletes are experiencing as a result of this. I am never going to go to the Olympics except maybe as a spectator. Can you help us to understand something about the kind of pressure associated with participating in the Olympic Games?
Dominique Dawes: Melissa, think of this. I started the sport of gymnastics when I was six years old, and fell in love with the sport immediately just because of the ability to do flip, then needing high energy and strength and flexibility. I had so much fun initially with my teammates. Then at the age of 11 years old, it started becoming a job. There was a focus on the Olympics. From age 11 to 15 years old there was that four-year commitment of altering my training schedule to qualify to my first Olympic Games at 15 years old.
All of these athletes, they have been committing years and years and years, and for many of these gymnasts out there they have sacrificed their whole childhood for an opportunity to make an Olympic Games. Then with the postponement, another year of training, another year of the physical, the emotional, the psychological, and the social ramifications is a lot on these young athletes, and still with the uncertainty, if there were even going to be an Olympic Games in 2021. I can't imagine what these athletes have gone through, and they persevered through so much. However, now we are talking about the importance of mental health, and I'm not surprised because they do endure a lot.
Melissa Harris-Perry: When we're talking about Olympic athletes, zero in for me on young women gymnasts. Everyone has high physical demands, but there's also a performative demand associated with gymnastics. We want to see our gymnasts, especially our female gymnasts, smile. Then we want to see you all having a good time. Is there an added or different kind of pressure associated with that?
Dominique Dawes: There is a focus on perfectionism and there is constant critique. You were always at a young age taught to strive for that perfect 10, and there was always a focus on what you did wrong and not enough focus on what you did right. As a young gymnast, you are groomed at a very young age to believe that you're never good enough. That you're not perfect, and you need to focus and be hyper-focused on your faults. So much so that you really don't take the time to celebrate your achievements. You don't take the time to appreciate how much hard work, dedication, sacrifice, commitment, you or your family endures to get to a competition or to try for the Olympics.
That is the environment. It's focused on perfectionism, and it's focused on hypersensitivity to every single flaw and imperfection you have.
Melissa Harris-Perry: Is there a way to make great gymnasts without that kind of constant critique?
Dominique Dawes: There are some gyms that do it in a very positive way, where they recognize that nearly for every critique or correction they make in one athlete, they are then going to follow it up with 10 great positive things about that athlete. That might have very little to do with the actual skill or the young person's work ethic, but it might be about their character. It might be about how they're a great team player. It might be about how they have such a positive attitude. Just recognizing all of those little things that these young people are doing, and remembering that we need to celebrate and applaud that.
I did not come from that environment. It was very harsh. It was very much focused on your imperfections. I walked into the sport of gymnastics, and I have flat feet and I have bow legs. Right away I was told that that's a deduction. I was a little perplexed because I was a young child and that was how I was born. My legs don't naturally go together, but yet when I would do a handstand that was right away a deduction. Or my knees didn't straighten enough naturally, or my feet didn't point as well as another gymnast. It needs to change. There needs to be more focus on what a child is doing right and not focusing on maybe a certain look that not everyone has.
Melissa Harris-Perry: I wonder also as you're talking about this, the harshness, the criticism in the environment. You were obviously part of the 1996 team, the Magnificent Seven, and you were there when Kerri Strug was suffering from a severe leg injury. She still made the decision to do her vault and it was a decision-- Clearly, there was a lot of pressure, we could all see it. Maybe even we as fans were giving that pressure. I'm wondering if it's hard for young women in gymnastics to be able to say no.
Dominique Dawes: That was actually brilliant that you brought up that correlation of Kerri Strug, one of the most memorable iconic moments in the sport of gymnastics. People remember that still to this day, and it's been 25 years since we won gold. She was willing to sacrifice her physical health for, in her mind, the betterment of the team, for her country. What she had sacrificed her whole childhood for. She was willing to take that risk.
Simone Biles, the greatest athlete out there, going for her second Olympic Games, had a mental block but learned to listen to her inner voice. She made the decision, the courageous decision, and the very humble decision to say, "This is not worth the risk of my mental health nor my possible physical health." What Kerri Strug did was viewed as very heroic, but it is a sign of what type of culture the sport of gymnastics redid, where one was going to sacrifice their physical health in hopes of getting on top of a podium. It's not worth that risk.
Even though that was such an iconic moment, so memorable, and I feel blessed to have been on that team in some regard, it's not something that I would ever want any of my four children to ever endure. I want them to have an inner voice that speaks to them loud and clear and tells them when something is too much either mentally and/or physically, and they know how to say no.
Melissa Harris-Perry: Did you ever want to quit?
Dominique Dawes: Every week. I say that all the time. I've been in motivational talks now for 25 years. In the beginning, I was very politically correct and I would say how great of an experience it was and how thankful I was with certain things in the sport. Then I started to wise up, and what allowed me to gain this wisdom is motherhood. I recognized, "Wow, I don't want my children to go through what I went through," and you start processing things.
In 2016, when everything came down with regards to the sexual abuses of Larry Nassar, someone that I knew for 10 years of my childhood-- he was the Olympic team doctor, he was there every step of the way. I then became very aware of how damaging and unhealthy the culture was in the sport of gymnastics, and how when I wanted to quit, you're really not allowed to quit. I almost at one point thought it was a blessing that I didn't have the opportunity to quit, but now as a 44-year-old woman, wife, and mother, that in itself is very harmful. These young athletes need to have inner voices that they trust, that they hear, and that they are guided by. It should not be this very controlled environment based on fear, based on silence, and based on intimidation. That's what it was about back then.
Melissa Harris-Perry: As you're talking about the inner voice, I'm thinking about the fact that Simone Biles talked about experiencing the twisties?
Dominique Dawes: Yes.
Melissa Harris-Perry: Can you talk about what that is physically, and how that might also be related to this inner voice that you're just talking about?
Dominique Dawes: Yes, it's scary. It's scary. I went through emotional blocks constantly throughout my career. I saw teammates that went through mental blocks where they would balk. They would stop midair because they lost a sense of their spatial awareness and some injured themselves, but they all were affected emotionally greatly, full of fear, full of anxiety. Some still have it today. I went through mental blocks. All you have to do is look at a number of my performances on YouTube.
It's so hard for me to watch today, but you will listen to the commentators talk about, "Wow. Dominique, I don't know if she's going to get it together in her warmup. She was really off in her warmup prior to this competition. Let's see if she can do it." Many times it was me facing a mental block; forgetting how to twist, forgetting how to do a particular move. My coach used to always say, "Analysis, paralysis. You're overthinking it." That's very common in the sport of gymnastics. The paralysis part though can lead to you completely freezing, doing a skill, balking, and then injuring yourself.
The twisties, which is what today's generation calls it, we didn't necessarily have a name for it back then, it was just balking, is very terrifying. That's what Simone experienced during the competition and made the decision that was best for her to back away.
Melissa Harris-Perry: I acknowledge that neither one of us are clinical psychologists, but I'm wondering if those twisties or that balking, it's almost like your body or your brain is saying no or saying, "I'm not sure." Could that be related to the kinds of adverse experiences? It's not to say that gymnastics is all bad, but the adverse experiences of criticism, of not having you trust your own inner voice, and as we know in Simone's case, also an experience of abuse at the hands of Nasser, who was supposed to be someone there to help her.
Dominique Dawes: Yes. These twisties are things that many gymnasts face that are not even training for the Olympic Games. That are faced with this even at a lower level, competitive level kid, and many times it is your environment. What we are doing are very difficult maneuvers even as a eight, nine, and ten-year-old in the sport of gymnastics. Much of it is the environment, it's the culture you're in. If you're feeling the fear. If you're feeling the intimidation. If you're feeling the pressure. If you're feeling as if you don't have a voice. If you're feeling that you are completely controlled and you don't have a choice, that many times will happen, and it's very hard for you to get yourself out of it and feel secure and comfortable enough to try again.
I went through many, many mental blocks, and I know many athletes have. I love today that Simone Biles is speaking out and saying that she's listening to her inner voice, and that right now she's doing what's best for her mentally as well as for her physically. There was one quote that I read that she said she's battling her mind. There's a lot going on. She feels the weight of the world on her shoulders. That's a lot, and we need to recognize that she's human and that if she needs to take a break during an Olympic Games, then she has the right to take a break.
Melissa Harris-Perry: Dominique Dawes, thank you for joining us.
Dominique Dawes: Thank you, Melissa. I appreciate it.
Copyright © 2021 New York Public Radio. All rights reserved. Visit our website terms of use at www.wnyc.org for further information.
New York Public Radio transcripts are created on a rush deadline, often by contractors. This text may not be in its final form and may be updated or revised in the future. Accuracy and availability may vary. The authoritative record of New York Public Radio's programming is the audio record.