Gun Violence, Trauma, and the Mental Health Crisis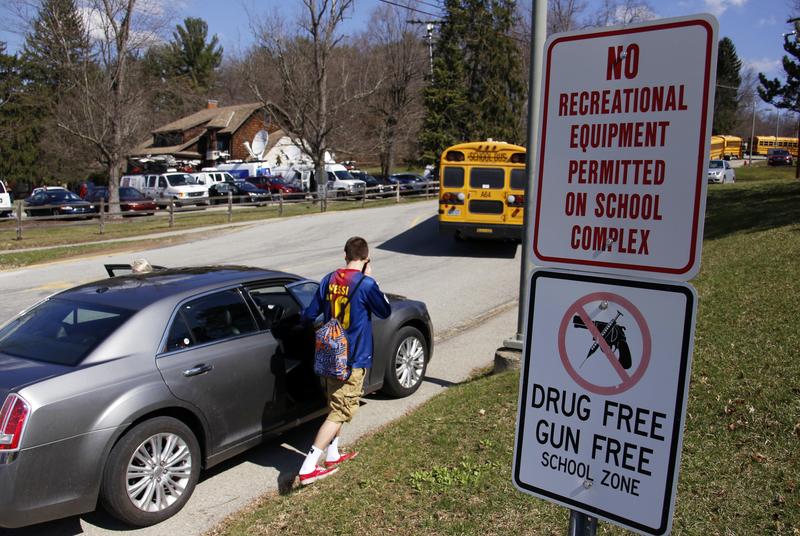 Transcript
[music]
Melissa Harris-Perry: Thank you for joining The Takeaway. I'm Melissa Harris-Perry. Early Sunday morning near Lakeland, Florida, a 33-year-old gunman shot five people, four died of their injuries, and this included a three-month-old infant, and a 61-year-old grandmother. An 11-year-old girl survived and she's hospitalized with serious injuries. When police responded to the scene, they found Bryan Riley, a marine veteran of the wars in Afghanistan and Iraq.
Sherriff Grady Judd: As we approached, we saw an individual totally outfitted in body armor and looked as if he was ready to engage us all in an active shooter situation.
Melissa Harris-Perry: Riley was taken into custody and has confessed to the killings. Several news reports indicate that Riley was suffering from PTSD and delusional thinking, and may have been using methamphetamines at the time he shot the victims. The violence is horrible, but not rare. Since the start of 2021, there have been 569 mass shootings in the United States and gun violence happens in cities and towns across the country.
It happens most often between people who know each other and it happens most often in our own homes and it happens in our schools. Schools have been closed for most of the year in much of the country. Still, in 2021, schools have been the site of 14 shootings that have killed or injured 19 people. The most recent shooting was on September 1st at Mount Tabor High School in Winston-Salem, North Carolina.
Here is Winston-Salem police chief, Catrina Thompson, holding back tears as she tells local reporters that William Chavis Renard Miller Jr. was shot and killed while attending school.
Catrina Thompson: One student was located with a gunshot wound. Medical responders begun life-saving measures and the injured student was transported according to Wake Forest University Baptist Medical Center where he succumbed to his injuries.
Melissa Harris-Perry: I live in Winston Salem. The college campus where I teach is less than three miles from Mount Tabor High, and just afternoon last Wednesday, I received a voicemail alerting of an active shooter situation and telling parents where to gather.
Speaker 2: Parents should now report to the Harris Teeter and not to the Robinhood YMCA to be reunited with their children.
Melissa Harris-Perry: I spent the next four hours in the parking lot of a local grocery store and as the parents of Mount Tabor's more than 1,500 students gathered to wait for the safe return of their children, the stress was obvious.
Speaker 3: They don't got nobody under control. Where them kids at?
Speaker 4: Listen, don't do that.
Speaker 3: Where are the kids at?
Speaker 4: We don't have them here.
Speaker 3: Where are they at?
Speaker 4: They're at the school. They're still at school.
Speaker 5: [unintelligible 00:02:53].
Speaker 6: What the hell?
Speaker 3: Man, come one, man. Move, move. They don't have nothing under control.
Melissa Harris-Perry: Even amid the chaos with police helicopters buzzing overhead, I was able to speak with several parents and students who were trying to make sense of the situation.
Speaker 7: It's not the first time that a gun has been on campus. This is not the first time we've been through a shooting. It's not. We become so desensitized to it until it slaps you in the face and we have to deal with.
Melissa Harris-Perry: Another parent I spoke with also identified the desire to seem strong rather than weak as a motivation for teens to turn to guns.
Speaker 8: When they fight and if they lose a fight, the kids bully them and they clown them for fighting.
Melissa Harris-Perry: I talked with a Mount Tabor student who'd been in a fight at school the week before and he recounted several school fights in recent days and told me he'd expected more disruption but was surprised the situation had escalated to gun violence.
Speaker 9: I had a feeling that something was going to happen, but i didn't know it was going to be like this though. I had got into a fight like second day of school, so form what I heard-- [unintelligible 00:04:03] I was at the bus light, and all I heard was a gunshot, but I didn't know it was really a gunshot.
Melissa Harris-Perry: I spoke with one parent whose child indicated she no longer want to attend school.
Speaker 10: She wants me to homeschool. I am a nurse. I work and I said, "Honey, no, I can't homeschool you." She doesn't like online school. She's ADD, doesn't take any medicine, she has to focus, and she has to be with somebody, but this is just downright scary.
Melissa Harris-Perry: I asked everyone I spoke with about their plans to return to school. Do you think she'll want to go back?
Speaker 10: I don't think she will. I don't know, but I will definitely do whatever's best for my kids.
Melissa Harris-Perry: Mount Tabor High School students return today to the classroom. It can be difficult to feel safe or create a sense of safety for young people when everything from the national news to the school hallways reinforces stress, fear, uncertainty, and violence.
[music]
Melissa Harris-Perry: Joining me is Dr. Warren Ng, a professor of psychiatry at Columbia University and president-elect of the American Academy of Child and Adolescent Psychiatry. Great to have you here. Dr. Ng.
Dr. Warren Ng: Thank you for having me and inviting us to discuss this really important topic.
Melissa Harris-Perry: Absolutely. Also with us is Dr. Jonathan Metzl, professor of sociology and professor of psychiatry, and director of the Center for Medicine, Health, and Society at Vanderbilt University. Dr. Metzl, thank you all for being here.
Dr. Jonathan Metzl: It's my honor to be part of this conversation. Thank you.
Melissa Harris-Perry: Dr. Metzl, I also want to begin with you. Let's start in Florida. What do you make of the reports that Riley was a marine veteran suffering from PTSD?
Dr. Jonathan Metzl: Well, again, it's very hard to know in this case. Certainly, we're one day after this horrible shooting and more details will come to light. I would say just based on the media reports that I've been seeing and the police reports, there are multiple possible triggers here. Certainly, this is somebody who had seen combat and so PTSD is an option. Very important, it looks like there's some substance use of heavy meth use possibly recently, and then the possible history of other kinds of mental illness.
We'll see what happens. I think it's important to note always in these cases, that many, many tens, hundreds of thousands of other people who fit such a profile; army veterans, people with diagnosable mental illness don't go on to commit mass shootings like this, and certainly, senseless ones like this one seems to be. It's important to note that there are probably individual-level factors that don't have anything to do with those categories.
Melissa Harris-Perry: Dr. Metzl, let me just-- one more beat on this. You've co-authored a recent academic journal article, and in it, you and your co-authors write, in part, "We need to understand the psychologies of individual shooters within larger structures and systems." Can you give us a sense of how that might change a bit how we're even talking about right now what's happening in Lakeland, Florida?
Dr. Jonathan Metzl: Well, I think in the aftermath of these horrific shootings, of course, the question on everybody's mind is why would somebody commit such a senseless act? Very often, we turn to questions that are based in individual psychology. What made somebody snap? What were the psychological pressures, et cetera?
What we did in that article, and in other research that we've been doing recently is if you just tell the story of what happens in these mass shootings, there are so many other factors that are upstream factors. What were the gun laws in that area? How did that person get their guns? Was there a history of larger issues like substance abuse, factors like that? Were there socio-economic pressures?
The argument that we make in our research is you really have to look upstream, ultimately, at what were the bigger factors that lead to a particular shooting, and that might help us prevent them in the future.
Melissa Harris-Perry: Now, Dr. Ng, I want to come to you on some of these upstream factors a little bit. In part because as I was talking with parents and students a week ago after the Mount Tabor shooting, I was surprised to hear from so many parents and kids that even though we've only been in school about eight days, there had already been multiple fights, students already being suspended from school.
I'm wondering if this can indicate a level of stress and trauma connected with that COVID year of remote learning.
Dr. Warren Ng: Thank you, Melissa. and I totally echo Dr. Metzl's very wise thoughts really about the upstream issues. You had shared that the past year and a half has been an incredibly challenging year for everyone, and in particular, for students and young people, and thinking about how disrupted their lives have become, and also affecting every aspect of their well-being, their social-emotional well-being, their family, their friends, their educational experiences.
I think one of the things we've appreciated is that over the year and a half, there have been an increase in mental health related concerns. As we can appreciate, the pandemic was not necessarily just a medical experience, it was a psychological one, with regards to social distancing, and all of the safety precautions that were in place. All of those things add to the burden of the experience that speaks to Dr. Metzl's upstream indicators of the challenges related to the stresses of being in a pandemic.
I think children and adolescents have experienced that in different ways. When we've looked at some of the studies that have looked at mental health conditions, presentations within the emergency rooms, we see that for children ages 5-11, there was a 24% increase in emergency room visits and those are indicating their higher acuity more intense presentations for mental health issues. Then there's the 31% increase in terms of adolescents. We've definitely seen this also among the adults. When we think about who surrounds children in creating that caring and supporting environment, those are the parents and/or caregivers, and they have been disproportionately affected, particularly within communities of color.
Melissa Harris-Perry: This is such a good point. I want to just stay on this for one second, Dr. Ng. In the context of the pandemic, both the parents, obviously, the teachers, the community, as well as the young people are experiencing this depression, anxiety, the sense of potential loss of fiscal resources in the household. I'm wondering, are there ways that young people process these stressors differently, either in how they manifest them or even how they think about them or experiencing them in their own minds and bodies?
Dr. Warren Ng: Definitely. For children and adolescents, we have to be appreciative of their developmental age and where they are in terms of their social, emotional, and psychological development. We want to approach young people where they're at and be mindful of how they experience the world. A lot of anxiety and depression, also grief and bereavement in the past year as many young people have also lost loved ones.
Within New York State, we had the United Hospital Foundation's ripple effects study which looked at within the first five months of the pandemic Black or African-American child was one in 600 would have lost their parent or caregiver and one in 700, Latinx or Hispanic children and adolescents. I think we're just appreciating the fact that young people are experiencing a lot of different things. It's important for us to be able to listen and learn, and engage in dialogue with them.
The way that they cope with different things really depends on who's around them, and also what skills and what strategies they have available. Part of that is, how do we communicate with young people? How do we understand what they're going through? It's important for us to really take a step back, first check ourselves so that we can be in our best position to be helpful because we can also be affected by similar things.
Also, then listen, in terms of the young people and maintaining communication. Many young people have been communicating virtually during this past year and a half and part of it is that that level of connection may be different from the quality of experience of being in person. We want to be able to really understand here and learn from the young people what they really need and what they're really going through.
Melissa Harris-Perry: Dr. Metzl, let's talk about guns for a moment because all of these various experiences of stress, anxiety, depression that we've been considering, how is it that guns and the availability of guns change what those experiences then manifest, how they manifest?
Dr. Jonathan Metzl: Well, I just want to agree with what Dr. Ng was just saying that we've had-- I mean, to call this one of the stressful years, it's really one of the more stressful years in the history of our species, in a way. There was a moment for me in the pandemic, we were in lockdown, things were starting to ease up, people were starting to get back out into the public arena.
People probably remember that as people started to filter back into schools and movie theaters and workplaces, there were several high-profile mass shootings; one in Atlanta and one in Colorado. At the time, the news reports were saying, "Oh, my gosh, the minute we go back into public, now these mass shootings are happening again." In a way that's understandable.
Certainly mass shootings, as we think about them are these high profile, very public target kinds of horrific acts but it's important to note that several factors have been happening over the course of the pandemic that really lay the foundation for the kinds of shootings we're having, including those high profile mass shootings. Number one, we've seen astronomical rises in just the number of civilian-owned guns in circulation.
The pandemic set off really a panic buying almost of weapons. People probably remember in the beginning of the pandemic, there were around the block lines at many gun stores or across the country that was furthered by the Trump administration designating gun stores as essential businesses. People were buying guns like PURELL or toilet paper almost. Part of the issue is there are just many more guns out in circulation.
The other important point is that because of that, there were many kinds of shootings that didn't make it to the news; shootings that happened in houses, in isolation, partner violence, higher risk of suicide, all these other shootings. It really is, I think, a really potentially very toxic mix of a remarkably tense situation where life and death, because of the pandemic, is far more real than really we imagined it to be before. Then adding guns to the mix just makes things all the more volatile.
In a way, these high-profile mass shootings are just tips of the iceberg of much bigger cultural dynamics that I think we have to worry about. The last part of that is that there's a lot of legislation in states like Tennessee and Texas and a case coming before the Supreme Court that are going to, I think, overturn the gun laws that have protected public spaces like this. It's a really dangerous and urgent moment, not just for the world because of the pandemic, but in the US because we've added guns to this mix.
Melissa Harris-Perry: Dr. Ng, as I listen to Dr. Metzl talk about such a stressful and dangerous moment, I'll also say that I was quite moved and have been quite moved by the ways that there has been simultaneous with this trauma and Winston-Salem, there's also been community building.
As simple as-- there were local community organizations, faith-based organizations who were in the parking lot with the parents on that hot afternoon passing out free water bottles and other schools, making Facebook posts and songs for the young people, and the parents, and the teachers of Mount Tabor. I'm wondering about the ways that we can learn from an acute stress like this to actually build those community ties across the more durable stresses that we're all experiencing.
Dr. Warren Ng: Thank you, Melissa. I think that you've got to the root of what is so important. If there's anything that we can learn from the past year and a half or two years with the pandemic, it's really the importance of one another, and our connections to one another, and how much we need one another in terms of getting through the most difficult times. I think that what you've spoken about at Mount Tabor really brings to focus how important we are to one another.
Community building faith-based organizations, parents groups, teachers, communities, and just human beings being able to support one another. I think that that is really the key to what we hope is the silver lining in any of these difficult experiences. I think that it's important for us to really build upon really the local strengths and the regional strengths, and also the strengths within each other during these times. It's really in the small acts that we can make the most impact, as we've seen and as you've mentioned.
I think one of the things with the upstream effects that Dr. Metzl has also drawn upon is just the fact that in the past year and a half, a lot of the issues related to mental health, substance abuse, stressors, food insecurity, economic hardship, racial stress and trauma, as well as many other additional concerns such as the COVID-19 concerns related to vaccine hesitancy, or just fears of infection, as well as mortality, and loss and death, I think all of those things really compound a situation where, how do we get through the most difficult times?
The important answer is together. So how can we build those connections? Even in our divisive society at this point on many different levels, how do we reach across the aisle or cross table to another to find that humanity that I think speaks to what we all crave during the most difficult times? I think that you're hitting on the most important point in all of this because I think we need each other in order to get through this.
Melissa Harris-Perry: Dr. Warren Ng is president-elect for the American Academy of Child and Adolescent Psychiatry, and Dr. Jonathan Metzl is professor of sociology and of psychiatry at Vanderbilt University. Thank you both for joining us.
Dr. Warren Ng: Thank you very much.
Dr. Jonathan Metzl: Thanks so much.
Melissa Harris-Perry: If you or someone you know is suffering and struggling right now, please know there are resources to help. You can call the National Suicide Prevention Lifeline number at 1-800-273-8255 or the Crisis Text Line, text 'Hello' to 741741.
Copyright © 2021 New York Public Radio. All rights reserved. Visit our website terms of use at www.wnyc.org for further information.
New York Public Radio transcripts are created on a rush deadline, often by contractors. This text may not be in its final form and may be updated or revised in the future. Accuracy and availability may vary. The authoritative record of New York Public Radio's programming is the audio record.