Replay: Gullah Geechee Home Cooking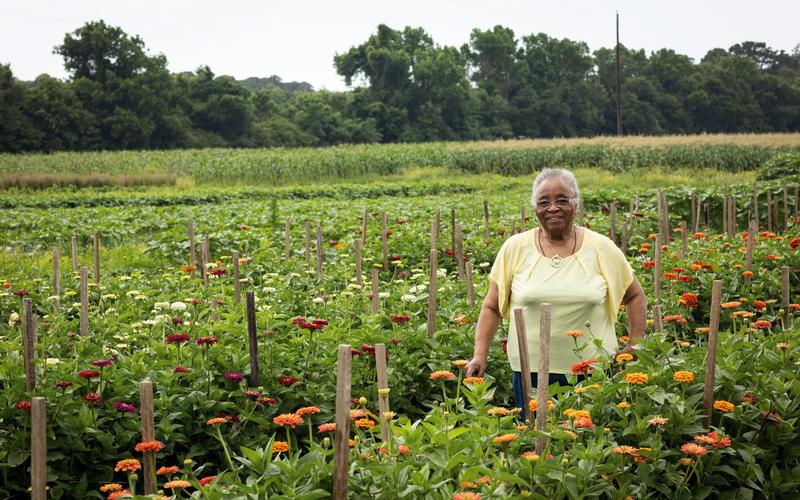 Transcript
[music]
Melissa Harris-Perry: I'm Melissa Harris-Perry and this is The Takeaway.
[music]
Melissa Harris-Perry: It's time to head to the Lowcountry region in South Carolina and Georgia. Let's talk about Gullah Geechee Home Cooking. That's the title of one of the first major Gullah Geechee cookbooks and I spoke with the lead author of the cookbook-
Emily Meggett: Emily H. Meggett, and I'm the matriarch of Edisto Island for the Gullah Geechee cookbook.
Melissa Harris-Perry: -and with her co-author.
Kayla Stewart: My name is Kayla Stewart. I am the co-author of the Gullah Geechee Home Cooking cookbook. I am also a food and travel reporter.
Melissa Harris-Perry: Now if you've traveled around South Carolina, maybe you've learned about the Gullah Geechee people and their culture, but if you're not familiar, here's Miss Emily saying a bit about it.
Emily Meggett: When someone says "Gullah Geechee people," they are talking about the African American who live in the Lowcountry region of South Carolina, Georgia, and Florida. The Gullah Geechee people are descendants of Africa who were enslaved on the rice indigo, and Sea Island cotton plantation. Many people came from the rice-growing region of West Africa.
On Edisto Island, where I was born and raised they often referred to us as Gullah Geechee because of the broken language we spoke and because we ate a lot of rice and grits. Every day we had rice for dinner, and grits for breakfast.
Melissa Harris-Perry: The cookbook will be available on April 26, and in it, you'll find fresh seafood recipes that pay homage to the Sea Islands on the Atlantic coasts. Recipes like deviled crab and Miss Emily's famous stuffed fish. There are recipes that might remind you of other Southern cooking that you may have tried, like red rice, corn fritters, and okra gumbo. Don't even get me started on all the glorious pineapple upside-down cake and pie joy.
Now alongside the food, the cookbook tells the story of the Gullah Geechee through the history of Edisto Island and Miss Emily's family. The recipes she shares have been passed down through generations.
Emily Meggett: The connection between the culture of food is that we have a strong belief in God in our community, respect for our elder and respect for nature, meaning we ate a lot of shrimp, crab, fish, and oyster from the ocean that we use to make a lot of our favorite and flavorful dishes. This seafood was also served with rice, okra, grits, watermelon, and a lot of other items.
Melissa Harris-Perry: Miss Emily, when you're cooking with these ingredients, are you growing those watermelon in your backyard, or are the members of the family who are fishing that seafood for you?
Emily Meggett: When I grew up, my grandmother and my uncle, they had their own little garden that they planted watermelon, the okra, the butter beans, and they also had a rice pond that they grew their own rice. We had obviously lots of things that pertained to what people will grow on Edisto. The seafood, we didn't had any problem in the seafood because we were surrounded by the ocean, and also the [unintelligible 00:03:58] so we could go out and get fish, crab, shrimp, in the field, okra, butterbeans, corn, watermelon. We were fortunate that we could have grew all this on Edisto Island.
Melissa Harris-Perry: Miss Emily, why take these family recipes and collect them in a cookbook?
Emily Meggett: I think it is important for someone to know what the people back then had in their brain to even share with the world because a lot of time if you have something that is worthwhile sharing and you don't share it, it is worthless. If you can share it with the world and the world could see what and where you came from, probably they would appreciate it more.
Now they're all fast food out there. Not a whole lot of people is cooking anymore but everybody's going out to eat at the restaurant. I think the best thing could ever happen is if you have your own home-cooked food and you know how it's been cooked. I think it'd be better for the world to know that.
Melissa Harris-Perry: Kayla, I want to bring you in here because you helped to co-write this cookbook. I want to be clear to folks, once you hold this book in your hand, you'll understand that, yes, it is a book of recipes but it's also a book with maps and photographs and family history. Kayla, can you tell me a little bit about putting together truly this archive, which includes recipes?
Kayla Stewart: Absolutely. I should first mention that being a part of a project like this is so both unique and an honor. Of course, this is Miss Emily's family, and to be entrusted with helping to communicate that kind of story is truly such an honor and such an exciting piece of work to take on. It took a lot of time. That was the key component here. Time meaning time going down South to visit Miss Emily near Charleston on Edisto Island from my current base in New York, spending time with her to learn her cooking style, to learn some of the history of her family, why she does things a certain way or why she uses the wooden stove, and why she decides to use a certain produce on a certain dish.
A lot of this was really getting to know Miss Emily both on a personal and professional level in a very short span of time, frankly, but to be honest, it feels like I've known Miss Emily my whole life at this point. We spent time on Edisto Island at the museums. I got to know her children, more about her family members, and more about her family even outside of her biological family. That's the thing about Miss Emily. She's the matriarch of this island.
While I was on Edisto testing recipes with her, interviewing her about her history, learning more about the Gullah Geechee community, I was also introduced to a fair amount of Edisto residents, people who have been on this island and whose lives have been touched by Miss Emily, whether it's her bringing them a plate of her food or her sharing an encouraging message, or doing a mix of both. That's oftentimes what you get with Miss Emily. Recognizing the magnitude of her role, both on this island as well as in the culinary space as a Black woman in this world was really important, and really, time was what was behind all of that.
Melissa Harris-Perry: I love this one quote that I think underlines some of what you've been saying, Kayla, "People in Edison know that if the side door is open, there's food in the kitchen and at this house, there are no guests, just friends and family." Miss Emily, I want to ask you about-- as you speak about in the book that you've taken care of more than a hundred children, that there are no guests in your home only friends and family. How do you build community through food?
Emily Meggett: How do I build community through food?
Melissa Harris-Perry: Yes.
Emily Meggett: I go to bed at night and then I sleep, and when I wake up some time maybe two o'clock, or three o'clock in the morning and I would think of somebody that needs a hot meal. I would get up and I go to the freezer and I take out whatever, fish, shrimp, or whatever, put it in the sink and let it thaw out. When I get up in the morning, then I would put my pot on the stove and see I'm going to do a good deed for somebody today.
I put my pot on the stove and I start cooking and then I'll set down to the table and I'll just think about who I'm going to feed today. Everybody that has cancer and I knew of it, I fix them food. Anybody that I know that are blind, I fix food for them. Anybody that has a stroke, I fix food for them. Anyone that has old-timers, I fix food them. Sometime I put it in the carrier plate, get in the car and deliver it to them.
Everyone that I go to they will say to me, "Emily, how do you know I was sitting here just thinking 'What am I going to have for my dinner?' and here you show up?" I said, "It has to be the Lord's doing. Not mine." I go from Edisto Beach, across the bridge. I go to the post office, I go to the bank, and I go to all those other people. Sometime, I just cook in a big pot and I would put the pot in the car, and the spoon and I would go from one door to the next door, and all I ask them to bring me their plate. They bring me their plate, I fix their plate and they go and sit down and have a hot meal. I say to myself, "This is the Lord's doing because there are so many people out there sometime who don't even have a hot meal. They have to wait for somebody to bring it to them, or they just don't have a hot meal."
Here me at the age of 89, I just feel to myself, this is what my mission from the Lord is. I love it. I do it every day if I can. Those kids will say it to me, "Mommy, you need to rest," but this is mommy's mission, so mommy is going to go out there and take care of her mission. I say to myself, I say, "Lord will bless me and will bless all others that looked out for people in the world." I thank God for the mind. I thank him for the strength. I just thank him for giving me that knowledge and wisdom and understand that it's not only me, it's what you do for someone else in the world that counts.
Melissa Harris-Perry: Kayla. I want to talk about for a moment because, as I listen to you, Miss Emily, speak about the ways that your food, your cooking is your ministry, it's God working through you. I got to say that I got a copy of the book just before the Easter holiday. I almost wept with desire just from the photograph of the fried oysters. It wasn't even really clear to me where I was going to get the ingredients to do this. Kayla, can we talk about the broiled clam? Because whew, these recipes are unbelievable.
Kayla Stewart: Melissa, I'm always happy to talk about broiled clam among the many other things in this book. Something that I have been cognizant of and continue to think about both for this book in my work is just the beauty of Black food and the fact that Miss Emily's book really pays homage to Black food, but also the diversity of Black food.
I'm born and raised in Texas, I have roots in Louisiana. Miss Emily's food looks very different than the food that I grew up on, and to me that made it all the more special. I'd heard of some of the dishes, some of them I'd tried before, but really getting to learn about this region that is very different than my own, to learn about the realities of what Black food is and the possibilities of what it can be by way of this matriarch, by way of Miss Emily, it's really phenomenal see it. You see it in each recipe. You see that this is very true to a particular region, to a particular group of people, to a particular type of blackness. It's beautiful and it's illuminated in each and every recipe.
We see certainly the broiled clam, but I'm also thinking about red rice, chicken perloo, all of these dishes that are truly rooted in Gullah Geechee food-ways, and what that teaches us about the range of Black food, and the skill that Black cooks had in the past that has continued and reach people like Miss Emily and will continue in future generations.
I will say it's probably not a surprise, but one of my favorite parts of this project was, of course, eating everything that we tried. the many, many meals that Miss Emily was gracious enough to make for me, while we were working on this book. It's history but it's also delicious. It's delicious history, and I love that.
Melissa Harris-Perry: Miss Emily, do you have a favorite recipe or a favorite ingredient to work with?
Emily Meggett: I don't have a favorite recipe, but my favorite part about cooking, it is preparing for cooking and the actual cooking, but seeing what it looked like and the smile on people's faces is the best part, for them to be happy and enjoy that food and want it more. If they say to me, "Miss Meggett that food was so good," it make me want to go back and put the pot on the stove and cook and take more. I never get tired of cooking when I'm taking care of somebody's health. Never.
Melissa Harris-Perry: Miss Emily, do you have a secret for making the pineapple upside-down cake work perfectly?
Emily Meggett: No, I don't have a secret to make that. It just come normal to me to fix food. All you have to do is tell me what you want. I can't look in that book because if I look in that book I'm lost, but you tell me what you want and I'll fix it.
It just come normal to me: chicken pie, apple pie, red rice, Hoppin' John, chicken perloo rice, devil crab, shrimp and gravy, you name it. All you do, tell me and I'll fix it.
Melissa Harris-Perry: Miss Emily, are you cooking anything special tonight?
Emily Meggett: [laughs] No. I tell those kids I said, "This week is my week. I'm going to retire," and they're going to do the cooking instead of me.
Melissa Harris-Perry: Kayla, do you have a favorite recipe? Are there any of Miss Emily's recipes that you've been working on perfecting in your own kitchen?
Kayla Stewart: Oh my gosh. There are so many I love. One, you just brought up desserts, Melissa, so I'll say one of my favorites is actually Miss Emily's sour cream cake. I think it's such an unassuming dessert, but it's just so good and simple to put together and I love it.
I might say, so many of her dishes are just delightful and divine, but one that really does stick out for me personally as someone who loves seafood is her deviled crab. It's just a divine dish. Every ingredient is just used so well. Making it with Miss Emily, of course, it was effortless. It's taken me a little bit of practice, but it's really just a lovely dish and such, again, an ode to the waters surrounding Edisto Island that have informed Miss Emily's cooking. Both it's just a wonderful dish to eat and enjoy, but also just reminds me of my time with Miss Emily and on the island.
Melissa Harris-Perry: Kayla Stewart is co-writer on the cookbook, Gullah Geechee Home Cooking, and the lead author is Emily Meggett, who is, of course, the matriarch. Yes, take a moment, take a pause and make those babies cook for you. I know that you have passed that along. Thank you both for joining us.
Emily Meggett: Thank you for having me.
Kayla Stewart: Thank you so much for having us, Melissa.
[music]
Copyright © 2022 New York Public Radio. All rights reserved. Visit our website terms of use at www.wnyc.org for further information.
New York Public Radio transcripts are created on a rush deadline, often by contractors. This text may not be in its final form and may be updated or revised in the future. Accuracy and availability may vary. The authoritative record of New York Public Radio's programming is the audio record.