The Global Impact of Americans Abroad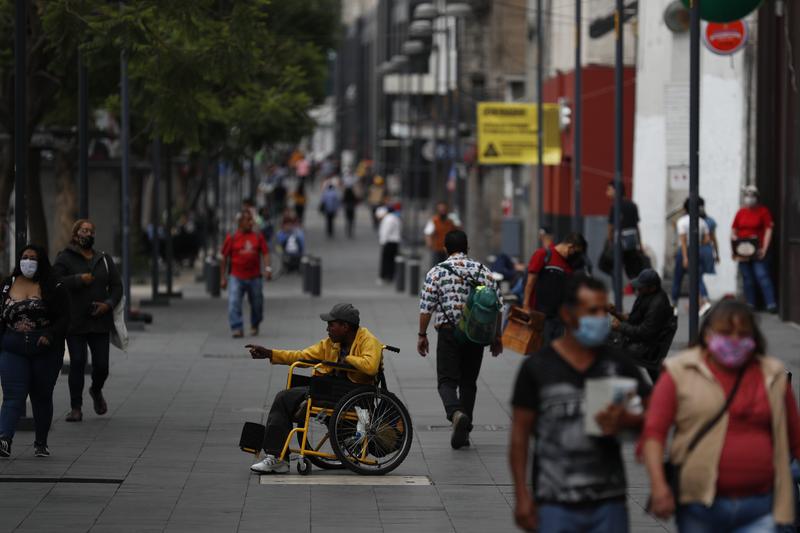 Transcript
[music]
Alana Casanova-Burgess: Welcome to The Takeaway. I'm Alana Casanova-Burgess, host of the Podcast La Brega from WNYC and Futuro Studios. I'm sitting in for Melissa Harris-Perry today.
[music]
Alana Casanova-Burgess: According to the state department, some 9 million Americans live abroad but that was before the pandemic and remote work and a period of remarkable change here in the US. There are many reasons why Americans move abroad. Oftentimes, it's in search of cheaper rents, better weather, slower lifestyles, and a whole subset of influencers are evangelizing about those benefits on social media for both short and long-term moves.
Woman 1: A day in a life of a remote worker working from Bali, Indonesia.
Woman 2: Good morning from Lisbon. I decided that today I'm going to take you all around with me just to show you a little bit of what my life looks like here in Lisbon.
Woman 3: What do I do that allows me to live in Mexico as a US citizen? I work remotely and I want to share with you guys some tips on how you can find remote jobs.
Alana Casanova-Burgess: Many of these young workers are self-described digital nomads, folks who work remotely and travel freely from place to place or country to country as they please. US citizens and foreign expats often have unintended impacts on their new neighbors, raising rents and cost of living, exacerbating existing problems in these communities.
Take Mexico, for example, where wealthy migrants have led to gentrification and displacement of local residents. In 2021, in a Universidad Nacional Autónoma de México survey of Mexico City residents, more than half of respondents were struggling to pay their rent or mortgage. Nearly a third moved homes during the pandemic and 60% of them did so because they couldn't afford their rent. To better understand this phenomenon, I spoke with somebody who studies it and who was born and raised in Mexico City.
Tamara Velasquez: My name is Tamara Velasquez and I am a doctoral student and researcher at Rutgers University, researching topics relating to gentrification in Mexico City.
Alana Casanova-Burgess: Gentrification is something that I think people are used to hearing about with many cities around the US right now, it's a buzzword. Can you explain how we might be able to see it in Mexico City?
Tamara Velasquez: In general, the cost of living has definitely increased. We don't just see it in rent increases, we also see it in new construction, particularly new luxury construction. There's been a mass increase in the number of luxury buildings that have been constructed in the city over the past 20 years.
Alana Casanova-Burgess: Can you talk about the ways you notice people who are working remotely from the US in Mexico City?
Tamara Velasquez: Back when I was living and working in Mexico City, I started noticing this increased phenomenon of remote workers in central neighborhoods in Mexico City, where the more time I would spend, the more I would notice that the predominant language that you would hear on the streets or in the coffee shops was English. This began happening a couple of years ago as a result of various marketing campaigns done by the government and real estate actors to promote the city as a new Berlin, this new destination for the global creative and tech class.
I actually wrote a piece about this in 2017 called "Mexico City is not the new Berlin" where I explored how some of these narratives were being pushed about Mexico City and contributing to gentrification and a rise of cost of living.
Alana Casanova-Burgess: That's interesting, so the government, in this case, was actually, or is actually, promoting policies to attract people to work in Mexico City. What is the thinking behind that? Why are they doing that?
Tamara Velasquez: Under the previous government administration in the city with Miguel Ángel Mancera who was the mayor during the latter half of the 2010s, they started rebranding the city to position it as a global hub, particularly for tech. This came with a rebranding of the city. The city was called Distrito Federal. They changed their name to CDMX. They created a logo, they created a rebrand. There was a lot of aggressive marketing.
It was part of this ongoing strategy to gentrify the city that had been happening for the past 20 years. There's been the strategy of vertical development of trying to limit sprawl and revitalizing the city center by encouraging a lot of real estate development and trying to make it attractive so that people move there. They added things like the ECOBICI bike sharing program, the metro bus system. That was all part of this.
That kind of strategy was pumped up to 11 when Mancera came along who saw Mexico City as a global luxury destination, like a "world-class city" that would attract young upper-middle-class professionals from abroad as both tourists and remote workers.
Alana Casanova-Burgess: How have residents of Mexico City responded to this influx? My producer spoke with another researcher in Mexico City who told her about people having to put up a sign on their building that said [Spanish language] because tourists and Americans kept thinking it was a speakeasy.
Tamara Velasquez: There's been an increased amount of backlash. Recently, there was a post by somebody who said something like "Moved to Mexico City. It's really magical." That triggered an insane amount of backlash on social media. You increasingly see signs written in English saying, "Please leave". People are very upset about it. Also, because of COVID because during the pandemic, a lot of people started to move to Mexico City as a way to escape "more stringent" lockdown measures.
You see the stereotype of the expat in Mexico City as somebody who does not follow social distancing protocols, who does not wear a mask in public, who is partying all the time.
Alana Casanova-Burgess: Maybe a hipster?
Tamara Velasquez: Yes.
Alana Casanova-Burgess: Given that backlash, I asked her what solutions there are to living abroad ethically, and Tamara told me that it's less about individual behavior and more about systemic solutions.
Tamara Velasquez: The digital nomad situation as we see it now is more of a symptom of a larger problem rather than the problem itself. Really like any changes to the status quo would have to come from policy actors implementing policies that guarantee affordable housing for locals in some of the central neighborhoods. Policies that implement things like rent controls that don't allow landlords to rack up their rent into dollars, and controls on Airbnbs and short-term rentals are very important policy that needs to be taken into account.
Alana Casanova-Burgess: How is Airbnb a factor in the story and in the displacement of local residents in cities that are attractive to US citizens moving abroad?
Tamara Velasquez: Airbnb has been one of the leading contributors of all of this because a lot of landlords and real estate developers realize that it's a lot more profitable to get a short-term rental where they can rack up the prices as opposed to a longer-term lease.
You have a lot of developers in Mexico City and other cities. There's been a lot of scholarly research being done about Amsterdam particularly, where you have corporations developing buildings or purchasing buildings with the express purpose of turning them exclusively into Airbnb units, where you have massive corporations developing exclusively for Airbnbs.
What this also creates, ultimately, is a housing shortage, and when you have housing shortages, obviously, demand is up and supply is down, which means that the cost of living increases to a very high degree. Not just in Mexico but in a lot of parts of continental Europe, Venice, Amsterdam, Barcelona, this has created cities that have been pretty much emptied out of a lot of their local residents and are pretty much inhabited only by short-term visitors such as digital nomads or tourists.
Alana Casanova-Burgess: Is there an example of a city or municipality that has a policy that cuts down on that?
Tamara Velasquez: Given the scale of the problem, it's something that Barcelona has been trying to do. From what I've seen, Berlin is also a city that has started to regulate it at a massive scale and has successfully implemented measures to limit the cost of living. New York, actually, has fairly good policies preventing short-term rentals.
Alana Casanova-Burgess: Do you see any silver linings to the influx of expats?
Tamara Velasquez: To be completely honest, not really. The negative effects of it have largely outshined the good, unfortunately. We see a lot of situations where, at least in the case of Mexico City, a lot of businesses that used to cater to locals have started discriminating against locals because the expats tip better. I've been in situations where I've been denied a table at restaurants in these neighborhoods only for those tables to be given to a group of expats.
We see a lot of long-term businesses being shuttered and torn down in order to make room for the co-working spaces that cater to digital nomads. There was a case a couple of years back of this diner/cafe that had been in the city center for generations, the cafe getting torn down in order to make room for a coworking space that's specifically aimed at digital nomads. I think as it stands now, the situation ends up doing more harm than good.
Alana Casanova-Burgess: Why should people who are listening now who do not live in these hotspots like Mexico City, like Amsterdam, like Barcelona, these other hotspots, Lisbon for example, why should they care about this? How does it impact their lives?
Tamara Velasquez: The problem of digital nomadism is ultimately not necessarily the problem but a symptom in a much larger problem of gentrification and financialization and rise of the cost of living and real estate speculation that has really taken over cities across the world. We're seeing this also happen because people in the Global North are being priced out of their homes and the perspective of being able to stretch out their budget somewhere else while keeping their job looks like a very attractive prospect.
We see how the rise in the cost of living in the Global North also ends up affecting the cost of the rise of living in the Global South and how all of this is systemic. It's part of a larger societal problem regarding housing and the cost of living. It's not just an issue for these places. It's not just an issue for trendy neighborhoods, but it's really a part of a systemic housing crisis and a systemic crisis of financialization and gentrification that most cities around the world right now are going through.
Alana Casanova-Burgess: Tamara Velasquez of the Rutgers University Global Urban Studies program. Thank you so so much.
Tamara Velasquez: Thank you. It was great being here.
Alana Casanova-Burgess: All right. Quick pause here. Stay with us on The Takeaway for more on Americans living abroad after the break.
[music]
Alana Casanova-Burgess: I'm Alana Casanova-Burgess, in for Melissa Harris-Perry. We've been looking at the impacts of American so-called digital nomads on international cities. In many places, they're contributing to rising costs of living and the displacement of local residents. Sometimes, people's reasons are as much about what they're leaving behind as what they're going to. We asked you, our listeners, if you have ever considered leaving the US and living abroad. Many of you referenced recent events.
Cree: Hi. I'm Cree. I moved back to the United States after living 30 years abroad in Europe and can't wait to leave again. I'll be moving to Mexico now. As an African American woman, this is not the place for me.
Mark: Mark from Westport, Connecticut. Since January 6th two years ago, my wife has been investigating moving to either Nova Scotia or Switzerland.
Allison: Hello. I am Allison and I am from Porto, Portugal. I not only considered moving abroad, I actually did. I moved here in the height of COVID in 2020, and I've never looked back. I think it's the smartest decision I ever made.
Alana Casanova-Burgess: Thanks as always for sharing your stories. We're going to turn now to Meckell Milburn.
Meckell Milburn: I'm a holistic practitioner and content creator in the travel and digital nomad space.
Alana Casanova-Burgess: Meckell moved to Mexico City from California. When the pandemic shifted so much of her life and work online, she saw an opportunity to follow suit with her business.
Meckell Milburn: I remember I was in the Bay Area. I was at the BART Station and there was just this feeling in the pit of my stomach that was so over commuting one direction with everyone in the morning, and then everyone commuting back, and just really craving an opportunity to get out of that rat race.
Alana Casanova-Burgess: There's a stereotype about American digital nomads that they're young, white, and well off, that they're not just bringing their work laptops but disposable incomes and sometimes American entitlement. Meckell says that isn't the only expat experience.
Meckell Milburn: There's such a complicated dynamic at play with Black Americans specifically as folks are seeking refuge. There are some people who describe their experience here, leaving the United States as Black Americans, as seeking refuge. There is a complicated history because we have been disconnected, many of us, from our lineages on the continent, and so it's not as simple as saying, "Go here, not here".
Alana Casanova-Burgess: Living and traveling abroad made some aspects of American life clear to her in a way she knew but she hadn't fully felt before.
Meckell Milburn: There was a moment when I first traveled outside of the United States. That country for me was Cuba. I was there for almost a week, and I didn't fully understand my lived experience as a Black American until I think I returned. It's just this experience of being hit like a ton of bricks when you return and you just understand how viscerally we are impacted by anti-Black racism in the United States and structural racism. It was just like a different level of awareness was raised then.
Alana Casanova-Burgess: Meckell says she's been able to live more freely as a Black queer woman in Mexico City than in the US.
Meckell Milburn: When we think about the experience of being Black in the United States, there's over 400 years of history of a system that's been built on the backs of my ancestors that it permeates all parts of the experience and not denying that anti-Black racism is not a global experience, but that isn't as present in my experience here.
Alana Casanova-Burgess: I'm wondering how you feel coming from, as you described, the oppression of anti-Black racism in the US and then the privilege that you feel as an American abroad. What does it make you feel navigating that tension between those two things?
Meckell Milburn: Right now, it's something that's just right under my skin. It's like a thought that is so present. I've been looking at and trying to learn more about history of migration patterns and just like, yes, I'm really excited to hear more perspectives on just gentrification overall because I do think that it's complicated especially as a Black American. I have a small YouTube platform, I even asked on my Instagram in preparation for this interview what was on people's minds regarding this idea of the impact that Americans were having abroad, and those are the types of things people are mentioning. "I worry that I am gentrifying, that I may be gentrifying. How do I reduce the impacts of that?"
I don't think there's one answer, but I don't think the question is-- or I don't think the conversation is "don't move" because I do think that we are seeing the slow drip. I think the waterfall is yet to come, but I do think that having the conversations are going to be really important, and continuing to stay in dialogue and listening to local people.
Alana Casanova-Burgess: What are those ways to do this conscientiously if there is a way to do it, to live abroad while not flexing a class privilege?
Meckell Milburn: I'm just going to scratch the surface with this. I think there's space for a lot more conversation, but, first, especially as someone living in Mexico, is to understand the dynamics of Mexico and the United States. It doesn't work both ways. I've flown to Mexico and been on the plane with folks that are being escorted by ICE and deported back to Mexico lately.
Though that privilege doesn't work both ways, I think learning the language is very important. Understanding that the dollar stretches and knowing what that means, so thinking in pesos, knowing what the cost of living is, spending money, not spending most of our money in large Americanized, globalized companies. I think I will also name just having an awareness of some of the struggles, the class struggles, some of the struggles that local people are experiencing because it is easy to be in a bubble.
Alana Casanova-Burgess: Do you think it's also about maybe researching places that don't have housing shortages?
Meckell Milburn: Yes. I do think a lot of it is being informed and really doing research. It's not just about what beach I'm the closest to or things that can feel a lot more trivial. It's like, "What is the lifestyle?" If you have family, "What is the education system?" Just really thinking about what is the day-to-day life, and thinking about myself more as a part of the community and not just someone who has landed there and is somehow disconnected from what's happening.
Alana Casanova-Burgess: Thank you so so much. Meckell Milburn is a digital nomad living in Mexico City.
Meckell Milburn: Yes. Thank you. Thank you for having me.
[music]
Copyright © 2022 New York Public Radio. All rights reserved. Visit our website terms of use at www.wnyc.org for further information.
New York Public Radio transcripts are created on a rush deadline, often by contractors. This text may not be in its final form and may be updated or revised in the future. Accuracy and availability may vary. The authoritative record of New York Public Radio's programming is the audio record.