The Takeaway Celebrates Girl Scout Week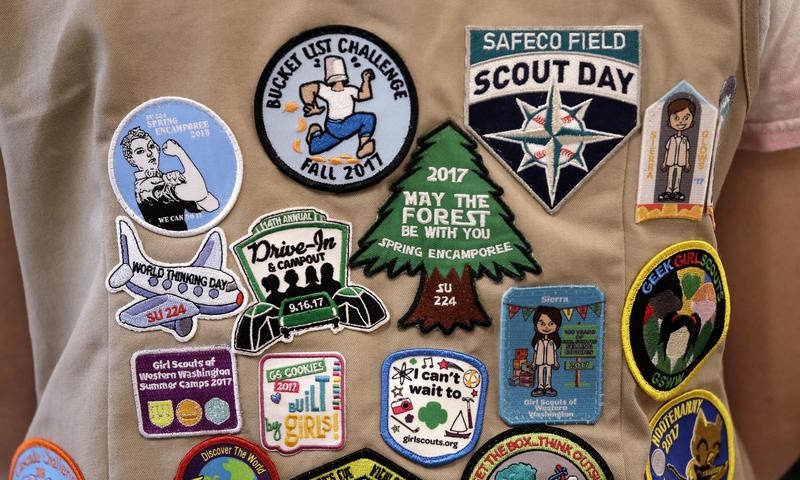 Transcript
[music]
Melissa Harris-Perry: It's The Takeaway. I'm Melissa Harris-Perry. 111 years ago this week, Juliette Gordon Low, and 18 girls in Savannah, Georgia, established the very first Girl Scouts of America troop. Today, go and call me Scout Mama Perry.
Girl Scouts: A circle is round. It has no ends, and that's how long I want to be your friend.
Melissa Harris-Perry: Now that's the sound of Troop 10116 right here in Winston-Salem, North Carolina during our Monday night Brownie meeting. For the uninitiated, Brownies are the second and third-graders in the Girl Scouts.
Female Speaker: Now, what's the Girl Scouts' promise?
Girl Scouts: I will do my best to be honest and fair, friendly and helpful, considerate and caring, courageous and strong, and responsible for what I say and do.
Melissa Harris-Perry: With a reported 2.5 million current members worldwide, I just knew some of you are probably Girl Scouts too.
Scout: Hi, I'm calling from Seattle, Washington, and Girl Scouts taught me how to be a leader. I ended up being a college president, a high school teacher, principal. It taught me how to lead groups and made me realize that I've had an ability to help inspire other people. None of that would've happened without Girl Scouts.
Melissa Harris-Perry: Now, girl scouting is an intergenerational tradition in my family. Back in 1965, my Grandma Dolly was among the adult leaders at the International Girl Scout Roundup held in Idaho. It's one of her fondest memories. My aunties and sisters and I were all Girl Scouts. Now my nine-year-old daughter proudly promises to live by the Girl Scout Law.
Meridith Maskara: I am a proud third-generation Girl Scout. I am also the mom of five daughters, all of whom are Girl Scouts. My name is Meridith Maskara and I am the CEO of Girl Scouts of Greater New York.
Melissa Harris-Perry: Meridith stopped by The Takeaway to help us celebrate Girl Scout Week.
Meridith Maskara: We are the largest and oldest organization serving girls and creating leadership opportunities for girls. This organization started by Juliette Gordon Low, a fearless leader who saw that there was a need 111 years ago for an organization that was 100% focused on girls and creating a space that was owned and by and for girls themselves in order to introduce them to non-traditional roles. You can imagine 111 years ago that looked very different than it does now, but it started in Savannah, Georgia, and as everything starts with Girl Scouts in one location, in one troop, and quickly spread across the country.
Melissa Harris-Perry: What do you see has changed in the organization over the years that you've been engaged with girl scouting?
Meridith Maskara: I think giving the leadership and listening to the girls has changed a lot. I think that we've generationally seen that change that we have to-- If we're creating an organization that's a platform for girls to become leaders, we have to listen to what they want and what is relevant in their lives. When we look at the big change, I love the example that 111 years ago, women didn't even have the right to vote. Now, in girl scouting, we have badges that start at kindergarten, going all the way through high school that takes girls through civic engagement, social justice, how to run for office, how to create their platform, and how to solve those problems.
We see that pan out in the percentage of women who are in elected positions who were Girl Scouts moving with the times and being able to do that. Right now, we're in a volatile environment which creates opportunities for girls to be able to step into more roles and to have their voice heard, and to help us strategically decide what girl scouting needs to look like for them.
Melissa Harris-Perry: Do you all have data about how participation in girl scouting affects girls in their adulthood?
Meridith Maskara: The data has shown-- first of all, there's about 58 million Girl Scout alum in the United States. When we think of sororities and sisterhoods and networks that we're introducing our girls to, that is the largest network where anybody who participate in the program, and you know this, you remember the values or the promise and the law and the sisterhood that came from that. To me, that's a way to close the gap for this generation to say you have something in common with 58 other million women across the United States. That's huge.
76% of women in business leadership roles were Girl Scouts. Most of the top CEOs across the country were Girl Scouts. The percentage of women in Congress were Girl Scouts. Creating that leadership pipeline, those statistics have just been proven year over year that the Girl Scout experience brings an equitable start to more girls than a non-girl scouting experience.
Melissa Harris-Perry: Is girl scouting a place where non-binary and trans girls are welcome?
Meridith Maskara: Girl Scouts of Greater New York is a fully inclusive organization. Our council works in one of the most diverse cities in the world and strives for that diversity to be reflected in every aspect of our work. We serve members of all backgrounds across the five boroughs, and our program is intentionally curated to introduce Girl Scouts to diverse role models. We firmly believe that the benefit of our program holds for youth whose identities have historically been underrepresented. That includes systemically excluded from leadership roles. We welcome cisgender girls, gender expansive, non-binary, intersex, and transgender youth in grades kindergarten through 12.
Melissa Harris-Perry: You've been talking about inclusion. Talk to me a bit about the Girl Scout's response over the course of the past several years and most specifically during the racial uprisings of 2020. I know that Girl Scouts made a clear statement of anti-racism. Tell us about that work.
Meridith Maskara: Making that statement was exceptionally necessary to be leaders. Girl scouting has been diverse and focusing on diversity. Some of the incredible work of Frances Hesselbein at the national level in the '80s really changed our programming and accessibility to all girls, but realizing that speaking up and being more vocal about it, we knew was something that we had to do. In order to truly adhere to our promise and law, making a statement as being an anti-racist organization, recognizing that as an organization that was woven into the history of America, we have to face some of our own systemic issues as a nonprofit and as a youth-serving organization, and until you start talking about it, you can't get to the hard work.
Here in New York specifically, 70% of the girls that we serve are girls of color, are from underrepresented communities. A lot of our girls, as you know from our program Troop 6,000, are experiencing homelessness. The socioeconomic differences, especially that arose in the past couple of years with social justice issues as well as economic issues from COVID impacted those communities the most. In order for us to truly stand behind our values, making that statement and taking the proper action steps to ensure that we live by that was exceptionally important to the organization.
[music]
Melissa Harris-Perry: More girl scouting after this. It's The Takeaway.
[music]
Melissa Harris-Perry: It's The Takeaway. I'm Melissa Harris-Perry. It's Girl Scout Week, and we're hearing from some of you.
Laura: Hi, this is Laura. I'm calling from Astoria, Oregon. Girl Scouts changed my life for the better. It gave me the confidence to be able to walk up to anybody and sell them anything. I am extroverted anyway, but the skills and the confidence that Girl Scouts especially through selling all those cookies gave me have been invaluable in my professional life.
Amber: Hi, this is Amber from Nashua. I think I'm still technically a girl scout at age 36, I did bridge to adulthood. I started as a Brownie. I learned a lot about service and different things that you can do to help people in your community, even if they're small things like calling Bingo at the senior center. I even got to dress up as a cookie and dance outside of a farm stand to sell boxes.
Melissa Harris-Perry: Oh yes, the sweetest part of girl scouting, the cookies. You know I had to talk about cookie sales with Meridith Maskara, the CEO of the Girl Scouts of Greater New York. What do you say to folks who are like, "Girl Scouts is just about selling cookies?"
Meridith Maskara: [laughs] I say cookies is a really amazing important part of our program. Yes, because you have, and you've seen this firsthand, you have a five or six-year-old who sets up an online store and a business, manages their own inventory, handles some finances, makes goals, learns business ethics, which is so important in our leadership these days, and gets a hands-on experience of what it is to be an entrepreneur. Yes, the product of the program is amazing because everybody loves their cookies, but the actual program itself really gives girls a leg up in all of their business endeavors for the future.
Melissa Harris-Perry: I know we just came out of cookie season, but do you have a favorite?
Meridith Maskara: Oh, my favorite is Tagalongs. It's a one-serving box. You open it and eat it.
[laughter]
Melissa Harris-Perry: That one is a classic. We were getting into this year. I like the classics as well, but we did get into the French toast one this year. It was like surprising.
Meredith Maskara: Toast, yay.
Melissa Harris-Perry: Yes. [chuckles] I don't want to start any kind of panic here, but there was a little bit of a Girl Scout cookie shortage around some of the flavors this year. What happened with that?
Meredith Maskara: Oh, well, you know supply and demand, and panic sometimes, that can be a good opportunity. When there's a supply and demand issue, wow, people want your product, girls go out and sell, meet your customers. Everybody knows Girl Scouts are limited in a certain way in a certain time of year. That's why we stock our freezers full of thin mints, but yes, the same way that every business from car manufacturer,s all the way down, have been dealing with supply chain issues, et cetera. Unfortunately, we were not exempt from that, but as any business leaders do, pivot around, sell the products that you have.
We also had a new cookie called the Raspberry Rally, which sold out so quickly, which is incredible, because what's going to happen next year, all those customers who didn't get them are going to want that cookie. Girls know we have a product already coming in next year that is going to be in such high demand. We can always look at it as a problem, but we are always looking on the bright side of things and saying, "Girls, this is what happens when you have a really popular business."
Melissa Harris-Perry: When you're hearing from Girl Scout alums-- so we quote the numbers about the percentage who are in elected office or running businesses, but when you hear from Girl Scout alum, what did they say about the effect or the experiences of girls scouting on their adult lives?
Meredith Maskara: That's honestly the best part of my job is being able to connect with alums and to hear their story, and then for other girls to be able to hear that as they're facing challenges in their everyday life. The consistency of having a caring mentor or a volunteer take time out to create a space for girls to be able to step out of the norm. I hear a lot about, "It was the first place that I learned I could be ambitious." Then, of course, I love hearing the fond, and the fond memories of Camp, of disruptive learning experiences, of tipping over in a canoe, of hiking until you thought you were going to get lost. All of those things that you push somebody out of their comfort zone, and it builds the grit that so many of these alum attribute to Girl Scouts.
Melissa Harris-Perry: There is something so earnest about girl scouting, and I wonder, I'm very comfortable now that I'm 50 years old with being not cool and having never been cool, and instead having really just always been this kid, I do wonder, are Girl Scouts or is girl scouting cool, is it trying to be cool, and is it better if maybe it doesn't even try?
Meredith Maskara: [chuckles] That is such a great question. Yes, as a 50-year-old myself who struggles with being cool and being cool to my teenage daughters-- [chuckles]
Melissa Harris-Perry: Oh, yes, you cannot win that one.
Meredith Maskara: I'm not even going to try with that. I think there's a point, and I had one girl who told me about her experience with what she called Girl Scout puberty. I loved her take because she was this amazingly go-getter 16, 17-year-old. She's like, "When I was a cute little Brownie and a junior, wearing my uniform felt so different. It felt cool then, and then I became a cadet, and I kind of didn't want to wear it. Then I got to high school and I started not to care anymore because I got to go to backstage at a Broadway show. I got to go on a trip to X, Y, or Z. I successfully made it through Girl Scout puberty." [chuckles] That is so cool.
I think when you look on social media, I love seeing Girl Scout stuff on TikTok, and girls are embracing the individuality, I guess, and it gives them. Their vest or their accomplishments with their badges and patches can define who they are more so sometimes than a piece of paper or a report card, or a test score. The organization overall has, again, let the girls define how do you want to identify as a Girl Scout? Do you want to wear a full uniform with patches everywhere? Do you want to just wear a really cool t-shirt that has a really positive feminist or affirmative statement on it? You get to identify with that. We're constantly looking to them for their guidance of how they want to be cool. I think we're cool. [laughs]
Melissa Harris-Perry: Yes, I'm pretty sure if we think we're cool, then it definitely means-
Meredith Maskara: That we're not.
Melissa Harris-Perry: -that we're not.
[laughter]
Melissa Harris-Perry: Meredith Maskara, thank you so much for joining us. Meredith is the CEO of the Girl Scouts of Greater New York.
Meredith Maskara: Thank you.
[music]
Copyright © 2023 New York Public Radio. All rights reserved. Visit our website terms of use at www.wnyc.org for further information.
New York Public Radio transcripts are created on a rush deadline, often by contractors. This text may not be in its final form and may be updated or revised in the future. Accuracy and availability may vary. The authoritative record of New York Public Radio's programming is the audio record.