Georgia at the Intersections: Voting Rights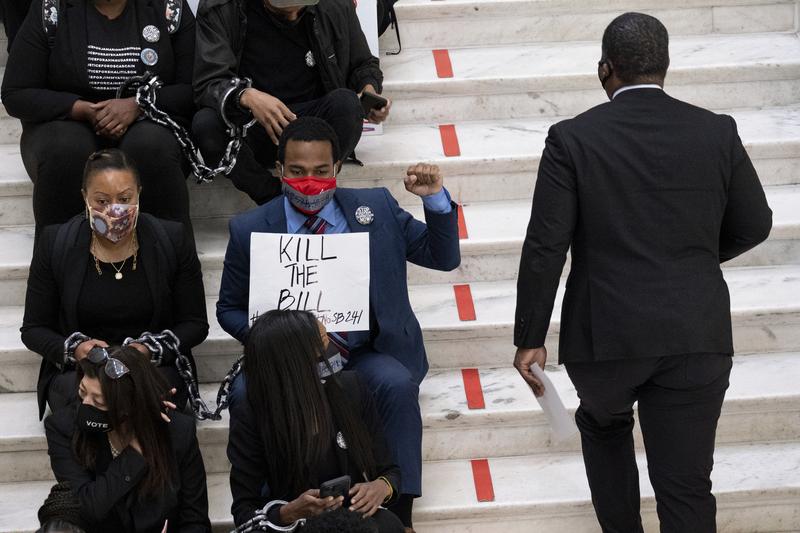 Transcript
[music]
Matt Katz: Welcome to The Takeaway. I'm Matt Katz, filling in for Melissa Harris-Perry today.
After the 2020 election, Maricopa County, Arizona was at the center of baseless claims of election fraud perpetrated by former President Trump and his allies.
During Trump's crusade to overturn the election there and elsewhere, Arizona's Republican-led Senate audited the voting in Maricopa County. It failed to uncover any evidence of widespread fraud. In an interview with 60 Minutes this week, Arizona's Attorney General Republican Mark Brnovich characterized claims of fraud as--
Mark Brnovich: Horsesh*t. That's what it is. Most of it is horse sh*t, and I've been trying to scrape it off my shoes for the last year.
Matt Katz: Now during the 2022 midterms, election officials and voters have been targets of intimidation. Last month, the FBI arrested an Iowa man who left a voicemail for Maricopa County Election official. The man allegedly threatened, "We're going to hang you." Since early voting has been underway in Arizona, a group calling themselves Clean Elections USA has been engaged in voter intimidation efforts.
Lawrence Norden: You had armed vigilantes standing outside of drop boxes and videotaping, taking pictures of voters that were coming to the drop boxes, giving false information about whether or not they were entitled to use the drop boxes. I am Lawrence Norden. I am senior director of the Elections and Government Program at the Brennan Center.
Matt Katz: Some context here, Arizona Attorney General Brnovich's investigations found just 12 cases of voter fraud involving just 12 ballots in the 2020 elections. The Trump-appointed federal judge has now blocked Clean Election USA's vigilante tactics.
Lawrence Norden: He has banned anybody from carrying guns or wearing body armor as some people were near a drop box. He has banned them from confronting or following voters when they are casting ballots or near a drop box. He has banned them from photographing voters within 75-feet of a drop box. He has banned them from releasing voters' personal information in connection with the claim of fraud.
I think this is really important that this decision that came down and is a clear statement that the kind of in voter intimidation that some people have been engaged in is illegal and will not be tolerated.
Matt Katz: Despite the ruling, Lawrence Norden remains concerned about our elections as we approach the midterms.
Lawrence Norden: Election officials, election workers have been facing threats since the 2020 election, and that has continued into this election season.
In fact, the FBI issued a warning a few weeks ago that in seven states, including Arizona, Georgia, Michigan, Pennsylvania, we have seen an unusual level of threats continuing against election officials.
When it comes to voters, there has been a more organized effort to disrupt elections than we've seen in previous years.
When it comes to direct contact with voters, more isolated instances, intimidating voters is against the law no matter the intent. I think we should be clear about voters that the threats against voters, intimidation of voters are no match for the laws that we have in place, and the thousands of experienced election officials and workers who are working will be working to ensure that our elections are safe and secure.
Matt Katz: At this point, what issues have you seen so far with threats against election administrators?
Lawrence Norden: The threats have been ongoing since 2020. The Brennan Center did a survey earlier this year, and one in six election officials reported that they had been threatened because of their job. More than half were worried about the safety of their colleagues. Close to 80% said that they had seen threats increase since 2020. Some of this is online, but a lot of this is in-person, on the phone.
We have election workers who are being followed home and threatened as they're leaving work. In some instances have been docked so their personal information is revealed so that people are actually showing up at their houses. In some cases, armed, many election workers, election officials have had their family members threatened.
In some cases, their children even threatened because personal information has been given out. In a few instances, really frightening having members of their family having their homes invaded, maybe having their cars damaged because their license plates information is given over social media.
It has had a massive impact on the elections field. Really frightening a lot of people. Obviously, everybody knows about Paul Pelosi and the attack on him. I think that a lot of election workers, election officials have been living with this kind of fear over the past couple of years. Unfortunately, it is leading a good number to leave the field, which I think has a dangerous and destabilizing effect on our elections long term.
Matt Katz: Is local law enforcement or federal law enforcement, are they taking these threats seriously? Are they taking steps to protect some of these election officials?
Lawrence Norden: There certainly have been some important efforts to protect election workers and election officials. The Department of Justice set up an election threats, a task force that is meant to investigate any threats that violate federal law and has been encouraging election workers', election officials to report to them. At the more local level, there has been organization by some local law enforcement to respond to threats to election workers and election officials.
In particular, there is a group called the Committee for Safe and Secure Elections that is a cooperation between some leading local law enforcement and election officials to start communicating better, build relations to offer training about how to respond to election threats and how to work together. That's encouraging, but I have to say given the level of threats that we have seen and the impact that they're having on the field, it's not nearly enough.
In our survey, 80% of election officials said that they didn't think the federal government, either the federal government was doing nothing or not enough to protect them, and majority said the same thing about their state governments.
Matt Katz: You have these threats against election officials leading them to quit in droves. If we don't have enough of these people handling these elections, administering these elections, can you lay out what that means for our democracy and for just free and fair elections going forward?
Lawrence Norden: I'm very concerned about a vicious cycle that I see taking place. In our survey of election officials, about one in five said they plan to leave before 2024. If anything, the numbers, I think have probably increased since that survey. Just to give you an example of a couple of states in Nevada, we've seen over half of the county election officials leave or say they're going to leave when the 2022 election is over.
In South Carolina, we've seen something similar. About half of the election directors in the counties have left. In Georgia, six of the biggest counties election directors have left, and that represents about a third of voters in Georgia. I think there are a couple of potential impacts. One thing is just to think about another field. If you lost 25%, 50% of all the doctors in your community, how much more difficult would it be to get healthcare?
How much more overwhelmed would the doctors, or let's say the nurses be in your community? I think there's a similar thing here where there are going to be some more mistakes. We always have mistakes in elections, but maybe there will be more. Unfortunately, we have an environment right now where there are people that are looking for mistakes to spread further lies about the elections.
We should be very clear. It is these lies that are leading to the threats to election officials' misrepresentations about the way the process works, taking mistakes out of context. I am very concerned that that's going to lead to more threats and that's going to lead to more people leaving and eventually you get to the point where people aren't trusting elections. That's a very dangerous place to be.
Matt Katz: Perhaps the main lie is the GOP adopting the Stop the Steal campaign. Can you explain how this Stop the Steal campaign is playing out on local races around the country?
Lawrence Norden: Unfortunately, it's having a huge impact. The conspiracy theories about the 2020 election have bled into 2022. We have a number of people that are running for the Office of Election Administrator in key states who are election deniers themselves and who have said they would not certify the 2020 election, so that is a dangerous dynamic.
One of the things about the 2020 election, I think that was so important was that officials, election workers insisted on telling the truth.
Many of them were under tremendous pressure to lie about the elections. They insisted on telling the truth. One of the most damaging things that we have seen in the United States since the 2020 election is attempts to further undermine faith in the election system. Our elections run on trust. If you have people who are running our elections, who instead of standing up and telling the truth are going to spread lies, that makes this situation even more difficult.
Matt Katz: We saw a few weeks ago in Florida videos of police arresting folks for alleged voter fraud. Given the timing of it, the publicity around it, I'm wondering if you consider this another form of voter intimidation that's actually coming from a state government entity.
Lawrence Norden: Absolutely. I want to be clear. I do not minimize the voter intimidation that we've seen, whether it's coming from state governments in Florida, or vigilantes in Arizona, armed with guns in front of drop boxes, but I was horrified by the arrests and prosecutions in Florida of people with past felony convictions for apparently making honest mistakes about their eligibility. We've already seen the first of these cases dismissed. The citizens of Florida by overwhelming majorities voted to give the right to vote back to people with felony convictions, who had completed their sentences.
The state then created this problem by layering on really deeply confusing additional eligibility requirements and refusing to provide any meaningful guidance to voters about whether or not they could vote. Some people may have been encouraged to vote and made a mistake because the state was not clear on whether or not they were eligible to vote. That is not a crime, but I think there's no question if you look at who they went after, the timing of the arrests, the big political announcement afterwards. This was meant to scare people into not voting, and that is very troubling.
Matt Katz: What do you predict is in store for poll workers? What might they be facing when they're at their polling stations, checking people in? What are some of your concerns?
Lawrence Norden: Well, we should be clear that in the vast majority of polling places that people are going to be able to vote, and election workers are going to be able to do their jobs without any disruption. I do have concerns that in some isolated places that you may have more organized forces potentially attempt to disrupt polling places. What we saw in 2020, was, for the most part, the threats, the intimidation began after Election Day, certainly in terms of targeting election workers.
Of course, that's when things get really heated because we're still counting the votes. It may be very close. I'm less worried about Election Day than I am in the days afterwards if there are close elections, and there are heated disputes over those elections.
Matt Katz: Lawrence Norden is the senior director of the Elections and Government Program for the Brennan Center for Justice. Lawrence, thanks so much for your time today. I know you'll be watching things on Election Day.
Lawrence Norden: Thank you so much, Matt.
Matt Katz: When we come back, we moved from the specter of election violence to a report from our friends at On the Media, which covers how Georgia voters are being taken off the voter rolls. This is The takeaway.
[music]
It's The Takeaway, I'm Matt Katz in for Melissa Harris-Perry.
In 2020, Joe Biden became the first Democratic president to win Georgia in nearly three decades, and strong voter turnout helps in two Democrats in the Senate to flipping control of the Senate to the Dems and making the state of Georgia a swing state. As Democrats are celebrating their wins, Republican lawmakers in Georgia were seizing onthe potential political gains from the big lie.
President Donald Trump: If you count the legal votes, I easily win. If you count the illegal votes, they can try to steal the election from us.
Matt Katz: With unsubstantiated claims of voter fraud spreading, legislators changed Georgia's election laws.
Reporter: Senate Bill 202 being coined as Jim Crow 2.0. Some of the changes include reducing early voting for runoff elections.
Matt Katz: This controversial Georgia Senate Bill restricts almost all aspects of voting including a provision that has made it easier for regular citizens to challenge the eligibility of other voters in their county. For another slice of our series, Georgia at the Intersections, I'm joined by Micah Loewinger, a reporter for On the Media from WNYC studios. Micah, welcome to The Takeaway.
Micah Loewinger: Thanks for having me.
Matt Katz: Micah, what led you to go to Georgia to check on things two years after former President Trump ushered in the Big Lie?
Micah Loewinger: I was fascinated by this provision in Senate Bill 202 that allows voters to challenge the eligibility of other voters in their county. I was curious to see how conspiracy theories about the Big Lie were motivating what appeared to be regular conservative activists to dive into their counties' voter rolls looking for what they believed might be proof of election fraud.
Matt Katz: 10 days before the 2021 Senate runoff between Democrat Raphael Warnock and Republican Kelly Loeffler, one voter Major Gamaliel Warren Turner Sr. found out his eligibility to vote was being challenged. Let's play some tape you got from him.
Major Gamaliel Warren Turner Sr.: The runoff is coming up, I had to call back into my register's office, and I asked him where was my ballot. She said, "Mr. Turner, we have a problem." I said, "What's that?" He said, "You've been challenged." I said, "What does that mean?" "I don't know."
Matt Katz: She said, I don't know.
Major Gamaliel Warren Turner Sr.: I do not know, and that is when we realized down in Muskogee County that approximately 3,000 of us have been challenged, simply that I put in a change of address at the post office, that was the only reason for the challenge.
Matt Katz: This is amazing Micah. This was even before the passage of the new state law further restricting voting, right?
Micah Loewinger: That's correct, yes. Voter eligibility challenges had a history in Georgia and other states for that matter, but they were primarily submitted by Republican operatives.
In this case, it was the leader of the Republican Party in Muskogee County that ended up challenging Gamaliel. Yes, since the law has been changed, the law now explicitly says that anyone living in a county can submit an unlimited number of challenges.
Matt Katz: How have things now that this law is in place, this is SB 202. How have things changed for Georgia voters?
Micah Loewinger: I think it's created quite a bit of chaos, particularly with election county boards. There are over 150 counties in Georgia, over 150 county boards, and they've all had to scramble and figure out what this very vague law means about how challenges affect voters.
In some cases, we see counties throwing out tens of thousands of challenges that come in. In other cases, we see counties looking at challenges and saying, "Yes, okay, this checks out," and then removing people from the rolls.
Matt Katz: You found another person affected by what's going on in Georgia, Barbara Helme, a woman who has been experiencing homelessness since 2016. Here's what she told you.
Barbara Helme: I was very angry because I didn't know it was possible to block a voter. She should have been blocked again in May, and then again in June.
Matt Katz: Micah, what happened with Barbara?
Micah Loewinger: Barbara was evicted in 2016, and shortly before she lost her home, she went to her local post office and changed her address to the post office so that she could receive mail there and not the home she was about to lose. Now, this also ended up changing her voter registration. When she was challenged multiple times in Forsyth County, the board looked at her registration, saw that she was registered to a commercial address, not a residential address, the post office and said, "Okay, this doesn't look right."
I mean, what do you do if you're unhoused, if you don't have a residential address? County policy in Georgia allows for unhoused people to register to vote near where they sleep and in a place where they can receive mail. Again, there are these ambiguities in the law, in voter registration practices that challengers across the state have been able to exploit.
Matt Katz: Micah, what's the deal here? Based on your reporting, what are these challenges in Georgia and elsewhere around the country, what do they ultimately do? What are they all about?
Micah Loewinger: There's a long history in this country of Republican operatives across the country targeting voter rolls, looking for inconsistencies in voter data to say, "Oh, this person didn't put down their apartment number," or, "Oh, this college student just wrote in the name of their dorm, not the full address." Looking for what I would say is kind of bureaucratic sloppiness as an excuse for removing people from the rolls. I think democracy is based on the idea that people have access to vote, and they vote for whichever politician they believe will pass policies that affirm their values. I don't think democracy should be based on the notion that some people can't vote due to technicalities.
Matt Katz: Unless you're using democracy to manipulate things in order to keep people out of the process.
Micah Loewinger: Exactly. There's a long history of this in this country, and in Georgia. We saw it in the '40s, there was a very conservative politician who wrote in a newspaper saying that white citizens in Georgia should come together and try to remove three-fourths of Black voters from the rolls and he even shared challenge forums with his supporters so that they could go to their counties and challenge Black voters individually and they ended up getting over 10,000 Black voters off the rolls and he ended up winning his race.
Matt Katz: Micah, thanks so much for being here.
Micah Loewinger: Thank you.
Matt Katz: Our thanks to Micah Loewinger for his reporting. You can hear much more of this on this week's On the Media which like The Takeaway is produced by WNYC studios. Check your local public radio station [unintelligible 00:20:09] times or download this episode Friday wherever you get your podcasts.
[music]
Copyright © 2022 New York Public Radio. All rights reserved. Visit our website terms of use at www.wnyc.org for further information.
New York Public Radio transcripts are created on a rush deadline, often by contractors. This text may not be in its final form and may be updated or revised in the future. Accuracy and availability may vary. The authoritative record of New York Public Radio's programming is the audio record.