Push for Accountability at Fort Hood Leads to Personnel Shake-Up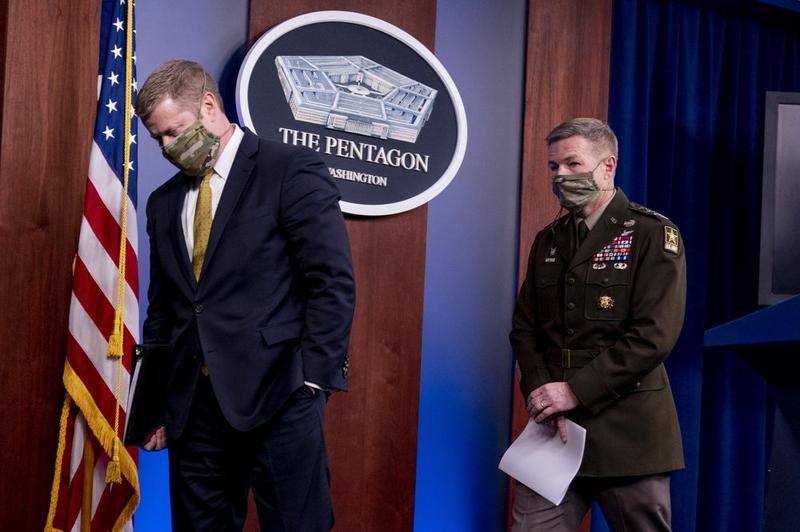 Transcript
[music]
Tanzina Vega: In 2020 alone, 28 service members assigned to the Fort Hood Military Base in Texas have died by suicide, accident, or homicide. Among the dead was 20-year-old army soldier, Vanessa Guillen, who was murdered by another soldier after facing harassment on the base. Guillen's murder brought renewed scrutiny of an army base that for years has been criticized for a culture that allowed for sexual harassment and assault and other violence and where accountability was rare. Here's Representative Jackie Speier speaking yesterday at a house armed services committee hearing where House Representatives heard from a panel who investigated cases of violence at Fort Hood.
Jackie Speier: It has been a difficult year for everyone with the raging pandemic, deep divisions, and racial reckoning facing our nation, but it has been even more difficult as a year for the soldiers and families of Fort Hood. Like the rest of us, they face a deadly pandemic, civil unrest, and extreme inequality; but unlike us, they also must live and work on the most dangerous military installation in the United States. Let me repeat that, the most dangerous military installation in the United States.
Tanzina: Earlier this week, Army Secretary Ryan McCarthy announced that 14 leaders at Fort Hood would be fired or suspended. He's also announced new rules for how commanders should proceed when soldiers go missing. Whether these measures will be enough to change the culture at Fort Hood and at military bases nationwide is where we begin today on The Takeaway. I'm Tanzina Vega. Joining me now is Lieutenant Colonel, Rachel VanLandingham, a professor at the Southwestern Law School in Los Angeles and former Judge Advocate in the US Air Force. Rachel, welcome to the show.
Rachel VanLandingham: Hi Tanzina. Thank you so much for having me.
Tanzina: Also, with us is John Ismay, a reporter at The New York Times and a former naval officer. John, thank you for joining us.
John Ismay: It's good to be here. Thank you.
Tanzina: John, let's start with you with the findings that came out this week. What did the independent civilian review board here actually uncover that was happening at Fort Hood?
John: I think one of the most significant things they uncovered was a problem with command leadership at multiple levels. That's reflected in the number of people who have been fired or who have been suspended in their duties. It shows how those problems with command leadership filtered down into a climate where sexual assault and sexual harassment was allowed and permissible.
Tanzina: Rachel, what were your thoughts on the findings?
Rachel: It struck me that this was one of the most, if not the most pointed report ever issued by an NTT associated with Department of Defense that laid the responsibility squirrely at the feet of the commanders. In fact, its most striking conclusion was that "There was a permissive environment allowed for sexual assault and sexual harassment at Fort Hood and who allowed that permissive environment? The command climate." This permissive environment is just a straight-up leadership failure and its symptomatic of leadership failure is that there was significant under-reporting.
What really struck me Tanzina was that what came through was the utter fear and distrust of the system, the fear of retaliation from fellow soldiers and from the chain of command, most importantly, and just significant deep distrust to the system and then the concerns that Fort Hood already stood out. I'd like to get into that in a moment regarding how Fort Hood already stood out and distinguish itself from other army bases itself.
Indeed, the report show that Fort Hood already had over 40% higher rate of sexual assaults from 2015 through 2020 than the rest of the army. There were red flags all over the place and there was a history of known problems. Climate report surveys had reported serious issues already and yet nothing was done. It was that the stark omission and silence from leadership that speaks volumes.
Tanzina: John, after we heard what Rachel just laid out there, was there something about Fort Hood itself where this type of culture was allowed to proliferate?
John: I think one thing that was specific to Fort Hood was a lack of qualified sexual assault or sex crime investigators. Those are people employed by the Army Criminal Investigation Command often referred to as CID and it found that that office was chronically understaffed, under-resourced, and poorly trained. A vast majority of their enlisted special agents were straight out of their 14-week training course and they were not qualified to carry out investigations without supervision. It led to a line in the report where it said essentially that Fort Hood's investigative division was a training ground.
I think that that is something specific to Fort Hood. It may be the case elsewhere, but to what Rachel mentioned, the report specifically singled out Fort Hood for having higher numbers of sex crimes, violent felonies, assault and battery charges, drug offenses, drunk and disorderly charges, larceny, desertions, and people going absent without leave. I think that you put all these things together and you have an environment where even mundane crimes or problems are not able to be adequately investigated, reported, and then dealt with by leadership.
Tanzina: Rachel, when we look at what was announced as far as the 14 members of leadership who were either fired or demoted; a number of high-ranking officials and soldiers, including three top commanders, what does that tell us? Can someone actually be fired from the military?
Rachel: I think what it tells us is that there are numerous individuals whose careers in the army and the military are effectively over. Secretary McCarthy did announce earlier this week that there are ongoing investigations as is the par for the course when individuals are relieved from duty. Appropriate disciplinary, including criminal consequences, are needed to be taken regarding everyone that failed to just discharge their responsibilities here. Here, A, the consequences have to be commensurate with their individual failures, but there's a rub here because these are structural and cultural defects that this report is identifying and they're far larger than any one person.
Of course, criminal law and disciplinary measures are grounded on individual liability but there justifiably has to be consequences for what I think protests are election and allowing a culture of permissiveness. I don't think Tanzina that for the family, that's going to be enough and it will never be enough, and it also shouldn't be enough for the army either, to be frank, nor the collective armed forces
An entire system, I think helped contribute to Vanessa Guillen's death and has helped contribute to this culture. In the report, numerous times it mentions a culture and I think that really has to be nuanced and has to be spelled out so that actions can be taken, but there must be systemic change. I think that this report must be reviewed and scrutinized by everyone who is appointed as a uniform leader in the United States military and in the army from the lowest D4, non-commissioned officers who importantly set examples for their troops to the company commanders, to the service chiefs, to the secretary of defense and to Congress and there needs to be reform.
Tanzina: Is there the potential Rachel, for any of these leaders to end up reassigned at other bases?
Rachel: There's always that potential, but I think, for example, the two-star who was terminated, who was relieved as commanded is not going anywhere. He was supposed to go to Fort Bliss, I believe to take over 1st AD, 1st Armored Division, and their careers are over.
Tanzina: John, we know that Fort Hood is a particularly egregious example of this pernicious culture we're talking about, but what about situations on other bases? Is this cultural issue that we're talking about across other bases in the country?
John: The report goes to great lengths to say that it does not specifically state that it has found those problems at other bases, but it says they very well could be found at other bases. I think that to Rachel's point about culture, one of the big findings of the report that actually came right at the very end was that it placed a lot of the blame for the cultural rot that Rachel described on 20 years of war since 9/11, that the army's two decades of constant war has created a climate mindset where military readiness was valued over all other responsibilities to the detriment of integrity and respect between soldiers.
The report said that this could not be attributed to just one person but rather years of neglect that failed to make a connection between the health and safety of soldiers in mission readiness. It said that that came at the expense, particularly, of females in combat units. I think my guess is that the army as a service at the highest levels is going to be taking a hard look across the board at all of its other units, at all the other bases to see whether or not the findings and problems the report uncovered are present elsewhere.
Tanzina: We mentioned at the top that there were multiple examples at Fort Hood of soldiers dying by suicide, homicide, accident, but this one case, in particular, really seemed to be a catalyst, that was the death of Army Specialist Vanessa Guillen who was murdered by a fellow soldier who then took his own life. Rachel, why do you think Vanessa Guillen's case was a catalyst here to really this report?
Rachel: I think it's because she put a face on all of these deeply rooted systemic issues. She was a face and there were so many women that are coming into the military, already in the military, families that are proud of their sisters and daughters and mothers who are wearing a uniform that it struck fear in individuals that that couldn't be one of their own, that Vanessa could have been any one of these brave women that are serving our nation, have long been serving our nation.
It was that stark concern that they're going to the military to serve their country and to keep the rest of us safe and yet the military itself, the army itself, couldn't keep their daughter safe. Hence, I think really that's what Vanessa poignantly and starkly represented. The concerns that she had and their concerns about the family that she had been sexually harassed, the army did not find evidence of that but, of course, they wouldn't because her murderer cowardly killed himself before being brought to justice.
I think she represented a groundswell. It also corresponded, I think, Tanzina, a bit with the Me Too movement, which was a few years earlier but still out there to shed light on the fact that sexual harassment and sexual assault are a huge endemic problem and they are a societal problem. The military is reflective of society; it's a component of society, it reflects society. There's a report from a few years ago, studies, of course, that one in five women in America, have reported either being the subject of a rape or attempted rape.
Then you take women and put them in the military where there's huge gender disparity with 84% of the listed personnel in the armed forces overall being men. 81% of the officer core in the United States military across the services being men that amplifies societal issues. Of course, sexual assault and sexual harassment are American societal issues. It's a disease that the military is trying to strike from a component of society, but it's amplified in the military I think because of the gender disparities.
Then you look at the fact that between 2014 and 2018, female enlisted and officers across the military were 28% more likely to leave the service than men. You see these disparities in gender and you see it even more starkly as individuals rise through the ranks, rise to leadership. Women do not see other women very frequently in high leadership positions and that's a problem. Of course, there's still a problem that women don't feel like they belong. There is still a component of the hyper-masculinity in the armed forces and it's not helped by comments by folks like the former Secretary of Defense, Mattis, who said that the jury is still out on the propriety of women in combat.
Women feel devalued and, of course, men are victims of sexual harassment and assault as well. There was an unfortunate case that was really striking regarding that in this week's report as well, in which the Criminal Investigation Command agents failed and inappropriately closed a report and an allegation regarding sexual assault by one male soldier against another, and then the accuser committed suicide.
Tanzina: We covered that story here on The Takeaway as well and it's a very important point, Rachel, that you raise, that sexual assault does not just happen in one context. Anyone can be a victim of that. I'm wondering both of you, Rachel, and John have both served in the armed forces, and I'm wondering whether or not either of you have witnessed or experienced in your own issues regarding assault or harassment in the armed forces.
John: I would say that I saw things that I was unable to recognize at the time as sexual harassment. It was a pretty rough and tumble atmosphere a lot of the places I was at, a lot of joking that I realize shouldn't have gone on. I think that the military is getting much better about recognizing what a professional environment means. The "mission first" mindset has been pervasive and has allowed for jokes and things to go on that I don't think would go on today or that people would be more quickly recognizing as inappropriate. I'm ashamed to say that I didn't recognize that at the time.
Tanzina: Rachel, what about you?
Rachel: I have to say, of course, if you look at the numbers, it's hard not to be a woman in the military and not have experienced both sexual harassment and sexual assault. I showed up for basic training at the United States Air Force Academy two months after turning 18 in 1988 for Ronald Reagan was still president and it was frankly awful. I wanted nothing to do with the Air Force once I graduated from the Academy, but there was better than the real Air Force, not perfect by any stretch of the imagination, but better.
Then to my gratification, almost 18 years after graduation, I was able to go back and actually teach and help lead a department at the US Air Force Academy. I was floored by the changes and it's really, I think that the younger generations coming up are bringing such a different mindset to all of these problems. That's what this is going to take. It's going to take getting out all of the old guard, bringing in these fresh new generations that have much greater sense of gender equities, sexual orientation equities, fairness, and equality.
I think that I agree with John that things are definitely changing, but there's definitely things to do and I would like to mention the reform movement. There's legislation sitting on Capitol Hill right now that can help move the ball forward. There's 'I'm Vanessa Guillen bill' that was introduced in the fall. It deals with things like providing a separate restricted reporting channel for sexual harassment that already exists or sexual assault, but sexual harassment has been shown to be a potential precursor for sexual assault.
Things like that, things like removing commanders who have shown that they have failed on this issue time and time again from the prosecutorial decisions to help install trust and reinforce trust in the actual system. There are structural things that can be done that will not solve the overall societal problem, but I think will definitely help improve the situation.
Tanzina: John, in the coming days and weeks, is there anything else we should expect to see from the Fort Hood investigation?
John: I think you're likely to see more guidance, specific direction given from the Army Chief of Staff or the Secretary of the Army. What we have right now is a report that people are reading and internalizing what I have not seen yet and it may be happening internally at Grantham that it could be that generals and other leaders are so busy addressing this internally with their troops, with their soldiers, that they haven't yet spoken externally about it, whether via press releases or via social media, but I have not seen publicly senior leaders speaking about this is exactly what we're going to do.
I haven't seen, okay, everybody at this division or this core or this battalion, whatever, we're going to sit down and talk about this today before everyone goes home. Then in a week, say, subordinate commanders, you present me your plan for what you're going to do at your level to address these issues.
Tanzina: John Ismay is a reporter for The New York Times and a former naval officer. Lieutenant Colonel Rachel VanLandingham is a professor at the Southwestern Law School in Los Angeles and former Judge Advocate in the US Air Force. Thanks to you both.
Rachel: Thank you.
John: Thank you.
Copyright © 2020 New York Public Radio. All rights reserved. Visit our website terms of use at www.wnyc.org for further information.
New York Public Radio transcripts are created on a rush deadline, often by contractors. This text may not be in its final form and may be updated or revised in the future. Accuracy and availability may vary. The authoritative record of New York Public Radio's programming is the audio record.