Former NFL Player Wade Davis on His Journey to Self-Love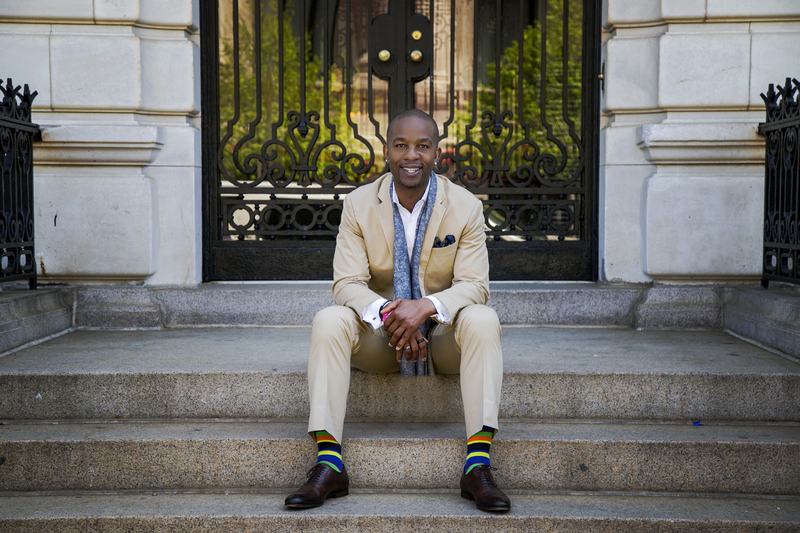 Transcript
[music]
Melissa Harris-Perry: It's The Takeaway. I'm Melissa Harris-Perry. This month, we're launching our series, Black.Queer.Rising., which highlights Black LGBTQ+ trailblazers, their work and impact. With the Super Bowl nearing, we turn to a former NFL player, Wade Davis, who came out in 2012 after retiring from the league. It's an action that paved the way for players like Carl Nassib, who became the league's first openly gay active roster player last summer.
Today, Wade is vice president of Inclusion Strategy at Netflix, and we talked about his journey to self-love and acceptance.
Wade Davis: I'm still deeply on that journey. I probably started that journey later than I would've liked and loving my queerness actually has been-- and this may sound strange, but a shorter journey than being able to love my Blackness. When I interrogate the why, it's because loving my queerness was, from my perspective, like getting my family to love me.
The journey to getting your family to love you really just takes you back to love of self, but because you have constant engagement with your family, or at least I did, that journey felt shorter. I didn't stand that the journey to love my Blackness was the same endpoint. I didn't know who I needed to engage because I was always trying to get white folks to love me.
Once you start to read folks like yourself, you start to learn that they're not actually-- The problem that they have has nothing to do with you. It's their own journey to love themselves. Once I unlearned that, then the journey back to me and loving myself became more clear, but that didn't mean that I had not been seduced by white supremacy and all of those things. To use the language of Baldwin, to be able to vomit up that has been a much longer journey.
Melissa Harris-Perry: That language of seduction, the seduction of white supremacy, I would say undoubtedly also the seduction of patriarchy, of privilege, of wealth, all of those things that are shiny and tangible and often not us, or not things that we are endowed with at the start. Look, being an NFL player-- being a baby football player all the way up to the NFL. There's a little bit of clout in that. There's a little bit of-
Wade Davis: Privilege.
Melissa Harris-Perry: Yes. I'm the man.
Wade Davis: Oh, yes.
Melissa Harris-Perry: Is there a way to be a football fan, to be a football player without just absolutely getting seduced by all the things we don't want to draw us in?
Wade Davis: If you are a player, I don't think it's possible to not be seduced by it. I really don't. I played basketball, I ran track, I played a little bit of baseball, but football has a community aspect of it that is different from any other sport. The community aspect of it, I think it's part of the seduction. You've got these other players who are risking their bodies, and not that basketball players, baseball players don't, but there's a different type of risk, and you're doing it as a collective.
For those of us who can actually continually pay the cost and take those risk, you form a bond. There's a seduction in the fact of building bonds with other men which is so hard to actually do and so rare.
Melissa Harris-Perry: Disallowed. We don't allow it except in that space.
Wade Davis: Yes. The football locker room is actually so queer in nature. If you really pull the veil back, you're like, "Wow." This is how a male identified folks or anyone who enjoys this sport of football would act if all of those isms didn't exist. I think for an observer, it is easier to not be seduced by it because you get to see it from a different vantage. You do get to see the physical, but also the psychic harm that comes with that, and you just have a different relationship with it.
Folks always ask me if I had a child, would I let them play with sport of football? The honest answer is yes. Even though I know all of the horrific things that come along with it, it gave me something that's almost indescribable. I was watching this video earlier and someone asked Nina Simone to describe what it means to be free. She was like, "Well, that would be like me describing to you what it means to fall in love."
Like, you have to go through it in order to actually know what that is, but it's still indescribable. When you play the sport of football, the seduction that comes with it is actually indescribable.
Melissa Harris-Perry: I love this arc that we're on a little bit. I want to go back to the start of it a little bit, and then we'll come back forward because you talked about the self-love also being a journey around familial love. In some ways, our family just does love us, even when they sometimes don't want to, even when some other part of their socialization is telling them that they shouldn't love us as a result of our incarceration, as a result of our identity, as a result of whatever.
They think, "I shouldn't love," but they do. Yet there can be so much cruelty or at least so much distance in actually having that love expressed in a way that you can feel it and experience it. You talk to kids all the time. What do you hear from young people about that journey, particularly queer young people about that journey to be loved?
Wade Davis: It's a little different. I won't say it's drastically different, but it's a little different now because there's so much more visibility and there's many more conversations. Even the conversations about banning books, one of my friends, George, has this book called All Black Boys Aren't Blue.
Melissa Harris-Perry: Oh, I saw they were planning to ban that one. Yes.
Wade Davis: Right. Even the fact that that conversation is happening is a different engagement with the idea, the identity of being queer that didn't exist when I was younger. I believe that the engagement with queerness happens sooner for kids now. When you hear them talk about the engagement, like I have a deep jealousy knowing that I probably would've come to love that aspect of my identity sooner if I could have engaged with it in a different way.
What I hear from queer kids is an absence of understanding what my experience was like because they can't imagine a world without femmed folks, without queer folks, without trans folks, much more visible and much more present. The one thing that I do try to push them on is the idea that we, for those of us who are older, aren't as courageous and that we don't get it. You know what I mean?
I push them on the idea that we do get it. Our journeys are just different and for them to recognize-- I don't want to use the word privilege, but the accessibility that they might have to conversations sooner, to more books, to more public facing people who are much more present and visible with their queerness. Because we didn't have that, our journey needs are different, but they're no less valuable.
We can't discount our ancestors because we haven't spent time to understand their story. One of the things that has happened to me as we talk about family is the more that I understand women's history, specifically Black women's history, the more that I understand why my mother did what she did and I have a much more deeper respect for the price that she paid, which means that I don't have to pay the same price.
That means that if I don't have a great level of reverence toward that price, then I don't get to know her as a woman. I still only only see her in this very narrow frame that's only about a motherhood. My mother was a woman before she was my mother. She had a full life before I came about and she still has a full life after me. If I didn't understand her history, Black women's history, I wouldn't have had the same level of respect for what it cost her to even create the opportunity for me to have a chance.
That has been probably the most impactful thing that has happened to me becoming to love myself is having a deep abiding respect for my mother's womanhood and not just her motherhood.
Melissa Harris-Perry: Wade, it is such a critical developmental turning point when we can see our parents as humans. It's so easy to make them the heroes or villains of our story, the supporting cast. We're the protagonist, they're the supporting cast.
Wade Davis: Exactly.
Melissa Harris-Perry: They were born to have us. At the point of which you're like, "Oh, yes, no, I just interrupted a life that was," not interrupted necessarily in a bad way, but a whole life was going on here and some of us never arrived there, some of us can never fully see the humanity of our parents. Sometimes our parents are monstrous enough that they make it hard to see their humanity but I still appreciate that. Now, as you're talking about what is available for younger people whether it's books, and then also the images, the films, everything from the holiday rom-coms on forward.
You are now actually part of some of that in your role at Netflix. Talk to me about what it means to find yourself in a place of being able to affect the kinds of representations that are available for all of us.
Wade Davis: When I took the job at Netflix, I don't think I really at a visceral level understood the impact that Netflix has on culture. I knew the power of story but it was somewhat superficial, it was somewhat immature but when you're there, you're able to turn on shows, like Sex Education which is one of our series, you get to see queerness, see identity globally.
When you get to watch a show like a Squid Game which was made for a Korean audience but actually becomes global, you get to watch the impact of an exchange of culture, of humanity, and you start to understand why representation really, really matters on a much deeper level because people really care about their show. If we decide that one show is going to no longer be on the service, people are mad but that speaks to impact.
Ta-Nehisi Coates said this once, that symbols matter, not just for the people who get to see themselves in those moments, but for the people who actually aren't seeing themselves in that moment, too. One of the things I find so fascinating is you'll be watching BET and someone who is non-Black will say, "Why do Black folks need their own network?" I'll be like, "Well, you-all always had your own network," but they don't actually see the water that they're swimming in until they actually start to feel that their water has been taken away.
You start to really understand that when you're on the inside in an organization that is truly trying to tell stories that represent everyone, and do it in a humane way, and do it in a way that is true, that is authentic, and that is absent of somebody else's opinion of what that story should look like.
Melissa Harris-Perry: So good. It was the most important lesson I learned about TV was how powerful it is. Like the things that you can do in some other spaces, you just cannot do on television or you have to do with a certain care because it's not a classroom. It is doing something different and simply putting the camera on something gives it relevance, gives it a certain meaning in the world, and so I love that.
Also, your point about for whom representation matters, I think about this always as a teacher. My Black students already know they're human. A lot of times, I'm the first Black teacher that-
Wade Davis: [laughs]
Melissa Harris-Perry: Right? I'm the first Black teacher that many of my white students have ever had, and I am at least as important to them if for nothing else, as that symbol. This conversation is part of a series that we're doing in the month of February, that we've titled Black.Queer.Rising. When I say to you Black.Queer.Rising., what does that mean to you?
Wade Davis: What does Black.Queer.Rising. mean to me? I'm just closing my eyes and trying to rest in that statement. What I feel and what I imagine is being in a space with other Black queer people laughing, sharing beverages. It means access to joy. It means that the more Black folks who identify as queer, that have spaces that are psychologically and physically safe, means that we have greater access to joy. That's what that means.
Melissa Harris-Perry: Our thanks to Wade Davis, former NFL player and vice president of Inclusion Strategy at Netflix.
[music]
Copyright © 2022 New York Public Radio. All rights reserved. Visit our website terms of use at www.wnyc.org for further information.
New York Public Radio transcripts are created on a rush deadline, often by contractors. This text may not be in its final form and may be updated or revised in the future. Accuracy and availability may vary. The authoritative record of New York Public Radio's programming is the audio record.