Florida's Trans Care Ban is Rooted in Disinformation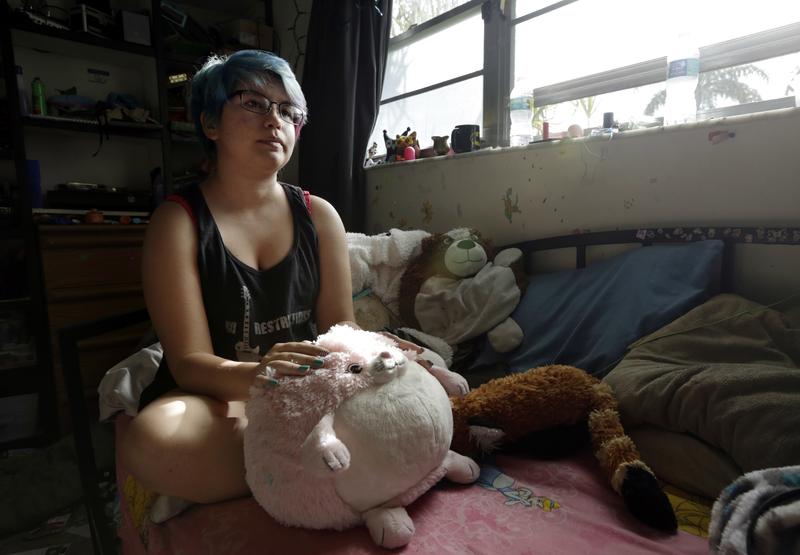 Transcript
[music]
Speaker: You're back with The Takeaway from WNYC and PRX, in collaboration with GBH News in Boston. From Winston-Salem, North Carolina, here's MHP.
Melissa Harris-Perry: This month, the Florida Board of Medicine voted to ban gender-affirming care for many transgender youth. The ban prevents minors who were not already receiving care from beginning treatment, such as hormones or puberty blockers. It's the first such rule from a medical board, but it may not be the last. The vote came days after a five-hour public meeting where the board heard testimony, primarily from medical professionals who have little expertise in gender-affirming care.
They heard from only a few who actually work with trans youth.
Dr. Meredithe McNamara: My name is Meredithe McNamara. I am a physician of adolescent medicine and an assistant professor at the Yale School of Medicine.
Melissa Harris-Perry: Dr. McNamara highlighted crucial methodological flaws in the research that the board was citing. She pointed out how the proposal flies in the face of scientifically backed guidelines, established over years by the World Professional Association for Transgender Health, and recommendations from accredited medical groups, such as the American Medical Association.
Dr. McNamara also fielded questions that sounded like attempts to bait her into confirming a right-wing narrative that untold numbers of children are being harmed and pressured into irreversible treatments and surgeries. Here is Dr. McNamara being questioned by Dr. Scot Ackerman, a member of the board.
Dr. Scot Ackerman: In the continuum of gender-affirming health care, surgery is part of that. I'm asking, have you ever recommended surgery to your patients?
Dr. Meredithe McNamara: I don't tell anybody, "You need surgery. You should get surgery." That's not how gender-affirming care works. Physicians don't tell patients what they should do with their bodies or their gender expression.
Dr. Scot Ackerman: I understand. Again, as an oncologist, I give my recommendation as to what they need. Again, just answer the question, yes or no. Have you ever recommended surgery for your patients?
Dr. Meredithe McNamara: I wonder if maybe we're disagreeing on the definition of recommendation.
Dr. Scot Ackerman: Okay. I'm done. Thank you.
Alberto Cairo: I think that that meeting was a perfect example of scientific disinformation. My name is Alberto Cairo. I am an associate professor and knight chair in visual communication at the University of Miami.
[music]
Melissa Harris-Perry: Much of Alberto's work is focused on how to communicate data through visuals, like charts and graphs, and how those can also be used to misinform. This became personal for Alberto when his own child began expressing his gender identity.
Alberto Cairo: My child, since he was, essentially, a baby, since he started talking, he kept repeating, "I'm not a girl, I'm a boy." When my child was diagnosed with gender dysphoria, I started reading about gender dysphoria, obviously, and I experienced what we could describe as cognitive dissonance between what I was reading in the research literature and what I was reading in news media, even in reputable sources such as The New York Times.
Part of the disinformation that you can read in the media, or at least what is hinted in the media, is that, essentially, you can walk into a hospital and get hormones, right? That is not how things work.
Melissa Harris-Perry: That's exactly what was on display during that Florida Board of Medicine meeting. Dr. McNamara wants to set the record straight.
Dr. Meredithe McNamara: Gender-affirming care describes a wide spectrum of ways to support people, people of all gender identities, and people of all ages. For those who experience a gender identity that is not concordant with their sex assigned at birth, they may benefit from affirmation of their gender identity socially. Certain hairstyles that reflect their gender identity, clothing, perhaps a name change.
Even those things alone have been shown to be quite beneficial to young people experiencing gender dysphoria or having a gender-diverse identity. For teens and older patients, gender-affirming care may include medication, like puberty blockers, to forestall distressing change, or exogenous sex hormones, like testosterone or estrogen.
Melissa Harris-Perry: I think when we hear much of this language in public discourse, gender-affirming care is often described in ways that are either about irreversible medical or surgical interventions, or as though there are adults or social pressures that are negatively affecting young people. Help us understand the ways in which some of this constitutes disinformation and denialism.
Dr. Meredithe McNamara: First of all, the word disinformation is the one to use. Disinformation means information that is intentionally false, not accidentally false. It seems as if legislative bans on gender-affirming care for youth are accompanied by droves of disinformation, which portray this care as harmful, portray gender identity in trans and gender-expansive youth as unstable, and really mischaracterize the way that this care is delivered.
When we talk about irreversibility, there are some treatments that are irreversible, like surgeries and certain types of gender-affirming hormones. That's one very small part of the pie. Using that terminology obscures reality, it stokes fear, and it fuels anti-transgender hate.
Alberto Cairo: Another portion of the disinformation is all the discourse around whether this is a social contagion, whether our children are being lured into it. All that is, at least from my personal point of view, my experience, not only with my child, but also meeting many other people who are in similar circumstances, is that there is no social contagion. This is just what people are. We just need to accept the fact that there are many different ways of being a normal human being. That is what is being rejected nowadays in society.
Melissa Harris-Perry: Meredithe, talk to me a bit about where the line is in medicine, between understanding where something is going wrong versus the parts of the human experience that are truly innately human, not pathological.
Dr. Meredithe McNamara: I take care of people who are systematically pathologized simply because they're young. I felt it deeply when I testified in Florida. It seemed as if the adults in the room had no idea what they were talking about, had no idea whose lives they were actually going to be harming, and couldn't imagine that there was a form of health care that could affirm a trans person, and positively benefit them.
I want to practice medicine in a world where gender euphoria exists, and we don't have to deal with gender dysphoria anymore. The harms are so pronounced if this scientific disinformation is allowed to thrive.
[music]
Melissa Harris-Perry: Don't go away. We've got more on disinformation about trans health care in just a moment. It's The Takeaway.
[music]
Melissa Harris-Perry: Welcome back. It's MHP with you on The Takeaway, and we're talking about the Florida Board of Medicine's recent decision to ban gender-affirming care for trans youth, including puberty blocker and hormone treatments. Now, the rule originally proposed would have allowed these young people to receive such care, as long as it was performed through clinical research trials at Florida medical schools, and included long-term health assessments.
That was scrapped in favor of a total ban. Here's Alberto Cairo again. His son was diagnosed with gender dysphoria.
Alberto Cairo: The Board of Medicine said, "We need to ban all these treatments outright because all these treatments are experimental," which is absolutely not true. Right? It is true that there is a lot of work to be done in terms of research, trying to improve the evidence that we have, of how these treatments operate, what the possible side effects are. I completely agree with that, being a researcher myself, but not having 100% certainty about something is not a reason not to act.
The members of the Board of Medicine said, "We need more research," but they are going to ban gender-affirming care even in the context of research. They are not going to allow research. [chuckles] That is a huge contradiction. One hand, you're telling me that there is not evidence, but at the same time, you are going to prohibit me from creating more evidence and try to make these children's lives easier.
Melissa Harris-Perry: A void in research allows disinformation to thrive in its place. Here again is Dr. Meredithe McNamara, who testified against the healthcare ban at a public meeting prior to the vote.
Dr. Meredithe McNamara: The disinformation tactics stoke fear in the fact that transgender identities exist. Biased politicians are given leave to restrict transgender existence and the people that vote for them feel like they're doing a good thing. It becomes a lot easier for hateful rhetoric to thrive, for gender-diverse identities to be banned from school, for young people's social dignity to be impinged upon.
That creates a hostile social environment. Then there's just simply the existential dread of knowing that you're aging into a world that doesn't welcome you at all. When the state of Florida published their public health bulletin decrying the benefits of gender-affirming care, young people saw that, and they felt as if their lives were being threatened everywhere. These are the conversations that I have with my patients.
These are the things that I comfort them around, and we've really got to reject this, full stop.
Melissa Harris-Perry: Alberto, the language that Meredithe just used was in part about fear. What do you think people are so afraid of?
Alberto Cairo: I honestly don't know. Maybe the people are afraid of their children not conforming to the notions that they have in mind, of who their children should be. That is not how we should act in life. We just need to take people as they are.
Melissa Harris-Perry: Meredithe, I want to follow up again on something you said, a bit previously, where you talked about young people, as a category, being subjected to a certain disempowerment. Can you help us to understand what it means for you, as a physician, to be addressing that regularly in adolescent care?
Dr. Meredithe McNamara: There's a lot of infantilizing that adults do to teens because we suppose that they do not have the developmental capacity to make safe and healthy decisions. We don't recognize their strengths and their assets. We also don't recognize that our greatest chance for success as a society is right here in front of us, begging us to listen to them. I don't want to portray adolescence as weak or disempowered systematically because young people are very vocal advocates for what they want.
Some of the most powerful advocates in public spheres for transgender rights are transgender youth themselves, and their transgender peers. It's absolutely invigorating and inspiring to see how these young people are presenting themselves in hostile spaces, bravely, but this work is hard. I see first-hand that adolescents tend to be the last agenda item on a list of priorities. Young people need safe and healthy schools, they need public health measures that protect them.
They need unrestricted access to health care that affirms who they are. They need systematic efforts to dismantle racism in every social sphere that they enter. I really believe that this issue of gender-affirming care is so pivotal. I think that trans kids are-- We're watching them be canaries in a coal mine, where scientific disinformation, if it's allowed to thrive, is going to take root elsewhere. It's going to take root in reproductive health care, other public health measures. Our most vulnerable and valued assets are the ones who are going to suffer.
Melissa Harris-Perry: For doctors who are working with young people in any of a number of circumstances, do you have a piece of advice for ensuring that as you are working with adolescents, with young people, around questions of gender and gender identity, something you'd share with your colleagues?
Dr. Meredithe McNamara: The most important thing is to get to know the whole person, is to hold space for their gender identity, but get to know this person on their terms. Find out what their strengths are, reflect them back to them. Verbalize the positive things that you, as the adult, sees, so that those are featured heavily throughout any type of encounter, because building trust and rapport is what makes these vulnerable young people feel safe.
Melissa Harris-Perry: Alberto, I'll invite you-- Do you have one lesson learned that you want to be certain folks are taking away?
Alberto Cairo: Yes, I do. I'd like to give advice to both politicians and parents. I'll begin with the politicians-- Don't infantilize families. This is a term that Meredithe used before. When the Florida Board of Medicine started discussing these issues, lately, I submitted my own testimony to the meeting, saying-- Our surgeon general, Dr. Joseph Ladapo, who is the surgeon general down here in Florida, has no experience whatsoever in these matters.
No experience whatsoever treating adolescents, no experience whatsoever treating gender-affirming care, but he can read a research. We have read the same research. The uncertainty of that research leads Dr. Ladapo to say, "We should ban these treatments." My take is completely different. My take is, the uncertainty is a very good reason to just let families be, not to shrink the landscape of possible treatments that they can take. Leave families alone.
For parents, I would say the most important factor for a child, any child, regardless of whether the child has gender dysphoria or not, the most important factor for any child to thrive is the support of her, or his, or their parents. Research shows this. Research shows that when transgender kids are supported by their family, the spaces where they navigate, like schools, when they get the support of teachers, when they get to support other peers, these children really thrive. That is the most important advice for parents. Be supportive.
Melissa Harris-Perry: Alberto Cairo is a parent of a child diagnosed with gender dysphoria. He's the Knight Chair in Visual Journalism at the University of Miami in Florida. Dr. Meredithe McNamara is an adolescent medicine physician and assistant professor at the Yale School of Medicine. Dr. McNamara, Professor Cairo, thank you both for joining us.
Dr. Meredithe McNamara: Thank you very much.
Alberto Cairo: Thank you.
[music]
[00:15:50] [END OF AUDIO]
Copyright © 2022 New York Public Radio. All rights reserved. Visit our website terms of use at www.wnyc.org for further information.
New York Public Radio transcripts are created on a rush deadline, often by contractors. This text may not be in its final form and may be updated or revised in the future. Accuracy and availability may vary. The authoritative record of New York Public Radio's programming is the audio record.