Demands for Justice Continue in Louisville, More Than Five Months After the Killing of Breonna Taylor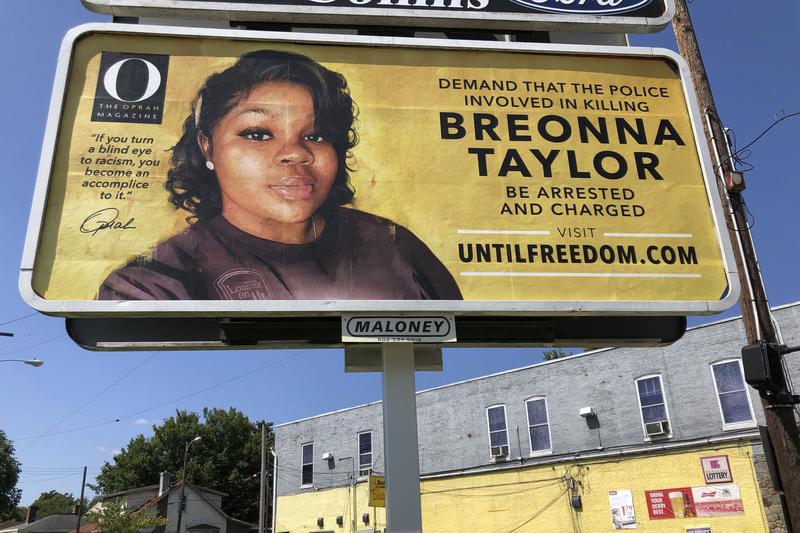 Transcript
[music] [crowd protesting]
Tanzina Vega: Those are protesters chanting Breonna Taylor's name in downtown Louisville, Kentucky. It's been more than five months since Louisville police served a "no-knock" warrant at Breonna Taylor's home, shot the 26-year-old EMT to death. The officers involved in her killing have yet to face charges and only one has been fired. [music] The incident was an example of a pattern of systemic racism and police violence that have spurred protests against racial violence. Those protests continued this week in the wake of the police shooting of Jacob Blake in Kenosha, Wisconsin. Breonna Taylor's name has since become a rallying cry in the streets and on social media in the fight against police brutality. On Instagram, TikTok and Twitter calls to #SayHerName and "Arrest the cops who killed Breonna Taylor" have become widespread with her face across smartphone screens and her name invoked in memefied catchphrases. Breonna's likeness hasn't just been immortalized online, offline, her death has inspired countless murals in Louisville and across the country. Celebrities like Oprah Winfrey have added to mounting pressure on officials by commissioning 26 billboards throughout Louisville demanding justice and publications like Oh Magazine and Vanity Fair have featured Breonna on their covers. This weekend even marked the start of so-called "BreonnaCon" in Louisville, a series of events to continue to raise awareness about the killing and lack of accountability. Despite all this attention, legal justice for Breonna Taylor has remained elusive. I'm Tanzina Vega and that's where we start today on The Takeaway. [music] Joining me now are Phillip M. Bailey, a national political correspondent for USA Today and the host of States of America podcast. Allissa Richardson is an assistant professor at the University of Southern California's Annenberg School for Communication and Journalism and the author of Bearing Witness While Black. Phillip, Allissa, thanks to you both for joining us.
Phillip Bailey: No problem. Thank you.
Allissa Richardson: Thank you, Tanzina.
Tanzina: Phillip, let's start with you. Why haven't the police officers involved in Breonna Taylor's killing been charged yet?
Phillip: March 13th is when Breonna Taylor is shot and killed in the police raid in her South in Louisville apartment. Her along with her boyfriend, Kenneth Walker, were in that apartment. She was fatally shot. At at least three officers, Brett Hankison, Sergeant Jon Mattingly, and officer Cosgrove had been identified as the main officers involved. It comes down to an issue of how this case was handled initially and how it was handed off. The Attorney General's office, Daniel Cameron, a Republican and Democratic mayor, Greg Fischer's office had a bit of a disagreement over information being shared from the Public Integrity Unit to the Attorney General's office. The AG's office saying, "We don't have all the information yet." Then saying, "Okay, we have all the information, but some of this information needs to be redone with ballistics and other information." Of course, it has been farmed out to the FBI. That's mainly what Attorney General Daniel Cameron's office has said thus far is that a lot of the information and ballistic is still being tested out in Quantico in Washington by the Federal Bureau of Investigations, but there certainly has been-- That has been part of the frustration from protesters and Taylor's family is that she is killed on March 13th and here we are in August and we still don't have the complete investigation. Part of it was COVID. Right when this happened, it was when the lockdown across the US was beginning to happen in places like Louisville where we were all beginning to be told to shelter in place. Some of this, I think, certainly is the attention and the scrutiny on the case has made it to where all involved want to make sure they get this absolutely right, but there's certainly is a feeling that this is being done deliberately by protestors and her family.
Tanzina: Allissa, we mentioned at the top of the segment here that there has been a lot of activism around Breonna Taylor's case in particular. This was a case that was initially not very widely known and now it has really taken on epic proportions in terms of what activists are looking for. How would you characterize the activism that we've seen during the past five months?
Allissa: I think this activism is unprecedented for a woman victim, Tanzina. I think that since the #SayHerName movement began in 2015, one of the key criticisms of the activism or should I say, lack of, activism that really surrounds or swells up when women are the victims of police brutality is essential here. I think when Sandra Bland died, we didn't have immediately any video, for example, in 2015 that show what happened. Many people did not know what happened in that situation and said, "If we don't have any visuals, how can we rally around this case?" It really wasn't that we didn't have visuals, it's that we didn't have a cultural script at first for really caring about Black women in this country. For example, Trayvon Martin died without video, but we immediately rallied around the family as we should have and made sure that they had the support that they needed from all the activists, from all corners of the country and his death really galvanized the Black Lives Matter movement in ways that we hadn't seen before. When Sandra Bland died and people were really upset with the lack of coverage that she received and the #SayHerName movement sprung up, we then got a new cultural script about how to care about Black women whether there was video or not. Now, it has led to this case where Breonna Taylor, unfortunately we have the template through Sandra Bland of how we galvanize around Black women being killed by police. Again, there's no video and we don't need it in this case. We just believe Kenneth Walker. We believe that something horrible happened that day and that this is a case that we have a chance to really make a difference in how we show up for Black women in this country and how we use smartphones and social media to tell different stories about not only their demise but how we stood up for them in this moment.
Tanzina: Phillip, there's also been some backlash to an event in Louisville called "BreonnaCon" that's supposed to be taking place this week. What do we know about who's organizing that event and how is it being received by residents of Louisville and activists who have been on the ground in Louisville since Breonna Taylor's killing?
Phillip: "BreonnaCon" is an event over the weekend and up until this week, I think they're also planning some major protests on Tuesday being organized by Until Freedom, a national social justice group that is led by Tamika Mallory, a well known national-known activist. A lot of different celebrities from shows like Real Housewives of Atlanta, Love & Hip Hop, et cetera. They're really trying to bring this national attention to Louisville. Tamika Mallory, for example, has been living in Louisville for a few weeks now, these different protests. You see a mix of different things. Some are this thing called a Bre-B-Q. I went out there on Sunday just to witness and see what was going on. The feeling from some local activists, not all but many, is that "Look, we are on the front lines of this. We're the ones been teargassed, pepper-sprayed and these national folks are coming in really trying to turn this into Essence Festival," by trying to turn this into a party. Breonna Taylor's mother, Tamika Palmer, she's been at some of these events and signed on to them, co-signed it saying she doesn't want her daughter to be remembered just as someone who died or was killed by police. There's a bit of attention in Louisville over this amongst different activists. Some who say this is a fine event. It's certainly anytime Black people occupy a space with these rise of these caring events where white people are calling police Black people barbecue, and they're just sitting outside. That by itself is an act of protest. There were others though who point out that this is a commodification of Breonna Taylor. It's this memeification of her. Memeification of her, whether or not it's meant to be good or not, you're basically turning her into a hashtag only, you're only turning her into this commodity. I think that that criticism is one that people need to pay attention to because it reminds me very much of Dr. Martin Luther King and his children advertising him and using him through McDonald's. However, on the more substantive end of that, let's look at Emmett Till whose mother back in the 1950s decided to have an open casket. She was certainly using her son's pulverized body as a PR to draw attention to Jim Crow violence and white supremacy in the South of the 1950s and '60s. This has always been an issue with Black death. Do you use this event as a campaign, a rallying cry? At the same time by doing that, you do commercialize this individual, this loved one of yours. The first people who have a say-so and that often are the loved ones, family. There are many activists both here in Louisville and nationally who feel that "BreonnaCon" and these events turned her into a thing and a commodity to idolize or even to make money off of rather than a social justice movement. There are those who attended the Bre-B-Q who told me, "Look, not everyone's going to get involved in a protest where they're going to be arrested or blocking traffic. You need to let people participate how they're going to participate," because that's certainly a debate that's been brought too as a result of these events.
Tanzina: I think it's a fascinating debate and I think social media is playing a big role in that. Allissa, what are your thoughts on the memeification, if you will, of the way Phillip described it of what's happening with Breonna Taylor's case? Her likeness, her image, the hashtag. How do we strike a balance, if you will, between drawing attention to the cause and not turning it into a commodity or risking trivializing it even?
Allissa: That's a great question. I think we have to remember two things. The first thing is that the initial draw or power of Black Twitter was that it could turn on its face a racist incident and really criticize it and really critique it through biting humor. Initially, that satire is what brought down Paula Deen's empire for example. It has really an internet parlance dragged many celebrities and created this cancel culture, if you will, that has made many people very scared in some instances to make false moves less they awaken that sleeping giant. It's become a powerful force in writing the wrongs of many social things that would have gone under the rug as Phillip mentioned, these Karenisms or people calling the police on folks doing ordinary things or really the work of Black Twitter pointing those things out through memes and hashtags like Karen's Gone Wild. When we see them applied toward a singular figure, toward Breonna Taylor in this instance, many people balk at that and they are saying because it's not done in the same fashion with the same Black Twitter originators in mind and we see people from all walks of life memefying her, that's when it becomes a question of where is the true intention? I think a lot of people right now are witnessing the actual messiness of protest. I think that smartphones and social media have done an incredible job of letting us see in real-time what protests looks like. We have a real habit of romanticizing, for example, the civil rights movement, and really pointing out the charismatic Black male leaders that were during that time. We don't really pay attention to the fact that there were many organizations working under that umbrella, whether it was SCLC, NAACP, SNCC, CORE, and eventually the Black Power Movement. There were many different groups competing for the right way forward. They didn't always agree. Now on social media, we can see all of these groups hashing out their discussions, their debates, their suggestions for what should happen next. That is happening alongside in many times, non-Black audiences who are trying to find a way to identify and help, and that creates that messiness that we're seeing right now. The balance to go back to your original question must come from the people who are closest to the family and they must endorse these messages themselves.
Tanzina: In March was when Breonna Taylor was killed. The police officers involved in her shooting have yet to be charged. What are we expecting to see play out in Louisville in the coming weeks regarding the legal aspect of this case?
Phillip: Everyone's eyes are on Attorney General Daniel Cameron, who is speaking at the Republican National Committee Convention this week. A protege of Senate Majority Leader Mitch McConnell, the first African-American Attorney General in Kentucky's history. This is going to be a defining moment of his career as many assume that he has been groomed to be US senator at one point. He has run heavily on his relationship with law enforcement. He has buddied up with President Donald Trump and spoke at his roundtable on police issues, mainly speaking towards respecting police officers. There's a lot of attention on what his office will decide with all three of these officers cases in his office. There is certainly a preparation here in Louisville for the worst. You see businesses boarded up. You see folks really apprehension understanding that there could be possible violence if these officers are not charged. I think Daniel Cameron has certainly kept us focused on the case and tried not to, despite efforts by activists and others to put pressure on him and protesting at his home, occupying his front yard, trying not to give any wink or nod one way or the other, but there certainly is an anxiety in Louisville over what this case will be and how people will react to it.
Tanzina: I imagine you've been in touch with the family. What are their expectations as far as how this will go?
Phillip: Breonna Taylor's family attorneys including Benjamin Crump believe that these officers absolutely should be charged. They are confident from the attorneys I've spoken with for Breonna Taylor's family. They believe all three officers will be and should be charged. There has been discussion and debate and rumors about only one of the officers will be charged. That would be Brett Hankison, the officer who's already been fired by Louisville police. The idea that he was the most reckless of the three because he was shooting inside the apartment really without seeing what he was shooting at. If you look at some of the PIU investigation materials that have at least been made public, some of the interviews, I believe Sergeant Mattingly says in the interview with internal affairs investigators saying how officer Hankison was just charged up. That he was maybe a little too amped before they bursted through the doors. There is speculation at least of hope on the part of Breonna Taylor's family attorneys that all three will be charged. That you have to charge all three as a group. There's also this question though about the other officers who were there, who may have been wearing body cameras or not. Were those body cameras on? What does that information-- What do those videos show? There still is this persistent effort by police and by those who support police in Louisville to point out information about Breonna Taylor and her involvement with this suspected drug dealer, Jamarcus Glover. More information is beginning to be leaked out probably by police department informants or sources to The Courier-Journal, my own outfit about Taylor's involvement and her relationship to Glover who was seen entering and exiting her home, her apartment. I think there are new jail recordings that have been made, at least released, or found out by The Courier where Glover is mentioning Breonna Taylor in her name. This comes down, I think, to the issue and the debate over how we police in African-American communities and how we police in general. Who is seen as someone who is worthy of having their day in court and who is seen as someone who was an immediate threat? Who needs to be put down because they're not obeying or listening to officers or even if they are in the confusion, these tense situations between African Americans and patrol officers. This is what I think that the "Defund the police" movement is really trying to get to more than just shifting resources away from police departments into more social programs, mental health, et cetera, but how police respond and how they behave with certain people versus others. We've certainly seen videos and bodycam footage of officers shooting African-American suspects saying they felt in danger for their life, supporters of p olice say, "Look, these people weren't cooperating," or "complying with police," or "if you're involved in any criminal activity, there are consequences," language like that. Then you also see videos of white individuals acting very, let's just say, uncooperative with police and then not being killed. These mild encounters with officers, even our local prosecutor here is saying that just because you were involved in drugs doesn't mean you should be executed and killed by police. We're beginning to see it--
Tanzina: When I think about, I think about Dylann Roof, for example, who was taken alive by law enforcement after killing nine people in a church. There is a huge discrepancy, I think, in what we're witnessing with how Black and white people are treated by police for sure.
Phillip: That is the shift in the conversation we haven't seen in previous decades or years which is, there's always been this respectability politics so that the perfect victim needed to be shot or killed by police in order for people to rally around that and cry out for reforms or change. What's happened, I think, since then is that people say, "No, the person doesn't have to be perfect. Why do police act this way in this community with these individuals regardless of what they are accused of doing or how they're behaving, but not with others who are accused or have been claimed to behave in very heinous ways as well?" That's the debate we're seeing that shift. I think that's why there's such a fracture, not only between the two political parties, but between communities and within African-American communities as well. This idea of who's respectable, who should be treated this way, who shouldn't be treated this way, how should you behave with the police?
Tanzina: Phillip Bailey is a correspondent for USA Today and Allissa Richardson is an assistant professor at the University of Southern California's Annenberg School of Communication. Thanks so much.
Allissa: Thank you, Tanzina.
Phillip: No problem. Thank you.
Copyright © 2020 New York Public Radio. All rights reserved. Visit our website terms of use at www.wnyc.org for further information.

New York Public Radio transcripts are created on a rush deadline, often by contractors. This text may not be in its final form and may be updated or revised in the future. Accuracy and availability may vary. The authoritative record of New York Public Radio's programming is the audio record.