The First Step Towards Reparations in Evanston, Illinois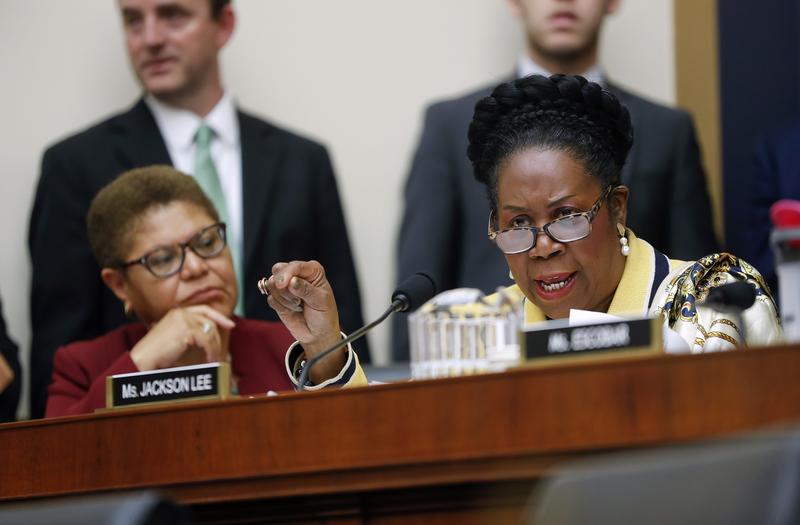 Transcript
[music]
Tanzina: I'm Tanzina Vega and this is The Takeaway. On Monday the city council of Evanston, Illinois approved phase one of a reparations program, which aims to address the economic damage caused to Evanston's Black residents by decades of discriminatory housing policies. The program is one of the first of its kind in the United States but the issue of reparations isn't new. For decades, the nation has grappled with whether or how to provide the descendants of enslaved people with some form of economic reparations to close the gaping wealth gap. Those racist policies created.
Speaker 1: You had this long journey that I think is part of the historical record. Nobody can factually dispute it and then the question is, what does it all mean for the conditions that many communities still find themselves in right now?
Speaker 2: Close the racial wealth gap is absolutely--
Speaker 3: We have to retell the story of the last 400 years.
Speaker 4: Sign into law a reparations bill.
Speaker 5: Reparations for slavery would allocate federal resources to me, but not to an American with the wrong ancestry.
Speaker 6: The matter of reparations is one of making a men's end direct redress, but it is also a question of citizenship.
Speaker 7: We're always a work in progress in this country, but no one currently alive was responsible for that.
Speaker 8: Is it going to be more lip service? Is it going to be something that just sounds great?
Speaker 9: The legal question is the federal government can't constitutionally provide compensation today to a specific racial group because other members of that group, maybe several generations ago were discriminated against and treated inhumanely?
Speaker 10: Clearly, we require a reckoning to restore a natural balance and unity, a reckoning, a healing, reparative justice. We need to bring our nation together.
[protests]
Tanzina: While the policy is part of a larger plan to distribute $10 million to Black Evanston residents over the next decade, critics say it's not enough and that the city and the federal government could do more. I'm Tanzina Vega and today I'm the Takeaway. We break down the path to reparations for Black Americans, starting with the look at Illinois.
Speaker 11: I just simply ask, why not and why now?
[music]
Tanzina: Nkechi Taifa is a human rights attorney and commissioner of the National African American Reparations Commission. Nkechi welcome back to the show.
Nkechi Taifa: Greetings Tanzina, glad to be with you again.
Tanzina: Marcia Chatelain is a professor of history and African-American studies at Georgetown University and the author of "Franchise: The Golden Arches in Black America." Marcia, thanks for joining us.
Marcia Chatelain: Thanks for having me.
Tanzina: Nkechi, your initial thoughts on the plan that the city of Evanston, Illinois has set out for its Black residents.
Nkechi Taifa: Actually, this is just a first phase. This first phase will actually begin the process in Evanston up an official recognition of its past and the healing that can come from a reparation settlement. I think it's great. I'm thrilled. I think it is a model and a blueprint for the rest of the country.
Tanzina: Marcia, your initial thoughts on the reparations policy being proposed in Evanston right now.
Marcia Chatelain: I think it's complicated. I think that cities realizing that they have responsibility for the harms of the past of its Black residents is good but I hope that as other cities debate similar actions, that they are a little bit more aggressive in their reparation strategy.
Tanzina: Nkechi let's talk about some of the specifics because there are $400,000 available during this phase. As you mentioned, this is something that's happening in phases. Each of the grants that are being proposed are up to $25,000 each, how much of a dent is that actually going to make against centuries of discrimination, or is this, as we said, the first phase of something that could then expand,
Nkechi Taifa: It is really critical to understand that this is the first phase. This is only 4%, 4% of the $10 million over 10 years that has been earmarked from the legal cannabis industry in Evanston to address these historic wrongs. This is a mirror drop in the bucket. It's not anything close to or near or even purporting to be full reparations. It is a start. It is a beginning and it is the beginning that the residents of Evanston by and large agree with. Of course, everyone is entitled to their opinions.
Of course, no entity is monolithic. Of course, there are disagreements with respect to this, but it passed on Monday by an overwhelming eight to one vote and again, I'm proud to have been part of the process in Evanston almost from the day one with respect to this whole process of providing just a motor crumb of historical acknowledgment and earmarked monies towards this harm, this injury.
Tanzina: There are many, many, many issues that arise when people talk about reparations, particularly at the policy level and we've talked a lot about that on this show. Both of you have been with us for that. Marcia, there is a question of why not just direct cash payments, why the decision to distribute funds as housing grants?
Marcia Chatelain: I have the same question. I think that when reparations are couched within predetermined and approved places in which money should be spent, I think it undermines the heart of what a reparation strategy can do. I think that at times there's a little bit of a paternalistic view that people have to be told what to do with money or how to invest it responsibly.
I am a big proponent of direct cash aid because we also know that the housing market, particularly in Evanston is quite expensive, median home prices range in the 400,000 plus area and so I would be more comfortable with direct cash assistance because I think it says that we trust you and we believe that this is money that is owed to you, and you can use it in the ways that you see fit for yourself and your community.
Tanzina: That said, however, we also know that housing discrimination, redlining, and other issues were one of the biggest discriminatory factors that didn't allow Black Americans to really gain wealth. There's so much wealth in this country that really starts at the housing level. Marcia, do you see any positives here in terms of, as a first step is one of the first programs of its kind to focus on housing versus direct cash payments, or is your vision of a reparations program really a question of getting direct cash payments to the descendants of enslaved Americans?
Marcia Chatelain: I will always support direct cash payments, and I understand the deep desire for entering the housing market, but I think something we have to keep in mind that some of those discriminatory practices continue today in lending, in access to prime rates, and also in communities in which African-Americans want to live around other African-Americans.
We still see the disparity in housing values and so I think we have to be very critical of the idea that entry into the real estate market is colorblind and will ultimately provide financial rewards for future generations because we know that African-Americans even in places that are particularly affluent sometimes have not fully recovered from economic recessions, and aren't able to have the kind of home value appreciation of their white counterparts.
Tanzina: Nkechi, when you hear Marcia's thoughts on this program, I know that you were a part of it, and you're very proud of it. What do you think about that? Should the emphasis be on direct cash payments in future programs going forward, or in this particular case, will this provide an alternative model to that, that lab policymakers across the country might be more attracted to?
Nkechi Taifa: Tanzina and Marcia, I just want to make something perfectly clear. I am absolutely personally not opposed to cash payments or direct benefits to individuals. In my humble opinion, the harms from the enslavement error and post-slavery degradation were multifaceted. Thus, the remedy must be multifaceted as well.
As a lawyer, I know very clearly that if I go out and get hit by a car and I go to court, I'm going to be looking for some cash payments but again that is just one part. A reparation settlement can and should be much, much more than that. That's not to say the cash payment is not a part. I personally believe it can and should be, but I also know with respect to the Evanston program, there is 96% more that is to come. This is only a 4% drop in the bucket. I'm sure--
Tanzina: Nkechi let's talk about that. What is left to come? Tell us about the subsequent phases of this program.
Nkechi Taifa: The allocation was $10 million over 10 years. This is only 400,000. I'm not a mathematician, 96,000 or whatever more there is to go. Then we continue to be town halls and discussions. There's a community stakeholder group that has been established, there'll be debate, there'll be discussion. I am quite certain I'm sure upon information and belief that somewhere along the line, there will probably be direct payments in the form of cash to individuals. I know there were a lot of things that are to be worked it.
Number one, you don't want any tax consequences to that. I think that was one of the issues that I'll come up and in the short period of time that there was really get this pilot program off the ground. I think the decision was made to deal with it in this fashion of $20,000, forgivable loan, home improvements, et cetera, in the housing industry based specifically on a very comprehensive report that historians in Evanston did with respect to the harm in that particular community during the specified period of time.
Tanzina: Earlier this month, a Jesuit Conference of Canada and the United States pledged to raise $100 million for the descendants of enslaved people that they once owned. Marcia, what do you expect to see out of that?
Marcia Chatelain: I think that that initiative will be an interesting test case about churches and their sense of responsibility for the descendants of the enslaved. I think what we will see are funds that will help descendants get education at Catholic institutions. I think that we'll see similar things to Evanston where there'll be very clearly earmarked funds.
I think there will be continued conversations about whether or not $100 million dollars even comes close to making any meaningful repair in the lives of people who their path was set forth because of the institution of slavery and it was cut short at different terms. I think we'll continue to see a lot of contention and we'll continue to see a lot of structured and very guided approaches to distributing this money.
Tanzina: When it comes to the distribution itself, there are often questions about who or how to approach that process, like who do we give reparations to? In the case of Evanston, for example, does someone have to prove that they were the victim of housing discrimination, or is it accepted that anyone in the community may have been affected by that? How do you see the distribution mechanisms themselves evolving?
Marcia Chatelain: I think that the problem of specificity in saying only X number of people have access to reparations, we lose sight of the totality of white supremacy in impairing the possibilities in people's lives. I think what will be interesting to see is that with the rise of the DNA, family tree, and genealogy business, the ways that those industries will sidle up to these ideas to try to sell their products, I think that's the first part of it, but the idea of proving racial harm.
We know how difficult that is to do in the courts and so I would hope that these reparations structures don't put ridiculous or egregious burdens on people who are seeking relief. I hope that these conversations don't lead into a common sense understanding of racism that some people are impacted instead of understanding the ways that racism shapes all people, regardless of the outcomes in their own personal journeys.
Tanzina: Marcia, when we look at movement at the federal level, Democratic Congresswoman Sheila Jackson Lee reintroduced H.R.40 into Congress in January the bill, which has been reintroduced repeatedly since 1989, and which we've spoken to in the Nkechi about in the past would establish a commission that would look into the vast impact of slavery and come up with solutions. How do you think that the move in Evanston will actually potentially affect federal legislation related to reparations? Will they begin to potentially turn away from thinking about cash payments?
Marcia Chatelain: I think that H.R.40 as someone who comes from academia, slow death by meaning, This idea that we need more research or more deliberation, I think is just not true. What I do think will happen is that these local-level initiatives may provide a set of proof-of-concept ideas to take to the federal government to say, look, this is one way we can do it.
This is another way and I think it adds more nuance to the conversation about reparations, but I think, unfortunately, there is no political will on the part of Washington to actually get this done. I think our best bet is to create a network of localities that are willing to take up the issue of reparations and think about the various ways to fund them and structure them.
Tanzina: Nkechi, you're working on that. We've got a minute left. Do you agree with Marcia on that point, or do you think the federal government is just not really going to get it done?
Nkechi Taifa: I think that there's more of a support now for the concept of reparations in H.R.40 than there ever been. We have more co-sponsors than ever. We have over 173 co-sponsors in the House. We have a bill that's been introduced in the Senate. We have a president that spoke positively with respect to a study and it's more than just a study at this time. It's also to develop actual proposals so I'm optimistic. I'm looking forward to the future. Reparations is an issue whose time has come.
Tanzina: Nkechi Taifa is the president of the Taifa group, social enterprise firm, and commissioner of the National African American Reparations Commission and Marcia Chatelain is a professor of history and African-American studies at Georgetown University. Thanks to you both.
Marcia Chatelain: Thank you, Tanzina.
Nkechi Taifa: Thank you.
[00:15:28] [END OF AUDIO]
Copyright © 2021 New York Public Radio. All rights reserved. Visit our website terms of use at www.wnyc.org for further information.
New York Public Radio transcripts are created on a rush deadline, often by contractors. This text may not be in its final form and may be updated or revised in the future. Accuracy and availability may vary. The authoritative record of New York Public Radio's programming is the audio record.