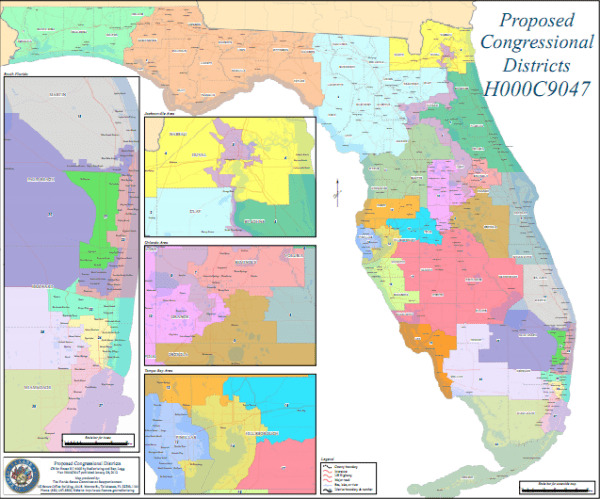 Transcript
Dr. Melissa Harris-Perry: I'm Melissa Harris-Perry, back in the chair with you this week.
[music]
Listen, usually when we talk about voting rights, we're talking about casting a ballot, an important part of democratic participation to be sure, but there's another part. Once you've cast your ballot, does it count? Now, I don't mean does someone count it? I mean, does it matter? Does it have the same weight as somebody else in your state who also cast theirs? One person, one vote. It's not just about access to that ballot box.
It's also about the shape of the map. All right. Every 10 years, the census counts up all of us who live here in the US and the process reveals who we are and where we live. That information is then used to draw maps that put us together, in communities. We call them districts or even precincts. In those districts, we're supposed to be able to come together with others and decide how we want to be represented at our city level, at our state level, and yes, in the US Congress.
In many states, the maps are not fair. The Princeton Gerrymandering Project, which assigns grades based on a set of fairness metrics gave Fs to several states in this redistricting cycle, including Florida, Illinois, Maryland, Ohio, New York, Oregon, Texas, and Wisconsin. Congressional maps are set in all 50 states for the 2022 midterms, but the future for fair maps may be even more fraught than in the past. In June, the Supreme court announced that it will hear a case about a proposed North Carolina voting map from this past redistricting cycle.
The court could give state legislatures independent power over issues of voting, including redistricting and mapping, meaning that these states would not be subject to state constitutions or review by state courts. With me now is Allison Riggs, co-executive director and chief council for voting rights for the Southern Coalition for Social Justice, and like me, she's based here in North Carolina. Allison, thanks so much for joining us on the takeaway.
Allison: Thanks for having me, Melissa.
Dr. Melissa Harris-Perry: Let me start with the big question. What does a fair map look like?
Allison: That's a great question. It's one that really is despite a lot of litigation, very easy to answer. Is it something that voters will end up picking their representatives as opposed to having preset, preordained outcomes? We look to see whether the data that tell us that this map is set to elect 10 Republicans and 4 Democrats, no matter what, that's not fair.
That's not voters being able to exercise their free will and use their own judgment. We look to see whether voters of color are able to bind together and to elect candidates that they prefer at rates that we would expect given their populations. Those are the kinds of things we're looking at for fairness.
Dr. Melissa Harris-Perry: All right. Let me dig in on one of those four moments. This question of minority voters or voters who are racialized. Now, there been multiple ways of thinking about what might constitute a fair map there. Some folks, it's a little bit more just draw the squares, everything in boxes. It would leave many minority populations, maybe making up say 35% or 40% of a district. Another way to draw the maps is to pack many African Americans or many Latino voters so that they constitute 60% or even 70% of a district. It ensures that there will be some members of that racialized community heading off to Washington or to the state legislature each year. Is there one that's more fair than another?
Allison: No, it really depends on where you are in the country and the levels of racially polarized voting that is the tendency of white voters to only vote for white candidates and for voters of color to prefer candidates from their own racial or ethnic background. I've litigated in places where, for example, Black voters have had great success electing Black candidates at 35%, 40% of the voting age population.
I've litigated in places where Latinx voters have not been able to elect the Latino preferred candidate of choice unless the district was 50%, 55% voting age population. You have to look at local data and you have to look at who's drawing the map and why. This happened in North Carolina last decade if conservative leaders of the legislature without consulting with Black voters or Black leaders in the legislature are saying, "Oh, we have to draw Black voters into these packed districts otherwise they won't be able to elect their preferred candidates."
We had some issues with that because all of the Black representatives in the North Carolina general assembly looked around and said, "Well, we were all elected from non-majority Black districts." It really just depends on the history of that specific area. In parts of really rural, very low-income parts of Texas, voter participation is much lower. The history of socio-economic disparities and discrimination has made participation more challenging for certain voters and their districts might just need to look a little different to make them work for the voters in those districts.
Dr. Melissa Harris-Perry: When you're talking about this level of specificity of history, of understanding each of the communities, help me understand then what a fair process for drawing the maps would look like, how do I find out all of that rich information you just provided?
Allison: We expect and hope our state legislatures who have in so many places across the country have been vested with this important responsibility of doing this work and courts have given them a lot of free reign to do that. We expect them to do the studies necessary to get it right, to be fair, and to make that data public to us. Does that happen? Not a lot, not all the time. For example, my organization, the Southern Coalition for Social Justice told North Carolina it needed to conduct a racially polarized voting study on more than one occasion.
It didn't. That caused problems in a couple of districts that have historically been able to elect a candidate of choice. In Texas, there's litigation underway, but getting a straight answer of who drew what district and why they drew the lines the way they did, it's a mirrors game. That's not a fair process. It doesn't give the public a chance to understand who made the decisions, why they made the decisions and were they being purposefully obtuse about some of the important data they needed.
We've seen this cycle legislatures and legislative leaders saying, "Well, we're just not going to consider race at all." That's not the right answer either. It continues to be frustrating. It's a game that they're playing that we need to hold them accountable for.
Dr. Melissa Harris-Perry: All right. Allison, let me dig in on Texas a little bit. We talked a bit about North Carolina, but I know that you all are involved in efforts in the context of Texas and Texas is a state that received an F, from the Princeton Gerrymandering Project. Talk to me about what's going on with the maps there.
Allison: There is litigation underway in front of a three judged federal panel based out of El Paso. We're taking depositions and looking at expert analysis right now, we're set to go to trial in September. The court denied a preliminary injunction motion that would've potentially created new maps for the 2022 election. In too many states, Texas will be holding its congressional state house, state Senate, state board of education elections under the maps drawn by the state legislature that we allege are racially discriminatory and violate Section 2 of the Voting Rights Act.
The hope is that we'll get maps that reflect the fact that 95% of population growth in Texas this last decade was due to growth in communities of color. In essence, they lost political representation with these maps. There's a lot to be done. What's at the front of all of our minds in that case is the Alabama case that will be argued in the US Supreme Court in October where the court may make some changes to how we've used Section 2 of the Voting Rights Act in redistricting litigation. That obviously will affect our Texas case.
Dr. Melissa Harris-Perry: I want to understand a bit, you were talking about the issue of who is making these decisions and the question of power. Who is making these decisions state to state? If the process isn't bringing up and forefronting the voices in community that you suggested would provide that basis for fair map drawing, what is it that power map drawing is doing, who is seeking power here and how did the maps help them?
Allison: The people who are drawing the maps are largely the folks who have-- There was a wave election in 2010. In the last cycle in the 2011 redistricting cycle, there was extensive gerrymandering. We largely see those, who rode into power on that wave still in power, still drawing districts to keep themselves in power.
In most states, it's the state legislators who benefit from gerrymandering, who are making the decisions on now future gerrymandering. There have been reform efforts in some states. Efforts to either change state constitutions to create commissions or to impose fairness criteria on those drawing district lines. There's been litigation under state constitutions trying to flush out protections under state constitutions against partisan gerrymandering, for example. There are some exceptions, but largely it's the state legislatures that do it. The people benefiting most from drawing non-responsive lines that disregard communities of interest, communities of color, they will depend.
Dr. Melissa Harris-Perry: Allison, pause with me one moment. We're going to take a quick break and be right back here on The Takeaway. We're back. I've been speaking about redistricting and fair mapping with Allison Riggs, co-executive director for the Southern Coalition for Social Justice. Allison, give me some good news. Is there a place, a district, a state where this process of map drawing does look truly fair and representative?
Allison: [laughs] Yes, California, I think has been doing it right. I think it's the one state this cycle that didn't have any redistricting litigation. For two cycles now they've had a citizen's redistricting commission. Californians apply and go through a process to be selected, to draw their own state legislative and congressional districts. They build a commission with a wide representation from folks across the state from different racial and ethnic backgrounds with different professional experiences, and people who know the communities impacted by the lines.
It's not necessarily a model that's directly replicable in every state. Certainly, there are legislatures who don't want to replicate that but it's one that I point to as having a great process, very transparent, produced great results.
Dr. Melissa Harris-Perry: Do you find that the redistricting ends up with more fair results in states where there's a nonpartisan or a bipartisan commission rather than elected officials doing it, or has that not proved to be the all-encompassing solution that some had hoped for?
Allison: I think the jury is still out on that. I lean towards I've yet to see the evidence that a nonpartisan or bipartisan commission is the solution. It's why I like California, where it's a citizens commission, but what I've seen in too many states with these commissions is they are political appointees so they're just one step removed from accountability. Now, have I seen evidence that they're any worse than the politicians themselves drawing the maps? No, but I think the jury is still out, particularly when it comes to the impact for communities of color.
I also applaud states who are committed to the great experiment of democracy and trying something new as long as they understand that it may not work exactly as imagined. There has to be flexibility retained to ensure protection of historically disenfranchised communities. I think the system we have right now is so broken that there does need to be some experimentation into what can work.
Dr. Melissa Harris-Perry: I love this language of experimenting with democracy. This notion that there isn't one single simple answer that will fix it. If there were, maybe we would've already implemented. That single answer. Of course, democracy is messy but tell me how we can get to the good messiness. What are some of the tools that can be used for getting people involved in the process? When you talk about accountability, it can be hard, right, to get folks excited about things like decennial census taking and map making?
Allison: We had spent a lot of time working on that redistricting cycle and my organization has every redistricting cycle. This was the first redistricting cycle without the protections of Section 5 of the Voting Rights Act. We knew that we needed our grassroots organizers, our community-based organizations to be our eyes and our ears on the ground in previous redistricting cycles and your listeners should remember when we're talking about redistricting, we're not just talking about congressional districts.
We're talking about congressional districts all the way down to county commissions and school boards and city councils and utility districts. There are just thousands and thousands of jurisdictions that will be redrawing their political lines after receiving census data back. We knew that we needed folks to be watching last cycle, every change in Section 5 covered area, which was mostly the south because of the history of discrimination here.
Every redistricting change had to be submitted to the US Department of Justice, which would publish the change on its website. I spent a lot of time perusing that website and looking for problematic maps, but we lost that in the Shelby County decision in 2013. While we've always wanted to support and train community leaders to be engaged in the redistricting process, the stakes were much higher this cycle.
Dr. Melissa Harris-Perry: Allison Riggs, co-executive director and Chief Council for voting rights for the Southern Coalition for Social Justice. Allison, thanks so much.
Allison: My pleasure.
Copyright © 2022 New York Public Radio. All rights reserved. Visit our website terms of use at www.wnyc.org for further information.
New York Public Radio transcripts are created on a rush deadline, often by contractors. This text may not be in its final form and may be updated or revised in the future. Accuracy and availability may vary. The authoritative record of New York Public Radio's programming is the audio record.