Female Lawmakers Reflect on Relationships with Their Fathers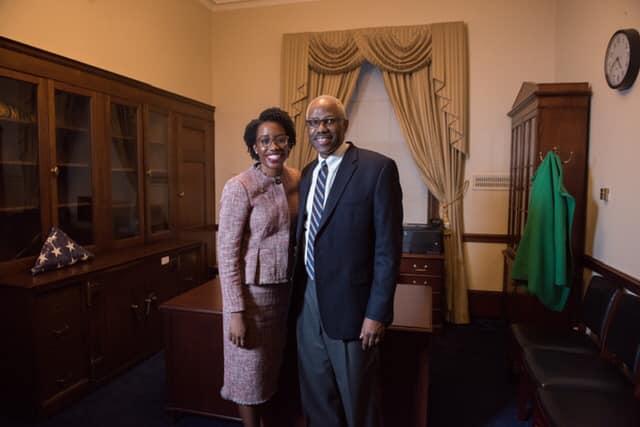 Transcript
Melissa Harris-Perry: This is The Takeaway. I'm Melissa Harris-Perry in for Tanzina Vega and this is my dad.
William Harris: My father never said to me, "Look, I want you to act the way I act," but it certainly came across.
Melissa Harris-Perry: His name is William Harris. He's a retired college professor and a pretty serious guy. So serious in fact that when we were growing up, he routinely signed birthday cards for my siblings and me not with the endearment "Love, daddy", but by writing "The struggle continues, daddy". This week, I decided to ask him why, what he told me were stories about his own father and grandfather and their resistance to Jim Crow and their unwillingness to ever yield to racism.
William Harris: I thought about that a great deal over my lifetime, adult lifetime. That spirit made me say, "Look, the struggle continues", from grandpa, from my dad, from myself. It was always that in my mind, "The struggle continues".
Melissa Harris-Perry: His response made me curious about our fathers and the ways that they shape us for good and for ill by their stories and their lessons. We're doing a little Father's Day The Takeaway style. We're talking with women who hold elected office across the country and asking them about their dads.
Mayor Jenny Durkan: Hi, I'm Mayor Jenny Durkan, the mayor of Seattle. For me when I was a kid my father was larger than life.
Melissa Harris-Perry: The mayor's father is the late Martin Durkan who held seats in both the Washington State House and state Senate. He is remembered as both a powerful and beloved elected leader.
Mayor Jenny Durkan: I grew up in a family that was very much involved in the civil rights struggle. He brought to our house and introduced us to Black Panthers, Indian activists, Farm Workers Union Workers. At that time it was really focused on how do we make sure that we're building a better society, and my dad showed us how you could lead the way on that.
Bonnie Watson Coleman: I'm Bonnie Watson Coleman and I represent the 12th congressional district in the state of New Jersey.
Melissa Harris-Perry: Representative Bonnie Watson Coleman is also the daughter of a father who was an elected official. Her dad was Assemblyman John S. Watson, and he was the first African-American to win a countywide election in Mercer County, New Jersey.
Bonnie Watson Coleman: He was my idol. He was my standard. I thought he was the most gorgeous, kind, brilliant man that God ever created. My dad never wanted to be an elected official either, but as a businessman, he became part of a political action committee of some local electives and some appointed folks who were Black, who wanted to make the Democratic Party have more respect for us than just to get our vote. They selected my father out of this group to run against the party.
Melissa Harris-Perry: Bonnie Watson Coleman's political career began when she ran for and won the seat that her father once held in the State House.
Bonnie Watson Coleman: I am telling you that from the time I got to the assembly to the time I left, people had John Watson stories, how he helped them, how important he was to them. I was just very, very like bursting with pride.
Melissa Harris-Perry: The congresswoman's adoration of her own father affects how she understands the impact of incarceration on African-American families.
Bonnie Watson Coleman: We owe our communities a lot because our children didn't have the benefit of their father.
Melissa Harris-Perry: Not having a strong relationship with your own father is an experience that resonates with Congresswoman Alma Adams who represents the 12th congressional district of North Carolina.
Congresswoman Alma Adams: I didn't meet my father until I was 15 years old. I grew up with my mom and my mother remarried and I had a stepfather for a number of years until I was about 11 or 12 years old when he passed away. It was after that that I actually met my dad, but I did get to know him. We had not only many talks, but I got to at least understand him as a man.
Melissa Harris-Perry: Congresswoman Adams reminds us that even the most strained relationships can lead to important lessons in living.
Congresswoman Alma Adams: I think we're going to all make mistakes and I realized that my dad made a lot of mistakes but I think forgiveness is the key. You don't want to repeat those. I use those as examples for me to try to do the best that I can do for not only my children but for the community that I represent.
Melissa Harris-Perry: The city of Charlotte, North Carolina is part of that community that Alma Adams represents.
Vi Lyles: I'm Vi Lyles and I'm the mayor of Charlotte, North Carolina.
Melissa Harris-Perry: The only daughter with five brothers, mayor Lyles learned many lessons, not only from her dad but from her grandfather and from her brothers.
Vi Lyles: My grandfather started a small business in Columbia, South Carolina, with a wagon and mules. My dad went into business because of his father and today I have five brothers and they own that business and it's a third-generation Black-owned business. My brothers made that business successful because of the values instilled by my dad.
Melissa Harris-Perry: The mayor's father did not live to see her run for office, but she is certain he's proud of what she's accomplished.
Vi Lyles: I think he was really proud of me for being that person that sought knowledge in a way that was authentic to myself and the ability for me to give back to this community, especially my community, my city now, Charlotte.
Melissa Harris-Perry: About five hours south of Charlotte in Atlanta, Georgia, there's another woman mayor whose father had a big impact on her life.
Keisha Lance Bottoms: Keisha Lance Bottoms, mayor of Atlanta, Georgia.
Melissa Harris-Perry: There's no mistaking how the mayor feels about her father, the late Major Lance who was a popular R&B singer.
Keisha Lance Bottoms: My daddy was the absolute best dad in the world. He was a lot of fun. He loved me unconditionally. He always saw and believed the best in me. Although he was an entertainer and his schedule often caused him to work at night, he was the one who I saw when I got home from school. He was a good cook. He was a lot of fun and I miss him every single day.
[music]
Melissa Harris-Perry: Major Lance may be gone, but his lessons remain with his daughter.
Keisha Lance Bottoms: The most important lesson I learned from my dad was to never be afraid to be told no, he would often say to me, "Did you ask? Did you try? The worst they can do is tell you no, baby." I've learned, with that, just his big lesson about not being afraid of rejection or failure.
Melissa Harris-Perry: So many of the highly accomplished women that we talked to told us they were able to stand in their own confidence in part because they knew their dad always had their back.
Pramila Jayapal: My name is Pramila Jayapal, and I am the Congresswoman representing Washington's 7th congressional district. My father is 90 years old and he lives in Bangalore, India. I think the most important thing I learned from my dad is to believe that you can do anything. My dad really believed that. He took his last $5,000 and used it to send us, his girls, to the United States at the age of 16, that's when I came here by myself because he really believed that there was nothing we could not do.
There were all kinds of things he wanted us to do, and politics was not one of them, but he really believed that there was nothing impossible and his girls could do anything. I also learned about hard work from my dad and that is something that has stayed with me to this day.
Lauren Underwood: Lauren Underwood, I am the United States representative for the Illinois 14th congressional district.
Melissa Harris-Perry: When Lauren Underwood took her oath of office in January of 2019, she became the youngest Black woman in history to be sworn in to the House of Representatives. Her dad has been there every step of the way.
Lauren Underwood: He loves politics. He is obsessed with our democracy and ensuring that it's protected and that it will last. While he would have never vocalized a desire for his daughter to serve in the Congress, he just burst with pride. Now I am not married and so I have the great fortune of inviting my dad to be my plus one to many of my activities, both formal and informal in this role as a member of Congress and he loves it. He loves it.
Melissa Harris-Perry: The congressional social scene must be a pretty big change from the small town in Alabama where Lauren Underwood's father grew up.
Lauren Underwood: My dad grew up in a town called Demopolis, Alabama. I've never really been to Alabama with him since I was like one years old, but it definitely shaped who he is. My parents don't really believe in vacation. We haven't gone on a family vacation where you get on a plane together since probably like third grade. Vacation was visiting other family members and choosing to further deepen and cultivate those familial bonds is something that very much I think came out of how he was raised.
Melissa Harris-Perry: They may not believe in vacation, but Lauren Underwood's parents come to every single event that she has at her district, and then they give feedback.
Lauren Underwood: Every week when I come back from Washington, I say-- My dad's retired, and I go to their house-- Let's say I come back on a Friday afternoon. I come to their house, I sit at the island and my dad will stand and talk for an hour about what I said, what the speaker said, what Adam Schiff said, what they said on MSNBC about it.
Then we talk about the actual decisions-- We go through it in-depth. It is a joy to be able to share, not just an achievement, but what I feel like is work that I've poured my whole life into, at this stage. This is what I spend my time doing. It's such an honor to be able to share this phase of life with my parents and my father, specifically.
Melissa Harris-Perry: That gratitude for the shared journey was echoed by many, including by Nina Turner, former Ohio State Senator who's currently a candidate for Congress.
Nina Turner: My dad is my biggest fan and I just really love him very, very much. I appreciate the lessons that I have learned from him. I appreciate the fact that he continues to just show love and appreciation for me and he's very proud of me, and especially in light of the fact that my mom is not here right now. I really do lean on my dad for that presence. Dad, I love you, happy Father's Day.
Melissa Harris-Perry: If you want to know more about these women and their dads, check out our digital package in partnership with Harper's Bazaar, it's available on Father's Day at harpersbazaar.com.
Now that's all we have for you all today. We really appreciate you tuning in for our Juneteenth special. Please, be safe and have fun. Now, before we go, I want to give a shout-out to this amazing crew who puts this show together daily.
Our producers are Ethan Oberman, Jose Alverez, Meg Dalton, Patricia Yacob, and Lydia Macmillan Laird. Our line producer is Jackie Martin. Our senior producer is Amber Hall. Sean Sandra is our board op and Vince Fairchild is our engineer. Jay Cowit is our director and sound designer and Polly Irungu is our digital editor. David Geble is our executive assistant and Lee Hill is our executive producer.
We also had a little help this week from the tiny but mighty team of the Anna Julia Cooper Center. Special thanks to Miller Coffee, Crystal Dickson, and Jamie Crockett, and a shout out to the incomparable Shonta Covington for her work on our Father's Day segment. Thanks so much for listening. I'm Melissa Harris-Perry in for Tanzina Vega, and this is The Takeaway.
Copyright © 2021 New York Public Radio. All rights reserved. Visit our website terms of use at www.wnyc.org for further information.
New York Public Radio transcripts are created on a rush deadline, often by contractors. This text may not be in its final form and may be updated or revised in the future. Accuracy and availability may vary. The authoritative record of New York Public Radio's programming is the audio record.