The Federal Prison System is in Crisis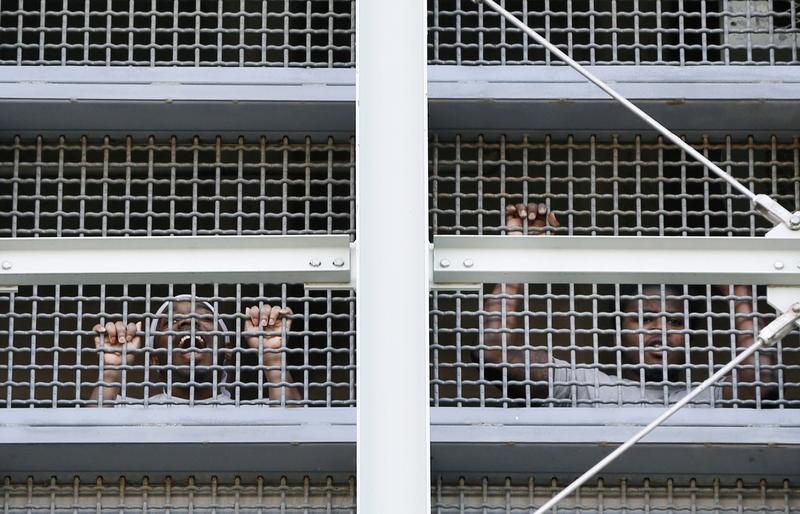 Transcript
[music]
Melissa Harris-Perry: Hi, everybody. I'm Melissa Harris-Perry, and this is The Takeaway.
Reporter: Good morning. This is an NBC News special report. NBC News has learned that disgraced financier, Jeffrey Epstein, is dead. Epstein took his own life while he was behind bars here in New York City facing charges of sex trafficking.
[music]
Melissa Harris-Perry: In August of 2019, Jeffrey Epstein was found dead in his cell in a federal prison in lower Manhattan. Epstein was awaiting his trial on charges of sexually abusing and trafficking dozens of minors. His death was ruled as suicide by New York City's chief medical examiner.
Two federal prison guards were responsible for checking on Epstein and other inmates every 30 minutes, but instead, they were accused of sleeping and browsing the internet and admitted to falsifying records to show they'd made their rounds. Both guards were working overtime because of staffing shortages. US prosecutors eventually dropped charges against the guards in 2021. Days after Epstein's suicide, then attorney general, William Barr, said the events leading up to it were "a perfect storm of screw-ups."
William Barr: We are now learning of serious irregularities at this facility that are deeply concerning and demand a thorough investigation.
Melissa Harris-Perry: Two reporters at The Associated Press, Michael Balsamo and Michael Sisak wanted to understand those-
William Barr: Serious irregularities.
Melissa Harris-Perry: -and how the highest-profile federal inmate in decades died by suicide in one of the most secure federal prisons in the US, so they started digging. What they found were not one-off offenses. Their investigation uncovered mismanagement, corruption, and abuses within the Federal Bureau of Prisons, which is the justice department's largest law enforcement agency.
They discovered widespread sexual abuse by employees who coarsed inmates into silence and covered up official complaints, leadership at many levels that ignored other employee misconduct and crimes, including theft and smuggling weapons, and prisons that haven't been able to keep full staff for years, with nearly one-third of federal correctional officer positions going unfilled.
Cooks, teachers, and nurses, and other workers have been assigned to work as guards. According to reporting from The Marshall Project, short staffing at the Elkton Federal Correctional Institution in Ohio forced people incarcerated at the facility to provide medical care for each other early on in the pandemic.
Despite the Bureau of Prisons having an annual budget of nearly $8 billion, infrastructure in these prisons is literally crumbling. Concrete fall from ceilings, sewage pipes leak and burst, and in the wake of the Associated Press investigation, Bureau of Prisons' director, Michael Carvajal, announced his resignation in January, and he's still leading the agency however without a clear choice for replacement.
The Takeaway did reach out to the Bureau of Prisons for comment on the AP investigations, and they gave us a statement saying, in part, "Our agency is fully cooperating with the Office of the Inspector General on active investigations and will bring to justice those who abuse the public trust. The BOP remains committed to ensuring the safety of our inmates, staff, and the public." I still got some questions, so let's get to them.
For more, I'm joined now by Keri Blakinger, a reporter for The Marshall Project. Her reporting has also uncovered abuse and neglect in federal prisons. Keri is publishing a memoir in June titled, Corrections in Ink, about her time as an incarcerated person.
I'm also joined now by Joe Rojas, who is director of the American Federation of Government Employees local union chapter for correctional staff in central Florida. Joe also leads the literacy program as coordinator at the Coleman Federal Correctional Complex in central Florida, the largest federal prison complex in the country. Joe and Keri, thanks both for being here.
Joe Rojas: Thank you for having. It's a pleasure.
Keri Blakinger: Thanks for having me.
Melissa Harris-Perry: All right. Keri, I just want to establish some basics. What does it mean to be in federal prison as compared to the state system?
Keri Blakinger: Well, federal prison means that you've been convicted of a federal crime or you've been accused of a federal crime and that means that you can end up in a prison that's run by the federal government, but anywhere across the country. It's a large system and you're sometimes very far from home.
Melissa Harris-Perry: At times, Keri, I feel like the language of federal prisoner, just like the language of felony versus misdemeanor, makes people assume that we're talking about folks who have committed the most violent kinds of crimes, and certainly starting with Jeffrey Epstein, although he had not yet been convicted, is indicative of a sense of who federal prisoners are, but what are the types of crimes that actually tend to lead to incarceration in the federal system?
Keri Blakinger: Well, 45% of federal prisoners are in for some kind of drug crime and it's not necessarily high-level drug trafficking. Sometimes it can be minor involvement in a larger drug conspiracy, or sometimes it's relatively small amounts of drugs.
Then one of the next biggest things that people are in for is about 20% are in for weapons type offenses, which can include serious things like arson, but it can also include simply being a felon in possession of a gun, even if you didn't do anything wrong with it. Some of the offenses that can lead there can be surprisingly minor.
Melissa Harris-Perry: I almost hate that I have to start with those pieces, but it does feel important in part because we know that sometimes the general public can hear stories about these kinds of conditions and feel like, "Well, why would that matter? These are violent, terrible criminals. I don't care if they're living in a difficult system or working in a difficult system."
Joe, help us to understand a bit about what the kinds of conditions we've been hearing about here mean for day-to-day life in a federal prison, whether as an incarcerated person or as someone who is staffing it.
Joe Rojas: Well, some of our prisons are old than some of our prisons in the US. The problem with the Bureau of Prisons is we have under "severe" under-staffing and I actually put the severe in quotes because the crisis is bad. When you have the under-staffing, you can't do our programs. I'm a teacher in education department and I'm always full. When you constantly have the understaffing, you can't do the programs, it does cause an issue and it's a trickle effect that goes all the way down.
Working for 27 years in the Bureau of Prisons, in my opinion, this is the worst that I've ever seen. The leadership from up top has just lost space with what it is to work inside of federal prison. It's extremely understaffed and everybody suffers from the staff to the inmates.
Melissa Harris-Perry: Keri, so how did we get to this point? Joe's saying that this is among the worst, at least, that he's ever seen. You've been reporting for quite some time, but so much of this news is really just coming out in the past year. What happened?
Keri Blakinger: I think there's a few things. I do think that one of the things that has had a big effect, aside from the leadership issues that Joe mentioned, is the residual facts of the pandemic, I think, that we saw in a lot of prison systems during the pandemic. Existing staffing issues got worse. Existing problems with the conditions got worse. In a lot of places, prisoners were locked down for prolonged periods of time. Sometimes for months where they were locked in their cells and I think that this exacerbated a lot of the issues that prisons already face.
Melissa Harris-Perry: Joe, can you weigh in on this a bit about how the pandemic exacerbated these conditions?
Joe Rojas: Well, it actually began with the budget cuts, I think in 2017, 2016, we lost 6,200 positions. Then right after the budget cuts, we had to shut down. That also affected. You had the budget cuts, then you had to shut down. People weren't getting paid, so a lot of people who were eligible to retire did retire to this day and on. Then you top that off with the pandemic. It's all equal into this, into what we call now the crisis.
You have those three factors, the pandemic, the budget cuts, and actually also the hiring delays. Everything happened all at one time and then in 2020 or 2018, 2019, it was the pandemic. You factor all that in, we will never recover from this. Those budget cuts, those 6,200 positions that happened, the pandemic, people are just beat down.
Our staff are just beat down. We don't-- With the staffing, we're not getting any support from our leadership up in Washington and actually, they exacerbate the issue by making it worse, by not helping, and there's a severe disconnect. There's severe disconnect from the top to the troops in the ground. You're going to get a lot of these issues. The funding issues, we were supposed to be funded. Where's the money going to?
Part of my job as a union is we are the whistleblowers for the public. We do expose those corrupt management officials, and if it wasn't for the union or council, you'll never know what goes on in the Bureau of Prisons.
Melissa Harris-Perry: Keri, weigh in on this a bit for me. When we hear about corruption, and we've got the AP reporting over 100 federal prison employees having been charged with committing crime since 2019, and I'm hearing from Joe here a sense that there's some real questions about leadership as well. Can we know the true extent of these kinds of abuses or are we simply in a situation of like a cone of silence here?
Keri Blakinger: Well, I think it's broadly true in a lot of prison systems that we never really know how much criminal behavior is happening among the staff. There was a report a number of years ago in ProPublica about the percent of staff in prisons who are actually convicted when there's evidence that they've committed a crime and it's something like less than 1%. Now, maybe it's higher in this scenario, but even with that generous assumption, we can still reasonably believe that the number of staff who are actually committing these sorts of offenses might be much higher.
Melissa Harris-Perry: Joe, help me to understand. You've worked at Coleman for more than 25 years, is that right?
Joe Rojas: That's correct.
Melissa Harris-Perry: All right. You're saying that you're feeling like it will never recover. What would recovery look like for you? When you say never recover, what would good working conditions in a federal prison be?
Keri Blakinger: It's pretty simple, staffing. Having the proper staffing, having the amount of support staff, having enough officers in the prisons, having enough counselors, case managers, teachers to orderly run a prison. You need the officers to keep the security, to keep looking, even inmates want to be kept safe. If you're going to do time, you want to do time safely, and then when you're incarcerated, you also want to be able to run programs.
Being in education for over 20 years, I've seen a lot of good. A lot of these inmates are dealing with stress. They got to deal with being incarcerated, dealing with family issues, and then they want to better themselves through programming. Whether it's through education, psychology, going through counseling groups. Right now we don't have that.
We're constantly pulled. If you staff our prisons the way it's supposed to be staffed, not the [unintelligible 00:12:10] of the numbers that you hear from central office and the DOJ, you staff the prisons the way it's supposed to be, you're going to have a betterly orderly running of a prison.
It's staffing, staffing, staffing. That's the number one concern and I just don't feel it's going to happen because I just think they are constantly changing the numbers to make it look like we are fully staffed when we're not.
Melissa Harris-Perry: Joe and Keri, hold on for me just one moment. We're going to take a quick break and we'll be right back on this topic.
[music]
Melissa Harris-Perry: Thanks for sticking with us. We're talking today about reports of widespread corruption and abuse in the Federal Bureau of Prisons. I'm back now with Keri Blakinger, a reporter at the Marshall Project, and Joe Rojas who's worked in federal prison in Florida for 27 years and is currently the coordinator for its literacy program.
I want to zoom in here on Joe's point about funding, about staffing, about programs. We've been hearing this for 50 years that we need to spend less on incarcerating people more on public education, more on infrastructure, and yet I'm hearing from Joe that spending less on incarceration leads to circumstances where those who are incarcerated are in even worse conditions. Help me to tease this out a bit, Keri.
Keri Blakinger: I think that there's a difference between wanting a smaller prison population and actually spending less on prisons, because as of now, there's so many needs that are unmet in the prison system. That if we want the people who are there now to have humane conditions that will be most conducive to rehabilitation, that's frankly going to cost more money than what we're currently spending.
I know this might seem counterintuitive, but I think at the start of the year when it became clear that Carvajal, the BOP director was on his way out. At some point, I started asking some prisoners what they would like to see from a new BOP director. I think every single one of the ones that I spoke to at some point mentioned that the understaffing was negatively impacting their lives.
Even the prisoners I speak to tend to say, "We need more staff?" It makes sense when you think about some of the things that Joe has said about how a lack of staff means that prisoners can't do some of the basic things that they need. It often means that their needs are unmet, they're not getting programming, they're not getting to do the programming that they need to qualify for early release.
Some of the reasons that you might need to put more money into prisons would really be just to, in some cases, improve their chances of getting out and also to improve their chances of succeeding when they get out.
Melissa Harris-Perry: Keri, stick with me on this for just one more, because it does feel counterintuitive and we're looking at a budget currently of $8 billion. Again, it's the kind of thing that if you're forming some social and political discourse around us spending too much on prisons, you could look right at that. If there were to be an increase in that annual budget, how would we know that it was going in ways that would actually improve conditions for workers and for the incarcerated?
Keri Blakinger: Well, I do think that in many prison systems, including the federal prison system, there's been a lack of meaningful oversight. The fact that Joe has to come on here and say that his union is the whistleblower and that this is some of the oversight that exists in federal prisons, that is huge problem. I think there's been a lack of transparency when the agency ends up in front of lawmakers.
I think they've repeatedly made some questionable claims and I think that there's consistently been an issue with lawmakers not being able to get answers out of them. They'll send questions to the Bureau and simply not get responses. That lack of transparency is a stumbling block and would make it challenging to make sure that money is getting used properly.
At the same time, aside from the staffing shortage, there are other very clear needs in the federal prison system. One of the ones that has stuck with me ever since I've been talking to prisoners and officials about it over the past few months is, there's one prison I cover where there was open feces just flowing through part of the campus. I think that's such a clear sewage and plumbing issue that should be fixed, and some of this is about not having staffing. Some of this is about not having adequate resources to tend to the massive number of people that we have incarcerated.
Melissa Harris-Perry: Joe, give us some more on this. You've made a compelling counterargument for me here, and I'm really like working to think through it. I want you to help me think through it some more about this question of if one is incarcerated, you want to feel safe while incarcerated. Tell me more about what it takes to create a circumstance of safety and of appropriate programming for those who are incarcerated.
Joe Rojas: It comes down to staffing and making sure we got staffing. Look, when you have like currently right now with the lack of staffing, you have some officers that are what's called being mandated to work a double shift. Some of our officers because of the lack of staffing are working 64 to 75 hours a week. Obviously, when you're working that many hours, don't see your family, by the end of the week, you're not going to be alert, and when you're not going to be alert, that's a serious security issue.
Inmates who have time, they want to be safe as well. We do have a lot of predatory inmates that feed off the weaker inmates, and it is our job to make sure everybody's safe. With the security aspect, that's one. Then, of course, the programming. Programming is so important for these inmates. Whether you do, like I said, education GDS, we also have college courses that they can take, psychological counseling. We got programmings, so it's a trickle-down effect.
When we get the budgets, I think there's definitely, like Keri was saying, we need oversight. Think about it, right now the Bureau of Prisons, we are the largest component in the DOJ, and our director is appointed, is not even confirmed. There is absolutely no oversight. Yes, you can give us as much money as you want, but where's the money going to? The rich get rich who are on top and nothing goes down to the ground, to the prisons. It's a security issue, it's a programming issue.
Look, every federal worker who works inside the Bureau of Prison, we care. We want to run a prison safe. We want to run program safe. We want these inmates when they get out to stay out and to hopefully get a job, to get a career, do something. We don't want recidivism. We want them to be out there and be productive person of society. It is a huge, huge, huge deal for all of us.
Melissa Harris-Perry: What difference does it make to have the educational programs?
Joe Rojas: It's a big deal. One of the things we do in education, like we have what's called a job fair. We bring outside companies inside. We know we have inmates that's going to get out. We teach them basic skills. A lot of the inmates don't even have basic skills so we teach them the basic skills. We teach them how to dress, how to talk with posture, to prepare them to go out to the streets and to get a GED it is a big deal for these guys or secondary education as well.
Give them a skill that they couldn't do when they were in the street at least when they're going to be incarcerated. They can try to get a GED, try to get an education. Maybe when they do get out, they could be a productive member of society.
Melissa Harris-Perry: Keri Blakinger is a reporter at the Marshall Project, and Joe Rojas is President of the American Federation of government employees, union chapter for the correctional officers in Central Florida. Thank you both for joining us.
Keri Blakinger: Thanks for having me.
Joe Rojas: Thanks so much for having me.
[music]
Copyright © 2022 New York Public Radio. All rights reserved. Visit our website terms of use at www.wnyc.org for further information.
New York Public Radio transcripts are created on a rush deadline, often by contractors. This text may not be in its final form and may be updated or revised in the future. Accuracy and availability may vary. The authoritative record of New York Public Radio's programming is the audio record.