Favorite Movie Moments of 2021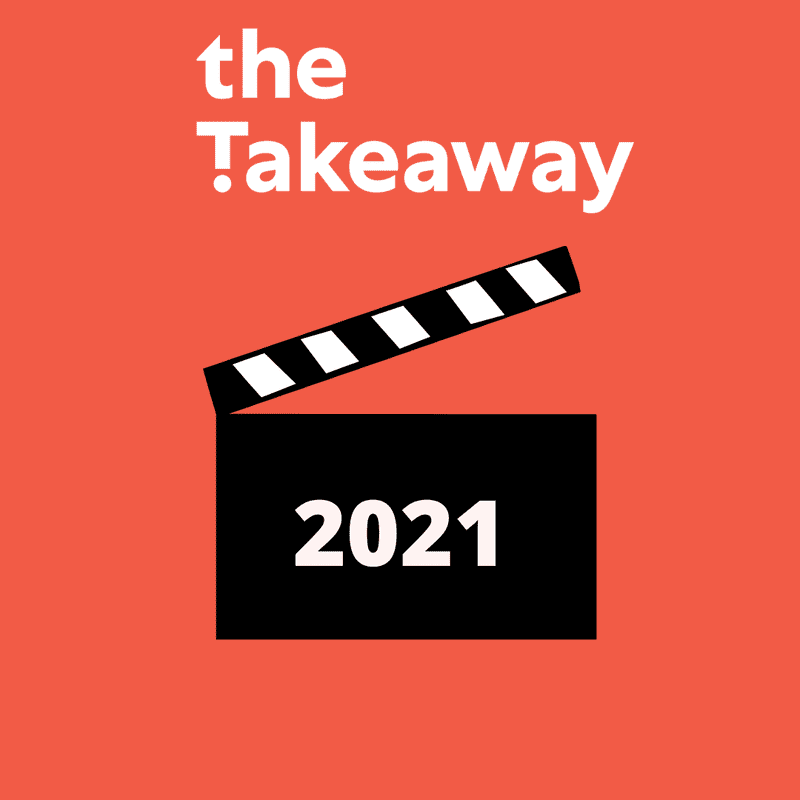 Transcript
[music]
Alana Casanova-Burgess: I'm Alana Casanova-Burgess, in for Melissa Harris-Perry, this is The Takeaway. We just heard about some of your favorite movie-going experiences of 2021. If I can just briefly weigh in on one of my top picks for the year, I have to recommend The Green Knight. It's a Christmas movie, even though it came out in the summer, it's moody and gorgeous, and Dev Patel is great in it. I was just turning the ending over and over in my brain for days afterward.
Here at The Takeaway, talking about our favorite 2021 movies means talking with the team's favorite movie critic duo. Rafer Guzman is a film critic for Newsday, and Kristen Meinzer is a culture critic and author of How To Be Fine. Kristen also told us about going back into public theaters for the first time.
Kristen Meinzer: I have to say, the first time I saw a movie in a theater after the pandemic, I almost cried because I was so grateful to be able to have that communal experience with other people, to emotionally be struck by the same things at the same times on the big screen. For most of the past two years, it's just been me on the couch by myself or me and my husband. It really felt special to me the first time I actually stepped into a theater and got to experience that with others.
Alana Casanova-Burgess: I think I saw Summer Of Soul as the first movie in a theater, and I just found it to be so transporting. That documentary is great anyway. It's like being in a concert, which also is an alien feeling that we did not get to have this year. It was beautiful. I'd love to see it again, just for editing purposes. What did you think, Kristen?
Kristen Meinzer: I saw it on the small screen, and the whole time I was watching it, I thought, "I wish I was seeing this on a big screen because it just feels like a concert experience." The whole thing is essentially the Harlem music festival in 1969.
[music]
Kristen: I just thought, "I want to be there with Gladys Knight. I want to be there with Stevie Wonder. I want to be there in this crowd with all of these people feeling the sense of community and excitement."
Alana Casanova-Burgess: Yes, exactly, and dancing, especially.
Kristen Meinzer: Yes.
Alana Casanova-Burgess: Rafer, I see that Nightmare Alley was one of your favorite films of the year. That's a Guillermo del Toro movie. People might know his work from Pan's Labyrinth or The Shape of Water. What is Nightmare Alley? I don't know that I've actually heard of it.
Rafer Guzman: If you're an old movie fan, you might remember the old version with Tyrone Power. It's an old film noir, about a half of it is set in the carnival. In this version, it's Bradley Cooper plays a guy named Stanton Carlisle. He's a down-and-outer, it's post-depression not quite yet World War II, gets a job at this very seedy, disreputable carnival. He finds out that he's pretty good at being a mentalist, one of these mind reader types. Gets this older couple to show him the ropes and teach him this dark art of reading people.
He figures out that he's really good at it, takes his act on the road, becomes a big success, hits the big city. He's got a helper, Rooney Mara, named Molly, who becomes his showgirl assistant. Now they're in the big cities and they're playing all the best places. Then, of course, Stanton meets his match in Cate Blanchett who plays Lilith Ritter. What else is she? She's a psychiatrist. The two of these mind readers get together and they get a racket going seeing if they can bilk rich people for money.
Cate Blanchett: You barely know me.
Bradley Cooper: Oh, I know you well. I know you're no good, and I know that because neither am I.
Rafer Guzman: That's the basic gist. Based on the novel and a remake of the old film noir.
Alana Casanova-Burgess: What did you like about it?
Rafer Guzman: I love Guillermo del Toro. I just think he's one of the greatest filmmakers going. I will say, this is not exactly what you'd call a Christmas movie, it's not really light entertainment, not what you'd call a feel-good film. It is such a great movie experience. We were just talking about what it's like to be in a theater and see something on the big screen. Del Toro is so great at that. He really understands the subconscious and the unconscious power of movies, and how they work like dreams and fantasies.
There's just all this great symbolism, the carnival rides, the script by del Toro and Kim Morgan is great. All these verbal foreshadowings. I'm sorry, I can't think of a better word for it, it just unfolds like a nightmare. Your stomach is just filled with dread the entire time because you know that this is all going nowhere good. You're just not sure how. How is this all going to go so badly, and then of course it all does.
Alana Casanova-Burgess: Kristen, there's also Passing, written and directed by Rebecca Hall. I know it's been on a lot of best-of lists because I've been personally meaning to watch it for several weeks. What should listeners know about the movie?
Kristen Meinzer: Passing tells the story of two African American women with light complexions in the 1920s, and they've chosen very different paths in life. Irene is living in Harlem with her husband. He's a very respected Black doctor, and she's working on behalf of bettering the lives of other African Americans in her community. Meanwhile, Clare is passing as white and living in Chicago with her wealthy white husband. They were childhood friends and by chance, they're just reunited. At first, Irene enjoys having Clare back in her life, but it doesn't take long for things to get very complicated with each woman finding things to envy in the other's life and to maybe even dislike about the other.
It's a lot about relationships. It's about race, it's about expectations and what is the easier path in life. It's not as straightforward as either character necessarily thinks at the beginning of the movie, what is the easier path, because we get a glimpse of what's actually hard and what's actually easy for both of them, not just one or the other character.
Alana Casanova-Burgess: I also understand that you both liked West Side Story. Full disclosure, as a Puerto Rican person, I did not love it, but go ahead. Can you make the case for why you did?
Kristen Meinzer: I grew up with the old version of West Side Story, the one that came out in the early 1960s. I remember even as a kid thinking, "This is offensive. Why do we have Natalie Wood who is as white and Anglo as can be playing the Puerto Rican title role in this, Maria? Why? Why are all these people in brownface? Why does the fighting look more like ballet than like street gangs? Why is this not more cinematic? Why does the film so often feel like it's just a camera that's set on a tripod while people dance in front of it?"
I feel that the new version of West Side Story fixes so many of those problems. It tries to have a cast that actually is Latino to play the Puerto Rican actors. It tries to be cinematic in a way that obviously, you would expect of Steven Spielberg who is directing this. The new screenplay by Tony Kushner adds a lot more intricacy and nuance to the story, which was otherwise a little bit lacking in subtlety, a little bit lacking in intricacies, not necessarily acknowledging the realities of poverty and racism and urban renewal. I'm saying that in quotes.
I feel like this movie does a much better job with all of that. I just found myself captivated by it, and the music, the way the sound is mixed, it's just beautiful. I did see this one in the theater and I felt fully immersed. I felt like this is what the movies were made for, but I would love to hear, Alana, your thoughts on why you didn't like it because I am not Puerto Rican, and I'll just own that right here and now, I'm Asian American.
Alana Casanova-Burgess: I hear you on the tripod problem being solved. Visually, it's a beautiful movie. I love the opening, going over all the rubble in Lincoln Square, the dancing is great, the colors of the costumes, beautiful, but it still, for me, felt like a movie that was made from a white perspective. I don't want to spoil it for anybody, but there's a detective character above Officer Krupke, who is in the original. As he's orienting us in the film, we hear him basically give the white perspective.
To me, it felt like the whole movie stayed with that the whole way through. Tony gets a lot more depth with his character than Maria does. It really just felt like it focused on the jets more than the sharks. Also, I couldn't shake the feeling that it wasn't necessarily authentic. I know that a lot of other Puerto Ricans who have seen the film also couldn't shake that feeling.
Rafer Guzman: I will say that I understand everything that Alana is saying. I'm half-Mexican, I felt like they made a pretty good effort to make that cast if not entirely Puerto Rican, at least tried to cast Latinx performers in the roles. I thought that was a good thing. I actually really liked that opening monologue from the detective, from the Corey Stoll character, because I felt like he was throwing a glass of cold water on the whole jets nativist philosophies.
The line I love in that, which comes from Tony Kushner, clearly is where he stares them all and says, "Look at you guys. The last of the can't-make-it Caucasians." I just thought that was such a great line and really got to the heart of this whole problem. That, "Look, it's going to take more than being white to make it in the world from now on, and you guys got to face up to it." In one line, I thought that really brought the whole movie up to the present day and gave it a much tougher, stronger feel. I actually really liked that opening monologue.
Alana Casanova-Burgess: Yes, the casting was certainly Latino and they're all talented singers and dancers, but that shouldn't be the high bar. The Spanish accents were kind of weak, but I just think there are other stories to tell and other people to tell them. I don't think it's a depiction that did Puerto Ricans any favors. Not that we need any favors. I will say this, though, there's an urban planning critique baked into this new version, and the nerd in me did appreciate that.
Anyway, Rafer, the epic historical drama, The Last Duel, had a stacked cast? I think I recall Matt Damon, Adam Driver, Ben Affleck all in it. I don't really know much else about it. Why did it make your list?
Rafer Guzman: I really am in the minority on this one. I feel like neither critics nor audiences really seem to warm to this movie. It surprised me. Quick synopsis, it's a true story based on the last sanctioned duel in medieval France. Matt Damon plays this soldier named de Carrouges, Adam Driver's his longtime friend, Jacques Le Gris, which is a great name for a villain. Then Jodie Comer plays the wife of de Carrouges, Marguerite.
One day the soldier comes home and his wife says that Jacques Le Gris has raped her. Le Gris denies this, but the couple will not let the charge drop. Through various twists and turns in the weird medieval legal system, it turns out that there's really only one way to settle this, and that is with a duel, a duel to the death. There's a catch to this for the wife in particular. If the other guy wins, then she'll be burned alive for lying. I was about to say the stakes. Sorry for the pun. The stakes are very high in this.
I thought it was just riveting. It's set up in a Rashomon way, where you hear the soldier's story first, you hear Le Gris's story second, and then you hear the wife's story third. It's pretty clear that the wife story is the one that is going to be the truest to life. I thought that was a brilliant construction. The script was great. It's Affleck and Damon back together again after Good Will Hunting. They wrote the script, but they wrote it with Nicole Holofcener who's a great filmmaker in her own right. Friends with Money, she did the screenplay for Can You Ever Forgive Me? with Melissa McCarthy.
I just thought it was a really intelligent, frightening and horrifying version of a rape accusation. I thought it was great the way that you could see how some things have changed and some things haven't, and what it means to be the accused, what it means to do the accusing, the way society treats you, the way people split down the middle, and who believes you, and who doesn't.
Even though no one gets burned alive anymore for it, they do figuratively in some way still. The risks are still very great for women to bring these kinds of accusations. There were something metaphorical about that that I thought was really powerful, but I will tell you, it did not do well at the box office. I know very few people who are not film critics who have seen it, and I know very few people who are even aware of it. It came and went, but I loved it. It's up in my top five, my top three.
Alana Casanova-Burgess: Rafer Guzman is a film critic for Newsday, and Kristen Meinzer is a culture critic and author on How To Be Fine. Thank you both.
Rafer Guzman: Thanks, Alana.
Kristen Meinzer: Thanks for having us.
Copyright © 2022 New York Public Radio. All rights reserved. Visit our website terms of use at www.wnyc.org for further information.
New York Public Radio transcripts are created on a rush deadline, often by contractors. This text may not be in its final form and may be updated or revised in the future. Accuracy and availability may vary. The authoritative record of New York Public Radio's programming is the audio record.