Farming While Black, Sowing the Seeds of Racial Discrimination in Farming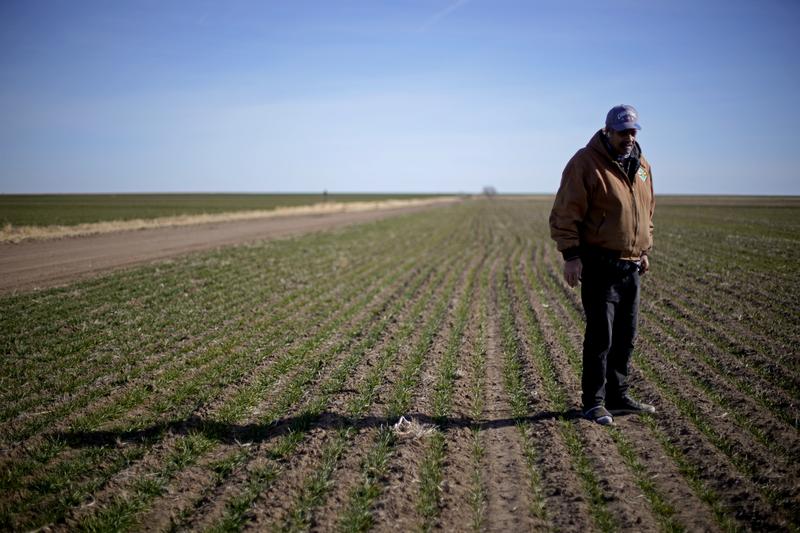 Transcript
[music]
Paul Harvey: And on the eighth day, God looked down on his planned paradise and said, "I need a caretaker," so God made a farmer.
Melissa Harris-Perry: Paul Harvey's 1978 speech, God Made a Farmer. It remains one of the greatest moments in American rhetoric. Expert storyteller, Harvey, paints the American farmer as the strong but gentle laborer, who bails together family, community, and nation, with the soft, strong bonds of sharing. It's a powerful vision but one that bears little resemblance to the contemporary realities of corporate agribusiness.
Family farms work by owner-operators have been rapidly disappearing for decades, gobbled up and consolidated by massive mechanized mono-crop growers. It's Black farmers who have disappeared most swiftly evolve. At the turn of the century, Black people owned 15 million acres of land, mostly in the south, and accounted for about 14% of farmers. Today, fewer than 2% of farmers are Black. Those 15 million acres, they've dwindled to only 1 million.
While all American farmers have been in crisis since the 1970s, Black farmers have faced overt, systematic racism from the very agency that was designed to have their backs, the USDA. It's a discriminatory reality that's been documented repeatedly during the last five decades. In March 2021, it seemed some relief was finally on the way. The American Rescue Plan included $5 billion to address this discrimination and provide debt relief for farmers of color during the COVID-19 crisis.
One year later, Black farmers have not received a single dollar of this relief because a group of white farmers brought suit in federal court, claiming that the American Rescue Plan resources constituted reverse discrimination. While an injunction keeps Black farmers from receiving relief, the USDA has sent letters of foreclosure to some of these same farmers who are behind on their loan repayments.
John Boyd Jr is founder and president of the National Black Farmers Association. April Simpson is senior reporter for The Centre for Public Integrity. The two of them joined us to talk about farming while Black.
John Boyd Jr: It's a very long, rich history that the Blacks have in this country from landlords to after the Civil War. A lot of people don't know really how Blacks accumulated land after the Civil War, after the turmoil between the north and south and the currency. Abraham Lincoln gave these southern states a period of time to exchange their currency. When they didn't do that, they lost a lot of wealth.
That was the way that many white plantation owners offered Blacks land the same way they did to my great grandfather and grandfather, Thomas Boyd, who was able to accumulate land after the Civil War through that same methodology. It's very hard to see what's happening to us today versus the way that my grandfather who was able to hold on to the land, sleeping with his deed underneath his mattress.
He said, "A land is the most important element that you can own, only secondarily to Jesus Christ. All good things come from the land, drinking water, timber to build a house, cotton to put clothes on your back." He said, "Everything good comes from the land, and the land never mistreated anybody that people do." If he had the ability to have access to credit, he can produce just a good crop as any person in this country.
The land was about the fight for Black farmers. When we got introduced to the United States Department of Agriculture, I think it was probably one of the worst things that could have happened to us, from a group of people who went from 20 million acres of land at the turn of the century, down to 4.5 million acres of land as I'm talking to you today. One million Black farm family strung down to 50,000 Black farmers that make a living farming today.
We've lost a lot of land, and we lost a lot of farmers, and partly to the Great Migration up North, we call up South, if you live in the southern states, and the discrimination we faced, not just at USDA, but from corporate America and the brutal loss of Jim Crow and sharecropping. It had dismal effects on Black farmers in this country.
For a lot of people that listen to this show, we want them to understand that farming is a skillset and art. Just like what you do, Melissa, you have a art and a talent at bringing these stories out. What we do is the same thing, you have to have it. It's a art and it's a skillset to produce and raise a good crop every year.
Melissa Harris-Perry: Listen, anybody who has so much as tried to raise a tomato in their backyard has got to understand the level of work and labor and effort. April, I want to come to you on this because we're getting just a glimpse here into that intergenerational relationship with the land, as Mr. Boyd has said, that dramatic and swift loss of land that started to occur after the 1950s, lost everything from heirs property to just straight-up theft, but that white farmers were also having a hard time. Farm Aid emerges, Willie Nelson and the crew, in part because all American farmers, family farmers, were having a tough time. Talk to me, April, about the American Rescue Plan, and what it was meant to do for farmers in general and specifically for Black farmers.
April Simpson: The American Rescue Plan had this $5 billion effort that is meant to help farmers of color in particular, who have, as Mr. Boyd said, faced this long-time systemic discrimination from the USDA, and $4 billion of that program is in debt relief. It's to cancel the loans that farmers of color have with the USDA. It's acknowledging this long-time historic discrimination. It's also acknowledging that COVID relief had some disparate impacts on farmers, elements of it benefited white farmers disproportionately to farmers of color, especially the first Coronavirus Food Assistance Program.
Melissa Harris-Perry: Explain that. How so was there a racially disparate impact in that first wave of assistance?
April Simpson: A lot of these programs and systems are designed in a way to benefit larger-scale farmers. Even prior to that, with the Trade Aid relief, given the trade program with China, white farmers, farmers in certain regions of the country just received more relief than farmers of color. The American Rescue Plan Act was designed in a way to address this long-time discrimination, but also the disparate impacts of COVID and COVID relief.
Melissa Harris-Perry: Mr. Boyd, I want to go back for a second because as April Simpson's telling us here, the idea of-- or one of the major ways that this package is meant to help Black farmers is through debt relief. Why do farmers need to take debt? What are you taking debt for?
John Boyd Jr: The debt relief request is a 30-year-old request that we didn't get in on two of the settlements that we had the first Black farmer settlement in 1999, the former President, Bill Clinton, and then we had the 83,000 Black farmers who was barred from that settlement in 2008. Then-Senator Obama sponsored that bill and it passed into law.
Then in 2010, we had to go back and get funding for that settlement. The Claims Remedy Act of 2010 paid out an additional billion dollars to those 83,000 Black farmers that was left out of both settlements, was called injunctive relief. That was the debt relief that was supposed to be included with those farmers who were meritorious and no settlements, 40,000 Black farmers. We never got it. That's why I was trying to get it into the 2016 Farm Bill.
Then we were lucky enough to get it in the COVID Relief Funding Bill was sponsored by Senator Cory Booker and Ralph Warnock were the two senators that paved the way. Many white farmers are portraying the debt relief as some sort of windfall and a new loan program that excludes whites, is anything further from the truth. It was white farmers who were receiving all of the debt relief, and the COVID Relief Funding Bill. Then white farmers started suing us in court saying it was reverse discrimination and it was harmful to their farming operation.
Melissa Harris-Perry: All right. April, I want you to help me if you can here to disaggregate that lump group, white farmers, for a moment because I'm sure it can't possibly be all white farmers. I'm wondering, given what we're talking about a moment ago, when we're looking at who has actually filed these suits, are we talking about large-scale farmers? Are we talking about other family farms who believe that they are in competition with Black farmers and other farmers of color? Or is what we're looking at here, what we might call in other forms of politics like astroturf where there's actually a centralized political actor who's come and mobilized these white farmers and said to them, "You're being harmed in this case"?
April Simpson: With these different legal challenges, Steven Miller, a former senior Trump administration official, and some other former Trump officials are behind this newly created legal group that's representing one of the plaintiffs. One of the plaintiffs who's involved, but in his personal capacity is Texas agriculture commissioner and rancher, Sid Miller. Then there are other legal groups that are representing plaintiffs, like the Pacific Legal Foundation, which has opposed affirmative action policies, also the Wisconsin Institute for Law Liberty, which is representing about a dozen white farmers. Those are the main folks that are involved.
Melissa Harris-Perry: Mr. Boyd, walk back and tell me in recent history, two things, one, how Trump administration policies relative to trade affected farmers and particularly Black farmers, and how COVID affected Black farmers
John Boyd Jr: COVID really changed the way that we do business. For the first time, you saw livestock markets close, grain elevators not accepting grain in local areas. It was devastating. Many farmers, if they wanted to participate, and US farm subsidy programs were destroying crops, which I was totally against. I always thought that we should allow the needy and the hungry to come in and harvest these crops, but we were destroying the crops just so we could take part there.
That administration set us back decades. They didn't even appoint an assistant secretary for civil rights, a position that I fought for in the Farm Bill. They weren't processing complaints from Black farmers like myself. The Trump administration was bad for Black farmers. It was bad for civil rights. It was bad for race relations in this country, and it caused a wider division with a witch between white and Black farmers.
The banks were also against Black farmers receiving debt relief. We had white farmers suing us in 12 conservative courts, and we've been having an uphill battle raising money to stay present in all of those cases. Those Amicus briefs laid out all of the history that me and your guest have described so far, from the brutal act to slavery, to sharecropping, to surviving the horrific loss of Jim Crow, but shame on white farmers for suing us for trying to get a little bit of justice, where we've been dogged for centuries in this country as stewards of the land.
Melissa Harris-Perry: April Simpson, you report on many farmers having received these letters of foreclosure from the USDA under President Biden with Secretary Vilsack, even though there's supposed to be this moratorium on foreclosures. Can you help us to understand, are there going to be foreclosures or not?
April Simpson: USDA says that there are not going to be foreclosures that collections or other adverse actions, and they promise this first a year ago, January, and they say they're maintaining this so long as the national COVID emergency is in effect and so long as farmers are feeling the effects of the pandemic, they see that this moratorium will continue the confusion, though, as you said these farmers are getting these notices of intent to accelerate their loans or forclose, and USDA is legally obligated to send these kinds of notices. Depending on the status of a borrower's status of delinquency, they have to send these notices. The reason for that is it came out of the Agricultural Credit Act of 1987. It's that law required USDA to let borrowers know about different options, work with them so that they can get out of financial trouble and keep their farms.
Melissa Harris-Perry: Mr. Boyd, I'm going to give you the last word here. You've said a lot of critical, important things about our history, about where we are right now, but I just want you to talk to me a little bit more about what it means to farm and what it would mean if Black folks were no longer farming in this country?
John Boyd Jr: Taking away the oldest occupation known to man for Black people in this country, which is farming, we'll be losing a rich history in this country. If we lose all of the Black farmers and we are facing extinction and for the members of Congress that are listeners sitting on their hands, if you can fix the bald eagle and the rockfish and the brown bear and the black bear, you can fix the problems that are happening to America's Black farmers and Native American farmers and Hispanic farmers and women farmers. We can do better than what we are doing for farmers of color in this country.
Melissa Harris-Perry: Mr. John Boyd Jr is the founder and president of the National Black Farmers Association, and April Simpson is the senior reporter at The Centre For Public Integrity, thanking both so much for joining us today.
John Boyd Jr: Thank you.
April Simpson: Thank you.
[music]
Copyright © 2022 New York Public Radio. All rights reserved. Visit our website terms of use at www.wnyc.org for further information.
New York Public Radio transcripts are created on a rush deadline, often by contractors. This text may not be in its final form and may be updated or revised in the future. Accuracy and availability may vary. The authoritative record of New York Public Radio's programming is the audio record.