The Role of Faith in Processing the Grief and Pain of 2020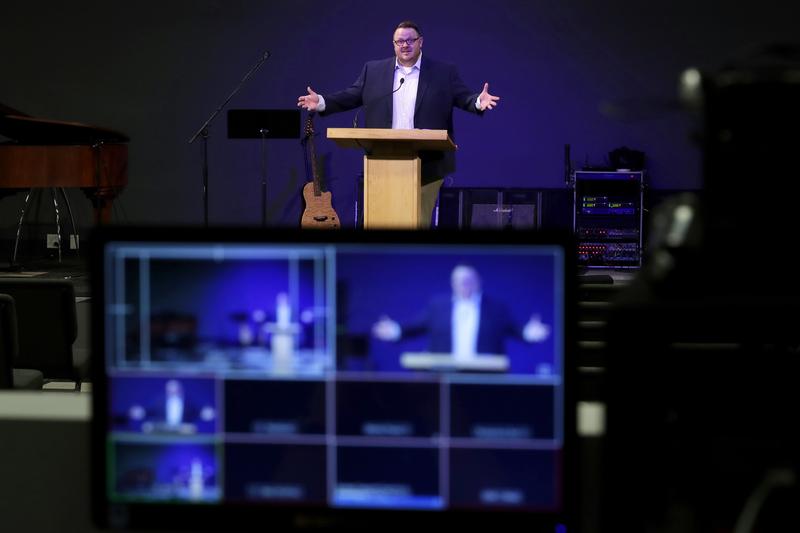 Transcript
[music]
Announcer: This is The Takeaway from WNYC and PRX in collaboration with WGBH Radio in Boston.
Tanzina Vega: In a year that feels never-ending when it comes to death and despair, many Americans are leaning on their faith to get through it. Across the world, more than 1 million people have died from COVID-19, and here in the United States, the death toll has surpassed 200,000 people.
The country is also deeply divided along political and racial lines. For religious Americans, the pandemic has disrupted an important form of community, the ability to gather in person. That's something that Rabbi Sharon Kleinbaum addressed at the Yom Kippur service at the Congregation Beit Simchat Torah.
Rabbi Sharon: While none of you can be in the sanctuary with us, we want you to know that we really, really feel you here and we really feel close and connected to you. All of the things that you've done in these months, six months of our social isolation has proven how profound it is to build spiritual closeness and depth no matter what the physical circumstances.
Tanzina: Over in Dallas, Texas, Imam Omar Suleiman addressed the moment with his congregation.
Imam Omar: Wherever you are, death will find you even if you were in a built-up fortress. Even if you were to take all of the protocols necessary to ward off death. Even if you were to be the healthiest person in the world. Even if you drove the safest car in the world. Even if all of the factors that are typically present in death are not present around you, you [unintelligible 00:02:00] note it will catch you when Allah has decreed it to catch you.
Tanzina: We're not only dealing with the coronavirus pandemic, we're also dealing with the pandemic of racism in the United States and that includes the grand jury announcement last week that no police involved in the killing of Breonna Taylor would be charged in her death, which created another moment of pain and frustration for the Racial Justice Movement. Here's Reverend Jacqui Lewis in New York, giving advice to her community about how to work through this moment.
Reverend Jacqui: The lack of justice in the Breonna Taylor case is devastating news. I'm so sorry for her family. On top of the daily paper cuts it is to be Black in America, this is really tough. Stay there, friends, with the pain, stay where the heartache is, stay where the grief is because right there, that's where the insight's going to come. That's where the wisdom is going to come for all of us to make America a new democracy.
Tanzina: Joining me now is the Reverend Dr. Jacqui Lewis, Senior Minister at Middle Collegiate Church in New York. Reverend Lewis, thank you for being with me.
Reverend Jacqui: I'm so glad to be with you. Thank you so much.
Tanzina: Also with us is Imam Omar Suleiman, founder, and president of Yaqeen Institute for Islamic Research in Dallas, Texas. Imam Suleiman, welcome to the show.
Imam Omar: Thank you so much. It's wonderful to be here.
Tanzina: Rabbi Sharon Kleinbaum is with us as well. She is the senior Rabbi at the Congregation Beit Simchat Torah. Rabbi Kleinbaum, thank you for joining us.
Rabbi Sharon: So I'm happy to be here with my multi-faith siblings.
Tanzina: Thank you all. I think we can all take a page from all of the sermons that we heard at the top. I'd like to ask you, since March when we were last on the show together, things have obviously changed. How do you feel that people's spiritual needs have changed? Sharon, let's start with you.
Rabbi Sharon: We've just completed this season of these days of all the Yom Kippur in which we've done this deep personal reflection. It's included this moment of looking back over the six months with great intensity. We are very much in the place of what does God want from us? We are hit with these multiple plagues of the economic uncertainty and crisis, the racism, the virus, and the Pharaoh in the White House who continues to rage.
I think the message is the same. We must deepen our faith. Our sense in that the eternal and those things that are infinite will ultimately be much more powerful than the plagues that affect us now. We have to have the hope that comes from believing in that form of existence, which is it's not just what's right around us right now. Each of us has to build for a future and be the foundation for a future, whether or not we individually will get there.
That's what the foundation of my faith is, is that my job is to be part of building something for a future. It does not matter how bad it gets. It matters where my faith gives me the strength to keep understanding there will be others who need me to not give up, not give in, despair is not a strategy, and to keep building for the future.
Tanzina: Omar, what about you? How do you think people's spiritual needs have changed since the peak of the pandemic at least in New York?
Imam Omar: The part of the sermon that you played, in the beginning, was actually this last Friday, we had two deaths in the community, non-COVID related, one a car accident, one a drowning accident, both neighbors of the mosque, both leaving behind widows in their twenties with young children.
I think that what happens is that you have this compounded sense of loss. When there are other elements of grief that are present and that are isolating experiences, there are needs for things like closure and physical company, people to hug you, people to give you a shoulder to cry on. I think that the prevailingsense of uncertainty that is around us, has really caused people to ask questions of existence and purpose.
We had an interesting situation where our community, certainly has had much to lose and much to grieve, but at the same time we have a heightened spiritual experience now where people are more attentive, more regular in their attendance of programs, even if they're virtual. I think the spiritual needs that people have right now are to answer questions of purpose. How do we connect to God? How do we connect to family in this time? How do we connect to the Quranand what we have in terms of religious-- We answered the question of the purpose for existence at this moment.
Tanzina: Jacqui, quickly before we end this part of the segment, what are your thoughts on that?
Reverend Jacqui: I really agree with Imam, this idea of existential questions that are looming large for us right now. I mean, how can we even imagine that time of being this isolated from one another, with so many deaths, with such trauma to Black bodies, with such political toxicity all of these things make us wonder where do we belong? How does it fit?
I'm always reminded of Howard Gardner's saying that leaders tell compelling stories that answer these existential questions. My colleagues know that the way we frame things right now, both what we say and how we be are hugely impactful to give people a lifeline and a way to hope in this time of despair.
Tanzina: Jacqui, I wanted to circle back with you, what is the role of faith leaders right now? You were talking a little bit about that and you mentioned hope. Tell us more.
Reverend Jacqui: Thank you so much. I think our most important job right now is to bear authentic witness to the story, to the arc of a story that our faith tradition represents. We stand on the shoulders of great witnesses who've gone before us, each of us. Where we know that our people have gone through rough times, hard times, over a way that with tears have been watered.
What we understand in that is this resilience and sticktoitiveness, and that God going to come and that people will rise up and love will actually win. I think we have to remind our people of that even as we also say, let us grieve together, let us mourn together. We have a priestly role of rituals, we have a pastoral role of holding both pain and joy and hope and a prophetic role that says not now, but soon, soon comes the love, soon comes a deliverance, soon comes the hope and we know it because we've been here and hope comes.
Tanzina: Sharon, I'm wondering if you can speak a little bit about this notion of moral courage. I feel like there are in addition to the despair that many of us feel because of the deaths related to the virus and so many other things that are happening in this moment as you mentioned. There feels like people, Americans are- we expect a certain amount of politics in politics, but I feel like we're in a moment where many Americans are looking at this moment and saying, "There is a lack of moral courage on the part of our leaders." Where does the faith community, how can they step in that and fill the gap?
Rabbi Sharon: I think this is a really important question and I'm so inspired what my beloved colleague just said. We have to be able to be that moral courage to call things as they are, to be able to really, with authenticity and truth-telling, say what the reality is. There is so many lies and false religion, twisting of the human actual experience. We have to reflect back and help create the sense of reality that people need to have.
Yes, this is bad and no, all human beings aren't terrible. Yes, there is love and God exists in a way to surround us with that love and God cries with those of us who are suffering. This sense of being in this together, I think it's centrally important to be able to say yes, what is happening, this is a reality that is existing, but it's not the only reality in that we believe in the ability to experience the resilience that our ancestors have gone through. To think back on those who lived through terribly difficult times all to make sure that we would exist.
They wouldn't want us to only fall in for the despair or the sense of being deflated from hopelessness. I'm inspired personally and part of I think our role is to remind people of both the reality of the time we're in, the reality of what history has taught us, and the reality that we could be part of building a different future.
Tanzina: Omar, are you noticing a difference? If any of the rest of you are noticing this, I'm curious to hear in terms of who is coming to hear the messages in the mosque. Who is coming? Are there people who may have not come for a while and have now re-entered the faith community because of this moment?
Imam Omar: Obviously, there was a great sense of anticipation on the part of the regulars to get back to any type of participation in person. For us, we started praying on the lawn, observing all protocols and things of that sort, and then limited capacity within our mosques. The regulars have certainly been there but it's been very interesting because we've seen a lot of people that did not use to come. We've had several people that have actually converted to Islam every week actually, inside the pandemic at our faith community, so they are embracing a sense of faith and connection and things of that sort.
I would say that one of the most obvious populations that I'm seeing right now are younger people. I'm very curious to see once it's all said and done what this has done to heighten the spiritual sensibilities of youth, of younger people. When I say youth I mean people in their 20s, their 30s, that are reconnecting with the sense of faith. We've never faced anything like this in our lifetimes and because we're now having these existential questions and faith offers an outlet to understand that this life is not to be lived just for the sake of this life.
That there is more to this life than going to work and eating and drinking, and living our lives the way that we're used to living. That there is something deeper to it. What that means is that we fill our lives with more meaningful existence while we're here and we pay attention to the meaningful eternity that awaits those that live it in the best ways.
Tanzina: Jacqui, are you noticing similar to the question I just asked Omar. Are you noticing, particularly-- We're talking about people who are already faith followers, who have some sort of a spiritual practice, but there may be people who haven't done that or who haven't been as open to these messages in the past. I'm wondering if you're seeing your congregation shift and change to maybe have people who may be re-entering their faith tradition or really experiencing it for the first time given the moment?
Reverend Jacqui: Yes, that is exactly our experience. Sadly, we're not open yet. We are doing communion outside on first Sundays and Eucharist. We have gone from 8 people to 45 people outside, but 180 people have joined our church since March. That's a congregation. We are finding that it is a lot of secular people, artists, activists finding their way to us. Like my colleagues, Middle's work is both about the spiritual and about the social, about the personal, and about the collective.
We understand that we are in the project of healing souls and the world and people are finding us in social media, finding us online. The fact that we can worship digitally seems like a portal that people are coming through. Not new attendees, new members, 180 since March because I think people are looking for a home and meaning and a way to understand this tragic time.
Tanzina: We're not necessary-- I'm sorry, Jacqui. Continue.
Reverend Jacqui: No, I was just going to say, and they're looking for hope. The message has to be just repeating ourselves a bit that authentic-- Gosh, this is the hardest thing, and there's more, and you can make a difference, and your community needs you, and love is a powerful force. The fiercest kind of love is what's going to walk us through these hot mess tides. People want to hear that so much.
Tanzina: These are really hard times for so many people and it feels as though we are-- Many of you mentioned this at the top. We're just in a pandemic on top of economic inequality, on top of the polarization in this country. I think so many of people that I know have never lived through something like this, and we're grasping at straws on how to manage this. What do you say to people who are just really in despair about the moment, really can't see the hope that we're trying to hold on to so tightly? Omar, how do you address that?
Imam Omar: Well, first and foremost, there's a verse in the Quran that I lean on frequently which is, "With every hardship comes ease". A lot of times we interpret that verse, we read that verse as, "After hardship comes ease," even though it says, "With every hardship comes ease". The point of that is to say that it's not just that after every hardship, the ease will come. If you pay close enough attention, it's not just the light at the end of the tunnel. It's the lights in the corner of the tunnel that you might not be paying attention to.
It's the blessings that you still do have that you do your best to appreciate and to spend some time with and to sit with and that doesn't mean that you don't acknowledge the pain or the vulnerability. I think that my colleagues have spoken wonderfully about that importance of acknowledging the pain and the vulnerability that's there because you can't find hope in delusion. We're hurting, we're all hurting. Our faith leaves are hurting.
I think it's important sometimes for people to even see that their faith leaders are hurting too, that we're all going through our own sense of loss, but try to find the ease and the sense of purpose that we spend our entire lives trying to find. Sometimes there's no better time to answer a question of existence than when that existence is being so violated as it is right now.
Tanzina: Sharon, you mentioned we are just coming out of Yom Kippur, a high holiday for members of the Jewish faith. How was this year different than previous years in terms of the moment, the tone, everything that's happening around us, this sense of where do we find hope?
Rabbi Sharon: Well, the first most obvious difference is that we usually have thousands of people gathering at the Jacob Javits Center to pray together, to be in community together for the 25-hour intensive retreat that Yom Kippur is a reflection fasting and personal transformation. We were online, so just that physical difference of being so used to being so deeply connected. We had to really work hard to create this community of worshippers far and near and to have a spiritual connection through that medium instead of being from person.
While it had obviously some terribly huge losses, it actually created some incredible opportunities. Families who were far-flung one from the other could all be attending services together and going through it together. People, for whom leaving the house because of illness or age might be difficult, could feel equally as a participant via the computer and the screen. It forced us to be creative because the basic bottom line is still the same. We are called upon to be as deeply human as possible and in that way express the greatest holiness in the world. We are created in the image of God and our job is to keep imitating God.
Just like in the beginning of the book of Genesis, we're told in the middle of tohu wa-bohu, in the middle of the chaos of the beginning of the world, God creates light. So we understand that sometimes in the middle of chaos, in the middle of the worst chaos, it's our job to be the creators and the bearers and the sources of light. We do that knowing that we have deep connections to those in the Muslim world, in the Sikh world, in the Christian world, in the Buddhist world, in the non-believer world of people who are bringing light in the middle of this chaos.
I think that brings all of us a lot of hope and a sense of deep connection, but I agree with what my colleagues have said. We're having just an outpouring of interest in being connected and participating. Some of it's just the desperate need for community. We live in an American culture which is, at its core in many ways, a community and very individualistic.
Well, in this moment in which everybody is so deeply separated, people yearning for community is really profound. I believe in community we can find great holiness. We're experiencing that also, people are reaching out who might never have reached out before.
Tanzina: Jacqui, when you hear these messages, and you think-- I personally experienced, I'm one of those folks who says, "I don't ask for help and I don't need it". Suddenly, I found people from many different faiths helping me in this moment, helping me as a new mother in a pandemic, suddenly dealing with a lockdown and saying, "I don't know what to do in any which way," and people of many faiths came to my aid, really deepening a sense of that there is some hope out there, that there is some positivity in this moment.
Jacqui, as communities of color, particularly Black communities right now, are really under assault in this country. I'm wondering, again, we've talked about the pandemic on top of a pandemic, how are you working with your congregation to heal some of that pain as well? I will note that each one of you has had-- Muslim-Americans have been targeted in their house of worship. Jewish-Americans were targeted in their house of worship. African-Americans were targeted in their house of worship.
These are three communities that have personal experience with this level of violence. How are we coming together in this moment just to put a bomb on some of that pain right now?
Reverend Jacqui: That's just a pandemic in the pandemic or the 400-year-long pandemic. Many of my staff are on strike today, when we're through talking I'm going to go on strike today as well. Black women striking in honor of the life of Breonna Taylor. We're traumatized, can we just be honest? Black people in this country right now are traumatized. We're not the only ones traumatized, but we are fully experiencing flashbacks of lynchings and bodies being burned and body parts being pulled off.
This whole idea of just a white supremacist narrative in our nation, that is actually the crippling force for my Jewish colleagues, my Muslim colleagues, my zip code, at the border, this place where white supremacy is our shared enemy. [inaudible 00:22:33] we're doing, is a multiracial church, I think you know that. It's interesting to be an anti-racist, multiracial church, so that the Chinese people and the Japanese people and the Black people and the white people and the Latinx people are all together, shouldering the burden.
We've been doing it for decades at Middle, but right now we've really doubled down, one, really training people. We're going to offer a third training around anti-racism work, October 7 and 8. Some 4,000 people have come to those trainings, which is to say that the nation wants to learn, despite the president's executive order to be shut down at. Also to love on each other in a way that is really profound.
We have a multiracial group of people working on voting rights. Shared work reminds us of how much we have in common. Your observation, this time of crisis can make us shuffle up our wagon, and retreat into our tribes and grow our racism, that's happening. What's also happening is that we're moving across faith and across race, and across gender and sexuality, towards humanity, and lots of places, pockets of resistance, where people are moving together, acting together, marching together, organizing together, and that is where I find hope to watch it happen connecting across difference.
Tanzina: I just want to end by circling back if each of you have a sentence or two to Omar's point that it's not just congregants and Americans who are struggling through this moment, but faith leaders are struggling in this moment. You are also human beings and having human feelings. We've interviewed even doctors on this show who are supposed to be the frontline that is unfazed by death and despair, and even they are struggling. If each of you has a sentence or two to tell a little bit about how personally you are finding hope in this moment, I would appreciate it. Omar?
Imam Omar: I'm trying to develop my own individual prayer habits. This is not something that I share much but I think that usually, the community toil doesn't allow us to develop as much of our individual prayer habits. I think that it's important for faith leaders that are so used to constantly leading congregation to develop their own prayer habits. Just being more intentional and more regular about that, and then trying to use the discipline of that individual prayer habit to bring about some other regularity and other things in our lives.
I think it's important for us to understand that as much as we are used to the superhero complex, that sometimes stepping away for an hour to refill our own spiritual reservoir so that we can be a source of spirituality for others is important. Taking the time to regularly step away for an hour, and to refill your tank so that you can be there for others.
Tanzina: Sharon, what about you?
Rabbi Sharon: I completely agree. I have to say that part of-- I'm lucky, I live in New York City, but now with the way of communicating, it doesn't really matter. I listen to a lot of my colleagues, including those on the phone, and I get to be able to hear other sermons and religious communities. It's been my tradition for many years, although I didn't do it this year, is the week before the High Holidays, I go to a different religious communities retreat center, and I spend a week in a different religious communities retreat center, doing my own personal spiritual preparation to lead my community for the days of all.
That's been a profound part of my spiritual life. I continue to learn deeply from others. I'm very grateful to be in a world in which there are many different faiths that have things to deeply offer. I just want to add something also about the racism issue that we also have to always remember that racism affects every community. There are Black Jews, there are, obviously, Black Muslims, and we have to always understand that all of our folks are affected by racism, and that those of us who are white have to take a leadership role in fighting racism in this country.
We have to be the ones who are fighting it and visible and making sure that those of us who are white, and of European descent, do not stay silent. Racism is not a Black problem, just like anti-Semitism is not a Jewish problem. These things will only be solved when we create deep coalitions and those of us who have any privilege because of the color of our skin, make sure that we are out there on the frontlines speaking God's truth every day.
Tanzina: Jacqui, finally, your thoughts on keeping yourself motivated and full of hope in this moment?
Reverend Jacqui: Thank you. I have a really deep ending that my Black life matters. That's what I want to say. I get to sit down, I get to stop. My friends at church will tease me and say, "Oh, we're seeing more of Jacqueline than Jacqui." Jacqui is a workaholic friend, [chuckles] but Jacqueline is trying to merge and take some breath, and do some more service, do some more exercise, and see my therapist every two weeks.
The little clip you played at the top of the hour was my, quoting her, "We are in pain, but stay with your feelings. Stay with the hurts. Stay where it hurts," because right where it hurts is where the wisdom is coming, where the healing is coming, where the insight is coming. I have every two-week practice of dumping my stuff on her, and with her, she helps me make meaning of all the things that are happening.
I'm reminded that with her, and family, and friends, I'm not alone as I struggle through the very real personal pain of these days. I don't have to pretend that it doesn't hurt. It will stop hurting when we together in the womb of mercy birth a better nation.
Tanzina: I'm grateful for the three of you and for your time today. Thank you all so much.
Reverend Jacqui: Thank you so much.
Rabbi Sharon: Thank you so much.
Reverend Jacqui: Bye, you guys. Happy day.
Tanzina: Bye-bye, everybody.
Imam Omar: Bye too.
Rabbi Sharon: Bye-bye.
[music]
Kim: Hi, this is Kim from Boonton, New Jersey. I have found myself spending a lot more time outside in nature and meditating. It helps me stay grounded and reminds me of how beautiful the world actually is that we're living in connection to animals, the environment, and people. One spirit, one house.
Alice: My name is Alice and I live in Kirkland, Washington. I'm a practicing Dudeist, which is an offshoot of Buddhism. That's always been a personal practice for me. The cast of 2020 forced me to live a life which ironically, is closer to my idol, the Dude, and that I'm unemployed. I'm being very deliberate doing things to bring myself back to a calm place, respecting other struggles and abiding through it all. I feel like I have cultivated more respect for myself and my needs as a human being, but without that self-respect, I would have been a statistic long ago.
Matt: This is Matt from St. Petersburg, Florida. It is my firmly held conviction that neither God nor an afterlife exists, and that has pushed me to lead as full a life as possible while I'm here on Earth. I am finding hope during this time doing my work as a nurse. I hope everybody is finding hope in their own ways.
Frank: This is Frank Johnson from The Colony, Texas. I am maintaining my faith through studying the Bible, God's Word, and also through many online Bible studies. We've actually increased our ability and offerings of Bible studies through Zoom and streaming, so it's working out for me well.
Jeannie: Hi, this is Jeannie from Waterford Township, New Jersey. I belong to a meditation group that's been together for almost 30 years. We get together every other month and around holidays to celebrate with one another. We've met for a regular meeting in February, and didn't meet again until this past weekend. It was so wonderful to see and be with everyone after so long. We had all missed each other terribly. When we departed, everyone felt energized and connected.
[music]
Copyright © 2020 New York Public Radio. All rights reserved. Visit our website terms of use at www.wnyc.org for further information.
New York Public Radio transcripts are created on a rush deadline, often by contractors. This text may not be in its final form and may be updated or revised in the future. Accuracy and availability may vary. The authoritative record of New York Public Radio's programming is the audio record.