The Evolution of Black TV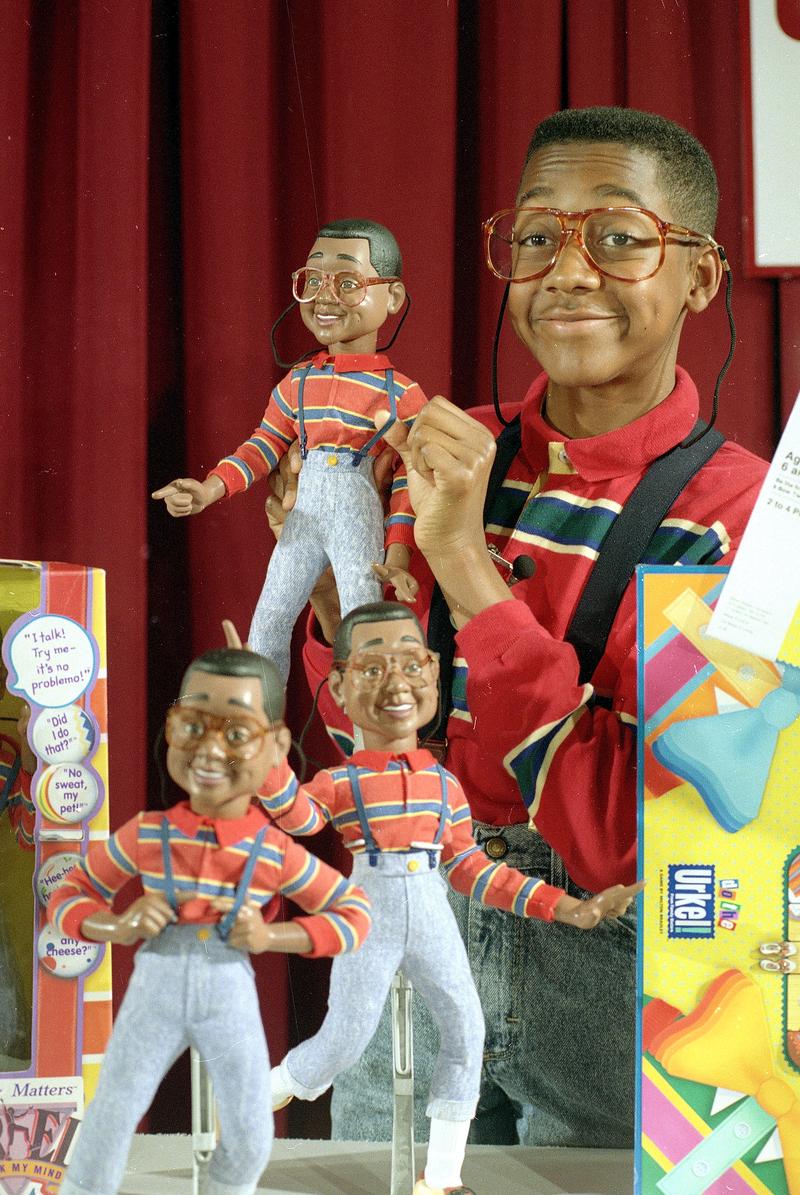 Transcript
[music]
Melissa Harris-Perry: You're listening to The Takeaway. I'm Melissa Harris-Perry. The '80s and '90s were full of memorable Black characters on the small screen. Take for example
Carl Winslow and Steve Urkel of Family Matters.
Speaker 2: If you want to do the Steve Urkel dance, all you have to do is hitch up your pants. Bend your knees and stick out your pelvis, I'm telling you, baby, it's better than Elvis.
Melissa Harris-Perry: Of course, we also had Will, Uncle Phil, and Aunt Viv on The Fresh Prince of Bel-Air.
Speaker 3: Honey, the last time we saw you, you were this funny little boy. Now look at you. Oh my goodness, you are a man.
Speaker 4: Well, that was the plan.
Speaker 5: It is amazing. You certainly have grown, Will.
Melissa Harris-Perry: How could you not love the ladies of Living Single.
?Speaker: What the hell?
Speaker 7: For your information, we are having a beauty night.
Speaker 8: It ain't working.
Melissa Harris-Perry: Let's not forget identical twin sisters Tia and Tamera of Sister, Sister.
Speaker 9: What are you doing?
Speaker 10: We're going home.
Speaker 11: Hey, you let go of my baby.
Speaker 10: What do you mean your baby?
Speaker 11: This is my daughter.
Speaker 10: Hey, hey, [crosstalk]
Speaker 9: Dad.
Speaker 12: Mom.
Speaker 9: That girl has my face.
Speaker 12: That girl has my face.
Melissa Harris-Perry: These were iconic Black characters in front of the camera, but they masked a very different reality behind the scenes. From the writers' rooms to the executive suite, Black creators were few and far between. Writers' room diversity has improved in recent decades, a shout out to Shonda Rhimes, but there is still plenty of work to be done. For more on this, we're joined now by Hannah Giorgis, staff writer for The Atlantic. She recently penned a piece on Black-led television shows and the writers behind them. Hannah, great to have you here.
Hannah Giorgis: Thank you for having me.
Melissa Harris-Perry: Also with us is Kim Bass, creator of Sister, Sister, Kenan & Kel, and staff writer on the first two seasons of In Living Color. Kim, welcome to the show.
Kim Bass: Thanks for having me.
Melissa Harris-Perry: Hannah, I want to start off by playing a clip that you actually write about at the beginning of your piece. I want to listen to an exchange between Carl Winslow and his son Eddie in a 1994 episode of Family Matters.
Speaker 13: I was on my way to a party in Burlington Heights. I was driving along minding my own business when the cops pulled me over.
Speaker 14: Did they ask you for your license and registration?
Speaker 13: Yes. Then I asked what the problem was, and one of them told me to shut up. He even made me get out of the car and lie face down. Then he cuff me.
Speaker 14: That's unusual procedure, unless you provoked it.
Speaker 13: But I didn't. People were driving by looking at me like I was a criminal, and I didn't even do anything.
Melissa Harris-Perry: All right, Hannah, what did you learn about the writing process behind that scene?
Hannah: Well, I spoke with Felicia D. Henderson who was a writer in the room at that time. Felicia told me about the experience of being in that room, hearing that line proposed, and saying essentially that that's not a realistic way for a Black father, even one who is a cop, to speak to his son. She said that the room of writers felt like she was accusing them being racist just because she said, "Hey, maybe this dialogue isn't the way we want to play this out." I think she said, "You could hear a pin drop" because people were so silent and uncomfortable when she said maybe this isn't the right way to do it.
Melissa Harris-Perry: Kim, let me ask you, before you were creating your own shows, when you were working in writers' rooms where you had less control over the racial diversity of it, is that the kind of experience that you can relate to that you experienced?
Kim Bass: Absolutely. It was a very interesting experience to be in a room where if the subject happened to be about Black life in America or the characters were Black and had to interact in society and to have the opinions of a non-Black person who would be in charge of the show sort of override things that didn't seem right for someone like myself and maybe another writer at that time. We got into huge arguments over such things. I will say, I did feel free to argue because ultimately the decision was not going to be mine, so I thought it was my job, certainly my obligation to fight what I believed was right and so that there wouldn't be some portrayal that was counter to what I knew to be true.
Melissa Harris-Perry: Hannah, I'm going to come to you. I want to talk a little bit about class. In the early '90s in particular, there was an interesting dichotomy where on the one hand often on the big screen, we saw Black characters from working class and poor communities, and on the small screen, there was a lot of focus around middle-income and middle-class characters. What did you learn about the writers behind those middle-class shows?
Hannah Giorgis: Well, people got pushback on that too. I spoke quite a bit with Susan Fales-Hill who was in the room for The Cosby Show and went on to be lead writer and EP on A Different World. She remembers having an executive tell her that the Cosby family was white because they lived in that house and their jobs were what they were. This was a family, because they were upper middle class and occupied a social class, that felt more familiar to him through the lens of whiteness, had to be white.
You had those kinds of things happening, but one thing I was curious about is I spoke with people, was what sorts of experiences were being left out because some of the ways of communicating about Black stories have to be done in ways that feel comfortable to white executives, yes, to white show owners, potentially yes, but in ways that feel very-- like they operate from a sense of middle class values, like you have to speak as though you went to a certain kind of school, and when writers are put into that box as well, I think that the shows that we see look different.
Melissa Harris-Perry: Kim, I want to talk to you about what it was like to be in a writers' room where there weren't a lot of African Americans. Did you ever feel that there were going to be negative career repercussions for speaking up about authenticity and Blackness in the scripts?
Kim Bass: Absolutely. There were jobs that I didn't get because I spoke up about what they were asking me to write. That happened in certain occasions. There was one particular show that I was offered to be a co-executive producer on the show, and they sent me the pilot script, and there were so many things in it.
They were so offensive as far as I was concerned regarding Black people, so I had a meeting with the executive producer, and his justification for writing the things that he wrote, he said, "Well, my roommate in college talked like that." I said, "Well, I don't know who your roommate was, but that kind of language might have been prevalent 25 years ago, but it isn't now, and I find it offensive," and so the position I was offered was withdrawn. I believe was brought there to basically put the Black stamp on what they were trying to do with that show, and I wouldn't--
Melissa Harris-Perry: Oh, more than a few of us have been that great brown and Black stamp of approval on things that are problematic. I absolutely get that. Hannah, I want to push on this little bit and leave room for the possibility that a racial match between the story, the storyteller, and the show creator may not necessarily be required to tell great stories, for me, and this is just personal preference, I'm not a fan of Tyler Perry, recognizing that many people are, but boy, I'm a big fan of those Norman Lear Shows from the 1970s.
Again, this is just my personal preference, maybe it's because of my age, but I don't want to leave out the possibility, one, that not all Black folks can tell all Black stories well and also that there might be white folks who could tell Black stories well.
Hannah Giorgis: Right. Going into this, I was less foreclosed on the possibility that that could happen. I spoke with Norman Lear, and I referenced those shows. I do think that they did a really interesting-- They accomplished something very real and very important in bringing a viewership and having Black viewers as well feel not just represented but excited by TV at the time that they were airing, so I think that's more than possible.
What I'm always curious about is sort of the power dynamics at hand, and less what's possible and more who are making these decisions and why and what are we losing because of it? What do we not see on our screens because fewer people get opportunities, and sort of less the idea that only Black people can tell stories about Black characters.
Melissa Harris-Perry: I like the way that you frame that, sort of what are we missing here. Kim, I guess I'd want to ask you that, we're in a time now where we're seeing not only an increase in Black writers on shows with Black characters, but we're also seeing intersectional Black characters that we've never seen before. I'm thinking about the ways that new spaces outside of the networks have allowed stories like Pose and others to come forward. I'm wondering when you talk to younger Black writers today, how are they feeling about the power dynamics for creating and bringing forth Black stories of various kinds?
Kim Bass: I think that the younger people who are coming out now are seeing it less as Black stories but sometimes as Black characters in stories. I believe there's a distinction there, and there should be, because the prevalence of the stereotypical thoughts around writing and characters is sort of old school.
What we're talking about now, rather than say it's a Black story, it might be a story that has Black people in it, it might be a show that has Black characters in it. Of course, we're not a monolith. The Black people are not a monolith, and so you have to be free and you have to be open. I always say, write what you know, because everyone's experiences are different and including Black people.
Melissa Harris-Perry: Talk to me, Kim, about writing what you know in the context of bringing forth not only that diversity within racialized communities but also sort of trying to manage that authenticity and both be authentic to what your own experiences might be, but also to hear maybe even beyond exactly what you yourself have experienced.
Kim Bass: Well, I'll give you an example. The first part of my life, when I was, up until about age 9 or 10, we were in an all-Black community in what one would call a ghetto. After that, I was in an all-predominantly-white communities. As a matter of fact, our family was the only Black family in the town. That again was a different experience, but I'm still the same Black person, so I have experiences that maybe others didn't have. I grew up doing many, many different things, and I try to bring that authenticity to things.
If people talk about my show Sister, Sister, well, I grew up with twin sisters, so that gave me an insight. It wasn't about just being Black, but I had twin sisters, and Kenan & Kel was based on my experience with my best friend when we were kids. It's completely different than if I might, I have a couple of films coming out early next year. One is about a white family, I wrote and directed that, and the other is an ensemble cast with all these terrific Black actors predominantly, Latinos as well. I dare say that people will find it hard to believe that the same writer/director made both those films, but in fact, both of those films were natural fits for me.
Melissa Harris-Perry: I love your point, and I'm so glad you brought us there that it's not only about a question of the possibilities for non-Black writers writing Black stories or stories that have Black characters but also, and Hannah, I want to come to you on this, the idea that Black show-runners can be creating stories with racially diverse casts with predominantly white casts. Let's talk about Shonda Rhimes, Hannah.
Hannah Giorgis: Oh, of course. I love the way that Shonda Rhimes talks about her shows and talks about her, just reflecting the role as she sees it and not emphasizing this like capital D diversity that informs the way that we talk about TV sometimes. That feels so true, and it feels so real when you look at her shows that this is a group of people who are interacting with one another in a workplace. Of course, they all look different from one another, and their lives are complicated and messy in different ways because that's life.
Melissa Harris-Perry: It is wild that she's able to balance in some ways things that feel very realistic like [unintelligible 00:13:12] taking her braids out or dealing with her natural hair or whatever, but also in scripts where lots of wildly unlikely things happen and there is that kind of fun balance between those. Hannah Giorgis is a staff writer for The Atlantic and Kim Bass is the creator of Sister, Sister and Kenan & Kel, and as you heard, he has got a few theatrical releases coming out soon as well, so look for those, they're called HeadShop and Tyson's Run, both out in 2022. Thanks so much to both of you.
Hannah Giorgis: Thank you, Melissa.
Kim Bass: Thank you so much. It was a pleasure.
Copyright © 2021 New York Public Radio. All rights reserved. Visit our website terms of use at www.wnyc.org for further information.
New York Public Radio transcripts are created on a rush deadline, often by contractors. This text may not be in its final form and may be updated or revised in the future. Accuracy and availability may vary. The authoritative record of New York Public Radio's programming is the audio record.